The center of resort activities holds the QuarterDeck Marina with a handsome open air lobby, restaurant, bar, sailing school, shops, and watersports building, all overlooking the North Sound area. From there, Beachside Villas scatter left along a long narrow beach, and Chalets, now called Commodore Suites, sprinkle up the hill toward the right, past a freshwater pool at the edge of another beach. The distance on a stone pathway from one end to the other is almost a mile, but chauffeured motorized carts will provide rides. The overall ambience is active, casual fun with a nautical theme.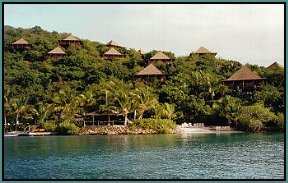 We arrived at Beef Island Airport, Tortola on the late evening American Eagle flight, and wandered over to the North Sound Express counter to check our transfer by fast ferry to the Bitter End. After a short van ride to a nearby dock, we settled down in a 45' power cruiser and had a 30 minute trip to the Bitter End. Check-in was prompt and we were quickly taken to a Commodore "suite" which was one large room with a king bed, a sitting area, and good size bathroom with a huge garden shower. Since it was not on the windy side of the resort, the room was cooled by a rather noisy air conditioner, but had shutters which could be opened if we wanted to use the fan instead. Each Commodore Chalet has a balcony across the front and holds side by side guest rooms with either two queen sized beds or one king bed. Ours was a lower unit, near the pool; others perched farther up the hill.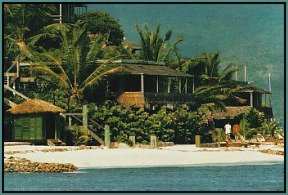 The next day, we hiked to the other end of the resort and saw the Beachside Villas on the windward side; each holds a pair of ceiling fan-cooled rooms which have smaller bedrooms and baths than the Commodore Suites, but much larger wrap around balconies. Some are down near the pathway, while others are "way" up the hill, and have either a king or twin beds. The Commodore Chalets and Beachfront Villas are perfect for family vacations or two couples traveling together since a balcony door can be opened to connect the pair of rooms. The Bitter End also has centrally located hillside rooms, which are ideal for those who do a land-sea package with a vacation split between living on a sailboat and staying in a room.
All Bitter End weekly packages and daily room rates include a full meal plan. The main restaurant is waterside and has a breakfast buffet of fruits, juices, and freshly baked breads plus made to order eggs, pancakes, and omelets. Lunch is a buffet selection of conch fritters, pizza, crepes, burgers, salads, and pitchers of rum grog to get you happily started toward afternoon activities! Dinner offers a buffet of soups, salads, and pastas plus a huge array of entrees such as fish, steaks, chicken, shrimp, and with a surcharge, lobster. The food was very plentiful and filling.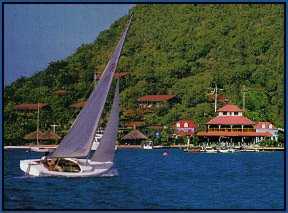 I was sitting at lunch one day watching the continuously busy waterside activities and thought "boats, boats, boats!" - if anyone ever wanted to do a study on every kind of watercraft in the world, the survey could easily be taken on the restaurant terrace of the Bitter End Yacht Club. Cruise ships passed in the distance; just offshore were yachts and sailboats of every kind, size, and shape - power boats, fishing boats, scuba diving boats, windsurfers, kayaks, windsurfers, rowing sculls - if it floats, you'd see it at the B.E.Y.C. The 70 sailboat moorings were all full and visitors were coming and going constantly. Bitter End is truly a nautical "Grand Central Station"!
Guests have unlimited use of the Clubs fleet of small sailboats, sunfish, keelboats, dinghies, kayaks, windsurfers, and can also participate in the Bitter End sailing regattas. We signed out a dinghy one afternoon and putt-putted around the North Sound, stopping at Pusser's Bar for a rum drenched PainKiller (two of those and you can't even find the boat, much less your way back to the Bitter End), the waterside bar on tiny Saba Rock, snorkeled a couple of reefs, and lazed around a few beaches along the way. Guests who want to scuba dive can join Kilbrides Underwater Tours or Dive BVI to visit more than 40 sites around the north and southeast islands of the British Virgins.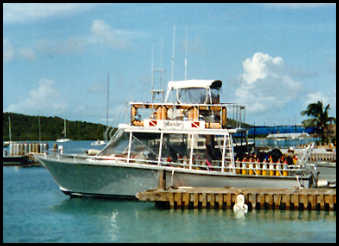 Kilbrides is conveniently based at the Bitter End and schedules daily scuba trips to sites such as the famous Wreck of the Rhone, Wreck of the Chikuzen, The Dogs, and Alice's Wonderland near Ginger Island (in my estimation, one of the most incredible advanced dives in the BVI). Mike Van Blaricum's custom built scuba boat is 40' long with a large covered deck area. Divers use giant stride entries and two long step ladders for full gear exits. His divemasters do not coddle divers, but are helpful with newly certified, giving suggestions and double checking equipment. Mike is flexible - if all the divers agree on an unscheduled site, he will change the itinerary, weather and conditions permitting. PADI Open Water certification and resort courses are available. Mike's boat leaves the dock at 8:15 every morning which gives divers time to stop by the restaurant for a quick breakfast snack, and it returns in time for lunch.
Dive BVI has a nearby scuba operation at Leverick Bay and goes to many of the same sites as Kilbrides on different days. (If you missed going to the Wreck of the Rhone with one, just check with the other.) Dive BVI has boats with water level platforms for easy entry and exits - just put on your weightbelt, carry your mask, snorkel, and fins to the back of the boat, and sit on the platform. Diveleaders will set your BC and tank behind you - then just strap them on and do a simple front roll into the water. Exits are even easier, swim up to the platform, remove BC and weightbelt and hand them to the diveleader, then slither up on the platform. Dive BVI will pick up divers between 8:15 and 8:30 - just call the day before to book a reservation.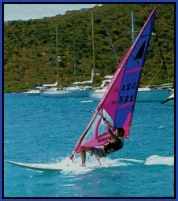 Bitter End guests can also take advantage of many day trips offered by the resort such as excursions to The Baths, Horseshoe Reef, and Anegada, snorkeling trips to Statia Reef, glass bottom boat rides, sight-seeing and shopping trips to Tortola, all included in weekly packages, but at extra charge for daily rate guests. Serious sailors can take a free "Introduction to Sailing" or for a small fee, sign up for a series of professional courses at the Nick Trotter Sailing School. Windsurfers can sign up for the "High Performance Windsurfing Package".
Obviously, no one who loves sailing and boating should get bored at the Bitter End Yacht Club! Those wanting a relaxing day by the seaside will be happy too - just walk to the end of the narrow beach by the Villas and stretch out under a palm thatched hut, or grab a boat and sail or putter off to any of the remote strips of sand along the North Sound.
Dress is very casual - guests usually wear swimsuits and T-shirts during the day. and shorts and shirts at night.
Telephones are in each Commodore Room, and public ones are available in the main reception area. The "Sand Palace" has a giant TV and movies at night.
The Commodore Club is a "resort within a resort" located near the pool at the base of the Commodore Suites. It has a beachside Pavilion and the English Carvery Restaurant which is open for guests during the winter high season. The nearby Conference Center with seating for up to 100 people can be reserved for group board meetings, seminars, special events and weddings.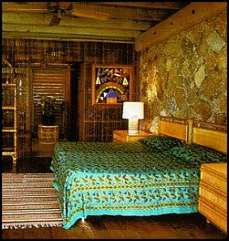 Who would enjoy the Bitter End? Couples, singles, and families who like big bustling resorts with sailing, boating, and watersports of all kinds ... and those who do not expect luxurious rooms and elegant dining, but prefer pleasingly furnished accommodations with outstanding views, plentiful food, and carefree vacations.
The Bitter End has a wide array of weekly packages such as Island Cruises, summer family specials, yacht/villa combos, and others far too numerous to list. The most popular is the Admiral's Package which includes use of the resort fleet, an Introduction to Sailing, island excursions, all meals, and airport transfers. The Summer Family Package includes all of the above, plus a Beachfront Villa with two connecting rooms for two adults and up to four children. Guests can also do a Sailing School Package, 3 Day Freedom 30 Charter, Windsurfing Package, or a Dive Package. The famous Nick Trotter Sailing School has six different professional sailing courses from beginners to advanced, plus a complete 3 1/2 day intensive school.