Katitche Point Greathouse Villa is an oasis of luxury, relaxation, and some of the most outstanding views in the British Virgin Islands. Sitting high above the water, the villa offers vistas in every direction - over to the Atlantic, across the Caribbean Sea, and down Sir Frances Drakes Channel along which many of the BVI islands rise from turquoise blue waters. It recently became a new member of the Small Luxury Hotels of the World, a tribute to its outstanding architecture, luxurious interiors, and the impeccable service of the staff.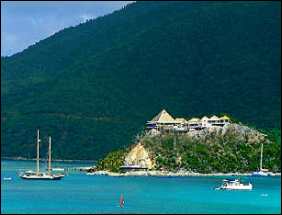 It is also a masterpiece of architectural design. When I first saw this towering pyramid shaped structure sitting atop a pyramid shaped slash in the hill above Mahoe Bay, I recognized it as a new landmark - which can easily be seen from miles away and anyone sailing along Virgin Gorda's western shore in Sir Frances Drake's Channel.

Katitche Point Greathouse is aptly named, being a great house on a distinctive Virgin Gorda land point midway between the southern and northern parts of the island. Everything about this villa is spectacular - the rooms, the endless panoramic vistas, the location above Mango Bay's beautiful white sand beach, the gorgeous evening sunsets.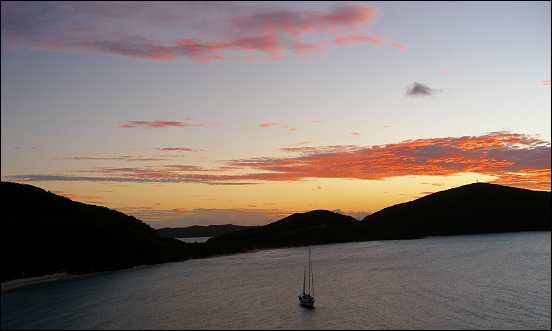 Much thought and planning went into designing and creating this outstanding villa - while searching for a "second home" in the BVI, the owners (by chance) discovered the location and the pre-existing foundation which had been abandoned years ago before a house was built on it. Standing that day on the raw concrete surrounded in 270 degree views, they visualized the possibilities of building a magical "great house" on the property.

Michael Helms, their award wining architect, envisioned remarkable ways to design the Greathouse upon this unique setting so that views could be seen in every direction and such that rooms would free flow into each other and pivot around the central patio-garden area accented with a massive iron sculpture.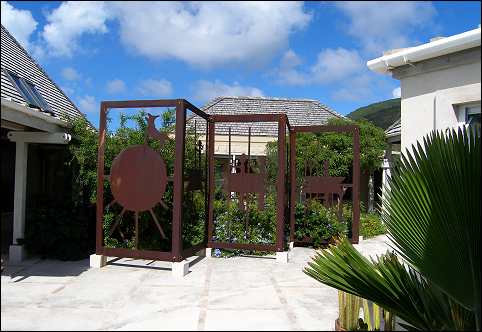 The garden area links the double-door entry to four different structures each holding a different section of the villa -- a free-flowing living - dining - kitchen area, two different pairs of bedrooms, and a complete separate and exquisite master bedroom section all with stunning ocean views.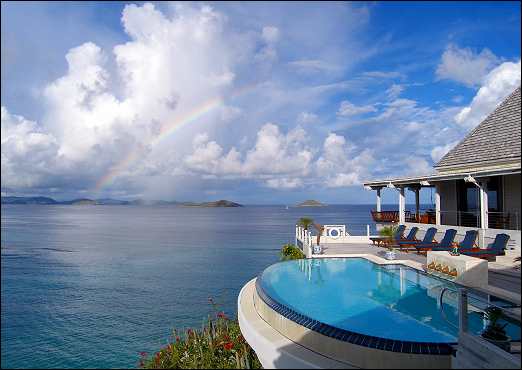 The pool area is breathtaking and appears to be suspended in space above gorgeous Pond and Savanna Bays. A spacious deck includes a large gas grill and sink, lots of comfortable lounge chairs, and the horizon pool which visually seems to flow into Savannah Bay far below.

Each room has large expanses of glass doors and windows to take advantage of the views - indoor areas flow into outdoor patios, verandahs, and terraces. Deck railings are cleverly made of almost invisible steel cables to give totally unobstructed views, rather than made from obtrusive wood. The view below is from the two guest rooms' verandah overlooking the pool and Tortola.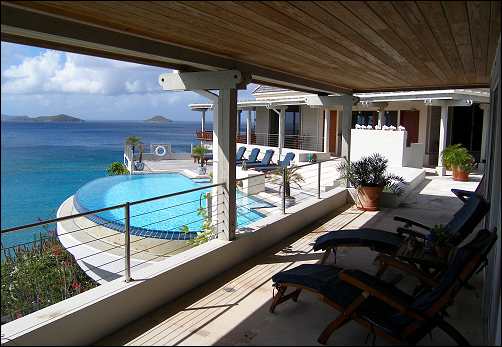 The villa has five bedrooms including a marvelous master suite plus four guest suites identical in size all linked by walkways from the gorgeous central garden area.

| | |
| --- | --- |
| One side-by-side pair of bedroom suites overlook Mahoe Bay and the northern section of Virgin Gorda while the other pair has views of Savannah Bay and the southern part of the island. Each bedroom is spacious with a king bed and large bathroom area containing a huge shower large enough for two (with a view of course), lavatory with a water closet and bidet. A full array of bathroom amenities is included along with oversized fluffy towels and bath mats. Glass doors from each suite lead to a wide shaded porch filled with lounge chairs for relaxing and enjoying the vistas. | |

Each bedroom is named after the view it has and one evening, I caught the sunset from "Little Dix" suite: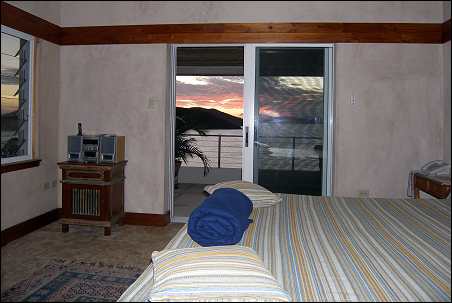 The master bedroom complex has a kitchenette, freestanding king bed centered in the room with perfect views through large glass terrace doors, and a fabulous bathroom area created around a koi pond set in a tropical garden. We were very amused at the portrait hanging in the bathroom next to the water closet.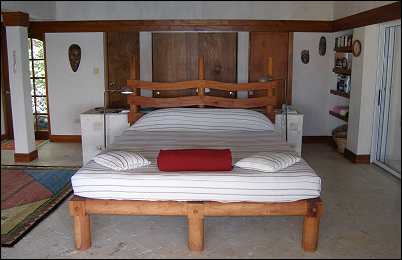 A large soaking tub sits at one end of the pond which is embellished with tropical plantings and incredible views across Drakes Channel.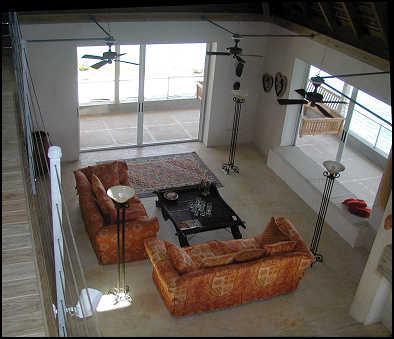 The Greathouse holds a formal living room flowing into an elegant dining area with an exquisite teakwood table large enough to seat 14. Large sliding glass doors and windows provide vistas in every direction.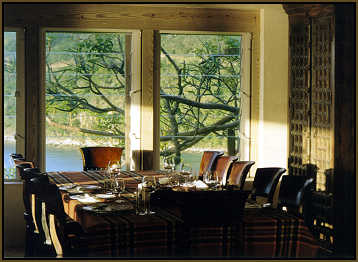 A wide covered terrace wraps around the dining - living room and has several seating areas - a round table in one corner with chairs - perfect for a oceanview gathering or lunch, and my favorite - a nook in the wrap around corner holding two long benches suspended over open space with two delightful wooden swings facing them.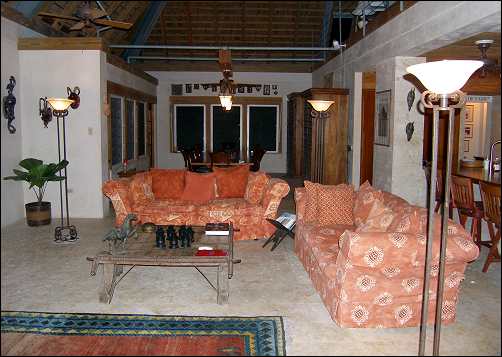 A long marble bar with comfortable chairs separates the living room from a vast kitchen filled with the most modern and latest cooking equipment - cook top, ovens, dishwasher, and commercial sized refrigerator. A utility room with washer and drier is nearby.

Stairs near the kitchen area lead past an extra bathroom and up to a TV lounge room featuring comfortable day beds and tropical furniture. One side of the room overlooks the living-dining rooms below, the other has a large window.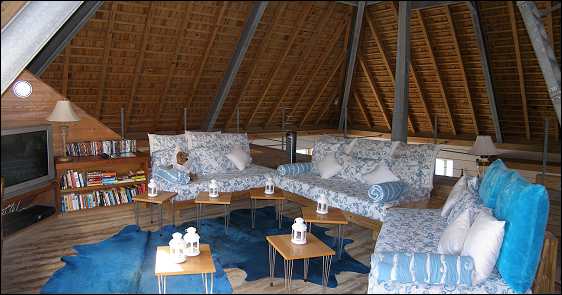 A steep metal ladder leads to a floor suspended in the top of the pyramid and has views through windows - vistas of blue Caribbean waters in the day, and star studded views at night. A sign on the ladder warns that children should not be allowed to climb it or access the high deck... I totally agree (in fact, I am uncomfortable with heights and didn't go up it either, however, my husband loved being on the high deck and looking through the windows).

Guests have easy access to the perfect white sand beach below the villa. Thick stands of coconut palms line the shores protected by tropical reefs full of fish and coral. Snorkeling is outstanding.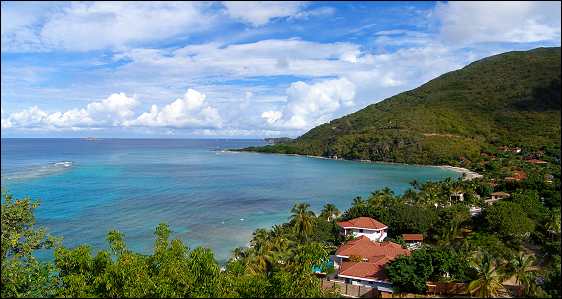 A guest service coordinator, property manager, and housekeeper, and gardener are included in rates; a cook or chef and selections from the villa's own wine cellar can be provided at extra charge. The staff can also arrange day trips to other islands such as Tortola or Anegada, scuba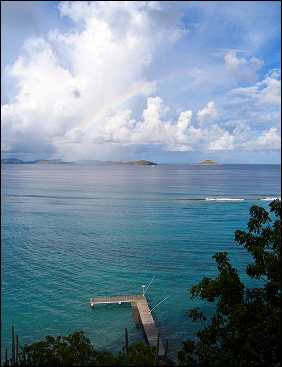 diving, snorkeling adventures, and deep sea fishing trips to name a few optional activities.

The central location is perfect - a quiet area of Virgin Gorda near some of the best beaches on Virgin Gorda, and only a 15 minute drive from the famous Baths in the south part of the island, and 20 minute drive to the North Sound. Guests can enjoy dining out at one of the nearby restaurants in Virgin Gorda, plus a beach-side restaurant is conveniently located directly below the Greathouse, easily accessible by foot or by car.

Katitche Point Greathouse is a perfect destination for a couple or families of up to 10 guests who want pure luxury in one of the most outstanding settings in the BVI, if not the entire Caribbean. Along with indulging with the splendid furnishing, surroundings, and service, guests will also be treated to world class views throughout their holiday.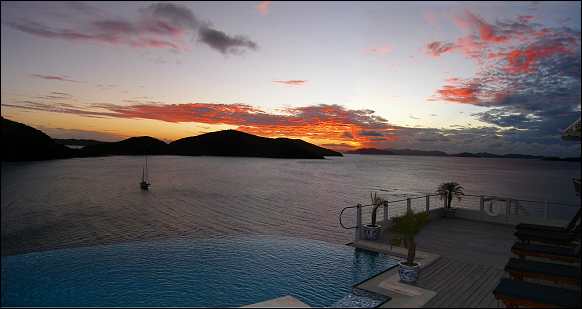 OUR GREATHOUSE STAY
(details)
After we contacted Katitche Point Greathouse's reservation services for the dates of our stay, they provided travel information outlining all the ways we could fly to the British Virgin Islands and reach the villa. While planning our trip, we decided to add the Gourmet Chef Package that includes breakfast, lunch, and dinner at the villa.

We flew from Texas on American Airlines through San Juan and arrived at Beef Island airport. A North Sound Express ferry representative led us to a van that took us to a nearby boat pier. After a short wait, the express took us directly to "The Valley" of Virgin Gorda - a 20 minute ride. Katitche Point's staff member Angella welcomed us to the island and escorted us to a Speedy's Rental car for a short ride to its office where Kenny filled out paperwork.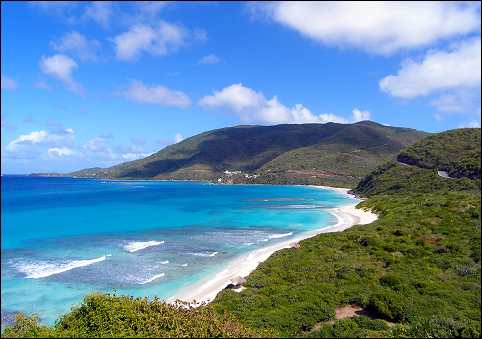 We then followed Angella's car out of the valley and up and around several winding hillsides for a gorgeous 15 minute drive to Katitche Point Greathouse. The road passed along several white sand beaches and gave us wonderful views of the western side of Virgin Gorda edged with lovely blue Caribbean waters. What a beautiful day in paradise!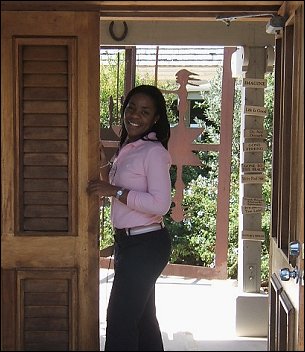 Upon arrival, Angella (shown above) welcomed us to the Greathouse as we entered through the big double doors into a colorful garden area, the center point of the villa. We were surrounded by gorgeous tropical plants and fruit trees.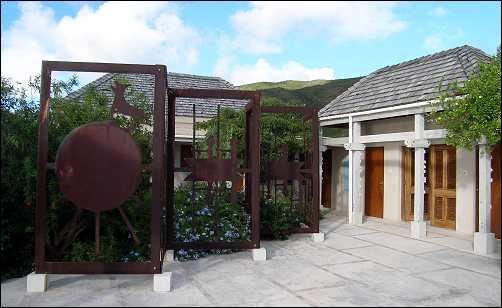 Angella introduced us to Mimi, the housekeeper and chef, then showed us around the villa, a wonderful tour of modern as well as classic furnishings, accented with artwork and photography. Each bedroom suite featured a king bed, two bedside lights, Bose CD player, full bath with shower, and covered terraces with comfortable lounge chairs.

The view from the pool terrace was breathtaking and we could see the southern tip of Virgin Gorda far away in the distance past Savannah Bay and Beach.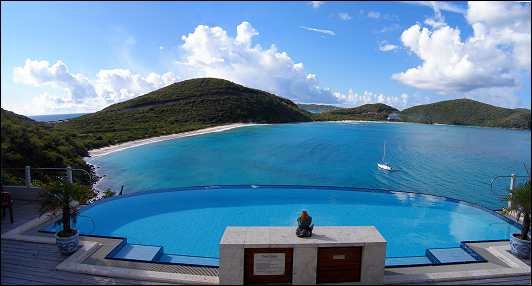 The master bedroom, up a few steps past two of the bedrooms, was a wonderful hideaway! A king bed is centered in the room with a sitting area and coffee bar on one side and a covered garden area on the other which is highlighted by the Koi pond, tropical plants, and a deep soaking tub. A oasis within the larger villa oasis. We noticed that the master suite verandah was flying the Texas state flag! The villa has flags from several countries of the world and USA states to fly for guests when they visit.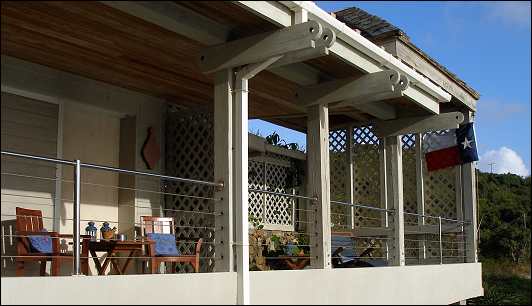 We settled in with Mimi serving us a delicious lunch of conch fritters, french fries, and salad. Then spent the afternoon unwinding from our long trip from Texas and savoring the gorgeous views that surrounded us.

We had arranged for Mimi to return each evening and prepare our dinner - the Chef in Paradise option. We started with Pina Coladas while watching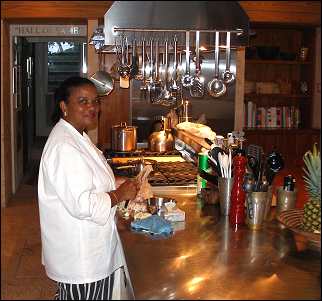 a colorful sunset over Tortola.

Our dinner on the outdoor terrace started with flavorful Callaloo soup, followed by a Caesar Salad. The entree du jour was a very tender rib-eye steak with baked potato and fresh mixed vegetables. We finished with a delectable Chocolate Mousse. What a great way to end our first day in paradise!

The next morning after Mimi prepared breakfast, I wandered around the villa exploring all the rooms that we'd quickly seen on our arrival tour. A Bose system in the living area presented a huge array of CDs, so I chose several and the villa filled with music. Next I went up the stairs to the TV den, a perfect place to relax, watch satellite television, or play board games. A wide steel ladder leads to the Crows Nest with a window that gives a birds eye view across the Caribbean Sea.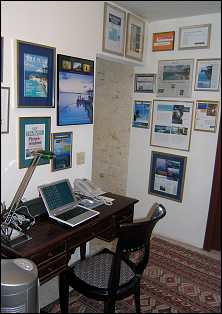 Kenny went for a swim in the pool while I relaxed on the sunny deck. Were we being lazy? Yes we were!

I was delighted to find a high speed internet connection in the office near the kitchen and my laptop happily logged on to my mail. The office is also called the "Hall of Fame" with lots of framed magazine articles about Katitche Point Greathouse adorning the walls.

At lunch, Mimi served BBQ beef ribs, one of my favorite island meals and hers were perfect! We washed it down with a Red Stripe beer or two.

That afternoon, we drove to The Baths which has a popular restaurant and several cute shops. We stopped in the Yacht Harbor mall to browse a few more shops and then escaped back to our hillside paradise.

That evening, during sunset, Mimi served us freshly made pumpkin soup, a salad, and fresh fish with Creole sauce. Key lime pie made with limes from the villa's very own garden tree completed our evening dinner.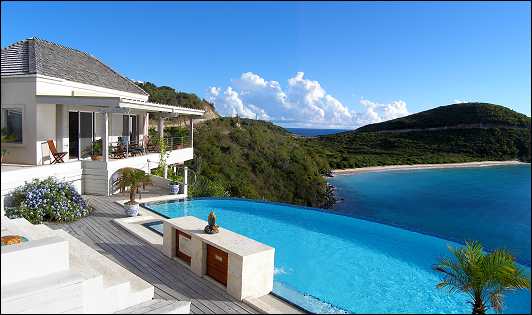 Our days passed in complete relaxation as we read books, floated in the pool, drove around Virgin Gorda exploring, and did a little snorkeling on the nearby reefs of Mahoe Bay. Dive BVI in Spanish Town provides wonderful underwater scuba trips. Many restaurants in and around the island serve lunch and dinner for those who want to dine away from the villa.

Katitche Point Greathouse provided one of the most outstanding stays we've ever had in the BVI - complete romantic seclusion in Paradise surrounded with unforgettable views.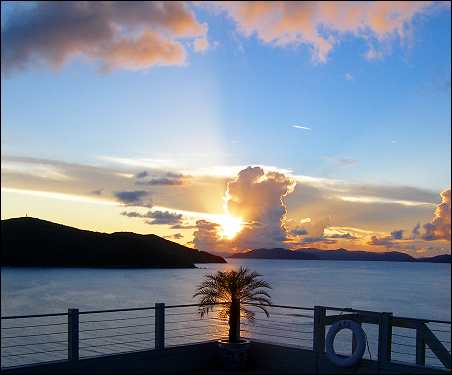 Go to Katitche Point Greathouse Web Site