One of the prettiest beaches on Tortola in the British Virgin Islands is in Brewers Bay, centered on the north coastline of Tortola. We saw it during our very first visit to the Caribbean in 1987 from the back of a jitney bus.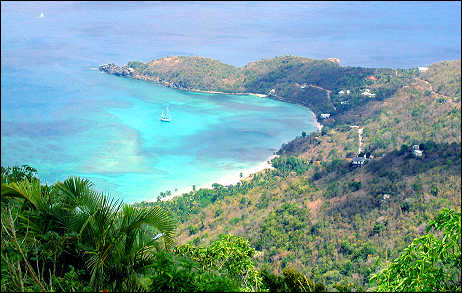 Our small cruise ship anchored in Drakes Channel (long before there was a cruise ship dock in the BVI) and arranged an island tour for us. Yes, we saw all of Tortola, but my fondest memory was of cresting a high mountain and looking down toward a gorgeous crescent beach, then going almost straight down a curvy, narrow road to reach sea level. The long white sand shoreline was pristine and almost deserted - one of the prettiest we'd seen in the Caribbean on that 7 day cruise.


Now, more than 15 years later, it is one of the few on Tortola that is still mostly quiet and uncrowded. It also now has Icis Villas, a small vacation villa complex, nestled in the nearby lush valley only a 2 minute walk away. Lucky guests who stay there!
A taxi met us at the airport and took us on a 25 minute scenic ride along the high "Ridge Back Road" to Icis Villas. As we dropped down the mountainside into the seaside valley, we had glimpses of Brewers beach before we made a sharp left onto the Icis Villas entryway, lined with palms and a white picket fence that traveled over a pretty little bridge.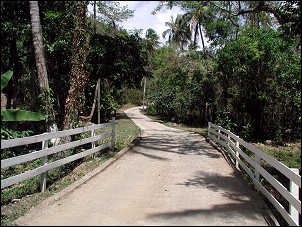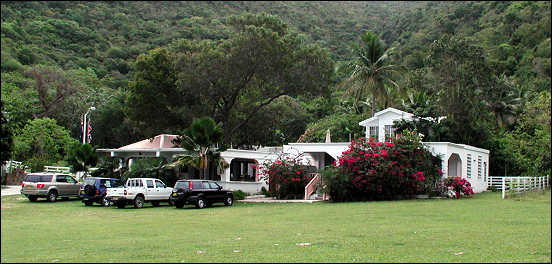 The main building held the restaurant, bar, terrace, and reception. We were quickly checked into our one bedroom villa, actually part of a quad-plex with two units up and two units down. It had a large sitting area with a kitchen and dining area plus a separate bedroom which was air-conditioned. Big french doors opened onto a private balcony overlooking the colorful gardens and pool.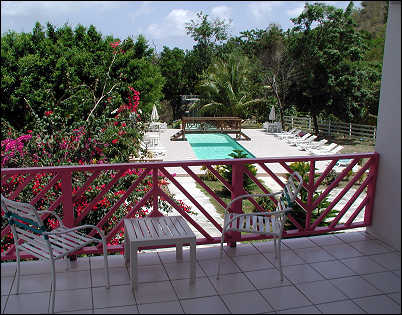 We went to the beach for a few hours and then returned for drinks and dinner at the restaurant. I had the delightful West Indian Curry Chicken and Kenny had the Pan Fried Mahi-Mahi with Mango Sauce. After dinner, the dining room turned into a "recreation room" and several families came to play cards and games.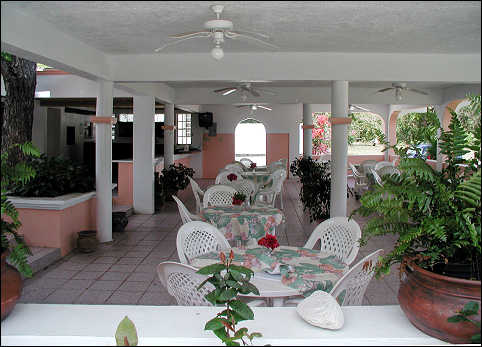 We retired to our balcony that evening to enjoy reading and star gazing at the pool area glowing from soft lighting. Some nights, Icis has a special barbecue night with entertainment or a band.
The next morning, after making early morning coffee in our kitchen, we went down to browse through the Continental Breakfast selections that are included in room rates. Kenny decided to order bacon and eggs which was promptly cooked and served.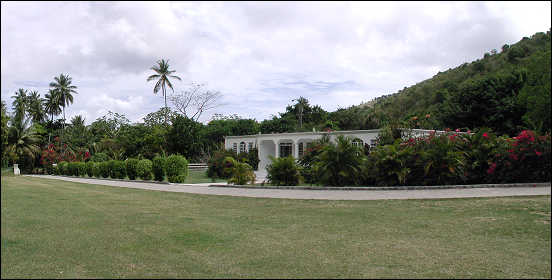 We then saw several other accommodations, all quite spacious and airy. Suites are generally one large room with a sitting area and small kitchen while villas have separate living - kitchen areas and bedrooms.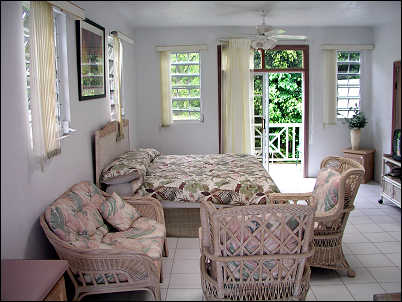 Accommodations are in several different buildings, most surrounding the pretty pool and deck area full of flowering tropical plants. All have a patio or porch and pretty mountain views.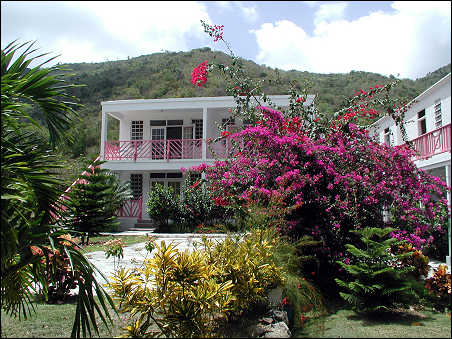 Icis has a guest laundry, small work-out room, and commissary - everything that anyone would need for a comfortable vacation stay. We met several families who had been coming to Icis for years. One was staying in the three bedroom villa, separate from the other accommodations and all were off for a day sail and snorkel trip. Several couples were quietly enjoying a romantic getaway. The friendly staff at Icis can arrange just about any type of excursion or day trip in and around the entire BVI that guests would like to do, including scuba diving, shopping trips, and adventures to other islands.
Kenny and I highly recommend Icis Villas for anyone looking for a quiet, home away from home destination in the Caribbean. Rates are quite affordable and an excellent value.