The yacht's crew of two, Stephen and Liz, (above) ordered drinks while we wandered down the beach. We all enjoyed an excellent lunch of onion rings, fresh lobster salad, and some of the best Bar-B-Q ribs in the BVI. I bought a few t-shirts in the gift shop which has a gold coin and pirate theme (naturally!).

Leaving Pirates, we cruised past the "Willie-T" known for it's floating bar, grill, and wild party atmosphere when the sun goes down. More than a few "walk the plank" after more than a few!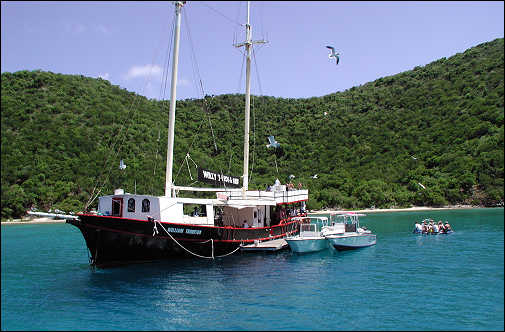 The only way to get there is by boat as you can see. A tiny dinghy full of yachters was puttering to the Willie, no doubt hoping they'd reach it before it sunk!


We were more than glad to be on the nice big yacht instead of the dink, but couldn't resist taking this classic shot of a "boat load".

We didn't stop at the Indians since we've been there many times, but it is a "must do" for anyone who has not yet experienced its fantastic snorkeling and gorgeous reefs full of fish which surround this series of rocks rising from the seabed. This is a photo of a gorgeous iridescent Parrot Fish we saw there while diving one year.



Jost Van Dyke in the northwest corner of the BVI was our next destination on this facinating tour. Ringed with white sand beaches, it can only be reached by boat and is a favorite yachtsmens' stop. The main settlement is in Great Harbour which holds Customs and Immigration, an inn, a few shops, and Foxy's. Around the corner and down another beach is White Bay with the Soggy Dollar Bar, another favorite watering hole for those visiting Jost. This 4 mile long island only has 150 residents, so is very laid back and quaint as this photo of a lovely seaside church shows.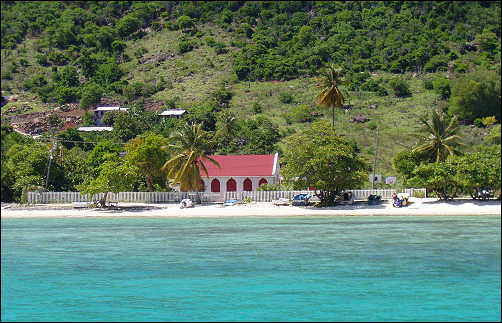 On our return to the dock, we cruised along Tortola's north shore passing Long Bay, Little Apple Bay (with Bomba's Shack), Cane Garden Bay, and Brewers Bay.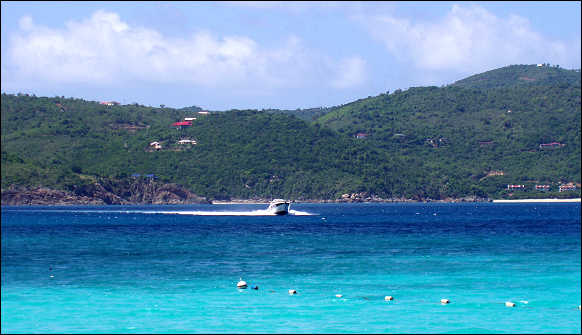 We arrived in late afternoon after a terrific day of seeing the BVI. The motor yacht would easily hold up to eight people in its covered lounge area and the spacious sun decks. It can cruise up to 30 mph making it easy to zip around the BVI in one day.