I'll start by saying I've never been much of a "spa guy", my wife on the other hand finds this to be her ultimate indulgence. Needless to say, we've seen and experienced a number of spas. Most of our experiences of Caribbean spas have thus far been adequate at best.
They really have never measured up to spas that have been designed as sole destinations --- until Peter Island Spa in the British Virgin Islands.

We just knew this would be different from the moment we read the "spa menu". The list of treatments are as complete as any destination spa we have seen--even with signature treatments already on the menu. The descriptions of the massages, bodywraps, and scrubs seemed so decadent, we could hardly wait to see if they could live up to our already high expectations. A spa should be more than just body treatments--it should be a destination that feeds all your senses and should also be a place which revitalizes not only your body, but also your mind and your soul. A place where you can meditate, contemplate, read, or just let your mind wander. The ultimate in relaxation. Did Peter Island Spa meet our expectations? An emphatic YES is the answer.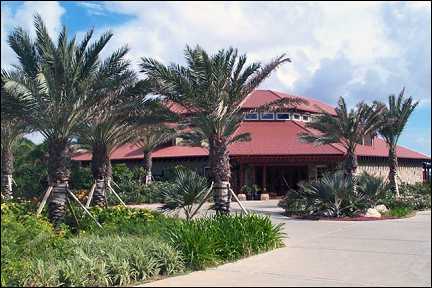 Upon arrival to the Resort you will find that the Spa is indeed a destination unto itself. Your cares start to melt away as you are whisked past beautiful Deadman's Beach and up to a private and secluded area over looking Big Reef Bay and beach. The design is the perfect blend with nature - what a serene place, I thought. Upon entering the building we realized that they take their business seriously. The chic European design and surroundings were something we've never seen in the Caribbean.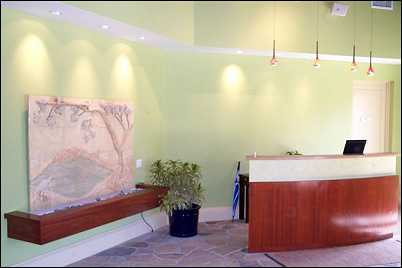 As suggested by the staff, you should really arrive at LEAST 30 minutes prior to your treatment to achieve full benefits. First time visitors get an introduction and quick tour of the facilities. You start by entering through the changing rooms where you can shower (with wonderful full/wide spray spa showerheads) or sit in the steam room to begin to relax your body and your muscles. Then, donned in a full thick terrycloth robe and massage-soled spa shoes, you enter a room filled with comfortable Eurasian furnishings where you wait for your treatment. Wonderful meditative music plays in the background, and you can read or sleep like I often like to do. Light refreshments are offered--including dried fruit and nuts. I myself experienced the signature Sand Bundle treatment which rivaled any hot stone massage anywhere.



The staff are highly trained massage therapists, who can not only give you that relaxation massage, but can also provide therapeutic treatments to troubled areas. My wife would be the hardest critic to impress--I can only assume that she greatly approved, evidenced by the fact that she was at the spa for a treatment daily and on two occasions had 2 treatments in one day. She especially enjoyed the Fresh Coconut Rub.

Some may not like the fact that if you are not booked for a spa service you really can't get past the front desk of the Spa--I have to say that this is a wonderful rule, as the place is not over crowded with people just wanting to "take a look" or hang around the pool. Everyone inside is there to enjoy the full relaxation effect the Spa has to offer. After your treatment you are not rushed to leave at all--at that time you can wander about the property and take in all the beauty. The vistas from the architecturally designed pool are fantastic. Lie in the sun with the sounds from the wall fountain and its falling water, the meditative music, and the sounds of the waves below--you have truly come to a place where you can leave all your cares behind.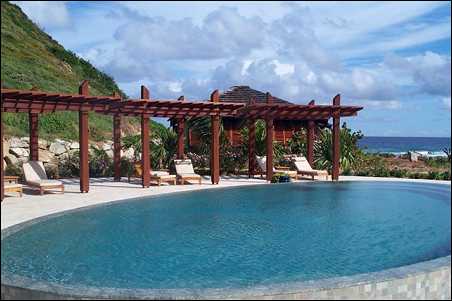 We loved walking to the edge of the bluff, where built into the side is a strategically placed jacuzzi tub-- all I can say is WOW!--the view of Big Reef Bay is to die for. There are beautifully manicured lawns where we were told the morning yoga/pilates classes are to be held--this will just bring this spa to an even higher level. Go to be indulged, refresh and renew your mind, body, spirit and soul.