My wife, two teenage daughters, and I returned from Peter Island on Tuesday, June 30 and had a great time. The weather was great too. Although it was a bit breezy, it helped to keep us cool. Coming from Phoenix, we're not used to humidity, but just got an occasional late afternoon rain shower on the last few days.

The staff is so friendly. We met Benji, Cotton, Liugi, Jean, Randy, and also met Willow, Alvin, Charlie, Brenda, and Wayne. Jean, the breakfast and lunch hostess is such a kick. She kept us entertained and chased after the waiters for us. Here's a picture of Jean with our daughters - Kelly on the left and Melanie on the right. It was taken just outside the Tradewinds restaurant with Tortola in the background.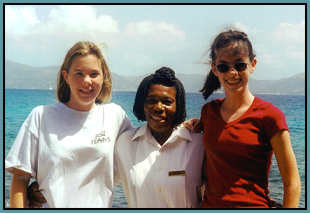 Kelly did well on her scuba dives and received her PADI certification from Randy of Dive BVI located right on the dock. She went to the wreck of the RMS Rhone, Rhone reef, Shark Point, Brown Pants, East Dry Rocks, and West Dry Rocks. She got down 80 feet and saw a couple of nurse sharks, a barracuda or two, colorful lobsters, squid, and several eels. She loved it. Carole and I will have to get OUR scuba diving certification the next time we visit Peter Island.

The food at the resort was delicious. It's too bad that the service is so slow. It often took 2 ½ hours to eat dinner. I'd like to see them improve the service in the restaurants, but you know when you're in a foreign country you need to adapt to the local ways. It really wasn't a problem if you planned a little extra time for evening meals.

Here's a photo of Kelly (17), Melanie (14), Carole and me taken in the Tradewinds restaurant as we were having dinner and celebrating our 20th wedding anniversary.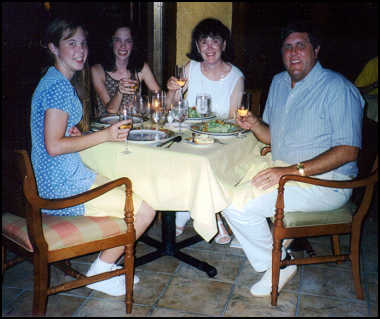 Cotton told us that Peter Island's wine cellar has about 200 selections and that Liugi wants him to expand it to about 300 next year. He's going to Napa Valley in California in late July to make his selections. It seemed that the wine list was condensed during our stay in the low season. I was surprised that they didn't offer Silver Oak Cabernet. Cotton explained that they were out and it is normally available in the high season.

The highlight of our youngest daughter Melanie's trip was a tour of the Tradewinds restaurant kitchen. The last night we were there, Liugi let her help Charlie Passion, the pastry chef, in the bake shop from 6 pm to 11 pm. Here's Melanie lounging on the patio of her garden view room.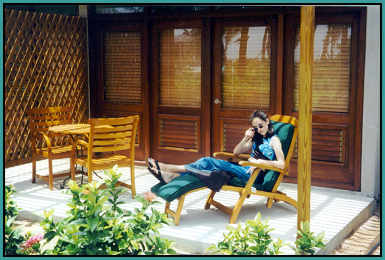 The garden view rooms were great. They're quite spacious and convenient to the swimming pool and lobby activities. The only disappointment we had was that the water temperature in the shower fluctuated quite a bit. No big deal.

Carole and I just enjoyed the relaxation of swimming, sunbathing, and snorkeling on the quiet beaches away from the crowds. It was a great way to celebrate our 20th wedding anniversary.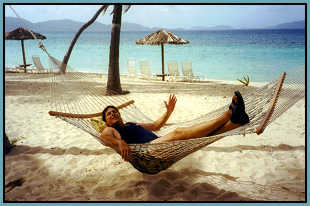 Now this is the way to relax. Here's a photo of me taking advantage of one of the hammocks on Deadman's Bay beach and enjoying a cool sea breeze.

I really enjoyed the snorkeling. One day, we went to The Indians with Mooney of Dive BVI and spotted a moray eel and a sea turtle along with the usual variety of tropical fish. Carole liked going to Peter Island's White Bay beach. I think she liked it because there was no one else there. We did have to avoid a few sting rays at the beaches.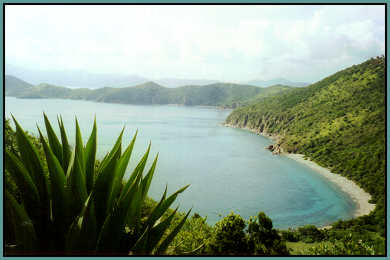 We'd first planned to stay at two resorts in the BVI, but were glad we decided to stay in one place. There was plenty to do right there on Peter Island. We went to the manager's weekly cocktail party, a weekly rum tasting hour, the Caribbean Buffet dinner, played tennis, went into Road Town, visited The Baths at Virgin Gorda, snorkeled The Indians, hiked along Big Reef Bay to Honeymoon Beach, swam every day, and just pigged out on the great food. We listened to the sounds of the Shooting Stars Steel Drum Band one afternoon.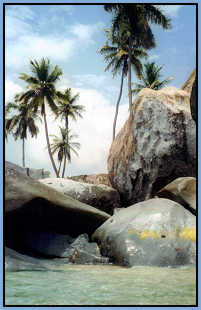 When we took Peter Island's day trip to the Baths, I waded out into the water with my camera to get this photo of the large boulders and palm trees. The rocks were pretty impressive. We also climbed between them, over them, and under them as we explored a nearby cave.

All in all it was one of the best vacations that our family has had. I'm sure we'll go back. We all came home about 5 lbs. heavier with nice suntans.

---
~~ Ron Molnar ~~
RonMolnar@aol.com