Guidebooks to the Caribbean and other Tropical Paradises

By Lynn McKamey (ScubaMom)
When we plan a vacation, the first thing I do is visit the local bookstores in search of a few good travel books to give us some ideas about the area, things to do, places to stay and eat.
Alas, detailed guidebooks to Caribbean Islands are far and few between! Granted, in large travel references, you might find a chapter with short paragraphs about various resorts, some quick travelers tips, and if you are lucky, a general map of the island, but usually it's little more than a brief overview. Those seeking information about watersports such as sailing, diving, and deep sea fishing find even less available.
Fortunately, CRUISING GUIDE PUBLICATIONS, a Florida mail order bookstore offers very detailed guides to most islands of the Caribbean, Bahamas, and also Tahiti and the Vava'u Island group in the Pacific. Want to know the best way to reach the island, or the phone numbers of island rentals and resorts, where to eat, shop, snorkel, dive, fish, or sail? Most everything you want or need to know about an island is in a Cruising Guide publication.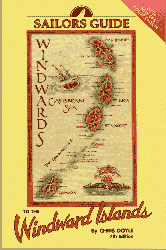 We first discovered these guides in 1988 when I purchased Chris Doyle's "Exploring the Windward Islands - a Complete Guide for Vacationers". I was delighted to find a big map of St. Lucia, another of downtown Castries with restaurants, shops, taxi stands, and location of the tourist bureau marked on it, plus area maps of N.E. St. Lucia, the area around Soufriere, and Vieux Fort on the southern tip of the island. Scattered on the pages between the maps were descriptions of beaches, bars and restaurants, resorts, shops, nature tours, and watersports. Best of all, in the back of the book, was a section listing phone numbers for most of the hotels, airlines, restaurants, car rentals, etc. Armed with Chris's book, we had no problem planning our vacation in great detail! I also discovered that Chris published a separate Sailors Guide to the Windward Islands, which carried most of the same information but was more specific for the yachtsmen crowd... best anchorages, sailing routes, and chartering operations.
As the new editions were published over the years, they evolved into thick, but easily packable guidebooks combining land and sea information. Color photos were added, along with more information about the islands, informative advertisements from quaint Caribbean shops, hotels, and businesses. I can hardly wait for the new editions to come out every year or so!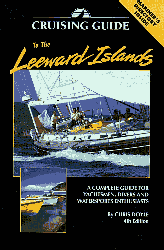 Ever wanted to know all about the small islands of Statia and Saba? Order a copy of the new edition of The CRUISING GUIDE to the LEEWARD ISLANDS. This 448 page booklet includes information about those islands and all the others from Anguilla south to Dominica. A special section for scuba divers is included and GPS coordinates of popular anchorages for the sailing set are noted on the maps.
I have been curious about how to throughly explore St. Vincent and the Grenandines after we floated past them on a cruise ship several years ago. The new edition of WINDWARD ISLANDS has enough information packed in it for us to plan an island hopping vacation through the Grenandines by taking ferry boats and "mail boats" from St. Vincent all the way down to Union Island and Grenada. Best of all, we can scuba dive along the way since phone numbers for the dive shops are included in the book.
A free mail order catalog is available and also includes guides to the Virgin Islands (one of my favorites), Trinidad & Tobago. Venezuela & Bonaire, Bahamas, and Florida coasts. The catalog also offers nautical charts and videos of many cruising and vacation destinations, island adventure novels, diving & snorkeling guides, and Caribbean cookbooks. They ship worldwide.

To see a map from the Cruising Guide to the Virgin Islands, CLICK HERE.
To see a map of St. Lucia from the Sailors Guide to the Windward Islands, CLICK HERE.
For a complimentary catalog or more information, contact:
CRUISING GUIDE PUBLICATIONS, P.O.B. 1017, Dunedin, Florida 34697-1017
Phone: 1-800-330-9542 or 1-888-330-9542
Visit their Web Site listing many of their books and publications