On our way to St. Vincent & the Grenadines in fall 2002, our late arrival into Barbados from Texas required an overnight accommodation. Since we've stayed in some of the west coast beach resorts, for a change of pace, we choose Villa Nova, a historic country house hotel located in St. John near the east coast. And, were completely enchanted with this gorgeous Caribbean "luxury plantation estate".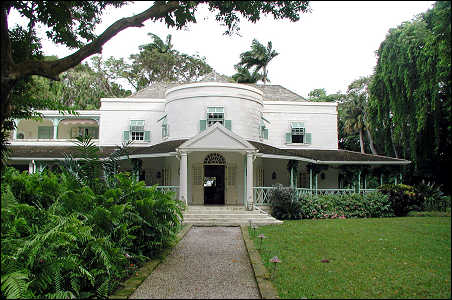 Villa Nova was built in 1834 to replace a "great house" owned by Edmund Haynes, a sugar cane baron who controlled over 1000 acres. It was eventually sold to the Government, then to a private owner who set about transforming this magnificent estate into an elegant and luxurious hideaway hotel for guests.

Set high on a hillside in 15 acres of tropical gardens and century old trees, it has commanding views, including one across 7 miles of Barbados to the Atlantic. This lovely estate reminded me of a tropical version of some of the fine country hotels we've visited in England.



A cool, inviting entryway leads to several elegant living rooms and a music room which all connected to a wide verandah that wraps around the villa and ends at an al fresco dining area which overlooks the pool and gardens. The formal dining room and private dining room are also nearby. A large gazebo is set at one end of the gardens and has wonderful views; a path to a fountain overlooks a different vista of rolling sugar cane fields far below. The beauty is absolutely breathtaking.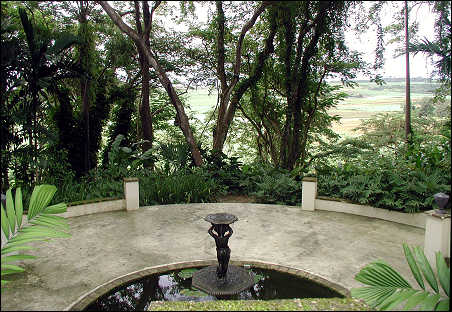 We were shown to our Deluxe Terrace Room on the second floor and entered a spacious room with a king bed facing a wide balcony with a table and chairs and chase lounge. The large bathroom featured a deep footed tub, separate shower, commode, and bidet. The room was air conditioned, but we had the option of opening the large French doors to let the tropical breezes drift through.

| | |
| --- | --- |
| | Deluxe Terrace Room |

The staff had thoughtfully placed sandwich trays and drinks in our room since we had arrived too late to enjoy dinner in the restaurant which has an award winning chef. The next morning, breakfast on the verandah started with a buffet of cereals, juices, and fruit, followed by a cooked breakfast to order.

The pool area is set in yet another beautiful garden surrounded with tall trees, palms, and flowering plants, and has deck chairs for relaxing and sunning. We had a nice view of it from our private terrace.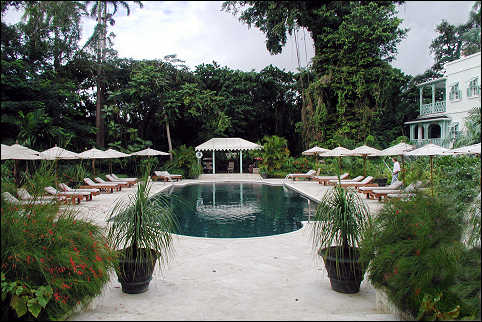 The owners added several buildings to the original villa, following the same exact architecture resulting in the new blending perfectly into the historical. The main villa has several bedrooms on the second floor including the Haynes, Churchill, and Eden suites. An adjoining new section holds more suites as does a separate building just a few steps away behind a garden and fountain. Guests can choose between a spacious Deluxe Terrace Room, or one and two bedroom suites - all with large private patios or balconies.

Guests can enjoy tropical garden walks, tennis, swimming, and the spa. The hotel will also arrange golfing, chauffeured beach picnics, shopping in Bridgetown, day trips to tour Barbados, and even a trip to the famous Tobago Cays in the Grenadines.


Most of the guests are couples who desire a quiet haven in the country. Children over 12 are welcome at all times; younger children are accepted during holidays and summer months. Villa Nova provides transportation to and from the airport - a plus, I thought, since taxi fare to some of the west coast hotels can take 40 minutes and be $40 or more one way. It took only 20 minutes to reach the villa from the airport.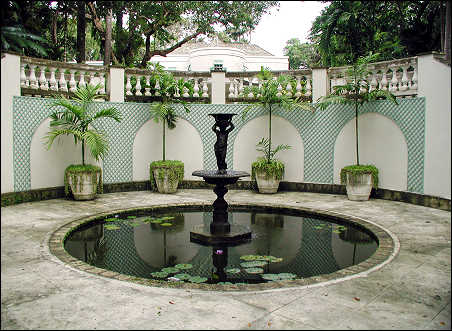 The atmosphere is elegant, secluded relaxation with impeccable service - a perfect way for us to unwind from our long day of airline travel and settle into the first day of our tropical vacation. Villa Nova is truly a unique hotel in Barbados - no other has such a superb setting and sense of pure relaxation. We will definitely return, but for two or three days next time, instead of only one which simply is not enough to enjoy all that this magnificent estate has to offer.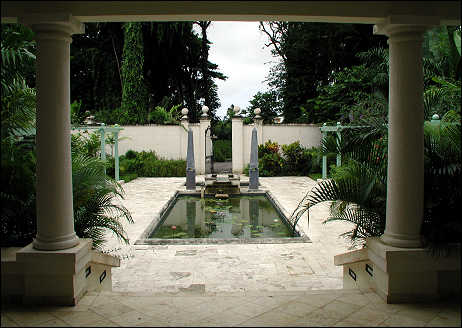 Go to Villa Nova's Website
Read a Villa Nova review from Departures Magazine