Texas Hurricanes 1950 - 2015
Most major storms that hit Texas usually start with A - B - C
by ScubaMom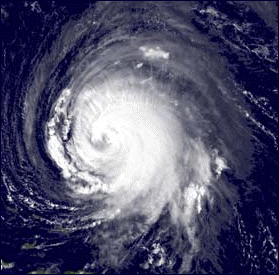 I've lived in Texas most of my life from 1946 and developed a theory on which hurricanes generally hit the Texas coastline. Basically, most of the major ones have names beginning with the letter A, B, or C. I became curious to see if this was true and set about doing a bit of research to find out.

The best hurricane information and data is provided by my favorite weather website - Weather Underground - www.wunderground.com

The links from the storm names below will take you to a page within its historical /tropical/ pages and will show details of each storm.

My theory proved right in most cases. While later storms with names starting with D through F came here off and on through the years, most were little ole tropical storms with winds under 70 mph that hardly even count as a "big blow" in this state. Probably because we get those famous cold front "Texas Blue Northers" that often pelt us with horrendous gale force winds.

On the other hand, any storm that starts nudging 90 mph and up is considered serious in this state. You'll see that we had a few topping 175 mph in the charts below. I survived one of these, CELIA in 1970, and it was no fun.

Storms were not named until 1950 and that is where I started my research, other than reviewing data on the great hurricane of 1919 which destroyed many parts of Corpus Christi with winds well over 100 mph.
Major hurricanes in BOLD
Note: the lower the Pressure (mb), the higher the winds
| | |
| --- | --- |
| Comments on Carla: This is still the largest hurricane of record to hit the Texas coastline and covered the entire Gulf of Mexico. For 3 days (9/10-9/12) it hung off theTexas coast between Corpus Christi and Port Arthur with eye winds varying between 125 and 175 mph. I lived in Corpus Christi, three blocks from the bay, and we didn't dare go outside until the 4th day since hurricane force winds extended along the coast. It went into Port Lavaca with 175 mph winds and a 22' high wall of deathly storm surge water. | |
Comments on Celia - This was one of the costliest hurricanes to hit Texas as of 2005. The eye passed directly over us in Portland, Texas just north of Corpus Christi. Radio sources and the nearby Reynolds Aluminum Plant reported winds of over 175 mph and I can agree with that. The radio station tower blew down shortly after that and we had no communication to keep us posted as to what the storm was doing. To read my report of that storm, as someone who survived it, take this link.

P. S. I will definitely "hit the road" if another like that is headed our way.
| | |
| --- | --- |
| Ike was one that proved my ABC theory wrong. Given another 6 hours or so, it might have moved into western Louisianna, but swamped Galveston with massive storm surge of 11-13' and caused power outages throughout east Texas. It was a giant in size storm, almost as large as the state of Texas. | |
| | | | |
| --- | --- | --- | --- |
| 2009 - 2010 none | | | |
| 2011 Don | 7/27 - 7/30 | 50 | 998 |
| 2012 - 2014 none | | | |
| 2015 none as of Sept 6 2015 | | | |
>>>>> <> <<<<<
30 YEAR HURRICANE CYCLE THEORY
Over the last 125 years there has been a 30 year cycle to major hurricane landfalls in the United States.

Between 1895 and 1925 - most major hurricanes hit the Gulf coast, with very few strikes along the Atlantic coast.

Starting in 1926 however, and continuing until the late 1950 's - hurricanes struck the Atlantic coast.

In the early 1960's major hurricanes stopped striking the Atlantic coast, while the Gulf states again saw a dramatic rise in the number of major landfalling hurricanes. Between 1960 and 1985 - eleven major hurricanes crossed the Gulf coast. Hurricane Carla (1961) and Hurricane Camille (1969), two of the strongest hurricanes of record along the Gulf coast - hit only eight years apart. Only two major hurricanes, Donna (1960) and weakening Gloria (1985) hit the Atlantic coast in the 28 years between 1960 and 1988.
Since late 1980's - there has been some indication that major hurricane activity is again shifting back to the Atlantic coast. Hurricane Hugo (1989), Hurricane Andrew (1992), two of the most intense tropical cyclones to ever strike the the United States eastern seaboard - hit only three years apart. The North Carolina coast has seen a dramatic increase in hurricane landfalls in the middle and late 1990's. Hurricanes Emily (1993) and Fran (1996), caused some of the worst tropical cyclone damage in North Carolina since the 1950's. Hurricanes Bonnie (1998), Floyd (1999), and Isabel (2003) were close to major hurricane strength at landfall along the North Carolina coast. If this trend continues, the Atlantic seaboard form the Florida Keys to southeastern Massachusetts may experience a significant increase in the number of major landfalling hurricanes over the next twenty-five years.

Although the length of available records is short (125 - 150 years), category 4 and 5 hurricane landfalls are quite rare. Only three category 5 hurricanes are known for certain to have ever effected the United States over the last 125 years, the 1935 Labor Day Hurricane in the Florida Keys, Hurricane Camille in 1969, and Hurricane Andrew in 1992. The Great Indianola, Texas Hurricane 1886 may also have been of Category 5 intensity. Read more about U.S. Hurricanes at this website.
Informative Hurricane Websites:
Weather Underground Front Page
Weather Underground Tropical Page
Great all around hurricane information, maps, and tracking
Mike's Weather Page
Spaghetti Models and Hurricane charts
BoatUS Hurricane Center
Excellent info on Current Wind Field
In The Eye of Hurricane Celia written by ScubaMom, a survivor
Go to ScubaMom's Main Page