My husband needed an operation at Sloan-Kettering in New York City, a long way from our home in Corpus Christi, Texas. We'd visited the "Big Apple" many times over the years, but never stayed in the Upper East Side where the hospital is located. So, as usual, when planning a trip, I did research on the internet and also called a good friend of ours who has lived in the "Big Apple" for decades.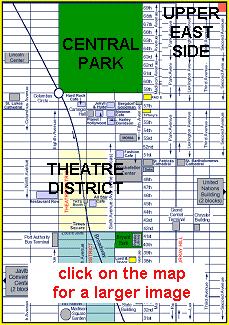 For those of you who have not been to New York City and may be a little anxious about visiting this "multitude of the masses", the Upper East Side is a lovely section and probably safer than your local downtown area (at least it is for mine!) It is mostly apartments, condos, and flats in tall buildings, of course, with each 4-5 block area being a "little neighborhood" with everything you'd need within easy walking distance - groceries, flowers, newsstands, restaurants, diners, shops, and drug stores. Once you figure this out about New York, then it doesn't seem so huge and intimidating!

Sloan-Kettering Cancer Center is located on York Avenue between 67th and 68th street - I've marked the general area with a red square in the upper right side of the map above. The N.Y. Hospital and Cornell Medical Center are nearby.
Patients generally stay at one of several hotels and all usually offer special rates to those needing medical care at area hospitals:
The Helmsley Medical Tower Apartments at 1320 York Avenue between East 70th and East 71st. (212) 472-8400, or (800)-HM-TOWER. Fax: (212) 535-8524
Affinia Gardens Hotel (formerly Lyden Gardens) at 215 East 64th Street between 2nd and 3rd. (212) 355-1230 or FAX (212) 758-7858
Also check the Sloan-Kettering suggested hotel list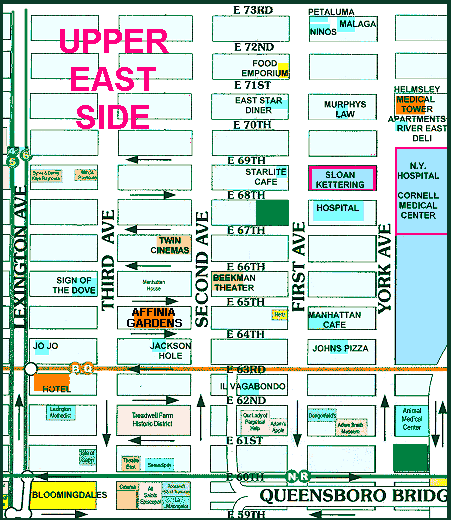 Click on the map for a very large detailed image (233K)


The Helmsley Towers and Affinia Gardens have spacious suites and one bedroom apartments which include small kitchens, very handy when the patient is released from the hospital, yet is not quite ready to return home. Both are about 15 miles from La Guardia airport - a 30 minute taxi ride, and 40 miles from Newark - a 60 minute taxi ride (both longer during rush hours).

We stayed at The Helmsley Towers in a large 1 bedroom apartment; our daughters were in in a big suite. We were quite pleased with the accommodations and the convenience of being only two blocks from Sloan-Kettering. A huge laundry room is in the basement with an abundance of washers and dryers (one load is $1.25); a zillion dry cleaners are nearby too.

Lots of restaurants are within a three block area and we dined at quite a few of them during our 10 day stay. Most of them have take out menus and will deliver full meals to area hotels. We found this very handy when Kenny was first released from the hospital but was not yet ready or able to get "out and about".

Our favorite was Nino's (988-0002), a lovely continental-Italian restaurant at 1st Avenue between 72nd and 73rd. The owner often entertains with piano music and the menu offers many wonderful selections. We had a Caesar salad, then 3 1/2 pound lobster for two prepared table side with an elegant Italian sauce. This was followed by a "towering" fruit dessert plate and petit fours. Kenny and I thought that this dinner was truly one of the most outstanding we've ever enjoyed. Jacket not required.

One night we ate at Malaga (737-7659) at 73rd between 1st & York which specializes in Spanish food, a favorite of our oldest daughter. The selections were all good and most everyone was happily washing their food down with big pitchers of sangria! Jeans or dockers are fine here.

After Kenny's surgery, we discovered Murphy's Law only a half block from the hotel at 417 East 70th Street between 1st and York. This pretty pub had great food at reasonable prices and we went several times for lunch and dinner. The steaks and salmon were excellent, as was the Shepherd's Pie and Beef Stew. It was also one of the few places that served a plain old BLT (Bacon, Lettuce, and Tomato sandwich) which Kenny called "recovery food"! Jeans or Dockers will do. They also have Boddingtons's Beer on tap!

We had breakfast at both the Starlite Cafe and East Star (Silver Spoon) Diner. The Starlite also has Greek selections; the East Star all sorts of "diner" choices.

Our favorite sandwiches and breakfast breads were found at River East Deli at the corner of our hotel block.

A Food Emporium grocery store was just a block away at 1st and 71st and had most everything we needed to stock our little kitchen. Several small convenience stores were within a block too, as were newspaper stores, more delis, a bagel shop, and book store.

Before Kenny's surgery, we wandered further for dining and tried some of the restaurants recommended by our friend Tom. Le Colonial on 57th between Lexington & Third has outstanding Vietnamese-French Cuisine. (752-0808). Whether you are eating in the restaurant or drinking at the quaint upstairs bar, this is one place that you won't want to miss.

One night, we joined Tom at his favorite steak & lobster place called Billy's at 948 1st Avenue between 52nd & 53rd. (753-1870) It is one of those wonderful family owned restaurants full of locals with perfect beef, fish, and lobster at prices that won't break your wallet. Highly recommended.

He also suggested a French Bistro called L'entrecoute on 1st Avenue between 57th and 58th and is owned by Jean Paul. (755-0080) and also IL Vagabondo at 351 E. 62nd St. between 1st & 2nd which specializes in Northern Italian cuisine (832-9221). We didn't get a chance to dine at either one, but plan to on our next visit. Tom has dined all over the world and his recommendations are always good.

The Four Seasons pre-theatre dinner at $45 prix fix continues to be a top choice.

Naturally, I had to make a trip to Bloomingdales! A taxi ride from the hotel was $4 and I walked the 10 blocks back to the hotel and window-shopped along the way. Most anywhere in central New York can be reached by taxi for about $5 with tip (take lots of $5 bills for taxis!)

We were also concerned about our departure ride to La Guardia airport in a wild and wacky taxi, no doubt driven by someone who can hardly speak English! Another New York City friend recommended Tel Aviv Private Cars. Their number is (800) 222-9888 or 212-777-7777 and reservations must be booked in advance. The cars are usually Lincolns and the drivers speak understandable English! The cost is only a few dollars more than a taxi and much more comfortable. Another service is Carmel Car Service (800) 9-CARMEL or (212) 666-6666.

NOTE: We returned for Kenny's 6 month check up and stayed at the Affinia Gardens Hotel. Our Junior Suite was very spacious and the location was close to many of the popular restaurants and stores. It is an excellent alternative to the Helmsley Towers.