Welcome to ScubaMom's Gateway to Diving! I hope you find lots of useful dive travel information within this Web Site and will use it to enhance your vacations in the underwater world.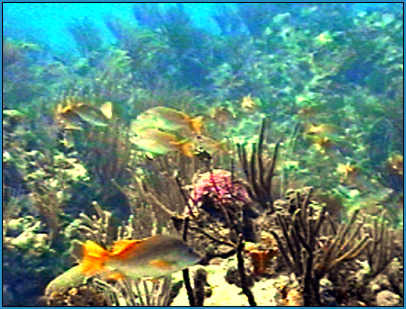 Once upon a time, I planned to be an engineer, but alas, flunked physics and ended up with a BBA degree plus a minor in CS (Computer Science back when the "computer" took up a whole building a city block long, and we used punch cards to feed the monster). I married a 4th generation cotton farmer in South Texas and started growing miniature palm trees which are popular houseplants. Along the way, I started writing garden and palm articles for the horticulture world and became a published writer. I also became an assistant editor for the International Palm Society scientific journal, Principes.

Eventually, my husband Kenny and I started traveling and for fun, I began writing about our vacations and "publishing" them on Compuserve, AOL, and the now defunct GEnie. Hubby, the family photographer, took lots of pictures during our travels and many photos in my various web pages are his.

Kenny and I first visited the Caribbean in 1987 and found it the perfect "escape" - warm tropical waters, stunning beaches, lovely resorts, great food, and peaceful surroundings. We loved the British Virgin Islands and many of my articles are about vacations there, but we've also visited Barbados, St. Martin, Grenada, all the U.S. Virgin Islands, St. Bart, St. Vincent and the Grenadines, Bimini, and Cozumel.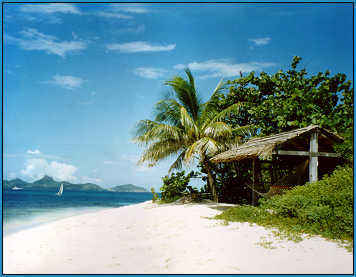 In 1991, we learned to scuba dive - had talked about it for years, but finally got around to taking lessons when our three kids hit their late teens. Four of us were certified PADI and our oldest daughter was certified NAUI.
Growing up in Corpus Christi Texas, I'd always loved to snorkel, swim, and water ski, but somehow found the idea of being "submerged" almost terrifying! Despite that, I signed up with the family and some close friends. Unbeknown to me, the "group" had a side bet as to how fast I'd drop out! Well, I fooled them all and passed everything, although I opted to go back for extra pool sessions before the certification dives, and also spent many evenings "snorkeling" and practicing clearing my mask in our 6' long tub but don't tell anybody! <smile> We were certified in a murky, cold Texas lake and as a result, I decided forevermore to become a "warm water wimp, 100' vis Caribbean diver"! Since then, many of our 200+ dives have been done in the British Virgin Islands and St. Lucia.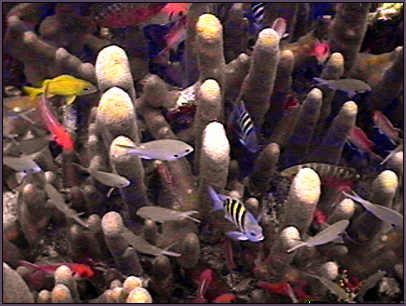 While we were learning to dive, our son Jeff, the family cyberwhiz, drug me over to his Apple computer, sat me down, and said "LOOK HERE!". "Huh?" I said. The screen flashed "Genie Scuba RoundTable". I had no idea what to do! Jeff said, "Type READ" and promptly disappeared leaving me high and dry on a cyber-reef! I read along, and read some more and discovered lots of excellent diving information! I hung around the Scuba RoundTable so long that the SysGuys - Chief SysOp, "Divemaster" Tracy Kornfeld, assistants "The Count" Bob Pitcole and "White Shark" Phil Sharkey - invited me to join the staff and become "ScubaMom". And thus, my nickname was created along with my new cyberlife.
The well known "River Rat" Larry Harris Taylor soon became a staff member and we created a new scuba agency - a cyberworld of dive spoofs called WOWIE SCUBA with such specialties as "Caribbean Dry Suit Diver", "Zero Vis Diver", "Color Coordination Specialty" and "Nudie Ice Diver". Yes, any one can join WOWIE, even PADIs and NAUIs! All you need is a computer, a modem, and a sense of humor!
While helping the SysGuys run the Genie Scuba RoundTable, I also constantly cruised CompuServe's Travel Forum, especially the Caribbean Section which was full of great vacation tips, resort reports, island photos, and an active membership always willing to share information about their latest Caribbean vacation.
My dream is to dust off my Private Pilots License which I earned at age 16, the same day as my Texas drivers license (36 years ago!) and fly a small plane, just large enough for me, hubby, laptop, and scuba gear from Caribbean island to island and do "live" travel and scuba reports direct from paradise! It may never come true, but life is but a dream, no? <smile>
Enjoy the Gateway to Diving (visit my Gateway to Caribbean Travel too) and may all your dive vacations be as pleasing and memorable as ours. If you ever need me to answer any questions, just use E-mail, or stop by CompuServe's Caribbean Travel Forum or Delphi's WOWIE Scuba. I'm easy to find!
-- Lynn McKamey (ScubaMom)