We stayed at Anse Chastanet Resort because of its remoteness, scenic location near the landmark Pitons, and highly rated scuba diving and snorkeling near the best reefs of the island. This resort, first established in 1968, was sold to the present owner in 1974 who has used his architectural expertise to continuously renovate, enhance, and expand the resort to its present size of 48 rooms. Anse Chastanet has the one of the prime locations on the island for fabulous views of the Pitons, ocean, and surrounding area. Overlooking a black sand beach between two ridges, most of the rooms are scattered up a steep hillside. Those wanting to be near the shore at sea level can stay in the deluxe beachside units near the tennis court and beach restaurant. A wide assortment of rooms and rates are available in standard, superior, deluxe, and premium size, but all offer lovely views, privacy, and charming decor.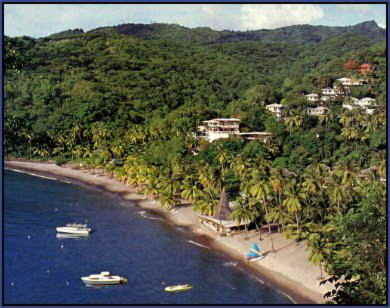 The resort has the reception area, bar, and main restaurant mid-way up the hillside, a convenient location for those staying in the lower beach units or the upper hillside rooms. This four level, open-air architectural wonder perches on a cliff above the beach and has outstanding views overlooking the ocean and the towering Petit Piton in the distance. One hundred winding steps lead down to a large beach filled with tall coconut trees, thatched palm shelters, and a beach bar & restaurant which is open for lunch and afternoon snacks. The spa is located near the beach too.

At the end of the beach near the snorkeling area and boat dock is Scuba St. Lucia, a 5 star PADI facility managed by Michael and Karen Allard, transplanted Californians, with an excellent staff of Canadian, German, and St. Lucian divemasters. Visiting divers can leave their gear in a large locker room located next to the office and dive shop. Three big rinse tanks flank the shop with a shower nearby. Two huge blackboards list the diving activities for the day and following day - divers simply make their choices and sign up. One-tank boat dives are offered at 9 a.m. and 2 p.m.,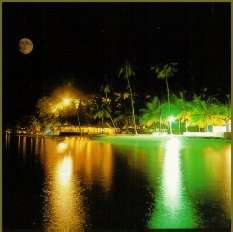 with shore dives at 11 a.m. and 2:30 p.m. Night dives on the offshore reef are usually twice a week on Mondays and Thursdays. A two tank wreck dive is often available on Wednesdays which features a lunch stop at a sea side restaurant. While generally only half of the Anse Chastanet visitors are scuba divers, quite a few of the other half take a resort course (an introduction to diving which can have a novice in shallow water within a few hours.) The staff asks that those planning to take the 5 day open water PADI certification or advanced levels should book in advance of arrival so it can be easily scheduled.
Newly arrived certified divers must start with a shore "check out" dive on the outstanding Anse Chastanet reef. Two boats, each with twin outboard engines, have tank racks in the middle with ample seating on each side. Entry can be made by a giant stride off the stern or a back roll off the high sides. Exits are made via two ladders mounted on each side. Most of the time, only 7 or 8 of us would be diving and had lots of room on the boat. The routine would be to show up 15 minutes before the scheduled dive, don your wetsuit and weight belt, grab your gear, stroll onto the boat, and by the time you had your B.C. and regulator set up, the boat would already be at the reef. Shore dives amounted to taking a few steps to the water, putting on fins, and swimming 100' to the reef under the snorkeling area. While there is usually not much of a current on the boat dives, each is treated as a drift dive.
Most of the dive sites are around the base of the two Pitons, only a few minutes ride away from the resort. These famous twin peaks are a highpoint for many cruise ships and visiting tourists. Divers have the advantage of seeing them on land as well as below, and will be exploring the steep slopes plunging down into great depths - quite a unique experience! Some dive sites have gently sloping reefs or plateaus filled with large boulders.
Depending on the number of divers, each dive has one or two divemasters who plan the maximum depth and time, and ask that everyone stay together. Single divers are buddied up with each other or a divemaster. Morning dives are usually at 70' for 35 minutes, whereas afternoon dives are around 50' for 45 minutes. On the 70' dives I noticed that energetic, eager divers would drift to 80' and the more conservative stayed around 60', but this seemed to work fine for all. Photographers always brought up the rear, staying within visual distance of the divemaster. Visibility ranged from 50' to 80' and water temperature was 81 to 84 degrees F. For protection of the reefs, no one was allowed to wear gloves. As mentioned, most dives had some current, mostly negligible, however one very exciting dive moved us along at 3 knots for 30 minutes. Another dive slowly drifted us north for 15 minutes, then the current reversed and we drifted back near our starting point. Each dive offered something exceptionally different.
Divers and snorkelers are treated to brilliant coral, sponges, and marine life. We saw gigantic barrel sponges, purple and yellow sponge, finger coral, flower coral, black coral, and huge brain coral up to 10' in diameter. Fish were in abundance including trumpetfish, yellowtails, squirrelfish, gorgeous spotted drums, parrotfish, butterfly fish, large puffers, and flashy damselfish with bright metallic blue spots. Snake eels were everywhere, as were moray eels, sea urchins, and featherduster worms. One afternoon, the clouds darkened the skies enough to bring forth the starfish, crabs, and lobster. A giant foot long sea slug showed up another day. Almost every dive brought massive clouds of small fish which surrounded us and often followed us along the way. Since diving is a relatively new sport in St. Lucia, we saw very little damage to reefs and very friendly fish.
One popular dive is Superman's Flight which was featured in the movie Superman IV. Another favorite is Pinnacles which has four seamounts rising from the deep to within a few feet of the surface. Piton Wall at the base of Petit Piton plunges dramatically into the depths. Six great dive sites are located alongside and around the two Pitons and are within a 5 to 15 minute boat ride from the resort. Turtle Reef and Fairyland are located offshore the resort, and Trou Au Diable and Pinnacles are just around the corner.
Most of the visiting divers at Anse Chastanet were fairly experienced, many with rescue or divemaster ratings. Newly certified would ride to the reefs with us, but dive with an instructor as a separate group. Everyone was expected to set up and break down their own equipment. The Divemasters were well organized, giving us a full briefing of the dive and what we might see. We dove mostly with St. Lucian divemasters, the kind of people with great personalities and sense of humors that you'd want to bring home and dive with every weekend - one had an ability to ferret out many sea creatures we might have missed; another sported a flashy German neon lights dive suit and could always catch fish, snake eels, and other critters to show us "up close". Keith, a 7th grade math and science teacher, not only escorted us around the reefs, but also gave us a quick history lesson of the island and its people.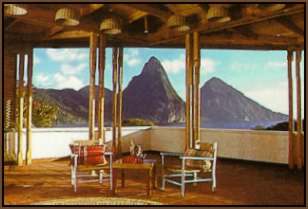 As you can tell, we loved diving at Scuba St. Lucia. When we weren't under the water, we hung out at the two hotel bars, sat on our porch and enjoyed the fabulous views, loafed around the beach, and ate. Most of the wide array of fruit and vegetables served were fresh and locally grown, including the coffee. Breakfast was at the mid-level main restaurant and offered fresh fruit, muffins, freshly baked bread, eggs snatched from the hen only hours before, sausage, bacon, pancakes, french toast, and omelets any way you wanted them. Lunch was served at the beach restaurant and had a three page menu of sandwiches, creole/St. Lucian food, soups, and burgers. Dinner was usually at the main restaurant and offered four course choices of appetizer, soup, entree, and dessert whereupon you needed the hike back up the hill to work off all those calories.
Twice a week, a beach buffet is held which offers a bounty full of food. Vegetarians will love the 15 different salads and veggies offered. A fish selection was always available with a choice of meat - chicken, beef, or lamb. Bananas fixed every which way imaginable were always on the menu. We had live entertainment each night, my favorite being the 6 man steel band... like a Caribbean orchestra!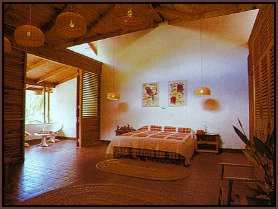 I had expected such a remote resort to be on the "rustic" side. Not so. We stayed in one of the "premium" rooms which had over 1000 square feet of space! The bedroom held a king bed with a ceiling fan which was flanked by a sitting area opening out to a huge balcony. Doors and windows had wooden louvers with no screen - as in open air... and we had no bugs! Hanging wicker shades with yellow light bulbs ringed the room and balcony. The room included a small refrigerator, coffee and tea set up, blow dryer (220) and converter for electric shavers. Our bathroom had a long double sink and a 12' deep shower with a louvered wall overlooking the Pitons AND a mirror which also caught a view of the Pitons. The designer didn't miss any chance to capture the elegant vistas!
All the Premium Suites are very spacious as are the Superior and Deluxe Rooms. The Premium Suites are in building 7 almost at the top of the resort. Most of the Deluxe rooms are on the Beach, and Superior accommodations are scattered up the hillside above the main restaurant and bar - the higher the room, the better the view. The rooms are not air conditioned since they have open sides, but ceiling fans help the breezes blow through.

The only drawback to our wonderful nest high in the sky was the long walk from the beach to GET there. We are on the long side of 40 and certainly not in perfect physical shape. The first day, we took a lot of "rest stops" along the way. The second day our legs whined and moaned, but gave us an excuse to stop at the mid-level bar to "refresh"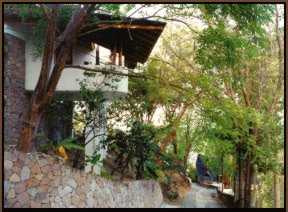 ourselves. On the third day, we didn't have to stop, and by the last day we actually hauled our 60 pounds of scuba gear back up the mountain (forgoing the delivery service available to those not as crazy as we are). Want to get in great shape? Scuba dive and climb the mount twice a day for a week!
Those who do not scuba dive have many day trip selections easily arranged by Anse Chastanet. Many land and sea tours are available plus excursions to the Grenadines and Martinique. One couple had as much fun day tripping the whole week away as we did scuba diving. We found all age groups visiting the resort from honeymooners to retirees. A few families had children along. The visitors were an interesting mix of Americans, Canadians, British, and Germans - all very compatible from all walks of life. One couple, he a Polish American and she an American, had arranged for their two families to merge on the resort en masse coming from all over the U.S., Poland, and Europe ... all 40 of them!
GETTING THERE: Pretend you are on a jungle safari, which is half the fun of "getting there". The St. Lucian roads are about one and a half cars wide and full of hairpin turns. Add numerous potholes and in some cases, no road at all because last nights rain washed it out. On the positive side, this makes for a slow trip which gives you plenty of time to see all the sites, the mountains, the valleys, the delightful villages - don't forget, this is one of the most beautiful islands in the Caribbean. What I am leading up to is - do yourself a favor and don't rent a car - arrange for a driver or catch a cab which will probably be cheaper in the long run, and you can leave the driving to them; after all, they know all the crooks and crannies, not to mention every pothole. Better yet, take a boat when possible. As an example, it takes over two hours to drive from Anse Chastanet to Castries, but only 30 minutes on a boat. The dive boat makes an 8:30 a.m. run to Castries to take day trippers/shoppers and pick up divers and then returns the divers to Castries at 3:30 p.m. and retrieves day trippers (except on Sundays and Mondays). So, that's your quickest, best way to Castries, Vigie commuter airport, and numerous day trips around the north side of the island. The big airport at Ft. Vieux is only an hour drive from Anse Chastanet, a very scenic trip.

Anse Chastanet Reservations
To see a map of Anse Chastanet, Click HERE.
To see a map of scuba diving sites, Click HERE.