Breakfast is included in the room rates and a meal plan is available. The cuisine is wonderful, starting with a cold breakfast buffet followed by a cooked breakfast if wanted.


Lunch offers salads, sandwiches, West Indian hot plate specialties, and a cheeseburger in paradise. Dinner has superb selections of a fowl, fish, and meat each with perfectly prepared local veggies. My chocolate mousse dessert one night was the best. Each night we were sure to reach the main pavilion before night came and were often rewarded with wonderful sunsets. One evening I snapped a shot of the pool deck as the sky reflected on the calm water.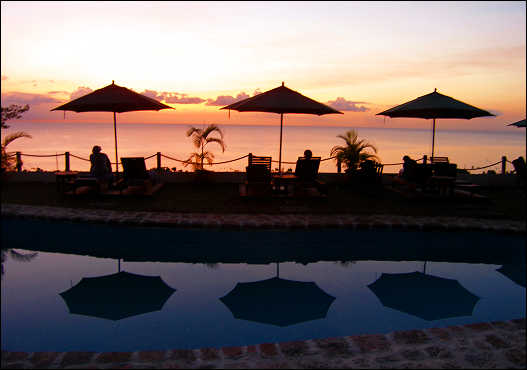 Another night we caught another glorious sunset just before dinner. Several of the tables are at the edge of the restaurant deck with a perfect view of the Caribbean sea and sky.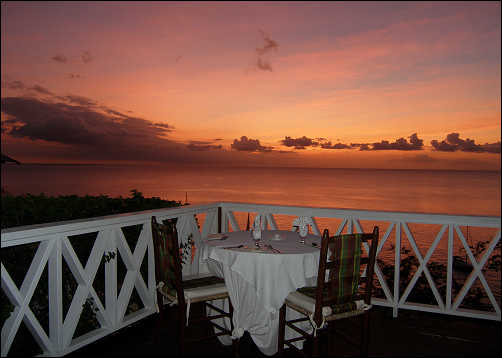 Ti Kaye has a new wine room since our last visit and offers a large array of selections in all price ranges from low to high. Fine Cuban cigars are also available to guests.



INTERNET CONNECTION: Nick has Wi-Fi in the main dining room and bar area. Guests can use their own laptop if they have a wireless connection or for a small fee, rent the office laptop to log on to the internet. I was delighted that our little Dell happily and immediately recognized the wireless connection.

THE BEACH: Just past the restaurant is a staircase to the beach. While it is 166 steps down, it has several places to stop and enjoy the views and snap photos too (You can see the stairway in the photo below).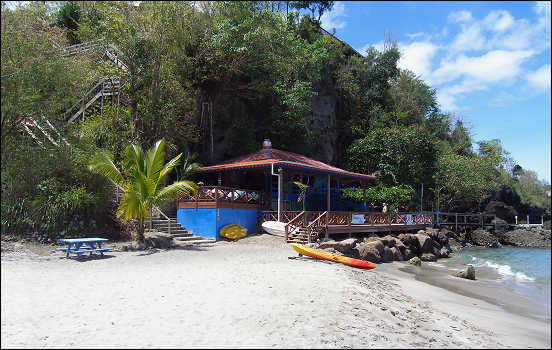 Stairs end at the side of a colorful beach bar & restaurant located to the left and the long silvery sand beach to the right. The dive shop is located there too. Lunch is available and offers sandwiches, burgers, daily catch, steak, salads, and yummy desserts. I loved the sign at the bottom of the stairs next to the bar! See below.

| | |
| --- | --- |
| | |

Every kind of drink can be ordered at the bar. One of the favorites seemed to be buckets of beer or wine to take to the beach. We enjoyed sitting at a beachside table while sipping a tropical drink and watching guests having fun with water sports before finding our own spot on the sandy beach.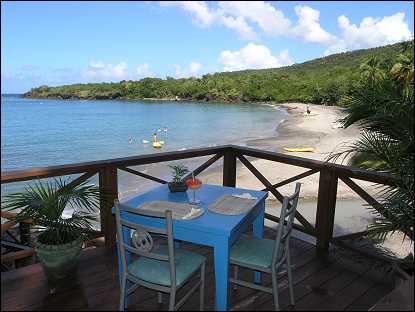 All beaches are open to the public in St. Lucia and this one had a few beach venders selling carved coconut planters, bright pink conch shells, and colorful beads. They were not intrusive, but quite friendly - one proudly showed us how to blow into a conch shell to turn it into a tropical foghorn. If I'd had space in the suitcase, I would have bought one for our grandson who loves loud things. We purchased a beaded necklace for our granddaughter.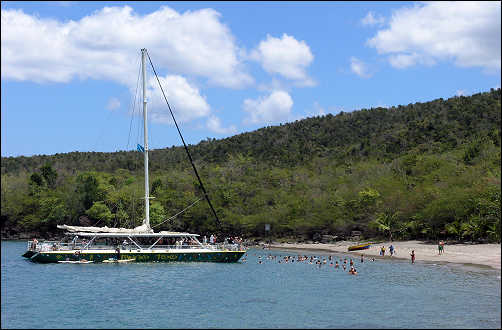 Once in a while in the afternoons, big "party boats" would come into the cove and tie up for an hour so everyone aboard could swim and snorkel. We found this quite entertaining, especially on Sunday when a boatload of locals drifted in with a giant boom box sound system blasting steel drum music off the cove walls. They were all definitely having a good time and provided some local color to our vacation experience.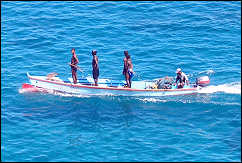 Fishermen appeared early each morning, sliding by in their colorful long boats - one drove while 3 or 4 "fish spotters" stood up watching for the catch of the day. Their sense of balance was amazing, I would have toppled right out of the boat. Once a school of fish were spotted, a net was thrown overboard and the watchers would turn into swimmers to round up a net full of fish. Not quite like the laid-back fly fishing at home.

Scuba Divers will be delighted with the diving shop right at the beach bar and restaurant. If you bring your own gear, they will be glad to keep it, rinse it, and have it ready for your next day of diving. For more about diving, read our daughters review - the link is at the bottom of the page. Meanwhile, here's a picture of me and a divemaster in front of the Island Divers of St. Lucia shop located at Ti Kaye.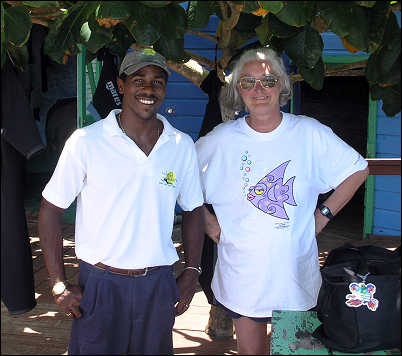 Quite often, a monster cruise ship would glide by in the far distance, reminding us that we were far happier sitting in our treehouse in the sky or sunbathing on the beach rather than being on a boatload of people!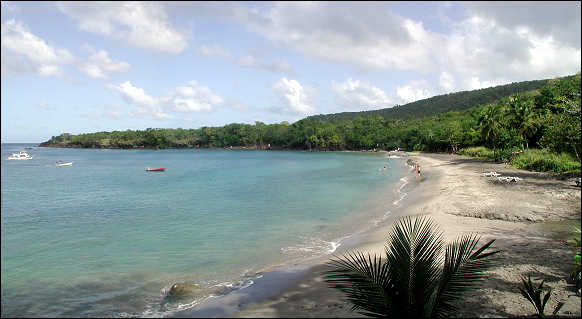 Most guests had breakfast and went to the beach for a morning of swimming, kayaking, and snorkeling before returning up the steps for lunch. Some went on day trips, arranged by Ti Kaye's staff and enjoyed touring St. Lucia's famous pitons, botanical gardens, volcano, and rain forest. Others caught a boat for a shopping trip to Castries.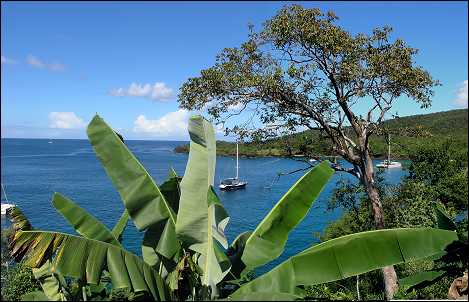 We were having such a good time relaxing on our verandah, at the beach, and by the pool, that we never left the resort! But then, this is our 4th visit to St. Lucia and we'd seen all that before - day trip adventures are highly recommended for first timers to this gorgeous tropical island.

Most of the guests were in their 30s and 40s with a few 50 year olds like us - some were honeymooners, others came for scuba diving, or a romantic getaway.

During our last trip, a couple were married at Ti Kaye on the grassy terrace overlooking the Caribbean Sea. Lovely flower garlands were strung along the gardens backdrop and a table held a bouquet of flowers. A pretty cake also decorated with flowers was provided along with a bottle of champagne. A Marriage Officer gave the short service and afterwards, two of the resort staff members who were witnesses signed the legal papers and wedding book. It was a gorgeous day for a marriage in Paradise.



One newlywed couple from New York City arrived late at night after a long day of flight delays and the 40 minute ride to the resort. They had no idea that they would wake up the next morning with a perfect tropical view from their bed and no doubt will remember this as a high point of their honeymoon.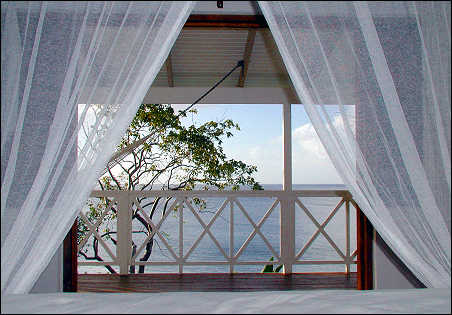 At night, as we sat on the porch under a silvery moon, water gently lapped at the shore below, frogs sang, and fireflies flickered here and there. A true tropical paradise. We loved every minute of our stay at Ti Kaye - it is definitely going to be one of our favorite "home away from home" for future vacations.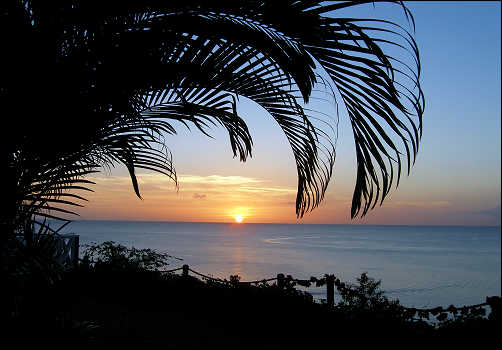 For more information about Ti Kaye, read a review by Max and Corinne who dived and did day trips, and visit Ti Kaye Village's website:

Max and Corinne's Ti Kaye Village Review
Ti Kaye Village Website
Island Divers of St. Lucia