Aspen has been one of our favorite winter destinations for the last 30 years. It was where I learned to ski - on the wide, easy slopes of Buttermilk; where we took our three toddlers (South Texas natives) to experience their first winter wonderland; and where we continue to periodically return for the "best of everything" - skiing, shopping, nightlife, dining, and outdoor activities for all ages - be they singles, couples, groups or families.

Every year or so, we go other places, such as Snowbird, Alta, Vail, Whistler, and Jackson Hole, but have never found any one destination which offers all that Aspen does. Tucked away in the picturesque Roaring Fork valley, the cozy town of Aspen holds an abundance of unusual shops, gourmet restaurants, galleries, coffee houses, all sorts of bars/pubs, the famous "Crystal Palace" for a night of dining and entertainment - most within easy walking distance of Aspen's lodges, condominiums, and inns. Only a short 13 mile drive or free shuttle bus ride away is the Snowmass complex with its own shopping mall, miles of ski runs, and lots of condos, vacation homes, and hotels. Highlands Ski area and Buttermilk are on the outskirts of town. The "Aspen area" has four mountains for all levels of skiers from beginners to extreme skiers. We can stay a week and never have to ski the same run twice.

My husband and I, plus another couple, made our first trip to Aspen in 1972. We stayed in a romantic Inn and enjoyed a very memorable week. A few years later, when our children were pre-schoolers, we returned and stayed in Snowmass at the Shadowbrook Condominiums overlooking Fanny Hill Ski lift. The kids simply toddled out the door, snapped on their little skis and coasted down the "bunny" slope to the lift and ski lessons. As they grew older and became more proficient skiers, we started staying in the town of Aspen in a condo called Aspen Square at the base of Ajax (now called Aspen Mountain) - known for intermediate, expert, and extreme levels of skiing (beginners beware!). Nowadays, the kids are "twenty something's" and still find plenty to do on the slopes and apres-ski in the town of Aspen. And best of all, so do I!

My husband, "Mr. Avid Skier", is the first one on a lift at daybreak and the last one to shush down the slopes when the mountain closes! I, "Mrs. Shop 'til You Drop", would rather browse through the bookstores, art galleries, antique stores, and boutiques, not to mention looking at all the posted menus to decide which gourmet restaurant we might enjoy that night. The "kids" mostly ski with dad, but always manage to find a fun bar, disco, pool hall, and/or hangout for their age group. Let me put it this way - none of us have ever run out of things to do in Aspen!

So what makes Aspen different from all the others? Itís cozy, relaxed, and laid-back , yet rustically elegant. It has the ambiance of an old mining town, which it is, and sits at the base of giant Aspen Mountain in a gorgeous setting.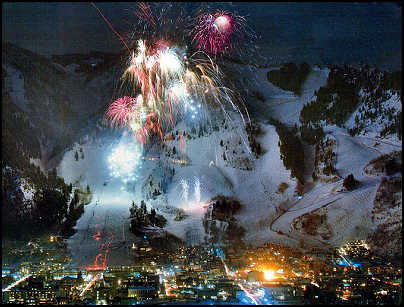 Shops and restaurants reside in 100 year old buildings, not newly built glitzy ones as Vail, or obvious imitations which resemble "nouveau Western" as in Park City and Jackson. You can put on your oldest jeans, a threadbare sweater, and ancient coat and feel right at home in Aspen, or you can don your finest winter frocks and blend in too. Aspen has a friendly, "to each his own" atmosphere. It also has an interesting shop/bar layout....

...One year, we took my "almost 80" year old mother-in-law with us to Aspen. She LOVES to shop, so one morning we woke up bright and early to hit the stores. After we browsed a couple of places, she became "a little tired" and we noticed that there was a cute cafe right next door. Lo and behold, the bar was open, so she thought it might be nice to have a Bloody Mary. Thus rested and refreshed, we went on to the next shop or two which again wore her out, but NO PROBLEM she found a bar/grill right next door! So, we had lunch and a beer or two. Thus fortified, we hit a few more shops ... and yep, the next place was a pub, so we stopped and had yet another "refresher"!

This routine went on all afternoon and it suddenly occurred to me that Aspen very uniquely (or perhaps purposely) has streets lined with 2 shops, 1 bar, 2 more shops, another bar, more shops after that followed by a bar! By 4 o'clock (remember we were at 8,000í of altitude which affects ones drinking habits in a disastrous way), we were at the other end of town and I wasnít quite sure WHERE exactly we were, but she was ready to "go home". As we wandered back toward the condo, she suddenly spied (I'm not kidding) a BASKIN ROBBINS! And so, we "chased" our days "refreshers" with giant chocolate Sundaes! Yes, I managed to get us back to the condo, got her settled in, staggered over to the kitchen table and wrote my still-skiing hubby a note: "Dear Kenny, this is the last time I'll take your mother shopping, she's TOO MUCH for me to handle!" and fell in bed! I never alternated shops and bars again! <smile>

Now where were we? Oh yes, the town of Aspen ... there are lots of neat places to stay from comfy little B & Bs or rustic lodges and romantic inns, to sprawling condominiums and elegant houses.

During the last visit, we stayed in the Snowflake Inn which is more like a small condominium complex at the edge of the shopping area and near Rubey Park's shuttle buses, plus being about 6 blocks straight down from Lift 1A. GREAT location. It has spaciously comfortable rooms, a super staff, complimentary continental breakfasts of cereal, fruit, fresh croissants and breakfast breads, coffee and tea, plus afternoon spiced apple cider and cookies or brownies. Almost like being at home. Our son jumped in the heated pool and/or hot tub every afternoon to soak away all those pains of doing extreme skiing! Which reminds me...

... One day, it snowed a blizzard - powder skiing galore! I stayed in most of the day but kept watching the white fluffy stuff slowly bury cars, lamp posts, and streets. About 4:00, the door opened and our snow-decked son looked in, grinned, and said, "Gee mom, I didnít know this was a ski-in place!" (Well, neither did I!) It snowed so much that he breezed off Aspen Mountain onto the street and coasted 6 blocks down to the Snowflake Inn! I suddenly wondered if they gave "speeding tickets" to hazardous drivers of skis!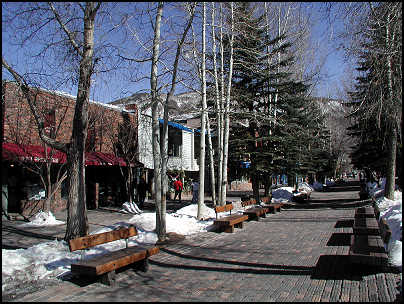 Dining in Aspen is a culinary experience! So many great places, so little time. Probably our favorite steak and lobster place is the Skiers Chalet Steakhouse which doesnít advertise much because it is small and intimate; it is up the hill near lift 1A and has a roaring fireplace and view of Aspen Mountain that is outstanding. The Steak Pit runs a close second and has moved to the street behind the Crystal Palace. Both steak places are very reasonably priced (comparatively speaking).

For excellent New Mexican style Mexican food (not to be confused with Tex-Mex), go to La Cocina which has been in the same fun little casa for over 30 years! We ate there on our very first visit to Aspen, and haven't missed it since. VERY economical prices - youíll walk away stuffed with food in your tummy and money still in your pocket. For "Tex-Mex", try The Cantina - good food, good prices. What is the difference between New Mexican and Tex-Mex? New Mexican is "delightfully goopy" - everything is in layers or tossed together instead of being rolled, wrapped, or topped. Try both and youíll see.

For over 40 years, The Crystal Palace (adorned with elegant crystal chandeliers and stained-glass windows) has combined an excellent three course dinner with a satirical review spoofing everyone and everything from celebrities to politics. If you haven't heard Mead Metcalf sing the endearing song "Peanut butter on your chin", itís not to be missed. Request the song "Madeira, my-dear-a" - itís a classic too!

The best steak au poivre (pepper steak) and sinfully chocolate dessert Iíve ever had was at Poppie's Bistro Cafe (take a taxi or a long walk from the middle of town) - elegant dining in a lovely Victorian House as you can see below.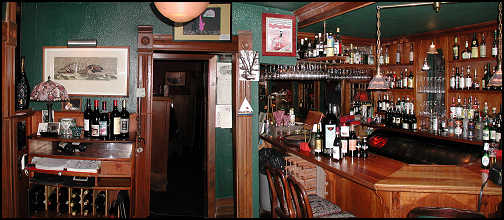 We love eating breakfast and lunch at the Wienerstube Restaurant which has European trained chefs and Viennese pastries. The Ute City Banque is a great centrally located meeting/eating/drinking place!

Aspen has lots of other great cafes, bistros, and restaurants, many with very opulent dining. However, always make dinner reservations in advance, or arrive early (before 7 pm) at those which do not take reservations. The popular spots fill up fast and youíll be standing in a very crowded bar waiting for a table. Dress? Iíve never been in any Aspen restaurant (even the chic ones) which required men to wear a coat and tie.

The variety of shops is amazing! You can find elegant resort wear, casual wear, ski clothes, unique coats and frocks, western wear, hats of all kinds and sorts, jewelry galore, outstanding art, unusual sculptures, fine Indian crafts, and even a Steuben glass showroom. Boogies, a bogus 1950ís style diner and shop, has some of the most outrageous clothing youíll ever find. One of my favorite craft galleries is Footloose and Fancy things - a tiny upstairs store which specializes in beadwork, leather wear, and custom moccasins. Curious George has ... well, very curious things and should not be missed by the men! Ladies should browse through Limited Additions for the latest in elegant wearable art and unique hand-woven creations.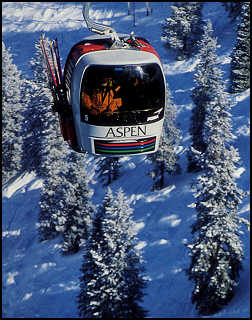 The four mountains offer a huge variety of runs for all levels of skiers, and one lift ticket will gain entrance to any and all of them. Buttermilk Mountain, located a few miles out of Aspen, is a favorite of beginner and low intermediate skiers who enjoy wide slopes and perfectly groomed runs. Highlands Mountain, also a couple of miles away, has lots of low to high intermediate runs, plus some extreme skiing - a great place for snowboarders and mogul lovers. The family favorite is Snowmass, an enormous mountain complex which offers something for everyone and has lots of ski-in/ski-out accommodations near the main village and also slopeside "neighborhoods" of homes and townhouses for vacation rentals. Aspen Mountain (Ajax) within the town of Aspen is for experienced intermediates to extreme skiers and has incredible vistas. Non-skiers are welcome to take the gondola for a sight seeing trip.

All four ski areas are linked by a reliable and free shuttle bus transportation system, meaning you do not need to rent a car ... or if you have one, leave it parked and take the bus. Thereís also plenty of taxis available.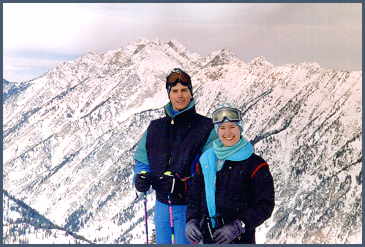 For those who love the great outdoors, lots of other activities are available besides gliding downhill. Ice skating can be done on the rink next to Rubey park. Sleigh rides can be taken to the gourmet Pine Creek Cookhouse. The Krabloonik Kennel combines a dog sled ride with a delicious four course lunch. How about a hot-air balloon drift or a very adventurous paragliding lesson! Aspen also has miles and miles of cross-country ski and snowmobile trails.

SOME ASPEN HOTELS

Those looking for upscale hotels will have several choices. The Little Nell Hotel is known as one of the most luxurious in Aspen. It sits at the base of Aspen Mountain with the Gondola only a few steps away. Ninety-two rooms, including some outstanding suites, each have a gas log fireplace, spacious bath, and wonderful views. Service is superb, amenities are endless. Sheer elegance best describes the Nell and it is carefully embellished with a perfect Western atmosphere as you can see below.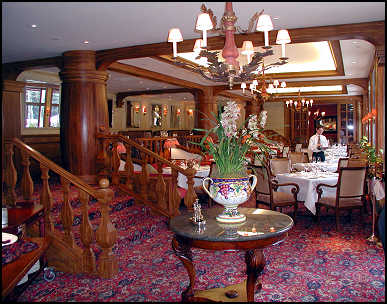 One of my favorites is the very historic Hotel Jerome, centered on Main Street and just a few blocks from the lifts. Originally built in 1889, it has combined Victorian elegance with modern day luxuries. Rooms are quite spacious and suites are enormous. Guests will enjoy two bars, fine dining in the Restaurant, a ski concierge, a heated pool, and a fitness room to name a few of the amenities.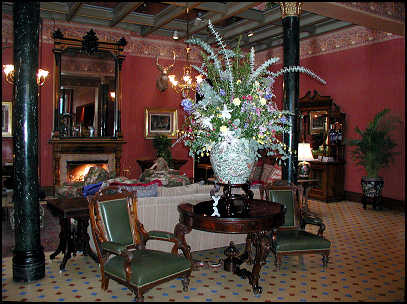 The St. Regis is Aspen's largest hotel with 257 rooms, large conference areas, and lots of amenities. It is located between the two lifts and at the edge of town center. Guests will enjoy excellent service and a full range of accommodations from standard rooms to "Presidential" Suites. Several lobby areas are highlighted with blazing fireplaces and show the "relaxed" Western decor.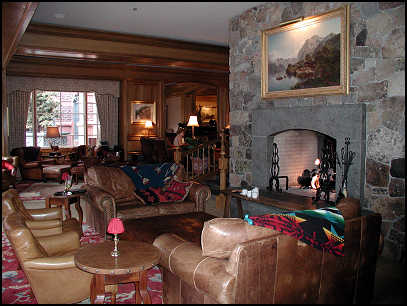 SOME ASPEN INNS

Sardy House has been a long time favorite of visitors looking for a historic inn near the center of Aspen. Built in 1892, it has been lovingly restored and expanded while retaining a wonderful and comfortable Victorian atmosphere. Twenty rooms and suites are delightful, some having a balcony or private garden entrance. I particularly liked the Pyramid Guest rooms with high vaulted ceilings, a sitting area, and whirlpool tub. A complimentary breakfast is included in rates and guests will enjoy having a drink in the cute bar near the dining room.

Hotel Lenado has 19 rooms and a mountain lodge atmosphere. Guests can choose between two types of rooms - Larkspur has shared decks, while Smuggler rooms feature private decks, whirlpool baths, and some have wood burning stoves. Breakfast is included. Amenities include a bar, library, rooftop hot tub, and comfortable lounging lobby.

Many other types of lodging is available - something for everyone!

WITH SO MANY PLACES TO STAY, WHO SHOULD STAY WHERE?

SINGLES will probably enjoy staying within the town of Aspen near all the night spots and entertainment.

COUPLES have lots of choices. If you like a wide array of evening activities and a large choice of romantic restaurants, stay in Aspen. If youíd rather bundle up in a winter wonderland get-away, consider staying at one of the many Snowmass townhouses or alpine homes in a wooded, secluded area.

FAMILIES with tiny tots would probably enjoy staying in one of the ski-in, ski-out homes or condominiums in Snowmass. Children's ski school is just a bunny hop away and thereís plenty of ski runs for all experience levels of your family. If youíd like to go to Aspen for the day, just jump on one of the continuous shuttle buses for a 20 minute ride.

VACATION TIPS:

When you arrive in Aspen, pick up a town map and dining guide available in most shops and restaurants.

The December Holiday season is the most popular and reservations must sometimes be made a year in advance!

AWARD for the finest, most elegant, sit down, on-mountain breakfast and/or lunch goes to Gordon's (formerly Gwyn's) at the top of the Alpine Springs quad lift in Snowmass. Reservations are a MUST - this place is popular, cozy, and fills up fast! Call 923-5188 for a very memorable dining experience.

Aspen has special activities and events twelve months of the year - spring, summer, and fall can be a delightful time in the mountains. For more information, visit www.AspenTravels.com

GETTING THERE ...

Getting to and from Aspen can be an adventure! Or not, depending on the weather. You have two choices from Denver - a 240 mile drive or 40 minute flight - if skies are clear. If a blizzard hits, a drive can take up to 6-8 hours and flights may be canceled until further notice! Savvy Aspen travelers know to be prepared for almost anything.

Aspen's short airport runway is located in the bottom of a bowl shaped valley, and over the years, weíve had some interesting experiences "getting there". In the old days, we flew Aspen Airways (now United Express) which had ancient, but sturdy twin prop Convairs. One year, we went to the Aspen airport in blizzard conditions, highly doubtful that weíd ever depart for Denver! Weather reports indicated that there might be a break in the storm, so we boarded the plane and the pilot taxied to the end of the runway, ready to fire-wall the throttles if the snow let up. Sure enough, after 15 minutes, the blizzard suddenly stopped, and we blasted down the runway, lifting off for Denver. The weather closed in behind us and we were the only plane which departed Aspen that day!

Another time, en route to Aspen, the pilot informed us that fog had suddenly settled over the airport - we could either return to Denver, or take a chance that the fog would clear. We opted to go on to Aspen and went into a holding pattern - endlessly circling in the narrow valley bowl. The pilot suddenly announced that a private jet had showed up and it looked like it was going to dive-bomb into the fading fog! WOW - it made it! Pretty soon, another private plane did the same - our pilot finally decided that if they could do it, so could we! Yep, we made it just fine.

One trip, we arrived in Denver to find that Aspen was closed to air traffic because of snow storms - the airline quickly arranged for bus transportation, but we spent 6 long hours mushing westward through blizzard conditions. Most of the time though, we have flown in and out of Aspen in perfectly gorgeous weather. Aspen Airways/United Express now flies small jets and still has those great pilots who keep passengers informed.

On one trip, we drove my husband's four wheel drive Chevy "Big Blazer" to Aspen. As we left Denver on the inter-state highway and climbed into the mountains, skies were clear and the drive beautiful. However, a bad weather system moved into the area and as we passed through Eisenhower tunnel, gale force winds hit us with white-out blowing snow. We blindly slithered toward Vail, stopping to eat lunch and hoping the blizzard would stop. It did, but the roadways were completely packed with snow and ice. We finally slid into Aspen hours later, but the harrowing trip was worth it! We spent another delightful vacation in our favorite all around ski destination.

INFORMATION & RESERVATIONS:

Aspen Central Reservations:
(800) 290-1325 or (970) 925-9000 or FAX (970) 925-9008

Snowmass Resort Association:
(800) 215-7669 or (970) 923-2000 or FAX (970) 923-5466

Aspen Skiing Company:
(800) 525-6200 or (970) 925-1220 or FAX (970) 920-0771

For complete travel reservations, contact your favorite travel agent or
call our own travel agent, Ulf Carlton at Olson Travel (800) 525-8090 or (512) 643-4555 or FAX (512) 643-6975.

~~~~~~~~~~~~~~~~~~~~~~~~~~~~~~~~~~~~~~~~~~~~~~~~~~~~~~~

Visit Aspen Travels for more info!

P.S. Yes, I love to scuba dive in the Caribbean when we aren't on a ski slope somewhere. Youíll find lots of my articles about vacationing and diving in a different section of this ScubaMom web site.