For our annual Christmas ski vacation, our family of five decided to go to Banff and Lake Louis in Alberta Canada, a region we'd never visited before. As usual, we were searching for a ski area which was not booked solid for the busy holiday season as are most of the ski mountains and resorts in Colorado.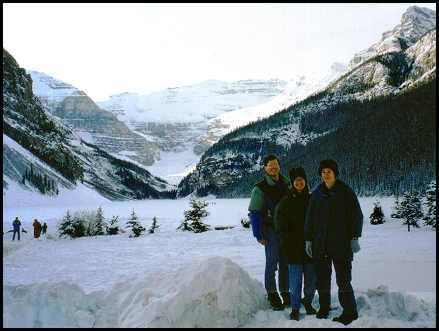 My husband and son drove our Big 2-door Blazer (now known as a Tahoe) from South Texas, taking 3 days to make the 2200 mile trip; my two daughters and I flew into Calgary from Corpus Christi, Boston, and Chicago. The girls and I were supposed to arrive around 2 p.m. within a few minutes of each other so we could ride to Banff together, but my American Airlines flight was delayed and I didn't reach Calgary until after 6 p.m. No matter, the girls found a bus leaving for Banff and hopped on for the 1 hour 45 minute ride; I took a Banff Airporter van which provided service from the airport directly to our hotel door. I highly recommend this shuttle since they have many scheduled trips between the Calgary airport and Banff, including late ones at 8:30 p.m. and 10:30 p.m. The last bus leaves for Banff at 6 p.m. The Banff Airporter also offers early morning service from Banff for those departing Calgary on sunrise flights.

Since my flight landed after sunset, I could see how huge the brightly lit city of Calgary was! It sprawls for miles and is laid out in a very organized grid of streets and highways. My first impression of Calgary and this region of Canada was when I reached the baggage pick up area of the airport. A cheerful group of volunteer hosts and hostesses wearing white cowboy hats and bright red vests fanned out to meet and greet any new arrivals who might need information or help. I was amazed at how friendly these people were - each seemed so glad we all came to visit their part of the world. At home, there's a saying "Texas friendly spoken here"… and I immediately thought "Calgary friendly spoken here, for sure!" I felt like I was back home in Texas. What a pleasant way to start a vacation!

Joining me in the Banff Airporter van was our driver - a cross country skier, plus a "local" resident of Canmore, and a couple from Sweden. We had a great time comparing stories about skiing in Europe, the U.S. Rockies, and the Canadian Rockies. The 74 mile (120 km) trip went very fast with all our discussions, although the first 45 minutes was spent driving through the huge city of Calgary - after that, the 4 lane highway through the prairie and rolling foothills to the mountains was a breeze.

We rolled into the small town of Banff and I was dropped off at the Rundlestone Lodge which has recently expanded to become a small hotel with an elegant rustic atmosphere. The warm and inviting lobby is decorated in a pleasing western mode with a huge fireplace and comfortable furniture. I was shown to our two bedroom accommodation on the third floor and was pleased to find a large living room with a balcony overlooking mountains in the distance plus a fireplace, and small, but quite serviceable kitchen. The master bedroom had a queen bed and a spacious bathroom with a Jacuzzi large enough for two (even us Texas sized folks); the second bedroom had a balcony, two double beds, plus another large bathroom with a shower. Our family of five had more than enough room.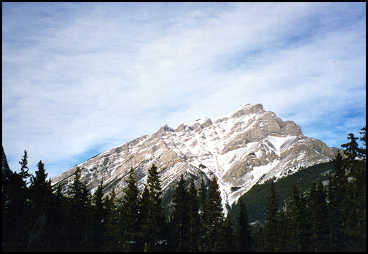 The Rundlestone also has a big indoor pool, hot tub, exercise room, and The Pines restaurant which serves breakfast and tantalizing dinners (more about that later!). My husband was delighted that the lodge had heated underground parking for our car and plenty of locker room for our ski equipment. I had a chance to see some of the other 95 rooms and found an amazing array of configurations which should easily provide any type of room for singles, couples, or families. Many of the suites have bedroom lofts over sitting areas, kitchenettes, and/or fireplaces, and/or Jacuzzis. The decor of the spacious rooms is very tasteful and comfortable. The staff was friendly and helpful. Needless to say, we were quite pleased with the Rundlestone.

Located on Banff Avenue (the main street), the Lodge is only a 15 minute walk to the main part of town and shopping area. A liquor store and small grocery is one block up the street away from town - very convenient location! The hotel is also located next to a pretty little park, so while it is "in town", it gives a sense of being near the great outdoors (especially when an elk comes strolling through the park!).

While the family went to Sunshine for a day of skiing, I walked to town and found a nice selection of gift shops, clothing and outdoor stores, markets, and restaurants. Kellers Foods had the best selection of groceries and fresh baked breads. A few boutiques had some expensive, but unusual ladies wear, however most of the stores offered reasonable priced winter wear and outdoor clothing. Many of the shops are located in indoor malls strung along several blocks.

The first night, my husband and son ordered pizza from Aardvark Pizza & Subs and found it quite good, while the girls went to Balkan - the Greek Restaurant and reported good selections including something for our veggie daughter. We went to the Bistro on the second night and were quite pleased with the continental selections. The third night, we ate at the Grizzly House which specializes in every kind of fondue imaginable and hot rock (a 600 degree heated stone on which you fry your food) selections; while this was rather fun, we found the prices high and at the end of the meal, my son put it well … "Gee, we ate all this food, but I still feel hungry!". Perhaps we should have gone to the well known Ticino Swiss-Italian Restaurant which also has some fondue choices along with many other entrees.

We saved the best for last and dined downstairs at The Pines Restaurant - the newest addition to the Rundlestone. It is operated by the same people who have Ticino and offers breakfast and dinner, plus a delightful Lounge menu after 5 p.m. Interestingly, as we "dined" our way through town, people (including waiters at other restaurants) highly recommended The Pines! We had dinner there two nights, December 24th and 25th, since they offered a special Christmas menu featuring traditional turkey in addition to the regular one.

The Pines cuisine was outstanding and artfully presented on the plates - almost too pretty to eat, but tasted even better than it looked! They have a wonderful array of small appetizers - we had the "Shrimp and King Crab salad with Asparagus and squash" and the "Lobster and goat cheese terrine with cucumber relish" - both excellent. One daughter had the small mixed green salad (which was enormous, not small!). For entrees, my husband had the "Vanilla poached salmon steak" which he proclaimed perfect; son Jeff and I had the "Beef Tenderloin with Langostino (crayfish) tails with a potato vegetable ragout"; and our veggie daughter ordered "Cilantro rigatoni with grilled root vegetables and oyster mushrooms on a sun-dried tomato and black bean pesto" (I must say that this was the first meal in Banff where she almost licked her plate clean!). Wonderful, wonderful food! If you eat only one elegant meal in Banff - try The Pines - you won't be disappointed (and the prices were slightly less than the other restaurants we visited).

I ate lunch one day at the good ole Keg - always good steak, fish, and salad bar for those looking for basic food fare and beer on tap.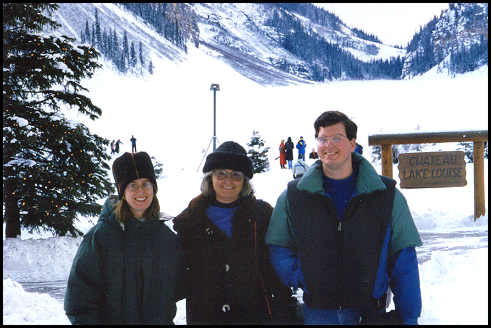 We visited the famous Banff Springs Hotel and Chateau Lake Louise - both extremely large, full service hotels with lots of planned activities, shops, restaurants, and anything or activity a guest might want or desire. If you like huge expensive hotels with plenty of service, they are a good choice. Supposedly, a "soap opera" TV show in Japan features "the Springs", so obviously, it's a popular destination for the Japanese. Of the two, I found The Chateau much more elegant and in a gorgeous location. We walked through the Rim Rock Hotel and it would be my choice for the "most elegant" hotel in Banff, not to mention that the views from the cliff-clinging hotel are breathtaking.

Alas, there was little snow for our skiers since the weather phenomenon El Nino had brought dry, warm weather to this area for the holiday season, however, the three ski mountains - Sunshine Village, Ski Louise, and Mount Norquay - would provide plenty of terrain for avid skiers. The weather during our stay was cold - bouncing between 0 and 26 degrees F, much warmer than during 1996 where the lows dropped into the - (minus) 30s F! Suffice it to say that I was much happier being above zero than below for my daily treks into town.

Banff offers lots of accommodations - most of what I saw were nice hotels or inns along Banff avenue with a few budget type motels. The area offers many accommodations in remote settings too … something for everyone.

Links to some of the Banff businesses:

Banff Airporter Van Service to and from Calgary:
(888) 44902901 (403) 762-3330 FAX: (403) 678-3990

Rundlestone Lodge:
(800) 661-8630 (403) 762-2201 FAX: (403) 762-4501

The Pines (at the Rundlestone): see above

The Bistro Restaurant:
(403) 762-8900

More Banff information

For complete travel reservations, contact your favorite travel agent or
call Olson Travel (800) 525-8090 or (512) 643-4555 or FAX (512) 643-6975


BANFF TOWN MAP

~~~~~~~~~~~~~~~~~~~~~~~~~~~~~~~~~~~~~~~~~~~~~~~~~~~~~~~
Copyright © 1997 Lynn McKamey (ScubaMom)

P.S. Yes, I love to scuba dive in the Caribbean when we aren't skiing on a slope somewhere. You'll find lots of my articles about vacationing and diving in a different section of this ScubaMom web site.