Our daughter from Texas was to have her marriage to a young British man blessed in a country English setting. Eighteen of our friends and family flew to England to attend the "wedding-blessing" weekend, based in Midhurst, West Sussex.

England in May is beautiful – lush green pastures dotted with spring flowers, a perfect setting for a ceremony! Midhurst is a 14th century village and the ceremony was to be in a tiny 12th century church. We Texans felt as though we'd delightfully stepped back in time.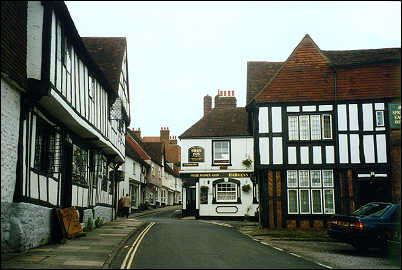 Midhurst street by Spread Eagle Hotel


Midhurst is a scenic village, very centrally located in the region south of London. Lots of historical buildings fill the town and we found much to do during our stay - browse the shops, visit nearby ruins, see a polo match, take a local bus to Chichester and Petworth to tour museums and visitor highlights.

Cowdray Ruins, once a castle in the Middle Ages, is a short walk away. Most of our group enjoyed exploring the site. Below you'll see a photo of it from the Angel Hotel's gardens (on a dark and stormy day - very gothic!)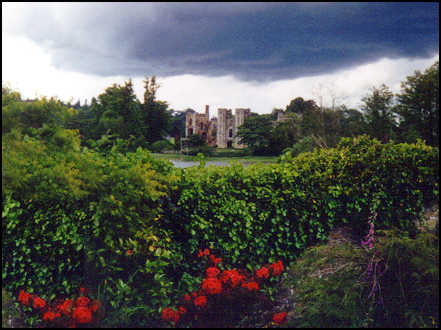 We stayed at the historic and delightful Spread Eagle Hotel in Midhurst. It has been a coaching inn since the early 1400s, possibly earlier, and much of the town appears to be as old. One of our favorite places to meet was in the "Middle Ages" part of the hotel ~ the bar!


15th Century bar in the hotel


Rehearsal dinners are an American tradition (not an English one), so we arranged to meet at the nearby Angel Hotel's Garden room for drinks and a lovely buffet supper. This hotel has the same owners as the Spread Eagle and would be a nice alternative place to stay in Midhurst.

For the first time ever, the two sets of parents met each other. For months, we four had all worried Kara and Nick to death about whether we would understand

each other's accents (Texas drawl & very British) and I'm delighted to report that we had NO problem whatsoever! Interestingly, Gordon's accent is very much like someone from Rhode Island (I guess we now know where the "Rhodies" must have originated).

Monday morning we were all busy preparing to leave at noon to travel by bus (coach) 17 miles to the tiny church. Two of Nick's friends came to fix Kara and Betsy's hair – and several other friends had also traveled from London and Oxford for the event.

Kara (who once majored in "theatre costume design) made her two piece wedding dress - her floor length coat was of featherweight silk adorned with tiny pearls worn over a long silk gown. Fresh flowers were woven into her hair. The traditional "something borrowed" was Mariko's pearl necklace.

We left the little town of Midhurst and traveled along narrow country roads edged with gorgeous flowering hedges and surrounded by green rolling fields. The church came into view, sitting on the side of a small hill full of white and yellow wildflowers. We walked up a lovely pathway edged with lush green trees to reach the tiny church that only holds 50 (if the garden bench is brought inside to seat the last few people).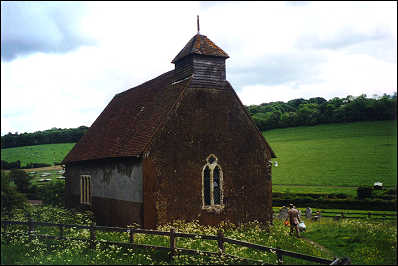 12th Century Church ~ Up Waltham


The church is across from a farm where Barbara was raised and many of her family were married and buried there. Gordon gave the background in an email:

"My family (Murray) is a Scottish one, though it was my great-grandfather who came south in the nineteenth century and none of us have lived in the north since then. Barbara was a Hedgecock, a Sussex family name (a hedgecocker was someone who trimmed and laid hedges, usually used rather than fences). She was brought up on a farm a few miles from the village where we live - it is one of the three parishes I have. The Up Waltham church there is small, and eight hundred years old.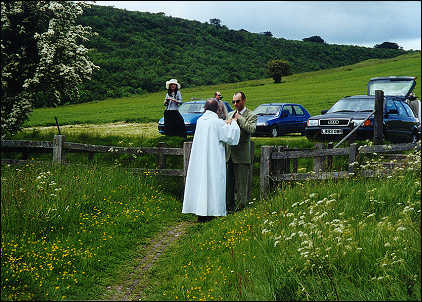 Gordon with Nick - Mariko in hat


We walked up a pathway and began entering the church. I asked if I should wait for the procession and Gordon said "Oh no, just go on in and sit down!" No fussy pomp and circumstance to THIS blessing! The tiny church (which only holds 50 people) had pews on each side, just large enough for four people across. We truly felt as though we were in the 12th century! Needlepoint kneeling cushions (no doubt lovingly made by the small congregation) marked each seat and the priest podium was sideways facing two large chairs, an interesting arrangement.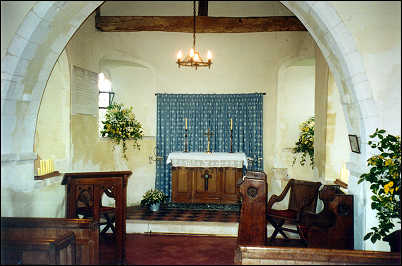 At this point, I must make a comment about Gordon – he's just what you'd think of a friendly, country clergyman (even though he's been at huge city churches much of his life). He has a delightful sense of humor and easy-going manner plus a wonderful smile which immediately sets a joyful atmosphere. And, he always wears sandals (wish I'd known, I'd worn mine too).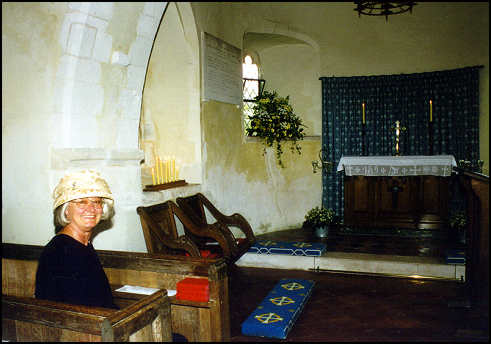 Lynn before the ceremony


As I settled myself in the pew, I noticed that Nick's family (large gathering of uncles, aunts, cousins) were busy visiting with each other (as expected for widespread families who don't see each other as often as they'd like), and there was none of the silent, formal atmosphere found in most church weddings in America. Gordon turned to me and said "We aren't always as formal over here as in America". HOW REFRESHING – I was delighted.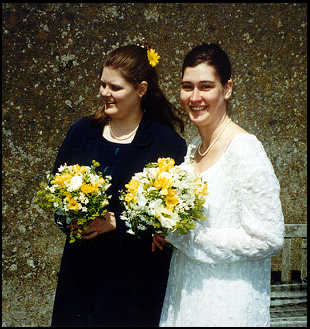 Betsy and Kara


Kenny walked Kara down the aisle and left her with Nick, Betsy, and Tim - the two of whom soon sat down in the front pews for the service (another interesting variation on our weddings) when Gordon, Nick, and Kara went forward toward the alter and turned sideways – Gordon next to the podium; Kara and Nick by the chairs. The congregation could then see the entire service and all three faces! Gordon says that he does this even in large church weddings since "who wants to see backs"! (don't you just love these English weddings – I certainly do!) He has chairs for the couple so they do not have to stand the entire ceremony (another great idea).

Midway through the service, Gordon turned to find the Bible and after looking around a minute, uttered "SOMEONE HAS NICKED (lifted) THE BIBLE!" (it had been removed from the church after Sunday service and had not been brought for the ceremony). Without missing a beat, he turned back to Kara and Nick and proceeded. In the US, the ceremony probably would have been stopped with the clergy in an uproar, but not Gordon - nothing phases him at all!

His "address" was very personal where he told the story of how Kara met Nick in the Rocky Mountains … and the trials and tribulations of carrying on a long distance relationship until Nick moved to Vermont.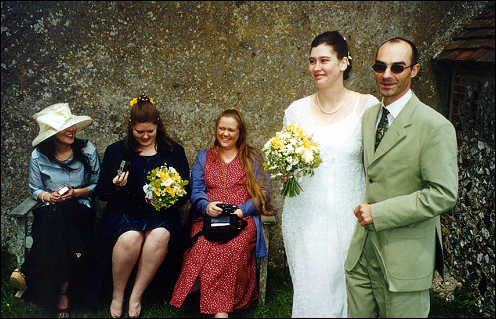 Kara and Nick leaving church ~ Mariko, Betsy, and Katherine on bench


After the 1 o'clock service, we all visited briefly by the side of the church and absorbed the wonderful spring like country surroundings before walking back down the flower edged lane and across the road to what was Barbara's family's farm for generations – the new owners have turned the historic corn silo "barn" into a meeting room called "The Courtyard" complete with a kitchen and buffet serving area – a perfect setting for a gathering.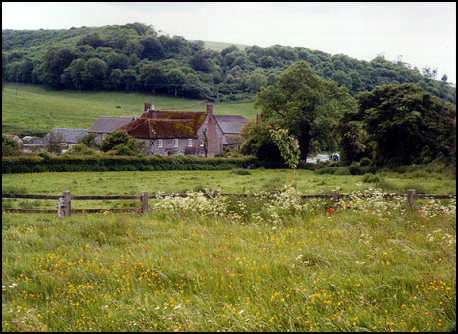 Nine tables holding 10 people each filled the room. Gordon and Barbara thoughtfully hung four flags high on one wall – UK, Church of England, Texas, and US flags – it seemed to confirm the union of our two families and countries. Drink and good times flowed, followed by a huge outstanding buffet lunch filled with local fresh fruit, vegetables, meats, and breads. THAT was followed by desserts such as fudge cake, rhubarb and lemon pies, strawberries and clotted cream. There was hardly any room for a slice of the wedding cakes (these English really know how to throw a party!) Traditionally, English weddings have only a fruitcake (far better than ours and far lighter than the US "fruit bricks"), however Kara insisted that a chocolate cake be made too. Again, we combined the UK and US traditions.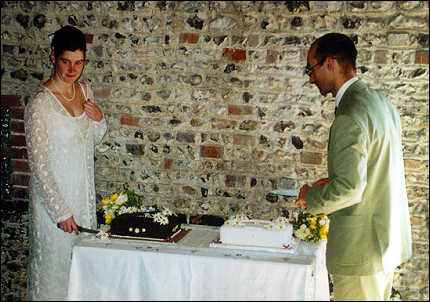 As Gordon wrote me months ago "Tradition here is that the bride's father proposes the toast to the couple, then the groom replies and proposes the toast to the bridesmaids (and guests) and the best man replies on behalf of the bridesmaids/guests. The latter is usually the opportunity for the more rumbustious speech if the best man is up to it."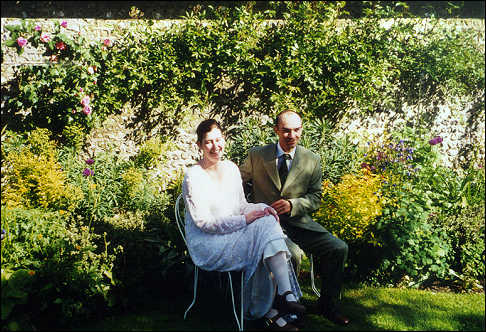 The afternoon passed far too quickly, and we boarded the bus to return to the hotel around 6 pm.

The Pub Gathering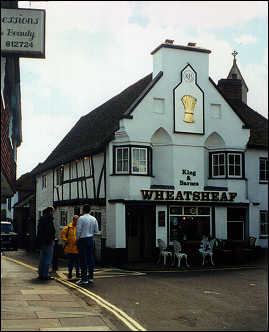 The Pub ~ great food and wonderful brew!


That evening, those of us at the hotel ended the day at the Wheatsheaf, a small local pub. Poor pub owner never dreamed 17 of us would continue to stream through his door and want a little something to eat. We pulled a zillion tables together and since the kitchen was almost out of food for the day, ended up asking what was still available and as the waitress called out "four bowls of soup", raised our hands for the count… "five cottage pies" – hands raised … and so on until our mob had each ordered something. We sampled all the local brews and had a grand time.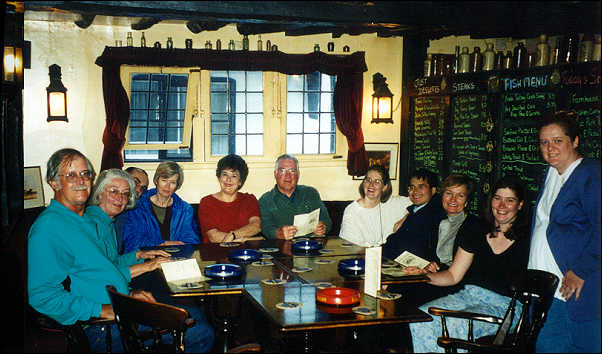 Kenny, Lynn, Nick, Koren, Martha, Charlie, Koko, Max, Chris, Kara, & Katherine.


A great way to end the day and the "Storybook" wedding/blessing in a centuries old setting.