In October 1997, with hopes of seeing lots of colorful fall foliage, my husband Kenneth and I took a "country roads" driving trip from Nashville, Tennessee to Boston, Massachusetts. We love to stay at small inns or B & Bs which serve dinner as well as breakfast, and prefer quiet scenic roads instead of busy, congested freeways.

Usually, when planning a trip, I go to the local bookstore and purchase lots of travel and accommodation guides, however this time, I did all my planning with a computer, the internet, and Microsoft's Automap Road Atlas (trip planning and mapping made easy). After doing a net search on "fall foliage", I found several web sites suggesting the best time to see the changing leaves at peak - the URLs change year to year, but do an internet search on +fall +foliage and you should find current ones. A good one for 2000 is at Intellicast.

Since we planned to take scenic country roads and avoid busy, crowded interstates as much as possible, I set the map program accordingly to calculate the suggested route, distance, and length of travel each day. Country roads take much longer than highways, so we planned to drive about 300 miles and 5-7 hours daily, or 4 1/2 days for the trip.

NASHVILLE and the OPRYLAND HOTEL


We flew from our home in Corpus Christi Texas to Nashville and spent the afternoon and night at the Opryland Hotel - a huge complex of rooms, shops, and restaurants surrounding three "indoor" gardens which create botanical wonderlands and combinations of rare tropical and subtropical plant species. Using controlled temperatures, a complex watering system, and unique horticultural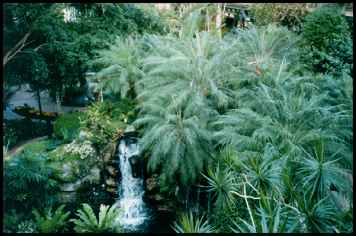 methods, the landscape department maintains a tropical 2 acre garden in the Conservatory, a 3 acre palm forest and 40' waterfall edged with a profusion of exotic plants in the Cascade area, and a 4 acre southern river setting in the Delta section. One can walk along a trickling stream and winding path through tropical splendor in the Cascades and have no idea that they are within a huge hotel complex! Some of the unique varieties of Rhapis excelsa (Lady Palms) which I grow in South Texas are in the Opryland gardens, making it one of the largest worldwide displays of these rarities. While the Opryland Hotel is not considered an official "botanical garden", one would have to visit Fairchild Tropical Garden in Miami and the subtropical Huntington Botanical Garden in California to see some of the same plants growing side by side in Opryland's hotel gardens.

The rooms are spacious and elegantly furnished, many with windows or balconies overlooking the gardens. An interesting array of restaurants offer steaks, seafood buffets, southern home cooking, and New Orleans style cuisine. For more information, call (615) 889-1000 or visit the Opryland web site


NASHVILLE, TN TO ASHEVILLE, NC

We left the Opryland Hotel at 9 am and headed west on Interstate I40. The map program suggested that we exit Alexandria on US321, turn on US411 to Maryville, then back to US321 to Gatlinburg to reach the Smokie Mountain National Park. However, I thought we might save some time by staying on I40 and turning on the four-lane Route 66 and 441 to Sevierville and Pidgen Forge ... I was seriously mistaken! Long before we reached Sevierville, the highway was filled with congested bumper to bumper traffic and we inched our way through the 20 mile stretch from I40 to Gatlinburg taking almost an hour and a half to accomplish this! Pidgen Forge, home of Dolly Parton (the country and western singer) is an endless series of carnival-like sideshows lining the road! Can you spell T-O-U-R-I-S-T T-R-A-P? If you can't, you will by the time you crawl your way along and view each and every one of them! We were starving for some lunch, but didn't dare pull off the highway lest we never fight our way back into the congo line of cars and trucks.
Finally we inched our way into Gatlinburg which I thought was a quiet little get-a-way village nestled into the side of the Great Smokies; not so, the road was mobbed with tourists, lined with endless motels and cabins, plus tourist shops of every kind and flavor.
I had visions of crawling our way through the mountains behind a caravan of cars, but as we reached the National Park, the traffic eased (some turned east on US321 to escape the masses), and finally we could speed up to 30 m.p.h. without constant traffic congestion stops.
The drive was quite pretty and fall foliage was just turning color. The traffic started backing up again before we reached Cherokee, so we turned east on the Blue Ridge Parkway and headed for Asheville, NC. We were amazed to see colorful wildflowers along the road and throughout the city.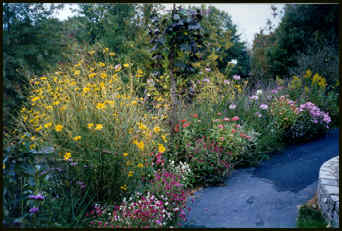 The 285 miles betweem Nashville and Asheville took us from 9 am to 4 p.m. with only one quick stop in the Park ...7 long hours!


RICHMOND HILL INN - ASHEVILLE

The Richmond Hill Inn and its restaurant Gabrille's was highly recommended as a romantic "get-away" for gourmets by several members of CompuServe's Travel Forum. It certainly was! The Inn features Victorian elegance - rooms are in the historical mansion, the nearby Garden rooms complex, and cottages. We stayed in one of the delightful cottages with porches overlooking a croquet court. As the sun set, we sat on our porch in rocking chairs, sipped a before dinner drink, and enjoyed viewing the colorful fall foliage and flowering gardens of the grounds.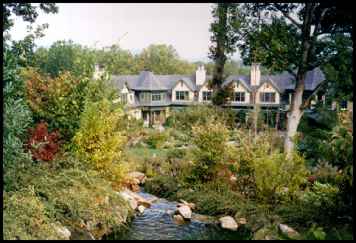 Gabrielle's proved to be one of the best restaurants we've ever had the pleasure to visit. My tenderloin steak was superb as was Kenneth's salmon. Piano music played by Christopher Leonard drifted in the background as each course was gracefully presented. They rate a 10 in my gourmet book, and had service to match. Don't miss dining or staying at the Richmond Hill Inn. Call (704) 252-7313 for more information, or visit their web site at www.richmondhillinn.com


ASHEVILLE, NC to STEELES TAVERN, VA

via the BLUE RIDGE PARKWAY
We left the inn at 9 a.m. and climbed out of Asheville on the steep, scenic Town Mountain Road 694 to reach the Blue Ridge Parkway.
Before leaving on our trip, I had found the informative Blue Ridge Parkway Web Site at http://NCNatural.com/Parkway/ complete with maps detailing each section of the 400 mile road from the Smokies to the Shenandoah National Park. I printed the entire map series located at http://NCNatural.com/Parkway/MilebyMile.html to use as a guide through the mountains.
Asheville is at mile 380 (going backwards to mile 0 at the Shenandoah National Park). The well built and solidly paved two-lane road has a maximum speed limit of 45, however, we traveled the first section much slower since the road had NO straight stretches and was a series of curves and turns winding its way around steep mountainsides, sheer cliffs, and through short tunnels.
At mile 374, a puff of "smoke" passed across the road and I immediately thought a forest fire might have started -- it cleared until we rounded the next bend and were suddenly engulfed in "fog"... no, it was really "clouds", but actually, it was more like "smoke" - no wonder this is called the "Great Smokie Mountains"! We stopped at the Craggy Gardens Visitor Center at 5500' and found it very cold and breezy. Driving on through the "smoky fog", we finally reached some clear spots and experienced incredible vistas overlooking lower mountains in the distance all ringed and edged with more "smoke". I wish we'd stopped for a picture of the unforgettable view!
We reached mile 332 at Lynn Gap at 10:20 a.m. - 48 miles in 80 minutes and the sun started coming out. As we continued along the ridge road, the terrain changed from craggy mountainsides to deep valleys and steep hillsides north of Blowing Rock. Then the road passed through lovely rolling hillsides near Mount Airy and Rocky Knob.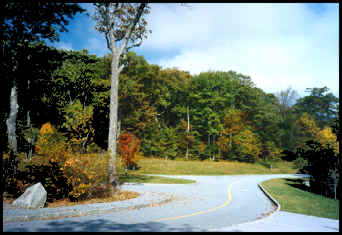 NOTE: If you plan to drive the Blue Ridge Parkway, don't expect to find places to eat, gas stations, or numerous rest room facilities. Pack a picnic lunch before you start and enjoy it along the way. There is very few visitor centers which are the only places to offer public restrooms so don't pass one up thinking there will be another only a short way down the road! The good news is that there are NO towns to go through and NO trucks on the Blue Ridge, just other travelers like you in cars and motorhomes. Happily, the road DOES have numerous "overlooks" for slow traffic to pull off and allow other motorists to pass... and it's well worth stopping to look over the "overlooks" to see the outstanding vistas and panoramic views.
We reached mile 180 at 2:00 p.m. and were 60 miles south of Roanoke, Virginia. We'd driven 200 miles in 5 hours with an average speed of 40 mph.
Nearing Roanoke, we were treated to a gorgeous view of the valley and town - one of the prettiest sections of the trip - and finally passed mile 100 at 3:00 pm. We had 70 more miles of Parkway to reach our evening destination and I was afraid it would take us 2 more hours, so we exited at mile 90 to Buchanan and I81 and traveled down a delightful narrow rolly-coaster of a lane called Route 43. We made good time on Interstate 81, however, were slightly "shocked" at being back in "civilization" with bumper to bumper traffic and monstrous trucks!
We arrived at Steeles Tavern, VA midway between Lexington and Staunton slightly after 4:00 pm.

STEELES TAVERN MANOR

This delightful Bed and Breakfast (with dinner by advanced reservation) is just a mile or so off busy I81 in Steeles Tavern, VA and only a few miles from the Blue Ridge Parkway. It features five large rooms, three with Jacuzzi tubs, and overlooks a peaceful meadow and pond. Visitors are welcome to wander down to a stream and walk through the woods or drop a string in the water to fish. We found it a wonderful place to unwind after a long day of driving.
The owners, Eileen and Bill Hoernlein, restored this historical home in 1994 and offer warm hospitality and excellent food service. A five course dinner is available to guests each Saturday night and features an appetizer, fresh bread, soup, salad, entree, dessert, coffee and tea at $75 for two. If requested, a three course dinner is available to guests Sunday through Friday at $50 for two. Complementary white Zinfandel is served with dinner. We enjoyed Eileen's excellent mushroom soup, Cornish hen, fresh salmon, and apple crumb dessert, PLUS her wonderful pecan and honey bread (which I was delighted to also find at breakfast the next morning).
Guests are treated to a wine & snack basket, a full breakfast in their room or the dining room, and afternoon tea. Room rates are $105 to $135. For more information call 1-800-743-8666, (540) 377-6444, FAX (540) 377-5937.


STEELES TAVERN, VA to LANCASTER COUNTY, PA.

As usual, we left at 9:00 am, but were unsure about which "country road" to take to Pennsylvania. We had almost 300 miles to drive and thought the Parkway might take too long; Eileen had suggested Route 11 as being very scenic; our Map Program suggested US340. We decided to try US340 to Frederick, Maryland and were not disappointed. The route follows alongside the Blue Ridge and Shenandoah National Park. The section between Front Royal and White Post was particularly pretty with large meadows and woodlands trees lining both sides of the road. The fall colors were intensifying and becoming more beautiful as we meandered along.
We reached Harpers Ferry at 12:30 p.m. and at Frederick, took US15 to Gettysburg - a nice four lane highway with gorgeous hills and colorful trees. US 30 to York and Lancaster was full of traffic and small towns... we somehow got off the main highway and drove through the middle of Lancaster city - a major mistake! Those wanting to see Amish horses and buggies had best take country roads around the city and head for Bird-in-hand and Intercourse.
At 3:00, we reached Ephrata, 12 miles from Lancaster to settle in for the evening.


THE INNS AT DONECKERS - EPHRATA, PA

I had a hard time finding the "perfect" inn in Lancaster County - most seemed to offer a "farm" atmosphere and we being farmers live in that environment. The Inns at Doneckers appeared to be an interesting small town alternative and we found our stay there quite delightful.
Ephrata has a main street lined with all kinds of nice shops and restaurants; the Doneckers Inn complex is down a side street and consists of a restaurant, an elegant fashion store, a center full of Artworks, plus the main "Guesthouse" with 20 rooms and suites, The Gerhart House with 5 rooms, and the Homestead with 4 rooms. In addition, the 1777 House is on Main Street with 10 rooms and 2 carriage house suites. Guests could easily spend a day browsing through the shops and enjoying the cozy community environment.
We stayed in the Guesthouse and had a large bedroom with a private entry, sitting area, fireplace, and spacious bathroom holding a huge two person Jacuzzi. A second entry led to a TV room and garden room with coffee and tea.
The restaurant offers casual dining with a huge array of selections, and also has a fine dining section which served us an excellent dinner.
Room rates are from $69 to $185 and include a continental breakfast for two. For more information, call (717) 738-9502, FAX (717) 738-9502 or visit their extensive web site at www.doneckers.com


LANCASTER COUNTY TO THE BERKSHIRES

the "river roads" route
We left at 9 am and took US 222 around Reading to Allentown, then Interstate 78 to Easton on the Delaware River. Route 611 and US209 follows the river basin through charming towns and tranquil country sides, providing one of the loveliest drives in this area. Fall foliage was spectacular and at full peak. We drove the Delaware River Road about 8 years ago and it was as pretty then as now - highly recommend route for those who love scenic country roads.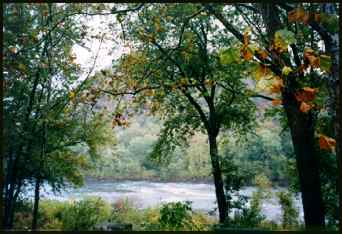 We reached Port Jervis at 12:30 pm and took I84 across New York to Route 9 which follows the Hudson River northward. Near Catskill, we turned eastward on 23 to reach Great Barrington.


THORNEWOOD INN & SPENSERS RESTAURANT

in GREAT BARRINGTON, MA
Just a few miles north of Great Barrington and south of Stockbridge sits the Thornewood Inn, a warm and comfortable inn overlooking a pool, hillside of foliage and woods, and nearby hiking trails. David and Terry Thorne have spent 17 years developing and enlarging a humble B & B into one of the most outstanding country inns in the area. Guests are treated to spacious rooms, some with a fireplace, lovely living rooms, porches with chairs, and the outstanding dining room which features live dinner music and a Sunday Jazz Brunch performed by house musician David as well as special guest artists.
Dinner was exquisite - I was particularly fond of the grilled Portobello mushroom topped with sweet onions, brie, and a roasted garlic herb butter. The Caesar Salad was perfect as was the duck entree for Kenny and the beef tenderloin for me.
For more information, call (413) 528-3828, (800) 854-1008 or visit their website at www.thornewood.com

BERKSHIRES TO BOSTON via ROUTE 2

At the Thornewood Inn, David suggested that we drive northward on Route 7 to Williamstown, then take Route 2 across the north part of Massachusetts to Boston - about a 3 1/2 hour trip. This proved to be a wonderful way to see fall foliage and outstanding vistas! One of the most spectacular sections was just east of North Adams where the road makes hairpin turns and climbs around Hawks Mountain.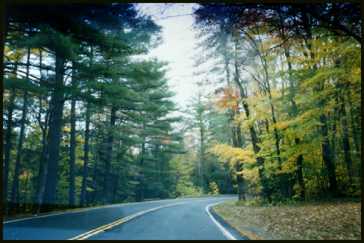 We "braced" ourselves as we neared Boston, expecting the usual clutter of jammed traffic and bumper to bumper snarls that we'd experienced a few years earlier when approaching on Interstate highways from the west and south... however, Route 2 quietly ambled right into Cambridge without hardly a traffic jam and we did fine until becoming slightly lost looking for Massachusetts Avenue where the car was to be dropped off at National Car Rental. We choose this location to avoid having to drive through downtown Boston and fight our way to the airport rental car center.
As expected, once in Cambridge and Boston proper, traffic was horrible and we could hardly wait to turn in the car and start using Boston's excellent bus and "T" (subway) system to get around. I see no reason for anyone to have a car when visiting Boston and staying somewhere in the center of the city.


THE ELIOT HOTEL - BOSTON

We stayed at the Eliot Hotel in 1992 when our youngest daughter was at Boston University and returned this time since our oldest daughter is now doing graduate work at Harvard. The Eliot is in a perfect location at the corner of Massachusetts Avenue and Commonwealth Avenue - 1/2 block from city bus #1 which goes to Harvard Square, 1 block from the "T" subway which goes to B.U. and in the opposite direction to Government Center near Faneuil Hall, plus the hotel is at the edge of the delightful Back Bay area with lots of shops and restaurants. The picture below shows a view of Commonwealth Avenue with the Eliot at the end of the sidewalk.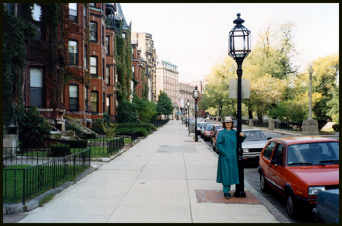 The Eliot was just voted the "Best Intimate Hotel" by the Boston Magazine and its new restaurant Clio received the "Best New Restaurant" award. It has Deluxe Guest Rooms and One & Two bedroom Suites with living rooms, bedrooms, and mini bars. I especially enjoyed the "welcome to our hotel chocolate chip cookies", chocolates on the pillows at night, and the "elevator man" which delivers you to your floor with great flourish!
The rooms have every amenity - robes, hairdryer, TV, toiletries, two telephone lines (modem compatible) and a fax machine for the busy executive. I did miss having a coffee pot, but the restaurant has breakfast service and Starbucks is only a block away down Newbury Street. Our room had a large living room separated from the bedroom with a pair of french doors.
Rates are from $175 to $450 per night; for more information, call (617) 267-1607 or (800) 44-ELIOT, FAX (617) 536-9114, or visit their web site at www.bostbest.com.


BOSTON - THINGS TO DO, SEE, AND PLACES TO EAT

The first night, we ate at Legal Seafoods, a Boston traditional seafood restaurant, and enjoyed 1 1/2 pound lobsters at $32 a plate. You can find out more at their web site www.legalseafoods.com
The next day, we discovered Samuel Adam's Brewhouse near the Lenox Hotel and loved the special Octoberfest beer and sampler of four different kinds for $5. For $4.95, one can have "Brat 'n Beer" which includes a side of french fries - almost a full meal and the sausage is delicious! While we drank and dined window side, we noticed very odd and colorful motorized vehicles passing by... each with a prop hanging out the back! Our daughter explained that it was the popular "Boston Duck Tours" using W.W.II amphibious open-air troop carriers which leave from Prudential Center and take visitors on a historical city tour, then drive right into the Charles river for a boat float to see the Boston skyline!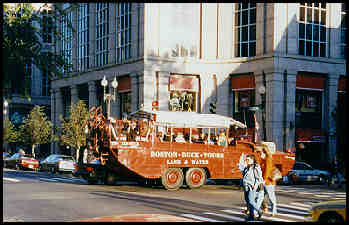 Looks like great fun, but alas, we won't have time this trip. Fees for the 80 minute ride/float are $12 for children and $19 for adults. For more information, call (617) 723-DUCK or visit their web site at www.bostonducktours.com
Speaking of amphibious, the next day, we meandered down to the Aquarium which features 3 story 40' diameter tank full of tropical fish, turtles, rays, and sharks. Whale watchers can leave on boats from a nearby pier and our daughter raved about the 5-6 hour voyage to see the gentle giants. You can find lots of Information at www.neaq.org
We then wandered over to Faneuil Hall and ate at Durgin-Park restaurant - a wonderful old institution which has been serving food to hungry Bostonians and visitors for more than a century! We were delighted to find a $9.95 1 pound lobster special downstairs in the bar (a mere $14.95 upstairs) which proved to be as good as the one at Legal Seafoods! The lobster came with a side of mashed, baked, fried potatoes, or Boston Beans. The web site is at www.durginpark.com
While on the Harvard campus, our daughter took us to Sunday brunch at Grendel's Den Restaurant and Bar - a cozy place with fresh salads, fondues, seafood, veggie dishes, and sandwiches. The desserts all looked good and we had a hard time deciding which to choose.
We visited the incredible "Glass Flower" collections at the Botanical Museum, Harvard University. Over 3,000 replicas of plant species were made by a father and son glass artisans team from 1887 through 1936 as a clever and brilliant way to display anatomical sections of flowers. In the 19th century, when this project was begun, botanists had no easy way to preserve plants other than making crude wax or paper-mache models. The glass flowers are still used by students for study and are one of the most popular exhibits at Harvard. The photo below was taken through a glass cover and shows details of the realistic models.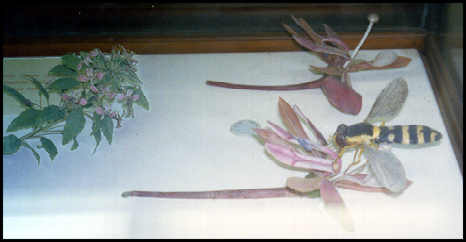 Several of the works feature glass bees pollinating the flowers. More information can be found at The Botanical Museum web site and a comprehensive book can be ordered from the book shop.
We visited many of Boston's department stores and shops, but found Filene's Basement an absolute riot full of clothing at super cheap prices. Since daddy had his credit card handy, our daughter found a wonderful suede coat at 1/3 the price of anywhere else. We fought our way out of the store and were quite pleased with her purchase.
Each evening, we wandered down Newbury street in search of great dessert places and found many from which to choose.
All in all, our visit to Boston was great fun, as it always is. First visitors to the city should read through www.boston.com to get lots of ideas of things to see and do.


BOSTON to CHICAGO via AMERICAN AIRLINES

We flew from Boston to Chicago on a $99 American Airlines fare and took a $30 taxi to the Summerfield Suites, formerly the Barkley Hotel at 166 East Superior Street - one block off Michigan Avenue's "Magnificent Mile" and right behind Neiman Marcus - a convenient location.
Our daughter was doing her masters at the Art Institute and for $1.50 each, we could hop the Michigan Avenue Bus 151 to easily reach the school and museum, or more shopping located in the loop, such as Marshall Fields main store with 6 large-enough-to-get-lost floors.
The Summerfield Suites Hotel offers plenty of space and amenities at good value. Guests can choose between three floor plans - a Studio Suite (415 sq. ft.) which has a large bedroom with an adjoining living area at one end plus a wet bar and microwave, or an Executive Parlor Suite (505 sq. ft.) which has a bedroom flowing into a large living room area and full kitchen, or a 710 sq. ft. One-Bedroom Suite with separate bedroom, living room, full kitchen, and dining area. Each suite has an ample bathroom, closet, TV, modem compatible phone, microwaves, coffee pot, hair dryer, iron, and ironing board, plus a sleeper sofa. Rates range from $179.00 to $329.00 and include a full buffet breakfast. Guests will find a USA TODAY newspaper delivered to their doorstep each morning. A small convenience store, open 24 hours a day, is located on the first floor, and a cozy book-filled lounge is down a spiral stairway from the lobby. The hotel also has an exercise room, rooftop pool, and game room.
Our room had a full mini-kitchen with a bar counter top and two chairs for eating, large living room with TV, sofa, and two comfortable lounge chairs, big closet, bathroom, and bedroom with queen bed. Quite perfect for the two of us and I had lots of room to spread out my "traveling office" of laptop, brochures, and city guides! I visited with several families staying in the hotel and they too were delighted with the spacious suites. For more information, call (312) 787-6000 or (800) 833-4353 or FAX (312) 787-6133.
The hotel has lots of restaurants nearby - Benehana's is next door, as is Gino's of Chicago Pizzas. Eli's Place for Steaks is nearby as is the Red Rock Grill serving Texas and Southwestern cuisine. We tried them all and found them quite good.
Eli's at 215 East Chicago Avenue served an excellent chateaubriand with a luscious array of fresh vegetables on the side; they are famous for their cheesecakes and ship them anywhere in the world.
We were in Chicago when the Art Institute's special exhibition of Renoir's Portraits opened to the public just the day before. We arrived at 10:00, 30 minutes before the doors opened. The exhibit is $7 per person and well worth seeing - portraits were brought from many other galleries and private collections to be included in this outstanding showing. We spent extra time going through the wonderful "regular" exhibits and I always enjoy seeing the "American Gothic" original, along with other fabulous collections. Don't miss a visit to the Art Institute on your next trip to Chicago and allow at least a 1/2 day, if not a full day to enjoy it all.
The Russian Tea Time restaurant is a 1/2 block away from the Art Institute and has a large selection of Russian and Eastern European cuisine. It was voted one of the Top 10 in U.S. by the Vegetarian Journal. We ate there several years ago right after it had opened and found the food better than ever on this visit. My husband had Classic Chicken Kiev while I enjoyed the Classic Beef Stroganoff. Our daughter, a vegetarian, loved the Mugn Bean and Vegetable Stew. They are located at 77 East Adams; call for reservations at (312) 360-0000.
After lunch, we shopped at Carson, Pirie, & Scott's large department store and found wonderful selections of name brand clothing at good prices and special sales.
We then made a quick stop at Fannie Mae's for a bag of yummy chocolates, and at Mrs. Fielding's Cookies ... two great places to satisfy a sweet tooth!
====================================
P.S. It was too cold in Boston and Chicago to dive!


---
Go to Lynn McKamey's 1998 Fall Foliage Trip
to Maine, Vermont, and Boston
---