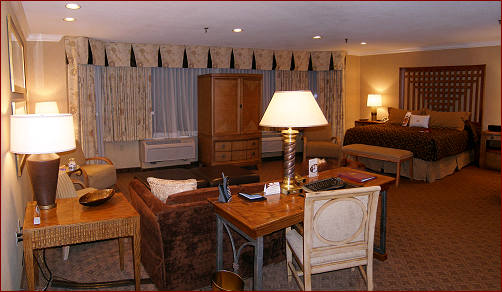 Junior Suite - loved the layout and King Bed Headboard!

The beds were wonderful and provided some of the best sleeping comfort we've ever had in a hotel, and each room had an air conditioner for those warm summer nights in Boston. Our guest room also had a mini-refrigerator, phone with voice mail, hair dryer, satellite TV, high speed internet access, iron and board, coffee pot and tea maker. Everything we'd need for our Boston visit!


DINING


The first morning, we wandered down to the Lobby Cafe and discovered an extensive breakfast buffet. We could also order from the menu, but opted for the buffet and feasted lavishly! One seating area was near the buffet and the other was up a few steps into a pretty dining area.

The Cafe also serves lunch with an extensive list of appetizers, soups, salads, and entrees such as Asian Shrimp, Warm Spinach Dip, New England Chowder, Caesar Salad, Maryland Style Crab Cakes, and Grilled Vegetable Lasagna to name a few. It also has sandwiches and burgers, including my favorite Grilled New York Reuben and Kenny's Roast Beef and Horseradish Wrap. Those in a rush for business or shopping will appreciate the "Express Lunch" which will serve you in 10 minutes or less (or it's on them!)

That evening our daughter and her family including husband Max's parents joined us for dinner in the outstanding Dux Steakhouse which specializes in prime steaks and chops as well as fresh seafood, a huge array of appetizers, soups, salads, pasta selections, and chicken. We all ordered something different and enjoyed every course we had. I particularly liked the Maryland Crap Cakes starter, New England Clam Chowder, and Dux Filet Mignon with porobello demi-glaze!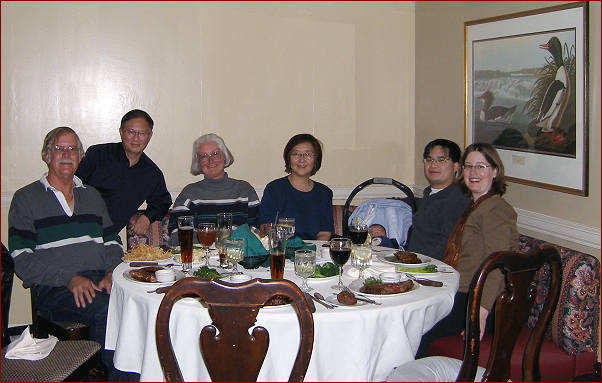 Kenny, Spencer, Lynn, Irene, baby Myles, Max, and Corinne


The dessert list had many delights, but our favorite was the house specialty - a delicious surprise. I really should not include a photo here since it may ruin your own surprise, but it was so cute (and absolutely divine), that I couldn't resist taking a picture. Chocoholics will definitely get their "fix"!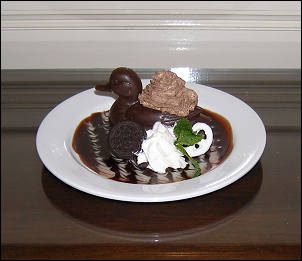 Each Sunday, the Crowne Plaza hosts a "MetroWest Boston's Best Sunday Brunch Buffet" starting at 10:00 am and we can agree it is the best!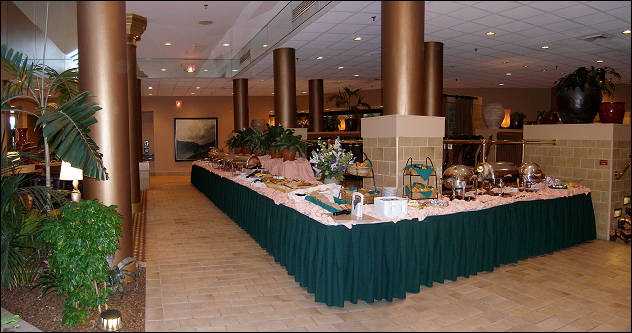 An almost endless buffet table wraps around a grand walkway and holds almost anything you might want for brunch. A carving station is just steps away. I've included a few photos of some of the wonderful selections.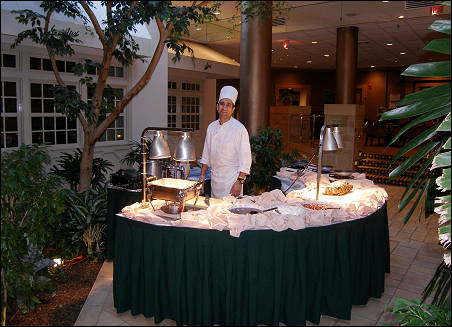 MEETING ROOMS, BALLROOMS, and BOARD ROOMS


In addition to having some elegantly comfortable rooms, suites, and dining rooms for guests, the Crowne Plaza also is well known for its meeting facilities consisting of 5 different rooms one of which can hold up to 500 people reception style. Those planning wedding receptions, business conventions or gatherings requiring catering will be astounded with the huge array of cuisine and reception themes. Best of all, as I read through the menus, the catering costs represented excellent value for the Boston area. I wish I'd known about the Crowne Plaza back when our daughter was married, it definitely would had been our guest hotel and reception choice!

My favorite was the grand Plaza Ballroom which hosted a party during our hotel stay. It was for a young lady, decorated beautifully for the youthful event.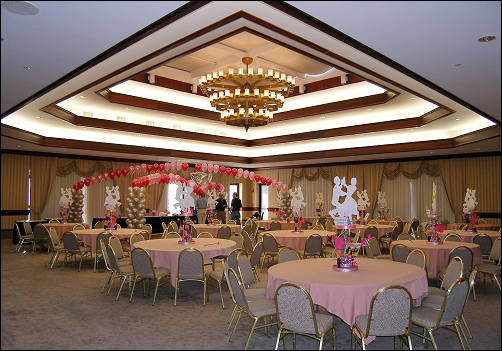 OTHER AMENITIES & FEATURES


Location, Location, Location! We found the Crowne Plaza to be within easy access of everywhere we needed to go in Boston, plus easy to reach driving to and from the city since we simply whizzed in and out on the Massachusetts Turnpike (I-10) and with a couple of turns were in the hotel parking lot. Wellesley College is only 5 miles to the east; the airport was a 20 minute drive; and there is LOTS of shopping nearby at the Natick Mall and Shopper's World. The hotel provides shuttle service (on request) to the area mall, to airport bus service, and the South Station train to city center Boston.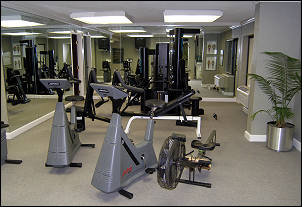 The Fitness facility is on the ground floor and has plenty of equipment including bicycles, stair climbers, rowing machines, treadmills, and various free weights. It is open 24 hours a day. Guests wanting some fresh air exercise can ask for area running maps at the Front Desk.

Area Restaurants: We wandered forth on the second night of our stay to have dinner at Skipjack's Seafood, about a 10 minute stroll directly west from the hotel. We had excellent chowder and steamed fresh lobster with great service. For the record, we also wandered by Legal Seafoods which was packed to the gills (no pun intended) and had a 30 minute wait in a noisy atmosphere. Take our advice - do Skipjacks - they'll get you right to a table and you'll enjoy better seafood. Joe's American Bar and Grill is within walking distance as is John Harvard's Brew House. Many others are close and not to forget mentioning Ben and Jerry's!


SERVICE & STAFF


One of the most important qualities of a hotel is staff who provide services for guests. The Crowne Plaza gets an A+ in our book. Everyone was friendly, helpful, and keen to be sure our stay was perfect in every way. Some of the staff have been with this hotel for many years. Orick Kelly (shown below) started out over a decade ago as the hotel "life guard" and is now one of the front desk managers.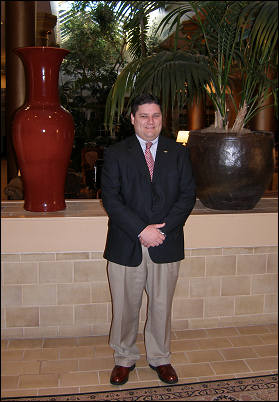 (By the way, the pool is now gone, replaced with the stunning Plaza Ballroom).

And the General Manager is Jamie Holmes which some of you readers might already know if you've traveled the Caribbean in the last 20 years! Jamie started out at the Bitter End Yacht Club on Virgin Gorda, then became manager of Peter Island Resort, moving to Biras Creek Resort, and finished his years in the tropics as manager of the Ritz-Carlton St. Thomas. Needless to say, we were delighted that he now oversees the Crowne Plaza Natick. Here is a photo of Jamie with a favorite mode of transportation.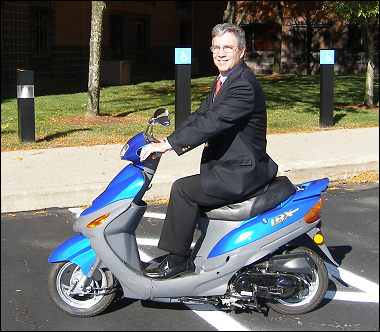 If you happen to see him at the hotel and you probably will, be sure to tell him hello from ScubaMom!

If you stay at the Crowne Plaza, I'm sure you will enjoy it as much as we did. We are already planning to return in Spring and Fall. And I saved the best for last - the rates at this hotel are an absolute bargain compared to those downtown. Great rates for elegant and refined surroundings - the ingredients for a perfect stay in Boston.


FLOOR PLAN OF HOTEL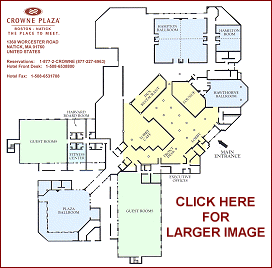 Getting There


We call Raffi's Limousine Service for quick, easy transportation between the airport and hotel. Wonderful drivers in luxury sedans, limos, and SUVs! Then Enterprise will deliver our rental car to the hotel if we need one during our trip.