Every romantic couple dreams of the perfect getaway, perhaps hidden in a deep forest at the edge of a tranquil lake. The rooms might have big king beds topped with fluffy comforters, deep soaking jacuzzis, comfortable chairs, and porches with views. Add a huge living room, elegant dining area, and expansive porch with terrace furniture. But wait, why not have a movie theater room, state of the art workout equipment, pool table, and game room. Also include a private dock, large boathouse, and a sunset cruise around the lake.

This might sound like a fantasy ... but there IS a lodge just like this in the southern part of the Adirondacks located on Friends Lake near Chestertown, NY. The Fern Lodge is the most amazing bed and breakfast we've ever visited.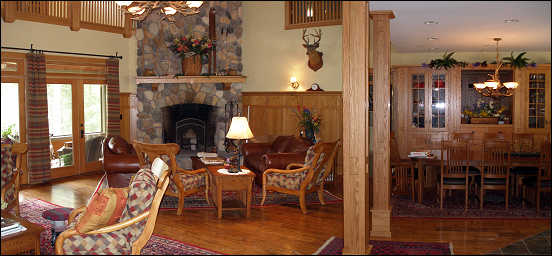 Never heard of it before? No surprise, it recently opened summer of 2006 and is owned by a very talented and experienced innkeeper, Sharon Taylor who was the force behind the rebirth of the historic Friends Lake Inn before she sold it to John and Trudy a few years ago. Sharon had a dream about what would be the perfect hideaway and set about making it so in an amazing setting at the edge of the lake.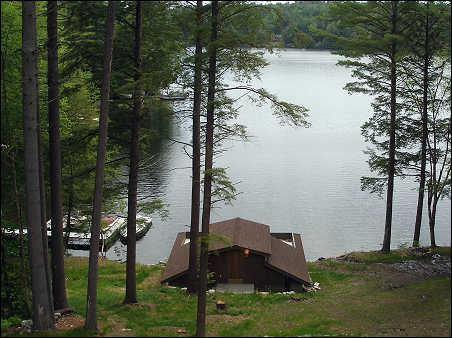 Boathouse above; verandah next to living room below.


And yes, it does include all the features in the first paragraph of this report including the waters edge boathouse shown above with a long spacious porch at the lodge that overlooks it, all done in magnificent decor and colors. Believe me, this is truly the perfect couples getaway and the location is absolutely stunning.

The lodge has a LOT of guest area for only 3 bedrooms and 6 guests. Each bedroom is very unique, especially the large one on the top floor that faces the lake. A rock fireplace divides the sitting area from the bedroom and a corner jacuzzi also has a view of the glowing fire. The suite opens to a private porch with wonderful views of the forest and lake.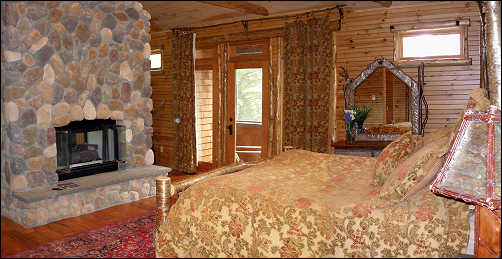 The other two accommodations are almost as large and both have a spacious sitting area, a fireplace, and opens to a porch. One faces the lake and the other has lovely views of the surrounding forest.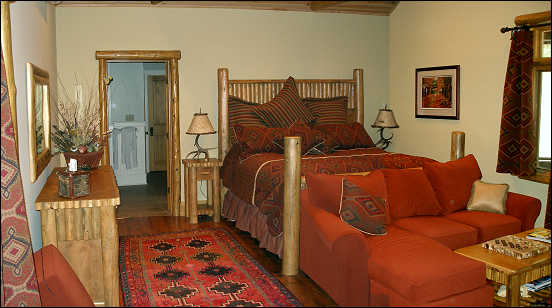 Breakfast is included in the room rate and for dinner, Sharon recommends several excellent area restaurants, one being the Friends Lake Inn where we've dined for several years and enjoyed Chef Ben's excellent selections and the extensive wine selections. Her other recommendations are within 15 miles of the Fern Lodge.

If you haven't yet discovered this luxury Bed & Breakfast, add it to your list of "must visits".





Workout in style,

play a round of pool,

then...

treat yourself

to a movie.

Kenny and I visited it a week before it opened and we plan to return Fall 2006 -- watch for a more extensive review later this year.