Every family dreams of the perfect countryside destination in a gorgeous setting with lots of activities for all to do - hiking, biking, swimming, tennis, fishing, volleyball - plus having a restaurant and upscale accommodations. Add children's playgrounds, a barn full of animals, and wagon & sleigh rides for the kiddies. Include an interesting area for all to explore and roam. We found a place with all of this and more at the Wildflower Inn. Located in the Northeast Kingdom of Vermont, not far from the Canadian border, it sits on a hilltop with gorgeous vistas and views.



We have a daughter in Boston and another in upstate New York so were looking for a family inn that had nice rooms, good food, and plenty of things to do for their three children, two almost 3 years old, plus some activities for the adults. Much of my research turned up luxury resorts with scheduled children's activities, very high rates, and rooms without kitchenettes ... or I found a lot of "campy" type housekeeping cottages without a restaurant and very little for the kids to do. Neither type appealed to us.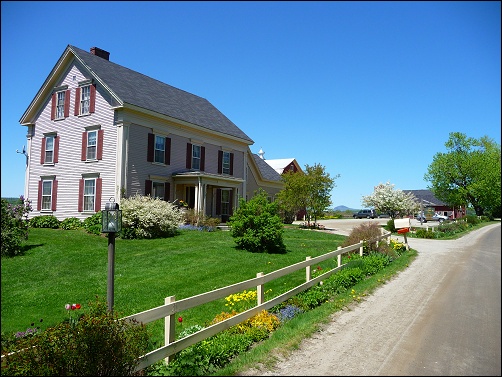 After quite a bit of research, we discovered the Wildflower Inn that offered everything we wanted including a wide range of accommodations from large single rooms with a queen bed, some with kitchettes, to the largest suite with two bedrooms, a living & dining room, and full kitchen. It was also within 3 hours driving distance from Boston as well as Albany, New York.


The Inn complex is on both sides of the lane.


We arrived to find an picturesque collection of historical buildings, once part of a vast dairy farm, surrounded with colorful spring flowers and trees all lining a country road. Set on the ridge of a hillside, pristine lawns rolled down to a pastoral setting with a view of the valley and mountains in the distance.

The centerpiece of the Inn is called the "Farm House" and holds reception, the dining room, three living rooms, and two guest suites.


Clockwise: Reception, Dining Room, two Living rooms downstairs in the Farm House


The Farm House also has a large indoor playroom and we found it the perfect place for the children when weather was rainy. Myles and Annabell spent a lot of time climbing the ladder to the indoor "tree house" and playing with all the toys. Our 6 month old granddaughter had fun watching the two older ones.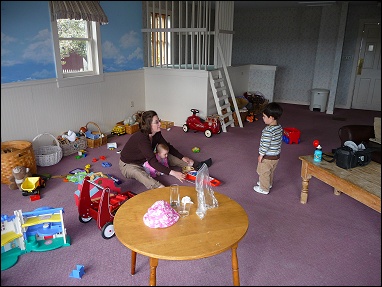 Next to the dining room, a lattice covered patio dining area leads down to a heated pool, wading pool for children, and splash area with fountains that the children can play in. A large outdoor playground for tots is nearby and provided hours of fun for our two grand kids.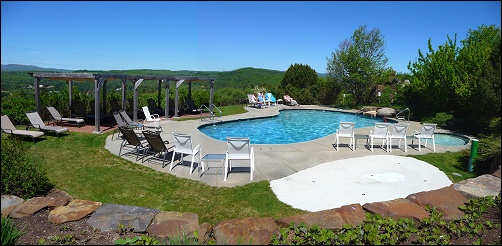 Vast rolling lawns surround the inn and provide a boundless space for children to run and play (while parents sit in comfortable lawn chairs and enjoy the views). A pretty gazebo is set in the pasture below the inn.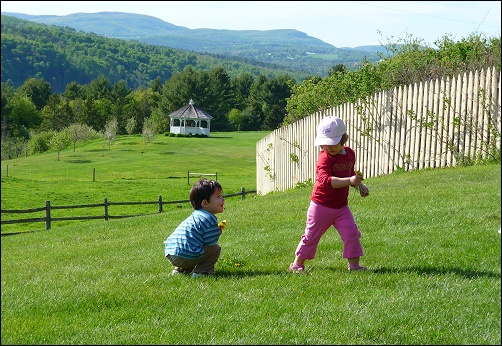 Accommodations are contained in several buildings on either side of the Farm House and across the road from it. The Barn, full of friendly animals, was at one end of the property and a conference center, called the Granary, was across the lane. The Wildflower Inn also has tennis courts, a volleyball court, and several other areas for horseshoe games, shuffle board, and lots of things for older kids to do. Everything was within easy walking distance of each other.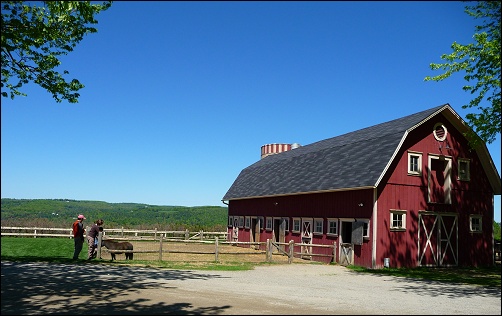 Across from the Barn, the conference center can hold up to 70 people. It also has a lovely patio for outdoor gatherings and parties.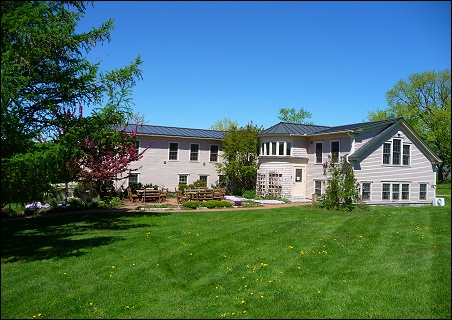 The Restaurant


Soon after our arrival, it was time for dinner so we all trooped into the restaurant section of the Farm House. The staff had set up one long table for the 9 of us. The dinner menu has an extensive list of selections from burgers to steaks and seafood and the dessert menu has lots of tasty choices too. Everything we ordered was very good. Plus, we all loved the large selection of wine and Vermont beers. Prices were very reasonable considering the high quality food. Note though that the restaurant is closed on Sunday evenings.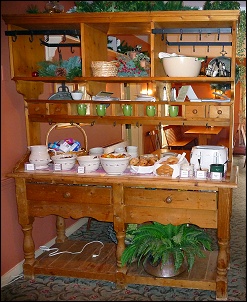 Breakfast was bountiful starting with a cold buffet of fruits, granola, cereals, toast, bagels, and breakfast breads presented on an antique hutch in the dining room. We also could order eggs, pancakes, and a daily special. Needless to say, we all loved breakfast and found it the perfect place to all meet and plan our day.

Lunch is not served at the Inn, other than a pool side lunch bar during summer months. However, we visited a grocery in nearby Lyndonville and loaded up on sandwich fixings and snacks for the noon meal.

We also lunched at several restaurants including our favorite Miss Lyndonville Diner, not to be missed with its tasty menu and delightful homemade pies and desserts. The little town of East Burke, a short scenic drive away, has a fun General Store that includes a deli with yummy "take out" sandwiches, pizzas, and desserts.


A Few of Our Activities


The first day, the kids spent much of the morning at the outdoor playground and then visited the barn animals that afternoon. We signed up for a wagon ride the next morning and the two kids loved it. We arrived early enough to watch them harness the horses and hook them to the wagon. They headed down the lane for a 30 minute ride.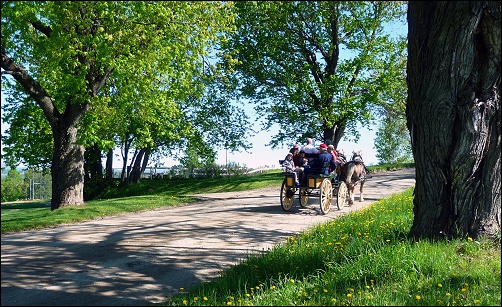 The next morning, the kids had fun picking the Dandelions (flowers in the gardens were off limits) and playing kick ball. That afternoon, our grandson and his daddy tried out the heated pool and also had fun running through the fountains of water.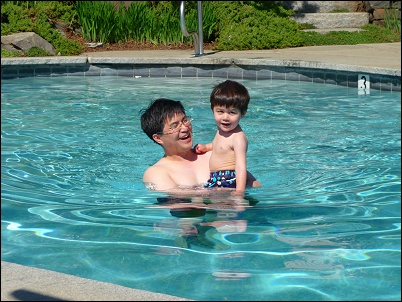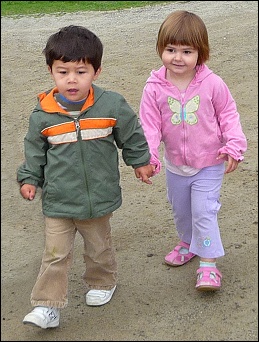 While the kids were taking afternoon naps, some of the parents had massages at the nearby Stepping Stone Spa which is fully staffed and offers all types of treatments. It was a short walk down the lane from the Wildflower Inn.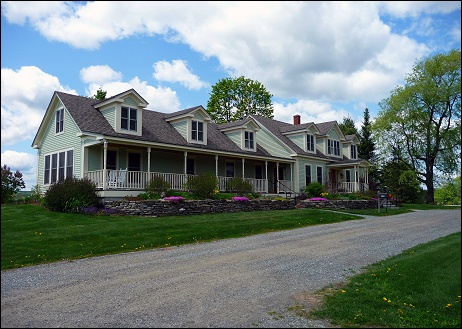 Accommodations


I had a chance to see several of the inn's accommodations during our stay which offer large single rooms and also one, two, and three room suites, some with kitchenettes.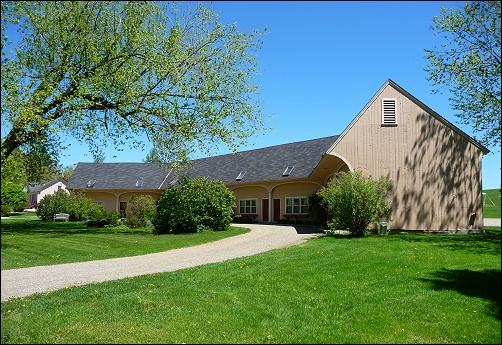 The Carriage House, shown above, has 10 classic rooms plus 3 suites with a bedroom separate from a living - dining - kitchenette area. The classic room, shown below, has one large area with a queen bed and twins; this one is an upstairs unit with a balcony overlooking the hillside on the east side of the estate.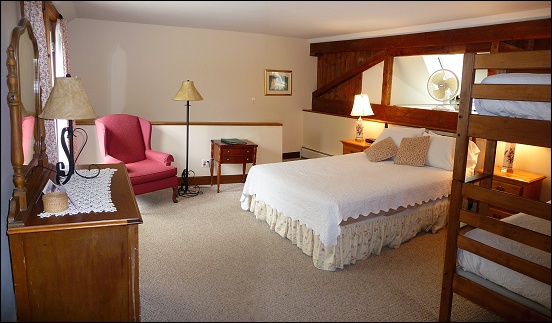 The Meadows Building, originally a blacksmith shop, has five suites varying from one large room to a full sized 2 bedroom, 2 bath suite with a living room and full kitchen. The lower level includes two suites, each with a bedroom, kitchenette, dining table, and covered patio. All have views westward over the valley.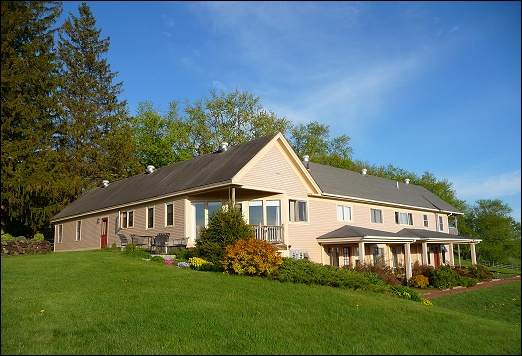 The largest suite (more like a house) on one end of the building has a huge living area with full kitchen and dining table for 6, two bathrooms, patio, and covered porch. Our oldest daughter and husband with two kids stayed in this one. It also has a washer & dryer which we found very handy for our 5 day stay.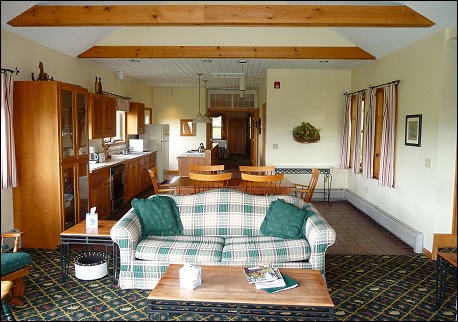 Grand Meadow Suite living - dining - kitchen above; bedrooms below


Next to the largest suite is a small 2 bedroom suite with a living area and kitchenette. It is the only one in the building without a porch or balcony but windows have valley views. Our other daughter, husband, and their kiddo stayed in this one.

The third upper suite is one large room with a queen bed, sitting area, kitchenette, and small balcony as shown below.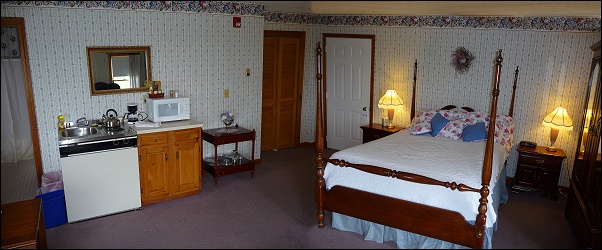 Hubby and I stayed in the School House suite, a separate cottage only a short walk from the Meadows building. We enjoyed this large, comfortable room that featured a queen bed, love seat facing a fireplace, dining table, kitchenette, bath with deep soaking tub, and a pretty porch with outdoor seating.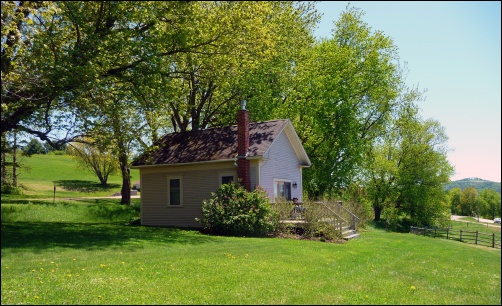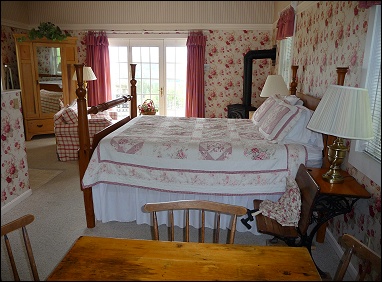 Two inside views of the School House Cottage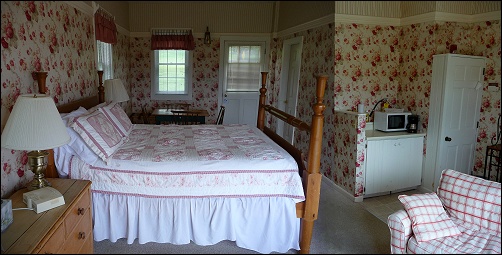 The Farm House has two suites upstairs both with 2 connecting bedrooms and one bathroom. Rooms are spacious with a sitting area in the master. The bathroom is adjacent to the 2nd bedroom, so one must walk from the master through the second bedroom to reach it. These rooms would be comfortable for a family of 3 or 4 and has the convenience of being within the main building with the restaurant, living areas, and indoor play room.



The Coach House is near the big outdoor playground and has three large 2 bedroom suites, each with living - dining room and kitchenette. The downstairs unit is on one level and has a queen bed in the master bedroom with twins in the other; it also features an oversized kitchenette. Two side-by-side two story units are on the upper level, accessed by a long brick walk.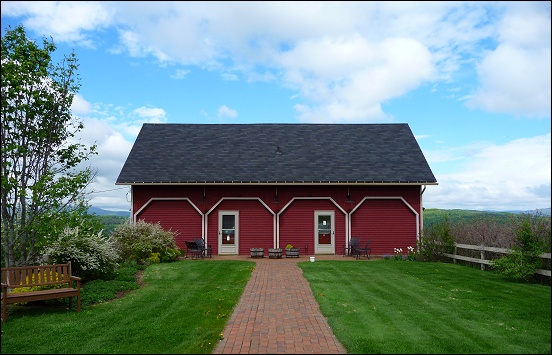 The Vail Suite has a large living area with 2 bedrooms upstairs, one holding a queen bed and the other with a queen and twin bed; a full bath is near the bedrooms plus a half bath is off the living area. A kitchenette completes this suite making it very comfortable for a family or two couples traveling together.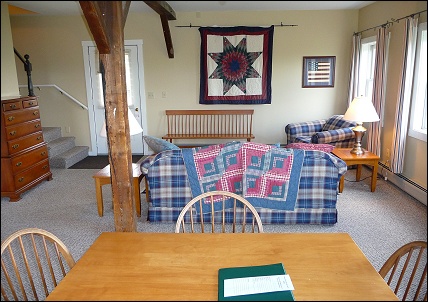 Coach House 2 bedroom Suite


I was amazed at the array of accommodations available at the Wildflower Inn - truly something for everyone and every size family.


"Kodak Moments"


I had several "Kodak Moments" on this trip, snapping pictures that are a one time, instant event, never to be recaptured again.

Sunsets are some of my favorites and we were all rewarded one evening with a lovely one over the Green Mountains in the distance. It was during Memorial Day weekend and the sunset was followed by some spectacular fireworks in the valley below.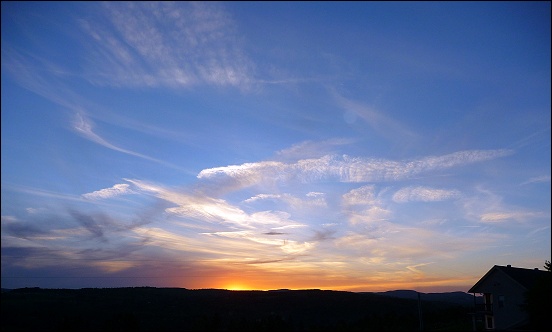 Our daughter and husband took this one from the porch of their suite.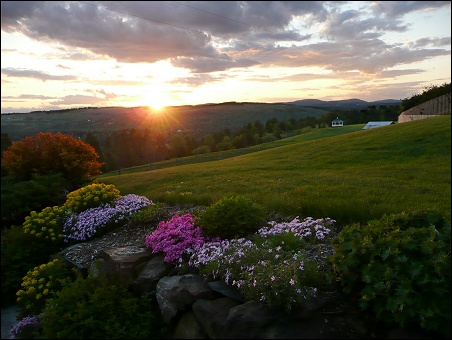 One day during dinner, a cloudburst drifted over and I looked out to see a gorgeous rainbow over the conference center and Carriage House. I ran out to snap a shot of this full rainbow with a second one in the distance behind it.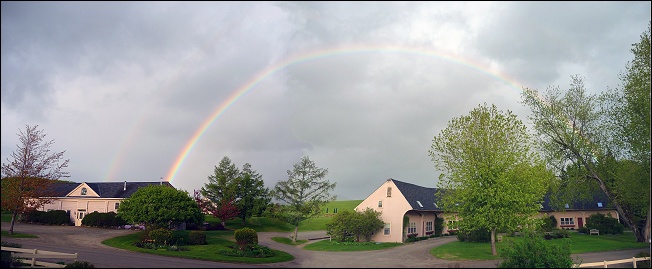 This playhouse with a delightful sandbox underneath is in a huge lawn between the Meadows building and Pool area. Both our oldest grandkids loved playing in it. The picture also captures the spring flowers that were found throughout the estate gardens.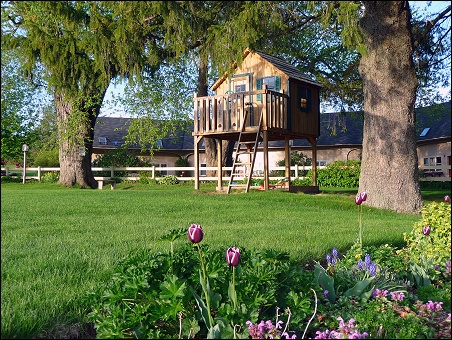 The vast pastures below the inn grounds had herds of "Belties", an interesting breed of black cattle with a white "belt" running around their back and belly (also known as Oreo Cookie Cows!). I snapped one grazing while three children watched it. A truly peaceful setting.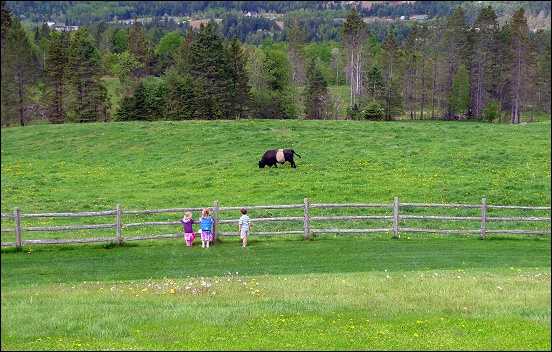 The Wildflower Inn is definitely one of a kind, a kingdom of country side delights for young and old.