Have you always wanted to see the Grand Canyon, and even if you have viewed it from the rim, have you seen it from the bottom? I had never observed it from any angle and couldn't quite imagine myself doing it by mule train, nor by hiking, or anything akin to "roughing it". Flying over the Canyon was an option, but planes now have to stay so far above that it just wouldn't qualify as "being there". So, over the years, it remained on my list of things to do... someday.

A few years ago during a family trip to Santa Fe, we decided to try a morning raft trip down the Rio Grande. Five of us plus a guide filled a small raft, and we spent several hours madly paddling through mild rapids. By the end of the all too short ride, we were hooked on white water fun!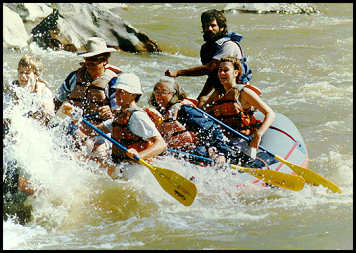 Shortly thereafter, I wandered into my travel agent's office and spotted a brochure from Western River Expeditions, known as the "best rafting vacations in the west" including several through the Grand Canyon. Choices ran from an exhilarating 12 day rowing expedition for the real outdoors person (not me!) to a 3 day float on their patented J-Rig raft - a motorized monster 18' wide and 37' long which holds up to 18 people. The more I read, the better it sounded: a 100 mile trip (how else could one EASILY see that much of the Grand Canyon?), deluxe meals, licensed guides with all equipment provided, and best of all, the trip started and ended in Las Vegas! Ah, it even included a scenic flight from Las Vegas to the edge of the Canyon, followed by a 15 minute helicopter ride down to the river. All my dreams were neatly packaged into the perfect "easy" outdoor vacation. Oh, we had to camp out two nights - a first for me, but I'll try anything once.
I quickly signed up my husband, our 21 year old son, our favorite traveling couple and me for a mid-June trip. All of our party were "experienced campers, hikers, and outdoors persons" except me (this will become quite obvious later). We flew to Las Vegas and spent the afternoon and evening enjoying shows and casinos. The next morning we presented ourselves at the Sky West Commuter counter at the airport.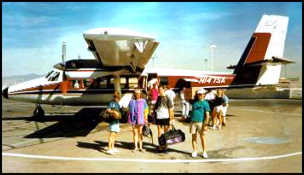 Each person was allowed only 25 pounds of "things" and we qualified only if we pooled our stuff and divided by 5! (I had too much as usual, but fortunately, my son packed light). The plane was a small 19 seater, with large windows for viewing the sights. The flight was delightful and we spent half the trip cruising over the edge of the Grand Canyon. We landed on a narrow dirt strip next to a small ranch in the middle of nowhere. An option to this trip is to spend a night at the BAR 10 Lodge to explore and experience the outback of Arizona. I highly recommend this to "city folk" who can extend their trip a day. We then lounged around until the helicopter started shuttling us into the Canyon five at a time. We discovered that those ending the 6 day raft excursion in the Upper Canyon were being shuttled into the Bar 10 as those who were starting the 3 day Lower Canyon trip were being shuttled out. One of our party, a vietnam veteran of 'copters, was assigned the middle seat so the rest of us could have the best views during the short flight! We landed on a tiny hump next to the river and carried our gear down to the raft area.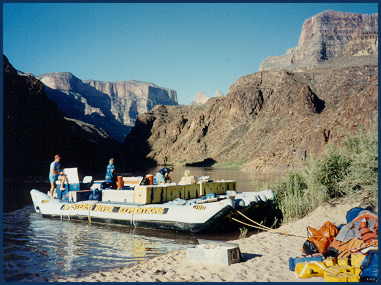 After a short orientation and safety discussion, our group of 30 was divided into two rafts...well, we more or less divided ourselves. Our raft ended up with an interesting group of couples and singles aged 21 to 55, while the other had mostly families with children ranging from 10 to teens. The J-Rig rafts were huge and weighed 9000# fully loaded. Boxes full of food and gear were strapped in the middle section and provided a high sitting place in the front, or low "napping" area in the back (also called the chicken coop since one can lounge back there and stay mostly dry in even the wildest of rapids). The front of the rafts have five flexible "fingers" which can be ridden like horses for the most exciting position (youngsters and young at heart loved it). Coolers of water and lemonade were strapped to the back section and were always available. Each person could also bring along a half case of beer or soda for the "drag bags" - which kept the drinks as cold as the river (55 degrees). One smart cookie brought only his canteen of vodka which mixed well with the free lemonade! Fully positioned in our various spots (I sat in the high front area and snapped this photo), we shoved off!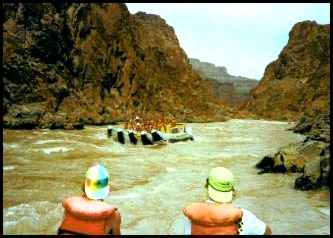 The raft floated for several hours, hitting a few mild rapids, and then docked along a narrow beach for lunch. In no time, our crew of three had set up a long table loaded with gourmet sandwich fixings. Later, while floating along that afternoon, the full effect of the Grand Canyon began to set in - the views and surroundings were beyond words. We spotted a herd of mountain goats far above us, jumping from ridge to crevice. Between watching wildlife, swishing through bubbling waters, and being overwhelmed by scenery, our afternoon was quickly over and we tied up at a lovely beach area for the night. We helped unload the raft, bucket brigade style, located our individual waterproof bags, and ran up the low hills to find our "spot" for the night. I trailed the rest of our group, hoping that their many years of outdoors experience would find a good location. We stopped at the top of a small ridge and promptly began to unpack our bedrolls and gear. The rest of the group laughingly watched as I carefully made my bed on first on a rock, and then an ant bed. (I was not amused!). Once settled, we returned to the beach area to dig in the drag bags for our drinks and enjoy the gorgeous canyon scenery while the crew cooked dinner. Those wanting a "bath" braved a dip in the cold river (it took a few drinks for some of us to get up the courage!) That night, we were treated to spaghetti, fresh salad, hot bread, and dessert. The sun began to set over the 4000' tall edges of the Canyon as we returned to our bedrolls. We had all brought sweat suits expecting cold nights, but found the early evening temperatures of mid-June quite warm. About 3am, the night cooled off enough to be pleasantly chilly.

We awakened to the aroma of coffee, bacon, and pancakes drifting up the hill. A full all-you-could-eat breakfast awaited us. The morning was refreshingly cool, so most of us donned nylon rain proof jackets and pants over our swim suits in preparation for getting splashed with cold river water. We then gathered our gear, reloaded the raft and set off for another fabulous day of floating down the canyon river. Along the way, we stopped at a towering rock overhang where some of the more courageous climbed the cliff and jumped into the river. As the day warmed, we all stripped off our waterproof clothes and were comfortable with swimming suits and T-shirts.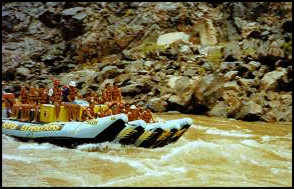 A long leisurely lunch was served at a sandy beach area. Those who thought the 55 degree water was "warm" swam and played in the river.
That afternoon we stopped at a spot with a winding trail leading to waterfalls dashing into pools and flowing into a small creek. We enjoyed taking warm "showers" and sunbathing by the splashing streams. We returned to the raft and eventually came to some awesome white water. Our raft dashed through, turning, bucking, and twisting while the other waited. We then turned back up the river to watch the other writhe through! That night, we stopped at a large beach area with numerous trails and camping areas - plenty of places to explore. Dinner was fabulous, starting with shrimp cocktail, followed by a choice of steak or fish. A party atmosphere prevailed, this being the "last supper". Finally, we all wound down from the activities and fell into our bedrolls.

The next morning we floated down to the edge of the Canyon and were met by a fast "jet boat" big enough to carry all 30 of us and our gear. This two engined craft cranked up and flew down the river for one hour, never slowing for bends, crooks, or crannies. Be forewarned that there are no stops, and those who partook of several sodas and beer were desperately looking forward to landfall! The ride was quite exciting and a quick way to reach our final destination, Lake Mead. We docked at a small pier where an airconditioned bus awaited. We never dreamed that a bus would look that good, but it was our first link with civilization in more than three days! After a lunch stop at a local roadside restaurant, we motored back to Las Vegas via Hoover Dam.

Of all the trips and travels our family has taken and experienced, the Grand Canyon raft trip was one of the most interesting and exciting. The scenery was outstanding; the total sense of remoteness and oneness with mother nature was unparalleled. The three day trip floats through gentle rapids and can be enjoyed by anyone aged 9 to 99 (health permitting); 2003 rates are $975 per person plus return transportation by bus or charter flight. Those wanting vigorous white waters and a more extended trip can take the 6 day upper Canyon vacation. The rafting season is from April to mid-September.


Plan ahead

Grand Canyon raft trips often fill up months in advance!
For more information, contact your travel agent, or:
WESTERN RIVER EXPEDITIONS
(800) 453-7450 or (801) 942-6669 or FAX (801) 942-8514
OLSON TRAVEL
(800) 525-8090 or (512) 643-4555 or FAX (512) 643-6975