For Caribbean luxury and elegance, consider spending a few days in paradise at the Ritz-Carlton Hotel in St. Thomas, U.S. Virgin Islands. You will find impeccable service, lavish rooms with private balcony terraces, spacious marble baths, and gorgeous vistas.

You also will enjoy superb cuisine at three restaurants, watersports of every kind, day sails, tennis on courts with a view, a fitness center, floating around the lagoon shaped pool, or simply relaxing on the long white sand beach. Shoppers love the endless stores in Charlotte Amalie; golfers have access to the Mahogany Run Golf Course. Anything you ever wanted to do on a Caribbean holiday can be enjoyed at (or arranged by) the Ritz-Carlton.

Recently named "Best Resort in the Caribbean" by Conde Nast Traveler magazine, and rated one of the top three Caribbean resorts by Travel & Leisure, the Ritz-Carlton provides a spectacular vacation holiday. Located on the east side of St. Thomas near Red Hook, and facing the nearby island of St. John, it combines rich Mediterranean architecture with Caribbean accents in lush tropical gardens.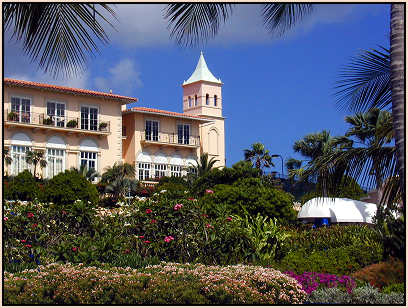 On our way to the BVI, Kenny and I decided to first fly to St. Thomas and spend a few days at the Ritz before traveling by ferry to the British Virgin Islands. We were surrounded in total luxury and lavished with some of the best personalized service we've experienced during our many Caribbean travels.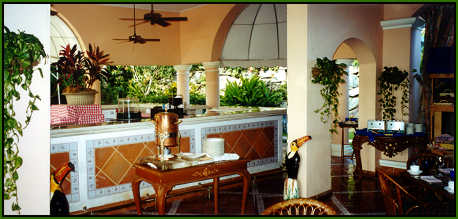 A pre-arranged taxi took us from the airport for a leisurely 30 minute ride to the resort. Our plane had touched down at 6 pm; by 7 pm we were already sitting on "The Cafe" terrace and savoring pina coladas before dinner. We hardly had time to take our last slurp of the first before it was whisked away and graciously replaced by the second round! The Ritz-Carlton also has a formal Dining Room and we were curious to see what the casual Cafe might have in comparison. The menu was just as impressive and I enjoyed a filet cooked to perfection while Kenny had a fabulous fish dish. Service was quietly attentive and one course promptly followed another. What a way to start our stay at the Ritz-Carton!

The property is extensive and our room was quite a distance to walk after a filling dinner and long day of air travel, so a staff person gave us a ride in a motorized resort cart. Our spacious air-conditioned room featured marble floors, a huge dressing area and bathroom, king bed, sitting area and lovely terrace. Moonlight played on the ocean and stars twinkled in the sky.

The next morning, we strolled out on our balcony and were delighted to find a panoramic view of the hotel, the beach, Caribbean sea, and St. John in the distance.



Rather than have room service deliver breakfast to our private terrace, we took a leisurely walk through vast tropical gardens on our way to the Cafe for a bountiful breakfast buffet. A large table surrounding potted palms had fruits and cereals of every sort and kind. The hot buffet on the garden side of the room provided omelets to order, bacon, sausage, French toast, and lots of different pastries. Breakfast could also be ordered from a menu for those who didn't want to be tempted with the endless buffet. The next day, we ordered breakfast in our room and it was delivered precisely at 7 am and served on our lovely balcony.



After breakfast, we wandered around the main pavilion and courtyard for an hour or so. A new club room features two pool tables, board games, a dart board, and gorgeous carved wooden bar with cocktail service and a cigar menu. A well equipped fitness center can also provide personal trainers. The Ritz-Kids room is full of children's toys, games, arts and crafts. I found a great gift shop with most anything anyone might need for a Caribbean vacation - apparel, gifts, and a wonderful assortment of beach shoes.

Kenny discovered a scale model of the resort in the lobby and took a picture. The image below shows the present resort from the white roofed building to the left. To the right will be the new Ritz-Carlton Club lining a second beach. Members who purchase a membership in one of the eighty 2 and 3 bedroom residences will have access to all the amenities and services of the hotel. Click on the photo to see an image of the entire property as it will look when the Club is completed.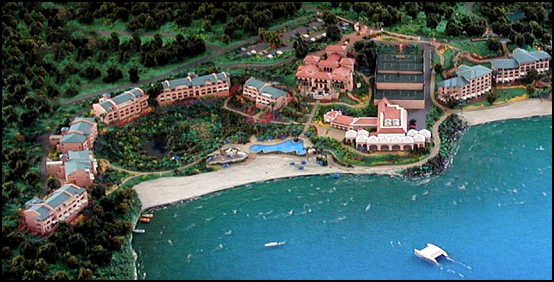 The Ritz-Carlton stretches along a hill overlooking two white sand beaches on a 15 acre estate full of palms, tropical gardens, and flowering plants. Five buildings hold 148 rooms and suites. The Palazzo Building is at the highest point of the resort with nearby tennis courts stair-stepping downward on terraced surfaces - players are treated to panoramic vistas. A full service spa provides every type of treatment a guest might like.

The Cafe and Dining rooms are below the courts and also have spectacular views of the ocean. A gorgeous 125' long, free-form horizon pool divides extensive gardens from the white sand shoreline.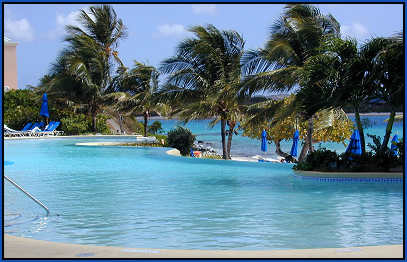 The beach is lined with comfortable beach chairs and colorful watersports toys - all types of sailboats from Hobes to Sunfish. One of the most popular activities is signing up for a day trip on the Lady Lynsey, a 53' catamaran. One trip goes to St. John while another sails for Jost Van Dyke in the British Virgin Islands. In addition to enjoying excellent snorkeling along the way, guests are served onboard beverages and snacks; lunch is provided on long sailing adventures. Romantic sunset cruises are also available. The Lady Lynsey conveniently leaves directly from the Ritz-Carlton beach.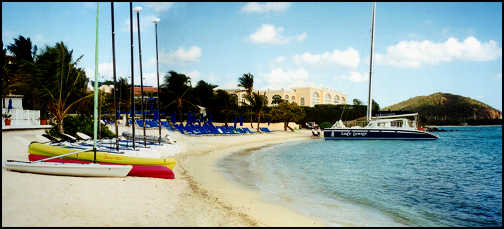 A beachside bar and restaurant provides refreshments, plus serves a continental breakfast and full menu lunch. Kenny's favorite, conch fritters, were delightful and I ordered a small lobster, noted as a blackboard special that day.

The Aquatic Center has an excellent staff who will recommend activities and sign up guests for scuba, day sails, fishing trips, windsurfer and sailing lessons. Guests can enjoy massage therapy in the Beauty Salon, on the beach, or on their private terrace. A complete Spa facility is being added to the resort soon.

Known for its perfect service, the resort provides every amenity imaginable - 24 hour room service, twice-daily housekeeping, morning newspapers, overnight laundry, secretarial services, and even 24 hour baby-sitting to mention a few.

Which reminds me to tell you who's managing all of this "perfection" in paradise:

Those who have vacationed in the BVI in the last 10 years and know Jamie Holmes will now find him at the Ritz-Carlton.

He's been in the Virgin Islands for over a decade; first managing Peter Island from 1990 to 1995, then Biras Creek until 1999. Jamie now brings his famous friendly personal attention for guests, service, and detail to the Ritz-Carlton.

With him being the Hotel Manager, there's little wonder why the Ritz-Carlton holds one of the highest ratings in the Caribbean!

The Ritz-Carlton uniquely caters to all types of guests - couples, families, and groups gathering for weddings, meetings, and special events. Planning a wedding for 2 or 200? No problem. Want the perfect family reunion? No problem. Have a group who wants to gather in paradise? Not a problem. Just tell them your whims, wishes, or ultimate dream vacation and the Ritz-Carlton staff will strive to make it happen.



The excellent staff will help you to plan each detail of your special holiday. Even if you are simply a single or a couple seeking a tropical get-away, expect a phone call a few days before your trip from a Ritz-Carlton representative who will graciously ask if you might need anything special (even unusual) during your stay. Tennis lessons? A special bottle of champagne? Special romantic sunset sail? Anything at all?

When you return home, another representative may call to be sure that your vacation went exactly as you expected.

Not many hotels and resorts have the service of the Ritz-Carltons!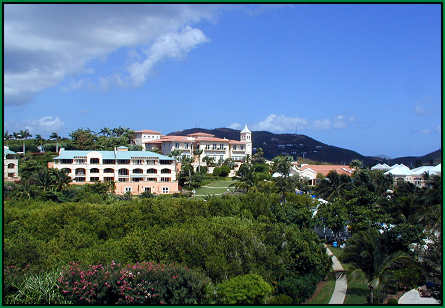 U.S. citizens can leave their passports at home (unless planning a side trip to the nearby British Virgin Islands) and honeymooners can be married on the day of arrival if wanted (rather than waiting the obligatory 3 days at other islands).

The resort has many packages tailored for weddings, honeymoons, groups, and families. Children will enjoy the Ritz-Kids activities, and "Nannies in Paradise" can be arranged 24 hours a day.

On our most recent visit, the Ritz-Carlton arranged for Ian Williams of Chilly's taxi service to provide transportation to the resort. He was a complete delight and a wonderful tour guide. We highly recommend him and he can be contacted on his Cell at 340-690-0716.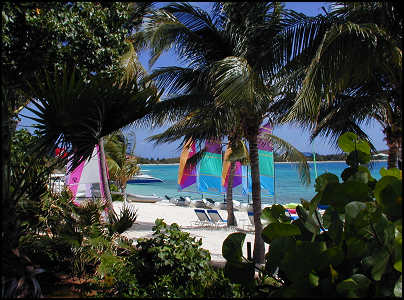 In addition to having some of the most luxurious accommodations in the Caribbean, the Ritz-Carlton also has some of the best service... and service with a smile!

---