My mom and dad (well, the human ones) have raised Akitas since 1970 when they were given a puppy "Frito" who was the son of two Japanese Champions. They found a female for him and had several litters of puppies through the years. Lynn and Ken live in the country and love Akitas since we are quiet dogs and never bark at all the wild critters that roam the pastures, like coyotes, rabbits, armadillos, and deer. We Akitas would rather rub noses through the fence and make some new friends!

Eight years ago, they bought a 4 year old female named Dottie and after having another litter, kept a big pinto male called Patches. Last spring, they noticed that Patches was running around the yard with something in his mouth - it was a big snake -- a rattlesnake! Patches had killed it, but not before it bit his mother Dottie and she did not survive the snake bite.

Dottie was Lynn's dog and she was very sad, so was Patches (who was Kenny's dog), and they decided the best thing to do was find a new puppy as soon as possible. A breeder happily said that a 4 month old puppy was available - he was the "pick of the litter", but had started walking a little funny and couldn't be a show dog. Yeah, that was me! <doggie grin>

When I first saw Lynn, it was love at first sight! I lumbered over and licked Kenny first, but then ran to Lynn and just KNEW I'd found my new mommy. I was a big clumsy 45 pound puppy with a big happy grin on my face and she fell for me too. Well, needless to say, they took me home with them. Patches had come along too so we got to know each other during the long four hour drive back to South Texas.

When I turned 6 months old, I started walking a little funnier, and I was laying in strange ways, kind of like a pretzel! Lynn and Kenny thought that was a little odd - Patches didn't seem to notice.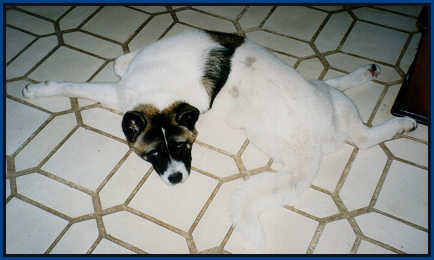 Then one day, I had trouble getting up. Kenny decided I needed to see Dr. Floerke, our vet who watched me walk, frowned, and put me on his table for X-rays. Yes, as suspected, I had canine hip dysplasia - bad hip dysplasia! Dr. Floerke suggested that Lynn and Ken either put me to sleep or think about having operations on both my hips. We went home. Lynn cried a lot since we had fallen in love with each other. Patches didn't want to lose his new friend, after all, he'd just lost his mother. Kenny wasn't sure what to do, so they contacted a doggie hip specialist, Dr. Andy Baker in McAllen, Texas and sent my X-rays to him.

Dr. Baker said that I needed to be a year old before the first hip could be replaced and everything depended on if I could keep walking for another 6 months without being too much in pain. Because I was a large breed type dog and would probably weigh over 100 pounds someday, I'd need full hip replacements to carry my great weight. It sounded good to me, so we all decided to give it a try -- if I didn't make it that long, at least we had some time on this earth together.

Lynn went to the internet and read all she could find about my bad hips. She also read that Ester-C tablets might help ease the pain, so every day, I had two of them and an aspirin with my lunch (three tablets later when I got bigger; four gave me diarrhea and was too much). Mom used BC aspirin in powder form and ground up the tablets so they could be added to my food. They seemed to help, I started getting up a little faster and walking better.

I went through a growing spree at age 8 months and for a week or two really had a hard time getting up again, so Lynn or Kenny would have to help me. But, I soon learned how to roll over on my back to my better hip side and lurch up on all fours. Once I was up, things were pretty good! I also learned to lay around with my feet up on walls and furniture to give me something to push against when I needed to roll over and get up. I wonder if other doggies with hip dysplasia do this too? (Several people who have read this web page have emailed "mom" and told her that their dogs with hip problems do this too.)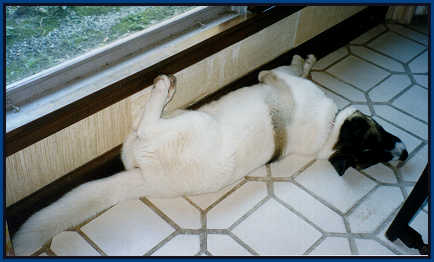 At 9 months, I was neutered and had more X-rays taken to send to Dr. Baker. He called Lynn, told her that I had no hip joints whatsoever, and asked if I was still walking! I guess my hips are really bad, but yep, she told him that I'm still getting around pretty good and am a happy dog too. It helps to have Patches around to give me some encouragement to keep moving. Kenny also takes me for rides in the car with Patches to see our cotton farm - it's really neat! Here's a picture of me and my buddy Patches. He can run like the wind, but never runs far without me -- just stops, sits, and patiently waits until I can "amble" over to his side.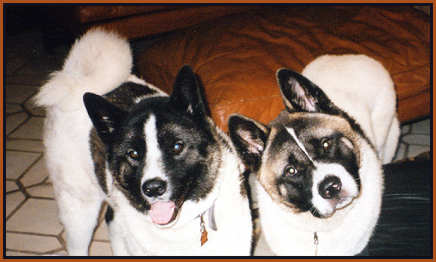 Kenny built a "handicapped ramp" to help me get into the car. We'll put a picture of it up later, but it's a 2' by 6' long piece of plywood covered with carpet and it slides out of our Chevy Tahoe to make a ramp for me. I do pretty good going up it and real good going down it. Patches, of course, thinks it's pretty funny since he just jumps right into the car and wonders why I take so long!

Well, I only have two more months to go before my first hip replacement operation. I think I'll make it! Walking is getting a little harder , but I'm not giving up! Here's a picture of me taken at 10 months. As you can see, I could have been a show dog... at least from the hips forward!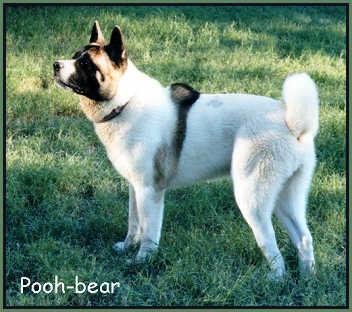 Stay tuned and we'll keep you posted on what happens next...


-- Love and Licks

Pooh Bear