Dr. Baker received his D.V.M. from Oklahoma State University. After serving two years in the USAF Veterinary Corps, he completed a two year surgical internship at Texas A & M University. He spent six years in general practice and then established a surgical referral practice within Campbell Road Animal Hospital of Houston, Texas, where he presided as chief surgeon for 13 years.

In 1978, Dr. Baker, an avid pilot, begin flying to South Texas to perform surgical services for local veterinarians and their clients at Nolana Animal Hospital under Dr.'s Steve Bentsen & Jeff Jorgensen. After eleven years of commuting to the valley, Dr. Baker decided to move to McAllen and became partners with Dr. Bentsen.

Dr. Baker has lived and practiced in the valley since 1989. He continues to fly and perform specialized surgery for veterinarians as far away as San Marcos, San Antonio, and Houston.

Referrals come to McAllen from Corpus Christi, San Antonio, Mexico, Kingsville, Laredo, Brownsville, Alice, Harlingen, and many other cities throughout central and south Texas.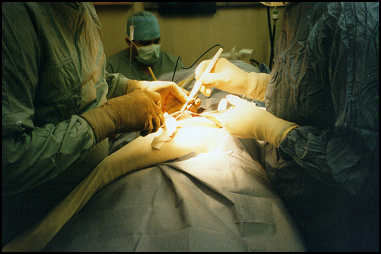 Dr. Baker's operations are performed under strict procedures, often including an second veterinarian and another assistant, just as in human operations. Some surgeries such as total hip replacement require more delicate procedures than human ones because of the smaller bone structure of canines.

Dr. Baker also continues to lecture at veterinary meetings on orthopedic surgery and medicine. His current interest is in total hip replacements for dogs with painful hip dysplasia. He performs 2 to 4 hip replacements a month.