Everyone loves a party and Peter Island treats their guests to "West Indian Night" each Monday at the beachside bar and grill. The festivities center around traditional island fun, food, and entertainment.


Click to Play Steel Drum Music


A managers cocktail party starts the celebration with an open bar and appetizers served in the gardens as the sun sets over the bay. A steel drum band is soon playing Caribbean songs while guests and palms sway at waters edge.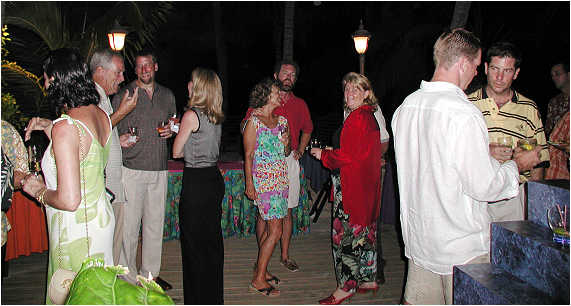 Inside the restaurant, a bountiful buffet awaits guests and is an endless profusion of traditional West Indian delights - Rice & Peas, Johnnie cakes, island vegetables, conch fritters, grilled shrimp and swordfish, Island roast pork leg with mango salsa to name a few. A separate dessert buffet offers Guadeloupe apple cake, Key Lime pie, Bread pudding, Tortolan carrot cake, and Peter Island's famous over-sized cookies.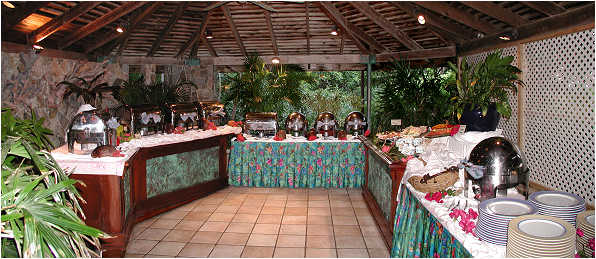 Sometimes, another special entertainment is in store for guests. A 9' tall figure, followed by four others, appears at the end of a walkway and rhythmically moves toward the restaurant. Mocko Jumby Dancers on stilts, towering above all, have arrived for the final event. The steel drum band shifts into a faster beat to provide background music for a half hour of dances and antics. Yes, these are the famous "stilt walkers", another sensational and colorful Caribbean tradition.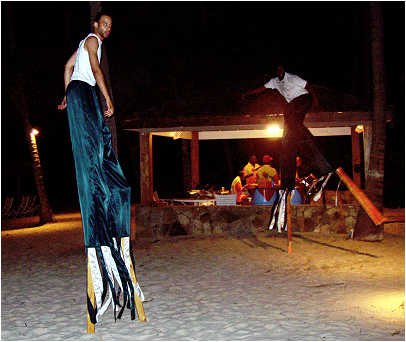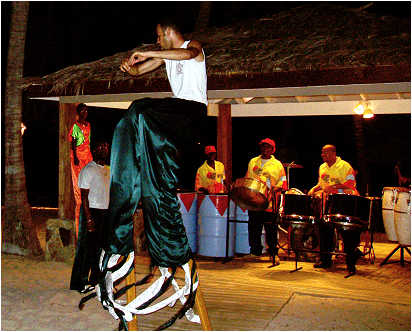 Two Jumby walkers soon entice a guest from the bar to dance with them. Others join into the fun or are busy snapping photos. The youngest jumby dancer is 7 years old (below on the left) - a very talented member of this lively troupe.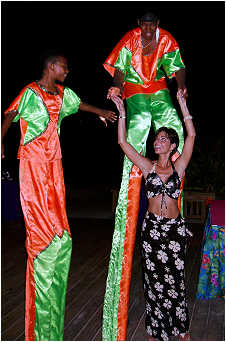 West Indian Night is truly a fun event, yet another one of the many island experiences guests will have during their vacation in paradise.