Which one is right for you?
The four resorts in this review - Guana Island located north of Tortola, Biras Creek and Little Dix on Virgin Gorda, and Peter Island south of Tortola - are all special destinations, but each has its own distinctive atmosphere, cuisine, and surroundings. Hopefully the information included in this report will provide some insight and help you select which might best suit your personal interests and expectations.


We visit, but do not stay on Tortola. While we enjoy an occasional day trip to that island, it does not have the best BVI beaches for snorkeling or swimming, and the quaint hotels and inns on the north side do not have diving operations nearby or on-site. We have stayed at the Bitter End Yacht Club, but it is not included since it is a huge resort with minimal beaches and focuses primarily on vacationers who love boating and sailing; however, a review and photos of that resort are available on my
BVI webpage. Drakes Anchorage, previously in this review, has been closed for several years and has no plans to reopen, however, those who enjoyed Drakes will be delighted with Guana Island.

Resort size can make a big difference in surroundings and atmosphere. Guana is located on a big private island, but holds the smallest number of guests - only 30; Little Dix, the largest resort, can easily hold up to 300 guests and their children. Generally, the bigger the resort, the more activities are available; however, not everyone wants endless schedules of daily activities and some may prefer to privately enjoy a few wonderful days at the edge of an almost deserted beach or strolling through a tropical wonderland at a resort with less guests. To each his own...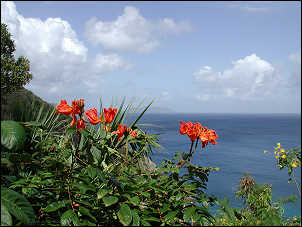 Quick Facts:

(in order from least amount of guests to most)


Guana Island - 10 minute boat ride north of Tortola Beef Island
30 guests, 7 beaches, 1 restaurant, 850 acres on its own secluded island, natural surroundings & nature preserve, resort wear, gourmet food.

Biras Creek - North Sound of Virgin Gorda - 25 minute boat ride
66 guests, 2 beaches, 1 restaurant, 140 acres on a remote section of Virgin Gorda, natural & groomed surroundings, resort wear, Caribbean Continental food.

Peter Island - 20 minute boat ride south of Tortola Beef Island
100 guests, 5 beaches, 2 restaurants, 1800 acres on its own island, natural & groomed surroundings, resort wear, American & Continental food with West Indian flair.

Little Dix - center of Virgin Gorda, 25 minute boat ride from Tortola
200-300 guests, 1 beach, 3 restaurants, 500 acres near Spanish Town, "country club" groomed surroundings, resort wear, Ameican & Continental food.

Note: all the resorts will take guests by crewed launch to a remote beach for a secluded "castaway" day. Biras Creek also has motor dinghies for adventuresome guests to take on their own around the North Sound for exploring or snorkeling.


GUANA ISLAND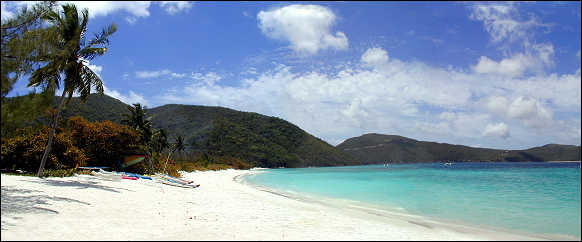 GUANA, a magical private island, has only 15 cottage rooms for 30 lucky guests who are seeking a secluded, gorgeous destination with 7 beautiful beaches, excellent snorkeling, windsurfing, kayaking, world class tennis courts, outstanding vistas, and miles of hiking trails through 850 acres of wooded tropical forests to reach bat caves, sugar plantation ruins, and remote white sand beaches. This is the perfect place to be alone with your favorite person to enjoy nature at its Caribbean finest.

Everything about this destination is unique. Cottages are set along a high ridge 200' above sea level and overlook the surrounding islands of the Virgins and the deep blue sea beyond. Roads and hiking trails lead down to beaches and up to three peaks at 325', 442', and 806'. The main beach at White Bay has several snorkeling reefs teaming with fish of every kind, plus a wide array of marine life can be found at the other beaches and coves which ring the island. The food is outstanding - a gourmet's delight often with fresh fruits and vegetables grown on the island.

Eight cottages hold one, two, or three guest rooms which have different locations, configurations, and outstanding views of the Virgin Islands. All rooms have a private patio or porch, while others also have a common area and are perfect for family reunions. While some reviews call the accommodations "rustic", we found them very spacious, comfortable, and exquisitely basic - white stone walls, painted concrete floors with scatter rugs, one of the best king beds we've ever slept on under a powerful ceiling fan, plus an ample bathroom with large shower and lots of hot water with good pressure. Best of all was our huge private porch with wicker lounges and rocking chairs where we quietly read books and enjoyed the incredible vistas. We usually spent afternoons at the beach, sunning, windsurfing, snorkeling, or paddling kayaks around the huge bay.

For a couple wanting the ultimate get-away, Guana has the "North Beach Cottage" - a lovely ocean side house complete with bedroom, full bath, living room, kitchen, patio, and boardwalk to a private shoreline and swimming area. A golf cart is included for puttering through a tropical forest to reach the main beach.

Guana has the ambiance of a large B&B or small inn where guests are generally on their own to enjoy the "back to nature" surroundings, but if they need anything at all, managers will be glad to help. Scuba diving? No problem, a dive operation will pick you up at the pier. Day trip to other islands? Sure, when do you want to leave and return? Where's the best snorkeling? Just ask.

The meals are outstanding and are served under covered verandahs with gorgeous views. Breakfast offers a cold buffet and guests can also select from a menu of eggs, pancakes, waffles, or eggs any style. Lunch is a buffet of delectable delights. A three course dinner is by candlelight - guests can join "group tables" and visit with other guests, or request their own table on a second verandah. Dinner is sometimes served on the lovely candle-lit "Sunset Terrace" – one of the most romantic dinner settings in the BVI. Both red and white house wines are complimentary with lunch and dinner.

Guana's most unique attraction, however, is the incredible flora and fauna. Under the direction of owners Henry and Gloria Jarecki, this private island has become one of the most important nature preserves and wildlife sanctuaries in the Caribbean. Many "lost species", once native to the islands but endangered by mankind, have been brought to Guana and re-established. The plants, animals, and birds here are found few other places in the Caribbean, such as the "great iguana" which is 6' long and far more rare than relatives in the Galapagos. During September and October, the resort is generally closed to guests when scientist pursue research in marine biology, entomology, archeology, and botany.

Guana is a magical wonderland, best enjoyed by couples who want a true, "the way the Caribbean used to be" getaway... to be alone with each other and all the beauty that island flora and fauna have to offer. This is truly a "one of a kind" destination.

Dress: Beachwear with cover-ups for breakfast and lunch; summer dresses or pants and blouses for ladies, and slacks and collared shirts for men at dinner.

Getting to Guana Island Resort is easy. Fly into the Beef Island Airport on Tortola and a taxi will take you a short distance to a pier or dock. A resort representative will meet you for a 10 minute boat ride to the island. It is best to arrive before 5 p.m. or sundown.


~~~~~~~~~~~~~~~~~~~~~~~~~~~~~~~

BIRAS CREEK on Virgin Gorda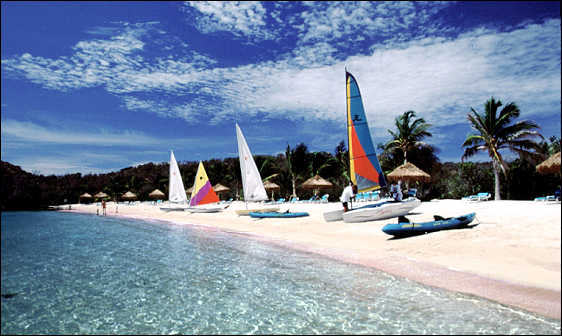 Biras Creek Resort is known for having lovely, secluded accommodations in a 140 acre natural setting with a long walking beach, a protected cove with white sand beach, plus a towering hill in the center of the resort crowned with a dramatic stone restaurant - one of the most enchanting dining rooms in the BVI.

This resort is located on a remote northeastern tip of Virgin Gorda, and like Guana, is accessible only by boat. It uniquely sits on a slender isthmus of land which separates the Atlantic Ocean from the Caribbean Sea and North Sound. Biras Creek is a nature lovers paradise and offers numerous hiking trails through tropical forests, up steep hillsides, and along the beaches. Guests can also take a long leisurely stroll around the hill to the Bitter End Yacht Club. Activities include tennis, biking, plus sailing, kayaking, and windsurfing in Deep Bay. Day trips to other beaches, the rest of Virgin Gorda, day sails, snorkel trips, and diving with Dive BVI or Sun Chaser Scuba can be arranged by the resort staff.

Twelve of the sixteen cottages (two suites to a unit) line a rocky, coral strewn beach lapped by rolling waves and are situated so that each is very private with its own path, entry way, and patio. The breeze cooled suites have ceiling fans and optional air-conditioning in the bedroom with king or twin beds, a separate sitting room with sofa, chair and desk, plus a roomy bathroom with a large shower open to the skies. Four units are nestled into the gardens within viewing, but not hearing distance of the rolling surf. Two spacious Grand Suites at the end of the beach have a private patio, two verandahs, huge living room, air-conditioned bedroom, six ceiling fans, separate room for toilet and bidet, plus a shower and sunken tub large enough for two people. A two bedroom suite has a large living room and three terraces. Each cottage comes with two bicycles, used for peddling to the watersports beach or the gift shop at the marina. The grounds surrounding the rooms and restaurant are perfectly landscaped with colorful tropical plants, yet most of the resort has been left in its natural state.

A seaside spa near the pool provides full services to guests and has a pretty sitting area for relaxing after treatments.

Breakfast, some lunches, and dinner are served in the hill top restaurant which resembles an open sided stone castle. The three course dinner menu changes each day and offers a choice of soup or garden salad, entree, and dessert; after dinner, guests may also enjoy a complimentary cheese table and port wine. Cuisine at Biras has always been outstanding with a wide array of choices. Lobster is available each night (in season), and usually an interesting vegetarian entree is also featured. Early risers can enjoy coffee, tea, juice, and pastries at the pool area, and English Tea is served each afternoon. Three days a week, Biras serves a fun "Barbecue on the Beach" at the Deep Bay Bar, about a 15 minute walk from the rooms, or a leisurely bicycle ride.

Be aware that there are 100 steps from the suites up to the "castle" dining room and that it is fastest to use bikes (rather than walking) to explore the property since it is so spread out. As a result, it would be difficult for the infirm, very elderly, or wheel chair bound to get around the resort.

Visitors looking for an upscale, quiet, secluded hideaway with private rooms and natural surroundings will enjoy Biras Creek. It strikes a perfect balance between small, intimate inns and large properties with endless activities.

Dress: pack two or three bathing suits, some cover-ups for the public areas during the day, and resort wear such as pant suits or summer dresses for the ladies, collared shirts and slacks for the men in the evening.

Getting to Biras is best done by flying into the Beef Island airport on Tortola where the resort will arrange a 25 minute boat transfer. Presently, only small commuter aircraft fly directly to Virgin Gorda; taxis then take guests to the Biras boat at Gunn Creek for a 10 minute ride to the resort. Reaching Biras from St. Thomas can take up to a half day of ferry rides through the U.S. and BVI, so it is best to fly directly to Virgin Gorda or Tortola.

~~~~~~~~~~~~~~~~~~~~~~~~~~~~~
PETER ISLAND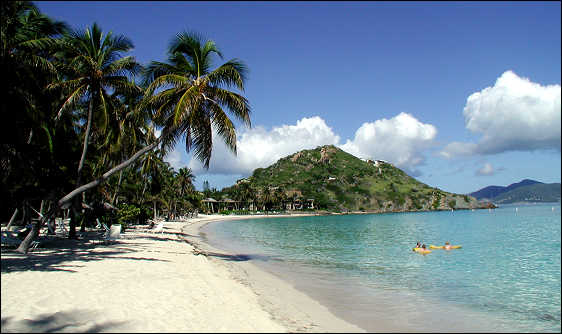 Peter Island Resort is an exquisite paradise with 50 rooms on a corner of its own 1800 acre island and offers guests a large choice of accommodations, menu selections, and activities. While this resort is on the edge of elegance, it has a friendly, casual atmosphere not found at many destinations of its caliber, and offers something for everyone to do. Guests can partake of all the on-site or off-island activities available, or simply spend some secluded quiet time on one of Peter Islands three long stunning beaches.

Dining at Peter Island is a gastromic experience. Chef Wilford Stoutt has been with this resort for over 20 years and creates elegant four course dinners in the Tradewinds Restaurant. On some nights, guests wanting a more casual atmosphere can wear their spiffy shorts, shirts, and sandals to dinner in the Beach Grill which offers a fixed menu. Lunch at the Beachside Grill has an extensive salad bar plus grilled to order fish, chicken, ribs (some of the best I've ever had and I'm from "Texas Rib Country"), sandwiches, and burgers, followed by a dessert buffet, including their trademark homemade cookies. A light lunch of salads and sandwiches is also served by the pool. Breakfast offers a huge fruit & cereal buffet plus cook to order eggs, pancakes, and french toast. Early birds can enjoy coffee and Danish by the pool as the sun rises. Don't miss Peter Island's Sunday lunch buffet with a steel drum band and the Monday night West Indian Buffet with a band and jumby stilt dancers.

Most of this vast island has been left in its natural state and has plenty of hiking and biking trails for exploring guests. The highest point is over 500' and provides outstanding views of the BVI. The grounds around the resort have been beautifully landscaped with tropical plants and coconut palms lending to the breathtaking island atmosphere.

Air-conditioned Ocean View accommodations are located in gardens near the main dining/reception area and the swimming pool which overlook Drakes Channel and the island of Tortola. Nicely sized rooms have a king or twin beds, small sitting area, desk, full bathroom with a tub, and patio or balcony. Spacious Beach Front rooms in stone buildings on Deadman's Bay feature a patio or balcony, king or twin beds, large sitting area, desk, and huge bathroom with a romantic two person Jacuzzi tub - each has optional air conditioning, plus ceiling fans. One hillside Villa is available - with three bedrooms, three baths, a living room, kitchen, pool, and sun deck with a view of Deadman's Bay and the islands beyond. An outstanding, fully staffed four bedroom villa with a private pool, the Crows Nest, perches at the top of a hillside with a panoramic view of Drakes Channel and Tortola. A full service Spa overlooking Big Reef Bay provides full services.

Activities abound at Peter Island. Guests can enjoy playing tennis, or sunbathing on the gorgeous mile long beach at Deadman's Bay, the sparkling remote beach at White Bay, and the shell strewn beach on Big Reef Bay which has a fitness trail. Water sports include snorkeling, windsurfing, and sailing, plus divers and snorkelers will be pleased to find a complete scuba dive operation on site. Hikers and bikers have 10 miles of trails to explore. A tour around the island by safari van is available twice a day, and the Peter Island Ferry goes to Tortola eight times daily for those who would like to shop at Road Town or take a day trip around that island. A resort ferry will also take guests on a "shopping and golfing" day trip to St. Thomas on Tuesdays and to Virgin Gorda and its famous "Baths" on Thursdays. Sports fishing, day sails, and snorkeling trips to Norman Island and other coral gardens are also available on Peter Islands own fleet of watercraft.

Staff members are very gracious and provide excellent service in all respects. Most of the staff has been with the resort for years. If a guest needs a ride anywhere at all on the resort property, the staff will be happy to arrange it - just call the front office.

Peter Island appeals to those who love endless beaches, lots of on-site and off island activities, personal service, gourmet food, and privacy when and if they want it.

Dress: Pack bathing suits and cover-ups for day wear, plus resort wear such as sun dresses or summer pants suits for ladies, and collared shirts and slacks for men at dinner in the Tradewinds restaurant.

Getting there: No problem - Peter Island will arrange a 20-25 minute ride on one of their own ferries, regardless of the time of arrival or departure from Beef Island Airport on Tortola. A resort representative meets each guest at the airport and helpfully arranges transportation. On Tuesdays and Saturdays, guests can arrive in St. Thomas and take a Peter Island air-conditioned yacht to the resort if their plane lands by 3 pm.

~~~~~~~~~~~~~~~~~~~~~~~~~~~~~~~
LITTLE DIX on Virgin Gorda: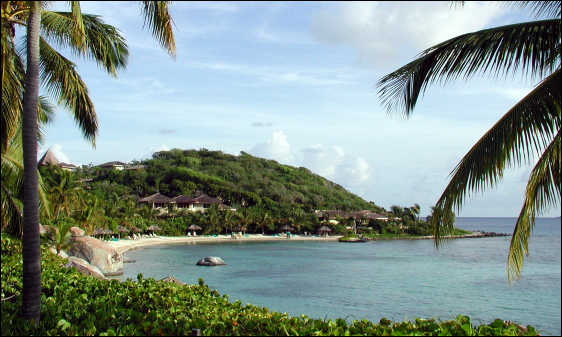 This large 98 room, classic resort overlooks a half mile crescent beach surrounded by hills. Little Dix was originally created in the 1960s by Lawrence Rockefeller as an exclusive 50 room retreat for "rich and famous" vacationers and wealthy honeymooners. Located in a picture perfect setting, rooms are hidden beneath palms and tropical trees set among meticulously groomed lawns and manicured landscaping. Over the years, this "fancy campy" getaway of yesteryear doubled in size, filling the entire half-mile beach and under the direction of Rosewood management was recently transformed into a modernized resort for families with children of all ages. A "Children's Grove" day care center offers scheduled activities for children over 3.

All of the air-conditioned rooms are located along or near the beach - some are almost at waters edge, while others overlook the gardens or a rolling lawn ending at the shoreline. Two floor plans prevail - square rooms grouped in one or two story buildings, and roomier hexagonal rooms, two or four to a unit with some set on stilts shading a patio and hammock below. All have a sitting area, desk, and small to moderate sized bathrooms with showers, except for several suites which have bathtubs. Only a few of the rooms offer complete privacy - many are located near the beach and pathways with lots of visitors and children drifting by. Guests wanting solitude should request rooms at the furthermost ends of the beach or choose another resort with more secluded accommodations.

Two beachside villas are available – one with two bedrooms; the other with three. Both have large living and dining areas and private pools. These are very popular with families.

On site activities include tennis, hiking, kayaking, sunfish sailing, water-skiing and snorkeling. Dive BVI has a scuba instructor and small shop near the pier and schedules dive trips each morning and afternoon. Many different charters can be arranged for snorkeling, day sails, and fishing. The resort can also provide a trip to a remote beach, however guests who order box lunches should check to be sure plenty of drinks are provided. The resort welcomes children of all ages, and has daily and evening scheduled activities for age groups of 3 to 6 and 7 to 12. Nannies are also available for children.

During the winter season, Little Dix has three restaurants open to guests - the Beachside Grill, the huge Pavilion, and the small intimate Sugar Mill - all with superb views of the bay. Dinner menus in the Pavilion feature "fashionable" cuisine and appear to follow the latest culinary trends. The smaller Sugar Mill has a menu full of grilled steaks and seafood, plus a la carte veggies. Lunch at the Beach Grill includes hot dogs, hamburgers, fruit and chef's salads, turkey club sandwich and several entrees; a buffet lunch at the Pavilion offers a salad bar and grilled hot dogs, hamburgers, chicken, and fish, plus delightful desserts. Breakfast at the Pavilion has a fruit, bread, and cereal buffet, followed by blueberry pancakes, eggs, omelets, and waffles. English style tea and aperitifs are served each afternoon on the Pavilion Terrace. Plenty of high chairs are available for tiny tots.

The Little Dix Spa is located high on a bluff with breathtaking views and has an amazing series of pools cascading through gardens. Individual massage and treatment cottages overlook the ocean and have lovely sitting areas.

Little Dix has a huge staff, necessary to provide service to the large number of guests, provide activities for the children, and to maintain the extensive grounds. Most of the staff were friendly and attentive, however, dessert always seemed to take an extra hour to order and be served.

This resort is best enjoyed by families and couples (who don't mind vacationing with children of all ages) searching for a classic resort with lots of scheduled activities for all age groups.

Dress: fashionable sports wear for the public areas. In the evening, ladies wear elegant resort wear and men wear collared shirts, slacks, and "closed toe" shoes (coat optional). Children should be appropriately dressed if dining with parents.

Getting there: No problem, Little Dix has a fast power catamaran which transfers guests to and from Beef Island at any time, and vans which provide shuttles to the Virgin Gorda airport.


~~~~~~~~~~~~~~~~~~~~~~~~~~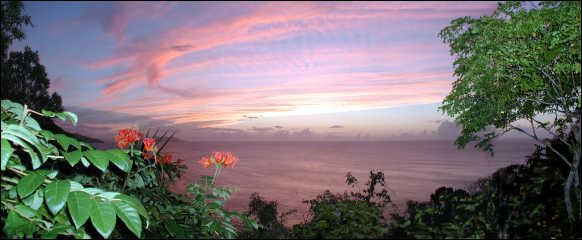 "BEST OF" GUIDE

THE FOLLOWING is a guide to the "most or best of". Where you see more than one resort listed, it's because I asked my husband's opinion which doesn't always match my own!
Most quiet & remote: Guana Island, Biras Creek


Back to nature surroundings: Guana Island


Country Club family atmosphere: Little Dix


Elegant, relaxed atmosphere: Peter Island


Best for families with young children: Little Dix


Best for families with teenagers: Peter Island


Best for romantic couples: Peter Island, Biras Creek, Guana Island


Best Hideaway resort: Guana Island


Best Entertainment: Peter Island's Sunday Lunch Beach Buffet with steel drum band, and Monday "West Indian" night with band and jumby stilt walkers.


Best Spa: Little Dix Resort


Best Breakfast: All of them


Best Lunch: Peter Island


Best Dinner: All of them


Most romantic, intimate dinner setting: Guana Island's Sunset Terrace


Best Sunset View: Guana Island; Biras Creek


Best "all around" and friendly service: Peter Island


Most private rooms: Guana's Cottages, Biras Creek Ocean Front Suites


Most secluded accommodations: Guana North Beach Cottage, Biras Grand Suite; Peter Island Villas


Most elegant rooms for romantic couples: Biras Creek Grand Suites, Peter Island Beachfront Suites with two person Jacuzzis.


Most on-site activities: Peter Island, Biras Creek (Boston Whalers are very popular)


Most off-site activities: Peter Island, Little Dix


Best on-site snorkeling: Guana Island, Peter Island


Best windsurfing: Peter Island, Guana Island, Biras Creek (Dix on windless side of island)


Most varied hiking trails: Guana Island


Most convenient diving: Peter Island since a full service dive shop is on site. Little Dix is a close second since Dive BVI has a dive instructor there. [Note: Scuba is available at Guana Island and Biras Creek too - boats pick up at the dock.]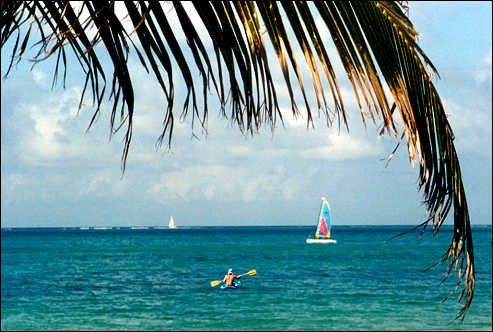 ON-SITE ACTIVITIES
Resort
Activities

Guana

Island

Biras

Creek

Peter

Island

Little

Dix

Biking

no

yes

yes

rent

Hiking

yes

yes

yes

limited

Motor Dinghies

no

yes

no

no

Resort Pool

no

yes

yes

no

Scuba Diving

yes

yes

yes

yes

Beach Snorkeling

best

some

good

some

Small Sailboats & kayaks

yes

yes

yes

yes

Tennis

yes

yes

yes

yes

Windsurfing

yes

yes

yes

no

Internet Connection

yes

yes

yes

yes

Optional Air-Conditioning

no

bedrm

yes

bedrm

Children's Activities

no

no

no

yes

Massage

yes

spa

spa

spa

Fitness Center

no

no

yes

yes

Telephones in rooms

no

yes

yes

yes

Some people like phones, some don't. (They can be easily unplugged.)

A note about Fitness Centers. Use those at home where you look at four walls and a TV. In the beautiful islands, surround yourself with Mother Nature while taking a hike or jog down the beach, climbing a hill or mountain, going for a long swim, snorkeling the reefs, or paddling a Kayak – you'll probably get more exercise that way and enjoy it much more too!

POLICY FOR CHILDREN:
Guana Island – prefers children over age twelve.
Biras Creek - prefers children over age eight.
Peter Island - prefers children over age eight.
Little Dix - children of all ages are welcome. Day Camp activities and nannies available.

STAYING AT TWO RESORTS: Some vacationers who take 10 day to 2 week vacations often like to stay at two different properties. Transferring between these four resorts is very easy.

Traveling between Biras Creek in the North Sound and Little Dix near Spanish Town in Virgin Gorda requires a short boat and breathtaking taxi ride over the mountain. Transfers between either of these two Virgin Gorda resorts and Peter Island or Guana Island requires two 20-25 minute ferry rides making a connection at the Beef Island airport pier.

Peter Island also takes its big motor yacht to Virgin Gorda on Thursdays, so vacationers could easily move to or from there on that day. Lots of possibilities for those who might want to stay at more than one resort. Generally, changing resorts only takes an hour or so.

Both Biras Creek and Peter Island offer "Sailaways" for guests who want to stay several nights at the resort and also do a two day sail. This would be another way to transfer resorts - simply have the sailboat drop you off at the second resort where you can continue your vacation.

RATES: All but Little Dix include breakfast, lunch, and dinner meals in the room rates. Little Dix has optional dining plans which can be added to room rates.

Summer (low) season with best rates is usually from Mid-April to Mid-December; Winter (high) season with most expensive rates is from Mid-December through March. All the resorts have weekly packages at good savings over daily rates during the year except for the Christmas and New Years holidays.

For more information, take the links to each resort review below.

GUANA ISLAND RESORT:
10 Timber Trail, Rye, NY 10580
(800) 54 GUANA or (914) 967-6050 FAX: (914) 967-8048

BIRAS CREEK RESORT:
c/o Ralph Locke Island, Inc. P.O.B.492479, Los Angles, CA, 90049-8477
U.S.& Canada: (800) 233-1108 U.K. 0800-894-057 Other Countries: 310-440-4225 FAX: (310) 440-4220

PETER ISLAND RESORT:
220 Lyon Street NW, Grand Rapids, MI 49503-2208
(800) 346-4451 or (770) 476-9988 Fax (770) 476-4979

LITTLE DIX BAY RESORT:
P.O.Box 720, Cruz Bay, St. John, U.S.V.I. 00831-0720
(800) 928-3000 (284) 495-5555 FAX: (284) 495-5661

OLSON TRAVEL & NAUTICAL CHARTERS (ScubaMom's Travel Agent):
401 Highway 181, Portland, TX 78374
(800) 525-8090 (361) 643-4555 FAX: (361) 643-6975