| | |
| --- | --- |
| | My husband, Kenneth, and I first visited Barbados in 1987 before we embarked on a Caribbean Cruise and found a very interesting, diverse island. The west coast is well known for its lush golf courses, tranquil white sand beaches, hotels, inns, and luxury resorts, while the quiet east side has miles of coastal roads and glorious views of rugged beaches and pounding Atlantic surf. Much of the central area is devoted to farming vegetables,sugar cane, and cotton. The island has many historical sites, an excellent botanical garden, and lots of visitors activities. |
| | |
| --- | --- |
| At the time, I was serving as a director of the International Palm (tree) Society with Iris Bannochie who founded Andromeda Botanical Gardens on land that had been passed down through generations of her family, originally from England. We first met at palm seminar in the U.S. a year before and I asked her where exactly Barbados was. She drew what looked like a sideways pearl necklace on a paper napkin and said "Here are all the islands of the Caribbean curving out into the Atlantic Ocean and if we add a splendid pendant, that is Barbados, the easternmost island." | |

Iris's gardens are near Bathsheba on the craggy eastern coastline and had a wonderful assortment of tropical plants, palms, and trees. It is now open to the public under government management.

Barbados has a perfect blend of cosmopolitan and tropical island atmosphere. It is well developed with a diversity of businesses, shopping areas, and agriculture, yet has many open areas with incredible vistas and views.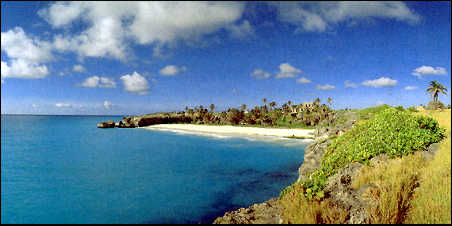 Most of the hotels and resorts are on the western coastline with some located near the southern point nearer the airport. Visitors will find a diversity of accommodations ranging from quiet, small beachside inns to large, elegant 5 star resorts.

Most vacationers are from the U.K. - some families have been coming for several generations. Others are from Europe or North America, some staying a few days before taking a cruise northward through the Caribbean . Of all the islands we have visited, Barbados has the most "British" atmosphere mingled with the tropical setting.

In our travels to St. Vincent and the Grenadines, we often overnight in Barbados. One year we stayed at The Sandpiper, the next we stayed at the Coral Reef Club - both in beachside locations on the West coast. For a change of pace, we have also overnighted at Villa Nova, a lovely hotel estate in a gorgeous countryside setting. To read my reviews, take the links at the bottom of the page.