If Scarlett O'Hara of "Gone with the Wind" had vacationed in the Caribbean, she and Rhett would have gone to the Cotton House Resort on the island of Mustique. Large white plantation style homes filled with elegant furnishings adorn the property. The atmosphere provides relaxed luxury with gracious service. One day, as I sat on our private terrace with a drink in my hand, the song "Summertime ...and the living is easy" drifted through my mind.



The estate is gorgeous. Spaciousness and tranquility abound with expansive green lawns embellished with sprinkles of trees, palms, and tropical foliage. Rooms, suites, cottages, and the "main house" are set on gentle hills which surround the historic Sugar Mill.



The lovely main house holds the "great room", dining areas, and main bar. Each evening, guests gather to enjoy cocktails before being seated at romantic candlelit tables either within the house or on the wide outdoor verandahs.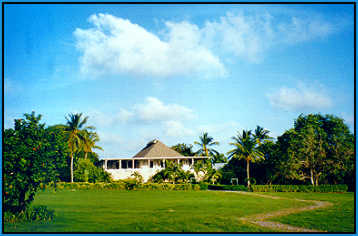 Most mornings, I enjoyed early morning coffee on the side porch overlooking a small lilly pond surrounded by palms and tropical foliage, then we'd breakfast on the front verandah with views of the beach and ocean in the distance.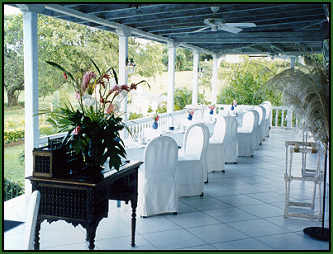 After breakfast, we'd usually walk the path along the large lilly pond to the beach and lazily read books before snorkeling reefs near the 600' shoreline and out to the point beyond the pier. We saw a diverse collection of marine life - parrotfish, trunk fish, eels, schools of bright blue tang, sea fans, and some nice elkhhorn coral.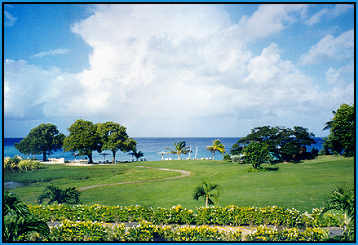 A full service Scuba operation is based at the Cotton House and offers morning and afternoon dives to those who are certified, or a "resort course" to those who would like to try Scuba for the first time. Guests can also windsurf and take sunfish out for a sail around the protected bay.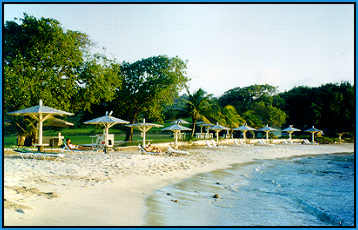 After a morning of water sports, we'd stroll across the vast lawns and up the steps past the cottages to Cotton House's pool terrace where lunch is served in fair weather. The lunch menu is extensive and offers salads, gourmet sandwiches, and several hot selections.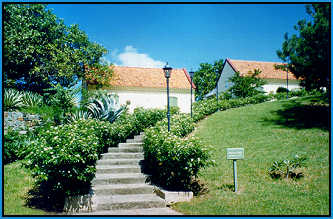 The freshwater pool and shaded dining terrace is located at the top of a hill with gorgeous views of Mustique's northwest side and a glimpse of tennis courts far below in a thick coconut palm forest.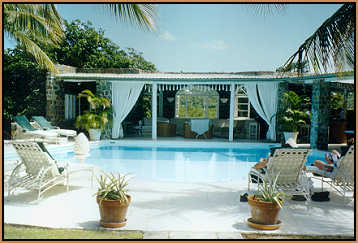 Cotton House now has a full service Spa offering massage, facials, reflexology, and body wraps. It also holds a gift shop full of tropical wearables and unique gifts. It is located near the resort entrance and has a lovely view of the resort, lilly pond, and ocean.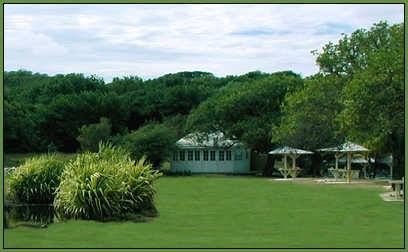 Cotton House has a new beach bar and grill where the original spa was located. A large deck provides seaside lunches and cocktails - a fun and casual addition to the resort.

Getting There: Most guests fly to Barbados and then take an afternoon one hour commuter airline to Mustique. We always use Ulf Carlson of Olson Travel, a Caribbean specialist, for all our airline, resort, and transfer reservations - visit his website for more information. My Grenadines Travel Tips can be found at this page.