Another one of the most asked questions is
"What do I pack and wear during our island vacation?"
It depends on where you are staying, but everything for a week long vacation should easily fit in 2 carry-on bags per person - 1 suitcase for the overhead bin and 1 soft duffle or backpack that can fit under your airplane seat.
If you have chartered a yacht, then pack only duffles or soft-side luggage since hard-side luggage won't fit in the nooks and crannies of a sailboat.
Why not use large suitcases and check them? Well, you can, but luggage doesn't always arrive in the islands when you do! If you must check some luggage, then BE SURE to carry on at least one suitcase with enough to get you by a day or two - toiletry articles, swimsuit & T-shirt for the day, and a set of clothes for dinner. I've seen far too many vacationers arrive who checked all their luggage and had nothing to wear except the clothes on their backs for the first day or two!
Most of the places to stay or dine fall into one of two categories:
* casual resorts, hotels, and restaurants
Swimsuits, shorts, and T-shirts are usually fine during the day, although most women wear a cover-up and men put a T-shirt over their swimsuits when in public areas or eating breakfast and lunch. In the evening, a nice pair of shorts and a T-shirt are acceptable.
* upscale resorts or restaurants with a dress code, such as Cotton House, Young Island, and Petit St. Vincent (PSV):
During the day, the same as the casual resorts will do: Swimsuits, shorts, and T-shirts, with sandals are fine. Woman should wear a swimsuit cover-up and men should put on a T-shirt over their swim trunks when in public areas or eating breakfast and lunch.
In the evening, "resort wear" or "smart casual" attire is usually worn: ladies wear sun dresses, long pants & tops; men wear slacks, such as dockers, and collared sport shirts. Very few resorts require coat and tie in the warm tropics anymore. You might "get away" with really nice tropical shorts and a golf shirt at these resorts if you have an aversion to slacks in the islands.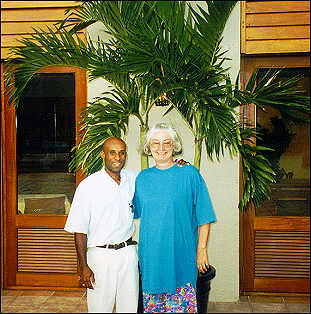 Albert Wheatley, a resort manager, and ScubaMom
wear examples of island evening clothes.
How does one fit a week's worth of
clothes in a couple of carry-ons?
Here's what we do:
Generally, we stay at resorts with a dress code, so...
We both wear long pants and shirts plus our "dinner shoes" on the plane going down.
In one suit case, I pack 1 pair of slacks plus 3 nice shirts for Kenny which he can wear for dinner during our stay (plus the ones he's wearing on the plane). If anything gets spotted, I'll wash it. Add three bathing suits and/or shorts and three T-shirts, a pair of beach or watersports shoes, underwear, and socks. If his snorkel and mask don't fit in the suitcase, then they will go in the small soft carry-on along with his shaving kit.
For me, I pack almost the same thing plus a small hairdryer if the accommodations do not provide one. We always take a couple small bottles of shampoo too.
If you are staying at a place with no dress code, then substitute nice pairs of shorts and T-shirts for the dresses, pants, and collared shirts.
Throw in a small can of bug spray - we seldom see bugs in the islands, but it's handy to have just in case.
During the winter months, evenings can be cool if a breeze is blowing, so you might want to pack (or wear on the airplane) a very lightweight jacket or long sleeve shirt.
I always take an empty, medium sized soft duffle bag (rolled up and stuffed in the side of a suitcase) in the event we purchase lots of "stuff" in the islands, like gift T-shirts and trinkets for the family. For our return home, our dirty clothes go into the duffle to be checked on the airlines, and the new things go into the suitcases.
Oh, I almost forgot to mention that in our 4 carryons, we also put quite a bit of camera gear, film, and the laptop too!
NOTE: IF you check luggage on your way to the islands, put a large mailing label on the side of each suitcase or tape around duffle bag handles and include the following information:
1. Your name, date of flight, and flight numbers.
2. Your resort or hotel destination with its phone number.
IF your luggage doesn't make all the connections that you do, airline employees will be able to read the tags and quickly route it along its way. We've never have a lost or delayed bag when we do this.