My husband Kenneth and I first cruised past the Grenadines in 1987 and were fascinated to find an endless array of small, almost deserted islands scattered from Grenada to St. Vincent. We saw lots of white sand beaches edged with deep blue waters -- many looked just like the island and thatched roof hut shown on the side border of this page. We wanted to someday return to this area of the Caribbean and made the first trip to St. Vincent & the Grenadines during November 1998. We've returned each year since to explore the various islands, each quite different from the others.

The first time, we started in Barbados, a gateway to the Grenadines, and stayed at The Sandpiper Inn, then took an hour commuter flight with Mustique Airways to Cotton House on Mustique. After a few days there, we flew 10 minutes on SVG Air to St. Vincent and Young Island. Bequia is an hour ferry ride from Kingstown. Then onward on a 20 minute flight to Union Island followed by a 25 minute boat ride to reach Petit St. Vincent.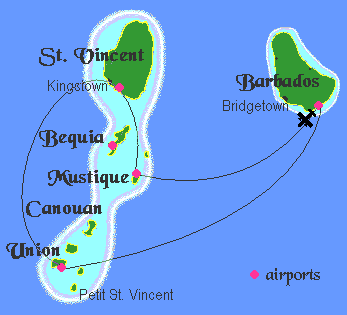 At the end of our 13 day trip, we flew back to Barbados via TIA (Trans Island Air) for a night at the Coral Reef Club, then returned home to South Texas.

The following year, we went to the British Virgin Islands first, and took LIAT to St. Vincent - Caribbean Star is another regional airline that flies between major islands. We then used SVG Air to hop between St. Vincent, Bequia, Mustique, and Union Island. We headed home with an hours flight from Union to Barbados with TIA to connect with our American Airlines to the U.S. and Texas. As you can see, there are many ways to reach St. Vincent & the Grenadines and several commuter airlines from which to choose.

We've taken lots of photos during our trips, and write reports about each resort we visited -- you'll find links in the blue box below. Be aware that these reviews have a tremendous amount of graphics and pictures, so downloading the pages may be a little slow but worth it.


~ St. Vincent & the Grenadines ~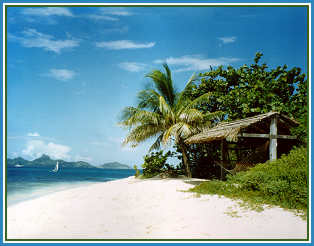 While one reads all about the more visited Caribbean destinations such as the Virgin Islands, Jamaica, the Caymans, and St. Martin, it's often hard to find information about St. Vincent and the Grenadines. One reason is that St. Vincent, a bountiful island with vast coconut and banana plantations, does not primarily depend on tourism as a source of income, and another is that the Grenadines are remote and can only be reached by yachts or commuter airlines. As a result, these islands are the perfect haven for travelers searching for quiet, beautiful getaways surrounded in natural splendors, rather than islands full of glitzy hotels, casinos, jet loads of tourists, and yet another Little Switzerland or Colombian Emerald shop.

St. Vincent is one of the most lush islands we've ever visited, somewhat like St. Lucia, but more spectacular in terms of rain forests, high mountains, deep valleys, and miles of dramatic shorelines. Every square inch seems covered in thick jungles or tropical farms, even steep hillsides. Rainfall is high, over 200" a year, so almost anything will thrive and grow fast.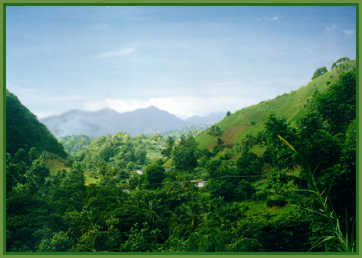 As one travels southward through the small Grenadine islands, the terrain changes. Steep mountains become rolling hills flowing down to gentle valleys, such as on Bequia, Mustique, and Petit St. Vincent. Rainfall is lower in the Grenadines, so while these small islands have lots of tropical vegetation, it is not as thick and is mixed with large grassy fields.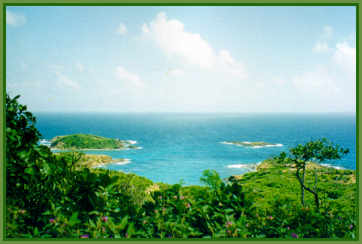 Just as the islands differ, so did the resorts we visited.

Young Island is only 600' from St. Vincent and its 35 acres hold 30 stone cottages surrounded by tropical lushness. The resort has a delightful upscale "castaway" atmosphere yet is near enough St. Vincent to offer many day trip opportunities - rain forest and volcano hiking, tours of the valleys, plantations, and historic sites.

Cotton House, the only resort on Mustique, has 20 luxury accommodations residing on the crest of low hills surrounding vast stretches of perfect green lawns dotted with lilly ponds. Clusters of tropical trees and palms embellish the estate. The ambiance is relaxed elegance. Most guests rent a 4 wheeled "mule" and spend an afternoon exploring the island which has one small village with Basil's Bar and Restaurant (great lobster), a few shops, a riding stable, and lots of privately owned mansions, known as "homes of the rich and famous".

The Firefly Inn on Mustique has four lovely guest suites with quiet surroundings and panoramic views set on a hillside with cascading swimming pools surrounded with lush gardens. In the evening, casual elegance sets the mood for sunset cocktails and romantic dinners by candlelight ... often followed by a party atmosphere which can last until midnight.

Petit St. Vincent is the ultimate hideaway for those really wanting to get away from it all. This remote private island is encircled with picture perfect white sand beaches and coral gardens. The resort specializes in privacy and service with 22 separate secluded cottages tucked along its shorelines and low hillsides. Guests can dine in the lovely restaurant or have all meals delivered to their cottage. The island features hiking trails and 2 miles of snorkeling reefs. Day trips are made by boat to nearby islands.

We plan to return to all, for each island and resort is very special in its own way. Which is right for you? Read my reviews and decide. It may be a hard choice!



As usual, being a cyber-person who plans most of our adventures with my computer and modem before a trip, I set about searching for information on the internet but found very little! However, I did discover a few good web sites about this group of islands and you can find the links below.


St. Vincent & Grenadines Links

ScubaMom's Travel Tips


Getting There: Most guests fly to Barbados and then take an afternoon one hour commuter airline to St. Vincent & the Grenadines. We always use Ulf Carlson of Olson Travel, a Caribbean specialist, for all our airline, resort, and transfer reservations - visit his website for more information.


(ScubaMom)