During our trip to Bequia, we stayed at the delightful Gingerbread Hotel perfectly located in the center of the shops, bars and restaurants along the walkway. A good friend of mine had visited
Bequia and highly recommended this combination inn, restaurant, and bar which resides in several side by side buildings just steps from the water.

We loved the location, the views, and the menus for breakfast, lunch, and dinner. The waterfront property also had Dive Bequia, a waterside cafe, and a travel agency which could arrange day trips and travel reservations - everything anyone would need in one convenient location.

Pat Mitchell, who owns and manages the Gingerbread, provided a fountain of information about Bequia and has written an excellent book about the island. If you plan to visit Bequia, DO order a copy of her book before your trip - it includes the history of the island, wonderful photos, and everything you might need to know before arrival and during your stay. Just send a request to her at ginger@caribsurf.com and they will tell you the book price and postage cost to your country of residence.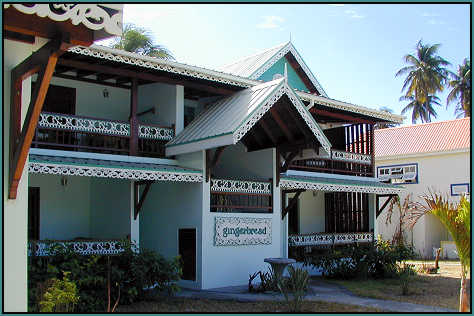 We stayed in one of Gingerbread's Bequia Suites upstairs with a four-poster King bed. Our enormous room and private balcony overlooked the harbor full of moored sailboats.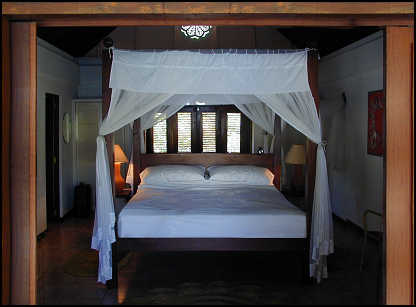 The 32' by 16' suite featured a king sized bed in the middle of the room with a sitting nook and table on one end and a large 8' by 16' porch on the other. A day bed was tucked behind the four-poster for extra lounging. Downstairs suites have twin beds.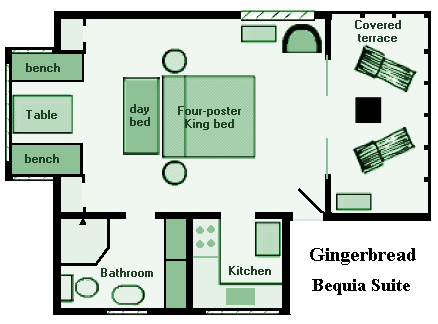 A spacious bathroom with shower, and a compact kitchen with stove and refrigerator completed the accommodations. Wooden window and door louvers provided ample breezes to keep our room cool. We loved sitting on our porch and watching all the harbor boats and activities.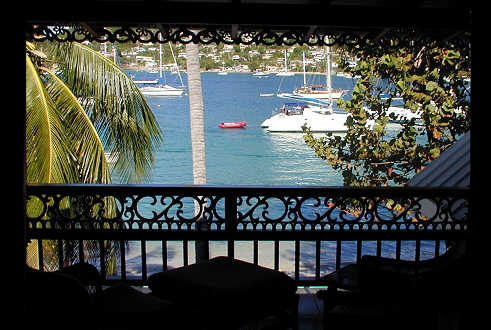 Gingerbread also had an "outdoor" cafe next door with lots of seaside lounge chairs; steps led up to a pretty bar and restaurant. The menus had lots of good selections from burgers to locally caught seafood and curried island cuisine. A large bar stretched across one side of the dining area. Live music sometimes accompanies dinner.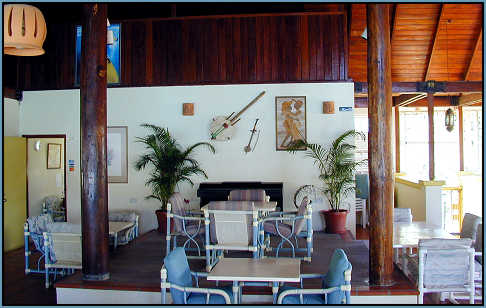 Lunch at the Gingerbread was very tasty – Kenny had shrimp and pasta; I had shrimp salad with a side of fries. We enjoyed breakfast there each morning and treated ourselves to dinner one night. The upstairs restaurant & bar had great views of Admiralty Bay during the day and glorious sunsets in the evening.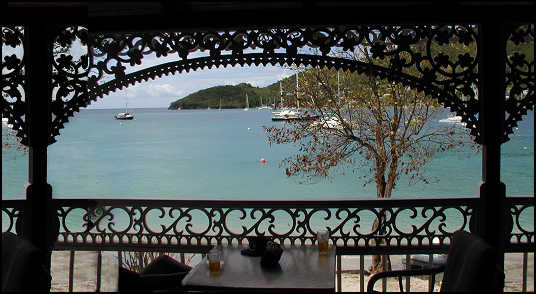 Gingerbread is the perfect place to stay for those wanting upscale accommodations in a central location. We hope to return again soon.