Our trip this year included Bequia, an island we missed seeing during our last visit to the Grenadines. Located a one hour ferry ride south of St. Vincent, it has warm temperatures year around and is covered with lush tropical foliage. By the way, the name is pronounced "Beck-way" (I wondered myself when planning our trip!)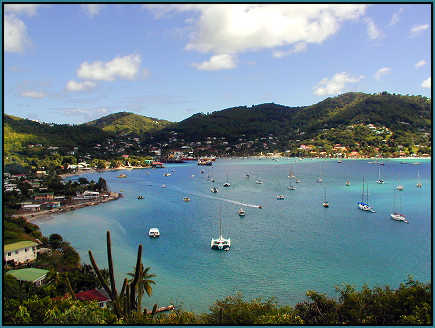 The centerpoint of Bequia is the town of Port Elizabeth, a favorite stop of yachtsmen for supplies, repairs, or just plain fun. It wraps around Admiralty Bay and has a waterside sidewalk, called the Belmont Walkway which connects the cute jumble of shops, restaurants, bars, and small hotels lining the shoreline. We had fun browsing the stores, stopping for refreshing drinks, and enjoying the marine activity – a constant hub-bub of boats of every sort and kind coming and going. A favorite "hang-out" was the Frangipani bar and restaurant - as you can see below, it's just steps from the water.



Since we went in December, I spent some time shopping for Christmas gifts and was not disappointed! Noah's Arkade had a wonderful collection of "island everything" and I loaded up on enough to fill an extra suitcase. Island Things also had a great selection of goodies as did Local Color Boutique. ALL the stores were fun and I purchased a little something here and something else there...

Local Color, one of the first in the string of waterside shops, had lots of Caribbean crafts and clothing. At the other end of the walkway, Crab Hole featured "elegant resort wear" - silk screened clothing for woman & men, and other high fashion items. See the map below for a quick reference to the location of some of the establishments.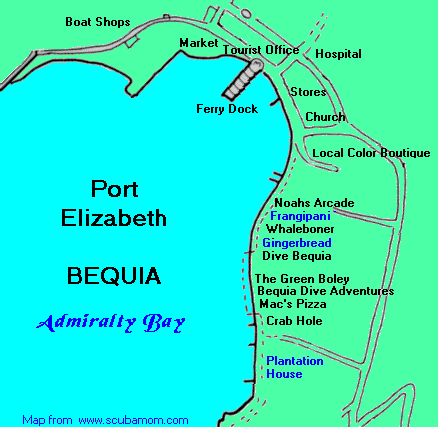 The ferry dock and Tourism Office is the central point of "downtown" Port Elizabeth which has local stores, boat supplies, groceries, a mall, and the market - a collection of tables selling everything from t-shirts to handmade things. Kenny took a picture of me standing beside a small fruit stand under the shade of a giant Breadfruit Tree: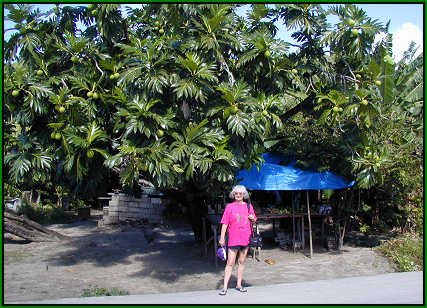 Several ferries provide daily service (limited on the weekend) from St. Vincent. The trip takes an hour and it is often through rough, open waters where the Atlantic meets the Caribbean Sea. But, as you can see below, some of these ferries aren't small and provide a sea-worthy ride! Check with the ferries for a current schedule.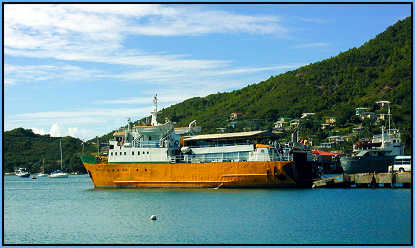 Mustique Airways and SVG also offer commuter airline service to & from St. Vincent and Barbados - check the schedules which can vary from season to season and weekday to weekend.

The walkway is almost a mile long from the ferry dock to Plantation House hotel. For a small fee, several locals with boats will provide transportation to nearby beaches - just stop at the small docks along the way and ask. Most of the buildings are "West Indian" architecture, some with and colorful roofs and ornate trim.

Locals live in pretty Caribbean style houses which dot hillsides and gentle valleys. Quite a few Canadians and people from other countries stay in Bequia during the winter months.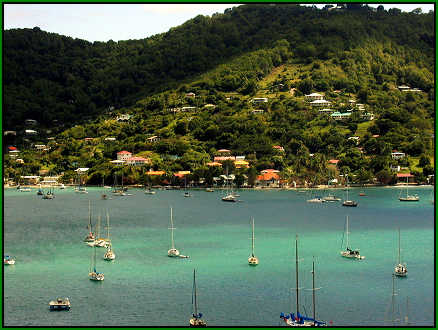 Quaint and casual accommodations range from small guesthouses and holiday cottages, to a few medium sized resorts scattered throughout the island.

We stayed at the delightful Gingerbread Hotel perfectly located in the center of the shops, bars and restaurants along the walkway. A good friend of mine had visited Bequia and highly recommended this combination inn, restaurant, and bar which resides in several side by side buildings. A cafe is downstairs along with a travel agency, Dive Bequia, and the Gingerbread office. The bar and restaurant are upstairs with great views across Admiralty Bay.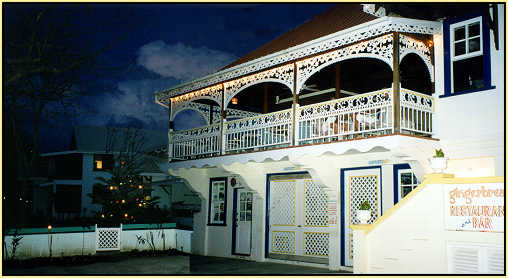 Frangipani is another well known inn with a restaurant and bar, only a short walk away from Gingerbread.

The only fair sized "resort" in Port Elizabeth is the Plantation House Hotel at the southernmost end of the walkway - a very quiet location. It has spacious grounds of tropical foliage, a large pavilion holding the restaurant and lounge areas (shown below), and guest cottages around the property.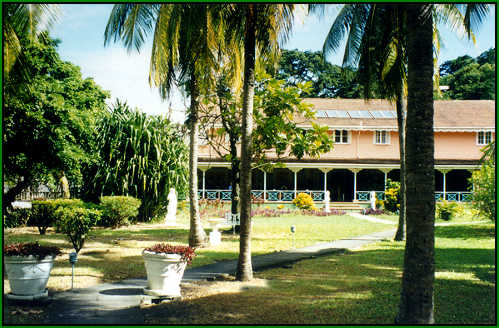 Many of the restaurants serve West Indian, island-style food using fresh fruit, vegetables, curries, coconut, locally caught seafood such as tuna, bonito, snapper, and shrimp.

Lunch at the Gingerbread was delightful – Kenny had shrimp and pasta, I had shrimp salad with a side of fries. Mrs. Mitchell's menus are full of great Caribbean selections and they are open for breakfast, lunch, and dinner.
Which reminds me, if you order tea in the Grenadines, you will most likely find a small glass of sugar water accompanying it – I'd forgotten how much more flavorful it is than an unceremonious bowl of sugar. They also have giant cokes and little bottles of beer.
Our first dinner was at Frangipani – Kenny had lobster cocktail followed by curried conch; I had a perfectly grilled lobster dipped in garlic butter. Fresh veggies were served by three waitresses who graciously ladled them onto our platters.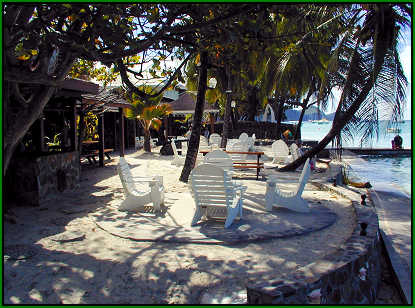 Saturday night we arranged for a taxi to take us to Fernando's Hideaway for dinner – an appropriate name since we never would have found it on our own! After a 15 minute trip on a winding road to Lower Bay, the driver stopped in the middle of a dark street, gave us a flashlight and told us to walk up a steep road to the "third house". There, perched at the top of the hill was an open sided "tree house" where we enjoyed Fernando's island cuisine starting with his famous "goat water" soup, a variation on island-style stew, followed with excellent pork ribs and a snapper that Fernando caught himself. Wonderful food and a delightful atmosphere!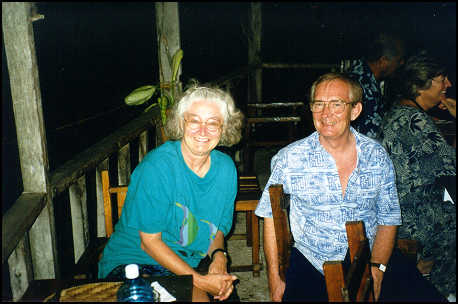 ScubaMom & Russ Filman at Fernando's

I also met Russ Filman there – author of his very own website about Bequia. Russ spends each winter in Bequia and keeps everyone on the internet informed about news of the island. (You'll find a link to his website at the end of this review).


~~~ Exploring Bequia ~~~


We spent Sunday in the back of a jitney taxi truck touring the island. The roads twist and turn giving spectacular views of the sea and nearby islands, including St. Vincent in the distance. Notice on the map below that roads do not circle the island but meander off here and there from one end of Bequia to another.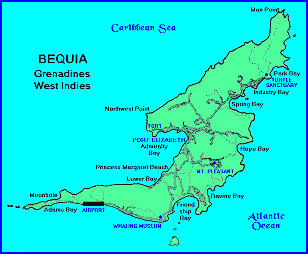 Click map for larger image


We were treated to spectacular views of coconut lined beaches along coves and bays, alternated with incredible vistas from hilltops. Hikers will delight with all the nature trails and seaside walks - beauty is everywhere on this little island.


We first traveled a scenic route along Industry Bay to Park Bay beach to visit the Hawksbill Turtle Sanctuary on the northern end of the island – very interesting to see these endangered species in all sizes from tiny hatchlings to 2 year olds ready to be returned to the sea.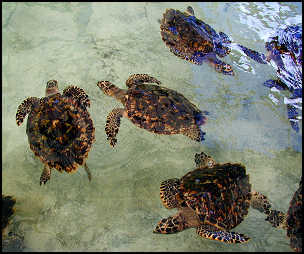 We then lunched on the well known Sunday Caribbean Curry buffet at Spring on Bequia hotel which had interesting oriental décor with an open sided dining room overlooking a pool, coconut palms, and the Atlantic Ocean. Rooms are in several buildings nearby and also have an Far Eastern flavor.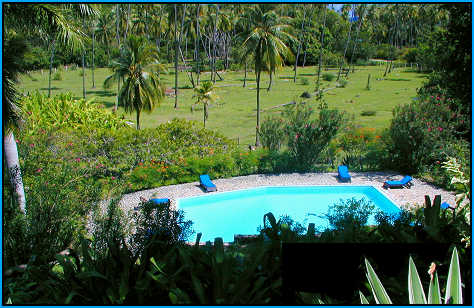 Along the way, we passed quite a few "subdivisions" of cottages and houses built by North Americans (mostly Canadians) who come to spend their winters here. At home, we call them "winter Texans", I suppose they could be called "winter Bequians" here!

Our driver took us to some of highest points of Bequia including Mount Pleasant which had great views of the ocean and nearby Grenadine islands.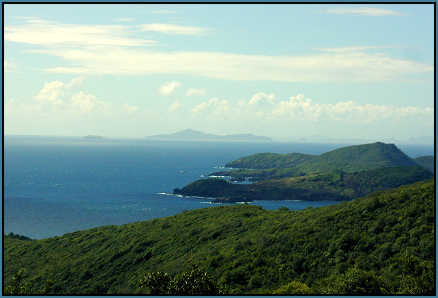 We eventually headed south along the coast and stopped at the Whaling Museum hosted by Athneal Ollivierre, now in his 70s and known as the "Last Harpooner". He told us about the ancient tradition of using a small hand harpoon and 27' boat to hunt 70' whales. Not quite like other countries that use power harpoons and huge boats. I just received notice that Mr. Ollivierre passed away July 4th, 2000 so the future of the museum is unknown at this time.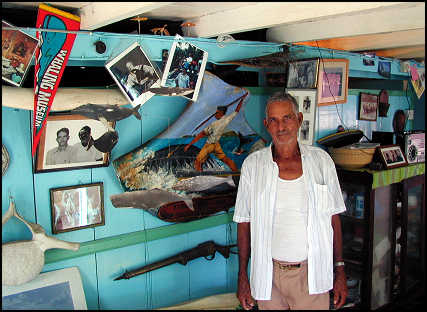 Many years, they don't find a whale, or someone dies trying using these ancient methods. The whales are probably safer than the islanders who try to carry on this tradition - one whack of a whale tail and the tiny boat with its inhabitants goes down. This practice upsets some visitors to the island, but I have much respect for ancient traditions, perhaps because I'm from Texas which still has many of its own.
On the other hand... "save the turtles" project is making good progress in Bequia, so perhaps one will balance the other.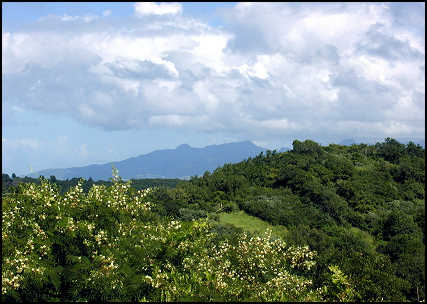 Be prepared to leave some donations as you explore Bequia – few places charged for entry, but most all expect a "small" contribution. We donated to the Last Harpooners museum fund and also to further turtle research, both worthwhile causes.
At the airport, we were asked to donate to a Christmas pageant, another asked if we'd purchase some island poems, and then approached by someone soliciting funds for yet another "event". Fortunately, our plane arrived and we escaped before parting with any more of our pocketbook! The constant solicitations were the only thing that marred our delightful stay in Bequia.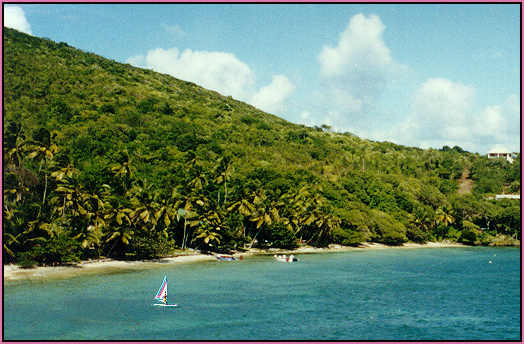 Bequia is a charming destination for people looking for "get away" surroundings at reasonable vacation costs. Those planning extended stays will find lots of "housekeeping holiday" apartments and cottages, houses to rent, and other comfortable accommodations. A variety of restaurants offer everything from cafe food to romantic candlelight dining. Beaches are abundant and watersports abound - sailing, day trips, scuba, windsurfing, snorkeling, and fishing. Just about anything you might want to do on a Caribbean vacation.


Before you go, I recommend three things:

Visit

Russ Filman's Bequia Island website

Order a copy of of Chris Doyle's

Sailor's Guide to the Windward Islands

Order a copy of Pat Michelle's Book

Bequia sweet, sweet.

Most importantly, enjoy your stay on this delightful island.

-- ScubaMom


Getting There: Most guests fly to Barbados and then take an afternoon one hour commuter airline to Bequia. We always use Ulf Carlson of Olson Travel, a Caribbean specialist, for all our airline, resort, and transfer reservations - visit his website for more information. My Grenadines Travel Tips can be found at this page.