Barefoot casual, tropical delights, easy-going atmosphere, fun times, and relaxing - these are words that describe this small island just south of St. Vincent. People often think of "get away resorts", but Bequia is a whole "get away island"!

It is seven square miles of tiny roads twisting and turning through tropical foliage along precipitous drop offs to valleys and seas, up hillsides, down to fine old coconut plantations near beautiful beaches. Quaint and casual accommodations await guests as do friendly locals who gracefully share their island with you.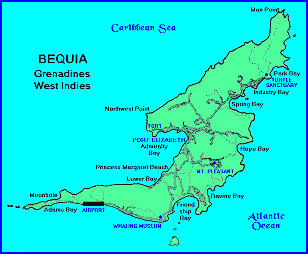 click on map for larger image
You won't find high-rises, big glitzy resorts, giant cruise ships, or hordes of tourists...thankfully! <grin> You WILL find a paradise unlike any other island in the Caribbean.
For many years, the only easy way to get there was by yacht or one ferry a day. But large public ferries now link Bequia with St. Vincent, and commuter airlines carry visitors from Barbados.
Join me on our trip to Bequia...