St. Vincent is often regarded as an island of mystery -- far less travel information can be found than for many of the "touristy" islands such as the U.S. Virgins, St. Martin, and Barbados. The reason is simple -- it has not yet been invaded by mobs of tourists, cruise ships, and T-shirt shops fortunately for those who seek a quiet vacation on an island full of natural beauty featuring spectacular mountains and valleys, cascading waterfalls, rivers, deep gorges, and miles of beaches.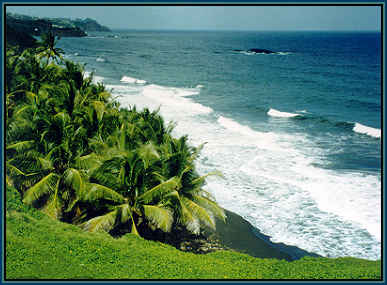 As with all remote or "deep Caribbean" destinations, they are not easily reached. However, St. Vincent's airport is large enough for LIAT and American Airlines large commuter flights from Barbados and San Juan, both primary gateways to smaller Caribbean islands. Mustique Airways has 6 and 8 seat light aircraft that fly from Barbados and also between St. Vincent and several islands in the Grenadines.

The southern (hilly) part of St. Vincent reminds me a little of Tortola in the British Virgin Islands, but on a much larger scale. Homes cling to hillsides, small but well paved roads wind along the shoreline and through small neighborhood communities. St. Vincent, however, offers a much larger island to explore and far more lush vegetation since it is nearer the equator and has much higher rainfall than the Virgins. Unlike Tortola which has its main economy centered around tourism, St. Vincent's primary economy is agriculture and fishing, with eco-tourism on the rise.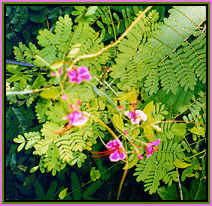 St. Vincent also offers many day trip destinations - nature walks through rain forests, an adventurous 3 mile hike to the Volcano 4000' above sea level, boat trips to see waterfalls in remote areas near shorelines, petroglyphs, and many historic sites. Scuba divers will find lots of underwater adventures and clouds of fish. Thoroughly exploring this vast island could easily take a week or more!
I recommend that those wanting to see St. Vincent go with an organized tour group, or hire a driver rather than renting a car. Well paved roads are mostly unmarked and narrow with many hairpin mountain turns. Driving is on the left, British style, which can be a little nerve racking for Americans (not to mention the islanders who probably consider us "wrong side of the road Yanks" hazards!). Plus, a guide/driver can also point out many interesting features you might miss seeing on your own.
During our stay at Young Island Resort, O'Neil Richards in guest services, arranged a four hour driving trip with Andrew Gibson to see part of St. Vincent. Andrew was very knowledgeable and choose several destinations on the south and lower east coasts to give us an overview of this tropical paradise. The island is far too large to see in one day.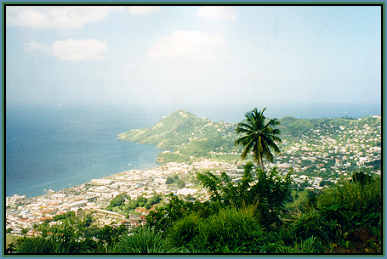 We first drove into high hills overlooking Kingstown, then down through the town and up to historic Fort Charlotte on a ridge 600' above the sea. Completed in 1806 by the British, the Fort has panoramic (and the in old days, strategic) views of Kingstown Bay, Mustique and Bequia to the south. Paintings displayed in ancient cells depict the history of the Black Caribs in the 18th Century. The photo below is of my hubby Kenny and our driver Andrew.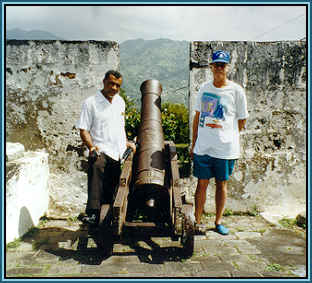 Kingstown


During our "city tour", we noticed that most island businesses are family owned and operated as are the many small, quaint hotels and inns near Kingstown.

In the middle of downtown, or city center, is Basil's Bar & Restaurant (sister to the famous one on Mustique) and the quaint, lovely Cobblestone Inn located in a historic 1814 building that was once a sugar warehouse. Basil's is on the first floor and the Inn is upstairs, easily reached through an arched passage into a gorgeous courtyard.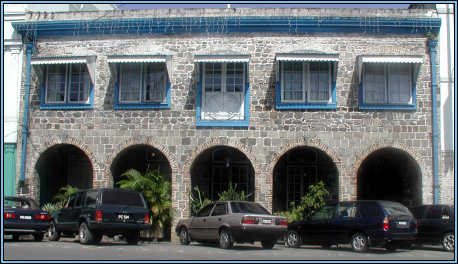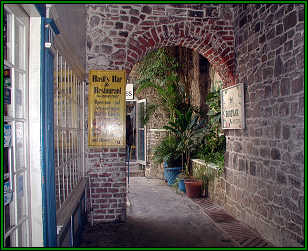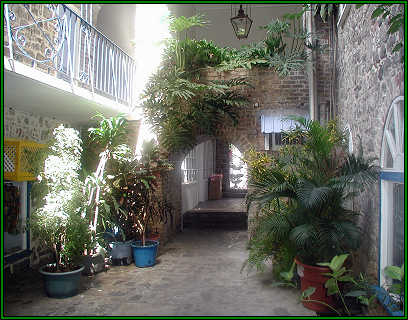 The Cobblestone Inn has 19 air conditioned rooms, mostly doubles with a few singles all with en suite baths. Guests enjoy the central location, pleasant furnishings, friendly staff, and having Basil's Bar & Restaurant nearby.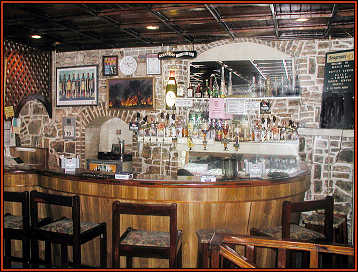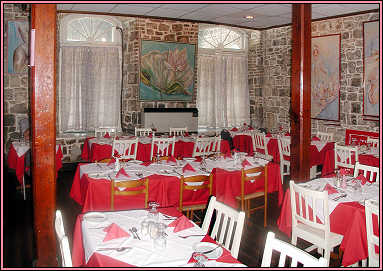 Basil's has a cozy bar as you first walk in the door - air conditioned and perfect for having a cool drink and relaxing. The restaurant often has a lunch buffet; a menu is available for dinner. We had a tasty West Indian buffet that was just right for lunch after wandering around Kingstown.


Botanical Gardens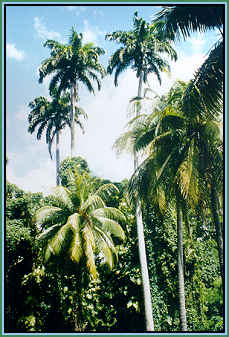 We then spent an hour touring the lovely and extensive Botanical Gardens, first established in 1765 which qualifies it as the oldest in the Western Hemisphere. It features a descendent of the original breadfruit tree brought to the island by Captain Bligh in 1793 and has many ancient and impressive specimens of flowering plants, palms, cycads, and tropical trees. Our garden guide plucked leaves from various plants and grasses, squeezed them, and gave us a delightful olfactory tour of spice scents - bay, camphor, cinnamon, nutmeg, mint, and lemon grass to name a few. It's surprising and interesting to see the type of plants from which your kitchen ingredients come!

Andrew then drove us high into the mountains surrounding the gorgeous Mesopotamia Valley full of small and large tropical farms. We passed lots of banana and coconut plantations between incredible forests of thick and colorful tropical vegetation.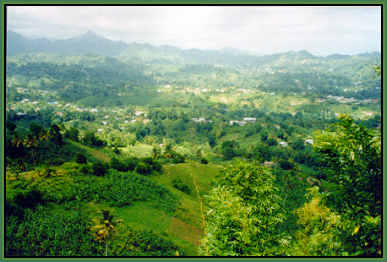 The mountainous area had a remarkable farming system where vegetables, fruit, and sweet potatoes were planted on extremely steep hills almost too vertical on which to walk! Each horizontal row was a narrow terrace of crops and all were hand planted, cultivated, and harvested manually since no farm implement could possibly be used on the slopes. Needless to say, my flat-land, cotton farmer husband was quite impressed!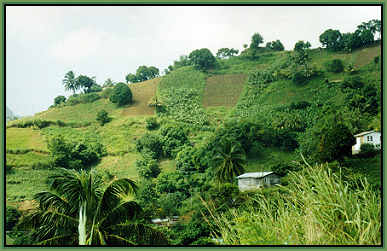 Some of the farms had vast acreage, but most were in the small "backyards" of houses precariously perched on tall hills and mountainsides.

Our route took us from the valley eastward along beautiful rivers to the coastline, then south along long black sand beaches and crashing waves of the Atlantic Ocean.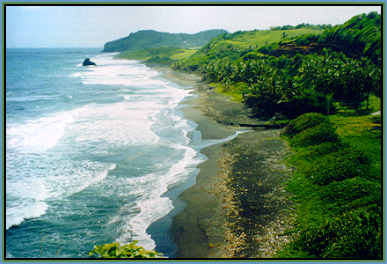 Throughout our tour, we passed magnificent mansions of wealthy islanders; even small residential homes reflected pretty West Indian architecture. Next year we plan to drive up the West coast of St. Vincent to see the rain forests, native parrots, and petroglyphs.

As we drove back toward Kingstown, we stopped at the Mariners Hotel for a cool drink at its seaside bar. We had a lovely view of Young Island and could see Mustique in the far distance. Visitors to St. Vincent looking for comfortable, seaside accommodations enjoy staying at the Mariners located only a few minutes from Kingstown and the airport.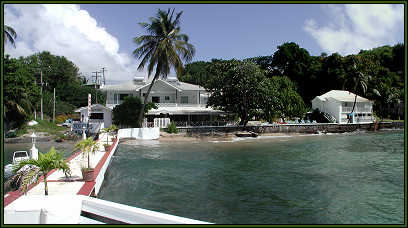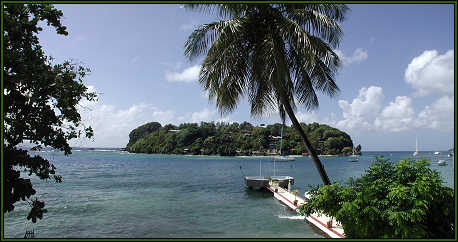 During our travels through St. Vincent and the Grenadines, we found friendly, hard-working people eager to share information, traditions, and the beauty of their islands.

If you love nature in all its natural splendor, visit St. Vincent. I suspect that tourism will ease its way into the island as it has in many other parts of the Caribbean, but hopefully it will retain its captivating "end of the world" charm.

Getting There: Most guests fly to Barbados and then take a 40 minute commuter flight to St. Vincent. We always use Ulf Carlson of Olson Travel, a Caribbean specialist, for all our airline, resort, and transfer reservations - visit his website for more information. My Grenadines Travel Tips can be found at this page.



Go to Basil's Bar in St. Vincent Webpage

Go to the Cobblestone Inn Website

Go to a Mariners Hotel Review

Go to Young Island Resort Review
---