Mustique's 18th century cotton and sugar plantations have been replaced with 50 magnificent secluded villas hidden along its vast shorelines and hillsides. It has only one luxury resort called Cotton House with 20 rooms, and the elegant Fire Fly Guest House with 4 rooms. This is a very private island visited only by a few who seek seclusion and serenity.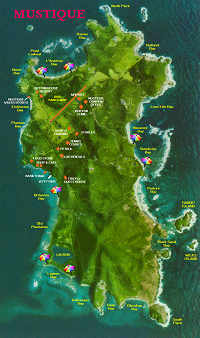 It is owned by the Mustique Company which manages the entire island and carefully controls growth to protect the natural beauty and ambiance. You won't find cruise ships in the harbor, only occasional yachtsmen drifting through on their way to somewhere else in the Grenadines. You won't find shops galore either, just a couple of small boutiques. There's one little town with one bar and restaurant, the famous "Basil's Bar & Restaurant". Seven large gorgeous beaches embellish the island with lots of spots to snorkel, fish, or swim. We found our days in Mustique some of the most relaxing that we've ever spent in the Caribbean.
Click the map to see the location of the resort, inn, shops, Basil's, and beaches on this 1400 acre island retreat.

Mustique is 18 miles south of St. Vincent and 110 miles west of Barbados. You can sail there on a yacht or take a commuter flight. Mustique Airways, Trans Island Airways (TIA) and SVG Airlines has "shared charters" from Barbados and St. Vincent, plus will do private charters to and from other islands in the Grenadines.
We flew to Mustique from Barbados on a twin engine "Islander" plane which held 8 people and was one of the smoothest one hour flights I can remember. The landing wasn't like ANY I remember though and was an exciting "wing your way over a steep hill" and immediately drop on a very short runway . What fun!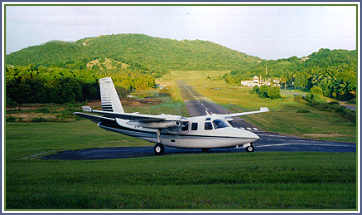 The plane shown above is one of the 6 seat ones - notice that it is sitting on a hill at the take off point of the 2500' runway which ends at a mountain's edge! Click the plane image to see one take off and land.

All three "local" airlines - TIA, SVG Air, and Mustique Airways provide flights from Barbados to Mustique; SVG and Mustique Airways also connect Mustique with St. Vincent. Shared flights usually leave Barbados in early morning, noon, and late afternoon - check the airlines for current schedules. All do charter service too.

On our first visit to Mustique, we stayed at the Cotton House Resort, the epitome of refined luxury in elegant plantation style surroundings. After spending a few relaxing days at the resort's pool, beach, and tennis courts, we decided it was time to tour Mustique - all 1 by 3 miles of it - by mule. MULE? Yes, the four wheeled kind! What fun!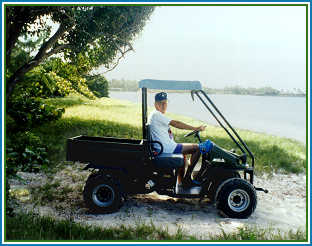 I wondered why it was called a "mule", but we soon found out. Most of Mustique's roads are paved, but some aren't and after a couple of days of rain can turn into mud puddles - big ones! Plus, some of the island roads are almost straight up; a car would huff and puff. But not the motorized mule. It went places only a four legged kind could go!

So, join me on our fun tour of Mustique. You can't really get lost, even though some of the dirt roads aren't marked on the southeast side. From Cotton House, we passed the end of the airport runway and turned right at an intersection toward "town". The road snaked its way down a steep hill then ran flat along the shoreline. We found a cute boutique and an ice cream parlor not far from a tiny food store which featured wine of all kinds and flavors.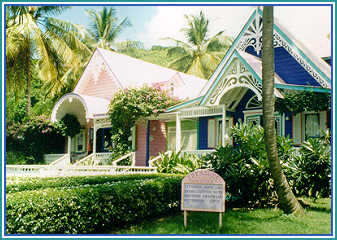 Then we came to Basil's Bar & Restaurant located over the water on a pier. What a delightful place - just the kind of "island hangout" you'd expect to find. Supposedly it is visited by lots of celebrities who stay in the Villas, but we didn't see any, well, except for Basil who is famous in his own right.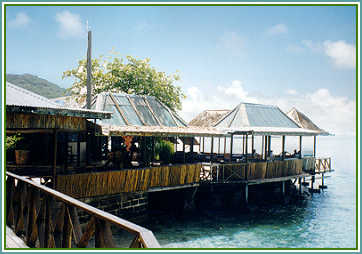 The menu was extensive - full of West Indian delights, and we choose grilled lobster for lunch. I couldn't resist browsing Basil's shop on the way out and found all kinds of island wear, batik clothing, neat t-shirts, and nifty gifts.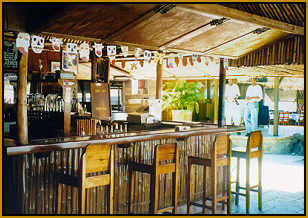 From there, we decided to find the Fire Fly Guest House which was straight up a hill near town. This was the only time our mule gave out and just wouldn't make it up the road (even after I got out to lighten the load!) Kenny drove it back to the bottom of the hill while I walked up the zillion steps of a stone walk way to reach the inn. I wouldn't want to do this after a few beers at Basil's!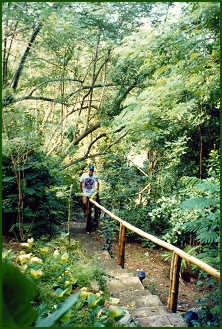 The Fire Fly was once a villa, but was converted to a 4 bedroom inn a few years ago. This cross between a cliff house and a tree house clings to the side of a steep hill at the top where the restaurant and bar are, then cascades down to two pool gardens. The rooms are tucked in and around multi-level terraces and are spacious suites with unbelievable views. We liked it so well that we stayed there on another visit to Mustique - take the link at the bottom of the page to read my review.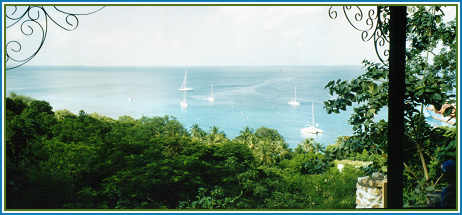 Firefly's bar and restaurant are often full of people, all enjoying the surroundings and vistas along with food and drink. The restaurant is open for breakfast, lunch, and dinner. If you are driving to the inn on the high road (top of the hill), here is what the front entry looks like: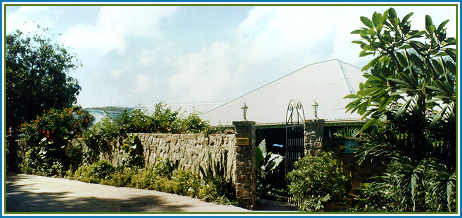 The Fire Fly had a huge Halloween party during one of our visits to Mustique. We didn't go, but some of the Cotton House guests drifted there for some fun and had a great time. If you want refined elegance, stay at the Cotton House; if you want casual elegance centered around a hub of evening activity, stay at the Fire Fly. If you want absolute luxury with a full staff, book one of the lavish villas.

Finally, we headed for the "back country" of the island. The shoreline along the west side is beautiful - thick tropical foliage and palms border long white sand beaches.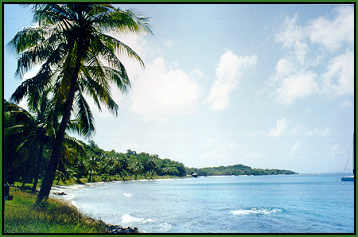 We then headed around and over a 500' mountain where the paved road suddenly ended and we depended on our mule to get us safely along the dirt roads. The views were outstanding and we passed through some gorgeous tropical forests.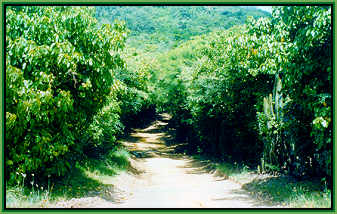 The east side of the island has more miles of beaches and we drove down several side roads to reach them. The surf is full of waves and strong currents, so most simply walk the beaches and enjoy seaside picnic lunches. Lots of spectacular villas are on the northeast side of the island - we could see them in the distance; very few are near the roads.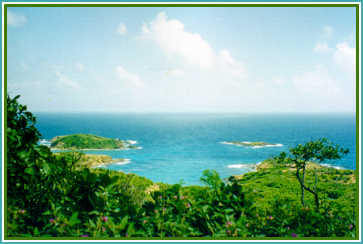 Tennis courts and a full riding stable (with horses, not mules) are in the middle of the island along with one gas station and the car rental headquarters. We stopped at the Mustique Company's office near the airport to pick up a thick brochure and rate sheet for the villa rentals. There's many from which to choose ranging from 2 bedroom mansions to 7 bedroom palatial estates.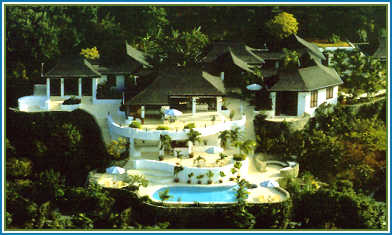 As we passed the east end of the airport and drove back toward Cotton House, we found thick palm groves, probably one of the old coconut plantations. Bequia seemed just beyond the palms when in fact, it's over 10 miles away.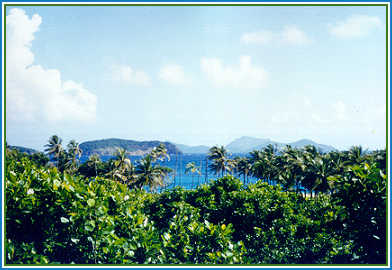 If you have the pleasure to visit Mustique, don't miss spending a day exploring all this island has to offer. It was one of the most enjoyable Caribbean driving trips we've ever taken.

Other activities include scuba diving, horseback riding, or partaking a full range of services at the Cotton House Spa.


Evening Entertainment

In the evening, depending on your idea of "party time", there are three places "to be" on Mustique:

Basil's Bar is well known for its casual kick-back atmosphere with some of the best West Indian food in the Caribbean, often accompanied with a steel band or impromptu entertainment. Wednesday night features a huge buffet and band. You'll have great fun with everyone from drop-by yachties to celebrities vacationing on Mustique. Waterside sunset views are gorgeous; wear your shorts & T-shirt, or one of Basil's famous caftans from the gift shop. Here's a picture of me with Basil, Dianne, and the resident tennis pro at the Wednesday "Jump up".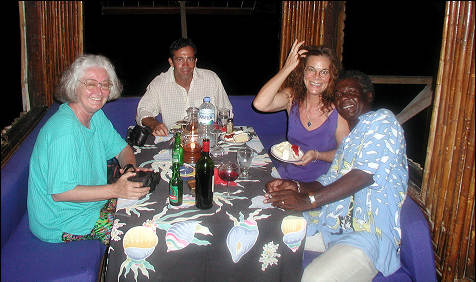 Firefly Inn features casual elegance in totally tropical surroundings with hillside sunset views. Wear your smart casual clothes. Guests lucky enough to be staying in one of the four bedrooms may be sharing cocktails or dinner with the likes of Mick Jaggar or Tommy Hilfiger.

Cotton House Resort combines Caribbean elegance with French Cuisine in a beautiful setting. Enjoy sunset cocktails on the verandah or in the lovely "great house" lounge and bar. Wear your finest resort clothing, or your tropical sport coat and evening gown.


2002 Update


We stayed at Cotton House on the Bed & Breakfast plan and rented a mule our entire stay. This proved to be quite fun since we could hop into our steel steed at any time and dash off to the beach or explore Mustique at any whim. It also gave us flexibility in dining options.

A delightful breakfast, of course, was always at the Cotton House. Lunch was usually at Basil's where we enjoyed the tasty lobster salad with Basil's secret dressing or chowed down on juicy burgers. Dinner was enjoyed at all three of the "island restaurants". Wednesday night we had a great time at Basil's huge buffet while listening to a wonderful local band. Thursday we dined at the Cotton House - don't miss ordering the delicious "Pumpkin and Caribbean Crab Soup". FireFly still features an interesting array of Caribbean Continental selections following sunset cocktails. The last night of our stay, we returned to Basil's for a romantic sunset dinner served by candlelight. And yes, we had fun bar hopping between these three places too (on our way to and from the various Mustique Island beaches).

Our favorite beach this trip was along Lagoon Bay on the southwestern tip of Mustique. A sandy road follows the long white sand beach for more than a mile.

A beach ~ dining hut is at water's edge and more are near the end of the road where the beach curves along the shoreline. Take your picnic basket, towels, and camera to enjoy a great day on this remote and quiet beach.

As always, our days went far too quickly on Mustique.

~ ~ Lynn McKamey (ScubaMom)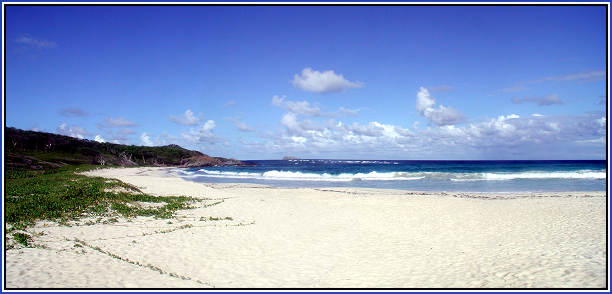 Getting There: Most guests fly to Barbados and then take an afternoon one hour commuter airline to Mustique. We always use Ulf Carlson of Olson Travel, a Caribbean specialist, for all our airline, resort, and transfer reservations - visit his website for more information. My Grenadines Travel Tips can be found at this page.