Cotton House is not quite like any other we've ever had the pleasure of visiting in the Caribbean. It has been described as a Fantasy Island Resort and one which would have Ricardo Montalban greeting you on arrival. Well, not quite, but close. The little airport is just over the hill from the resort and each time a tiny plane buzzed in for a landing we thought "the plane, the plane"! In the distance, they looked and swooped down for a landing just like the TV show. And speaking of entertainment, lots of celebrities have lavish villas on Mustique. But, as with places like Aspen, they might be visiting and you might have the opportunity to see one, but probably not. Perhaps it's part of the mystique of Mustique!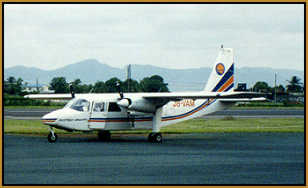 It is a very private island and there are no scheduled airline flights or ferries to reach it. You can sail there on a yacht or take a commuter flight. We flew to Mustique from Barbados on a twin engine "Islander" plane which held 8 people and was one of the smoothest one hour flights I can remember.
The island of Mustique has rolling green hills, clusters of wooded areas, and cliffs plunging into deep blue waters separating gorgeous white sand beaches ... a perfect setting for the superb Cotton House Resort.