High on a hillside overlooking Britannia Bay and Mustique's tiny village is the Firefly Inn - one of the most unique places to stay in the Caribbean. Four romantic rooms await guests, along with a casually elegant lounge, bar, and al fresco restaurant - all with fabulous ocean views. The sunset cocktail hour is a favorite time for island guests, some quite famous, to gather.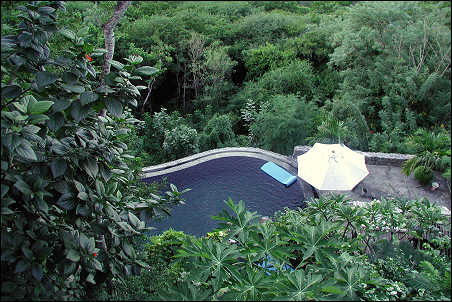 The inn is surrounded with tropical gardens and features a series of pools on different levels cascading down the hillside. Hammocks nestled in the trees and lounge chairs provide many places to relax, read, and enjoy views. Guests can also enjoy soaking in a new outdoor Jacuzzi. A long staircase leads down to the village.

The top floor of the inn holds the lounge, bar, and restaurant all with views of the Bay. Clusters of comfortable chairs and sofas provide places to enjoy a drink and visit with friends. A baby grand piano entices those musically inclined to play a tune or two.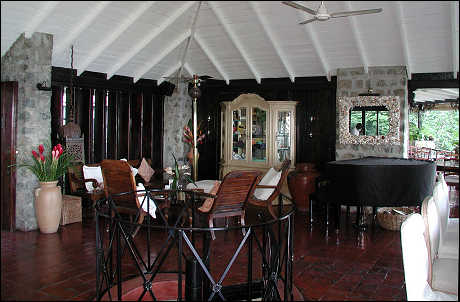 In the middle of the lounge, a circular stairwell leads to three of the guest rooms, each quite different, but all displaying whimsical elegance. Netting surrounds each bed, most have a magnificent stone shower, large enough for two. An outdoor staircase leads to a 4th bedroom suite.

Our room, or actually more of a "suite" was one of the most romantic we've ever enjoyed. A heavy wooden door opened to an outdoor sitting area with two chairs and a small fresh water pool.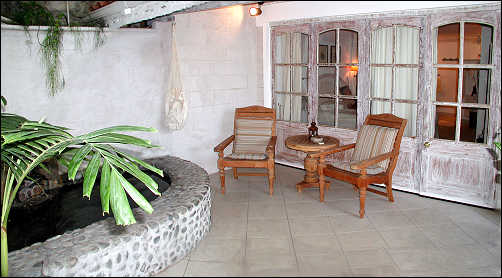 French doors separated the patio from the bedroom and bath - both contained in the same room interestingly divided by a large stone shower large enough for two. A queen bed faced a wall with built-in closets, shelves, and a desk, The bathroom was at the other end of the room. Two washbasins stood side by side graced with mirrors behind glass shelves holding rare sea shells and objects d'art... plus provided a place to put all our toiletries.