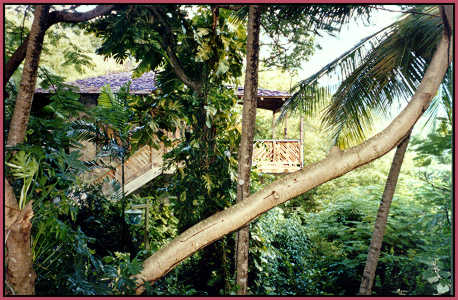 Young Island has cottages along the beach, on hillsides, and some which seem like giant tree houses. All are surrounded in thick tropical foliage and each has an ocean view, some looking across the water toward St. Vincent while others face eastward toward the Atlantic. Most cottages near the water are duplexes, while those on hillsides contain a single accommodation.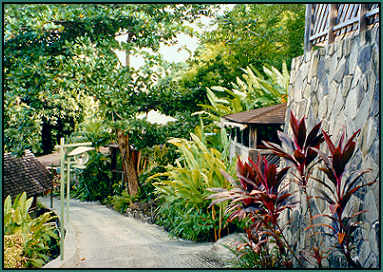 Hillside cottages each have a unique floorplan - most are one large room; a few have an adjoining sitting area with a daybed and chairs, perfect for a family of three.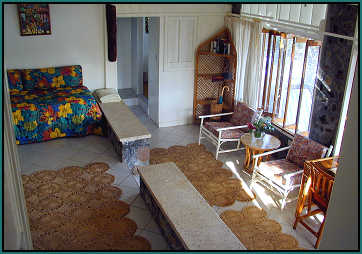 Three side-by-side duplexes holding six rooms are on the side of a hill near the dock and are slightly elevated above the waterside walkway to Sunset Point. All have large porches or sundecks overlooking the channel and St. Vincent.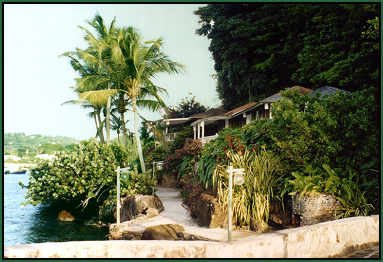 Beachside cottages are wrapped around the east side of the island. Some have a low stone wall separating them from the beach while others have thick tropical foliage between the rooms and sandy shoreline. Each has a large patio with lounge chairs.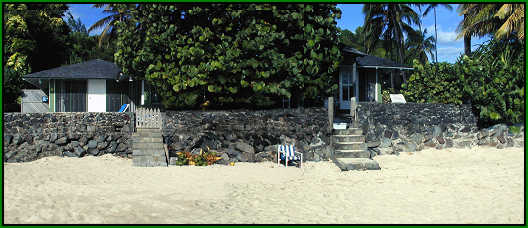 All Young Island's cottages have porches or terraces, spacious bathrooms, showers with a view, king or two queen beds, and are nestled into tropical gardens such as the one shown below.



Room categories are Superior, Deluxe, and Luxury which translates into big, bigger, and huge in terms of interior space. The hilltop two bedroom house with a double bed in one room and twin in the other would be a good choice for a small family.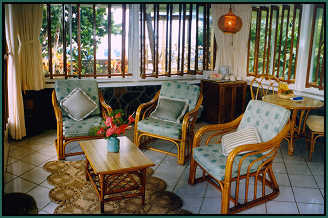 Two Luxury cottages near the beach have a separate living room and bedroom. They feature a covered gazebo and a private plunge pool within their patio complex.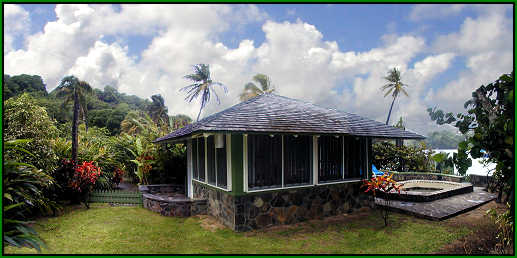 All of Young Island's cottages have "garden showers" which can be accessed from inside, or via a unique outside door when closed turns the three sided shower into a private bathing area large enough for two. An example is shown below.



Hillside Luxury cottages, the highest on the island, are at the top of 100 winding stone steps and are perfectly positioned to watch the sun rise through large sliding glass doors overlooking a private patio. Wide vertical wood louvers on the island side can be opened and closed allowing privacy or the breeze to drift through.



The Luxury suites feature a living room with a rattan sofa, love seat, table for two, and mini bar with sink, refrigerator, coffee and tea maker. Fresh ice is delivered daily. The bedroom section has two queen sized beds, ceiling fans, and a bathroom complex with a separate dressing area, water closet, and giant "shower with a view". A patio has a table with chairs, two deck lounges, and hammock large enough for two people. Two of the Luxury hilltop suites now feature a refreshing plunge pool.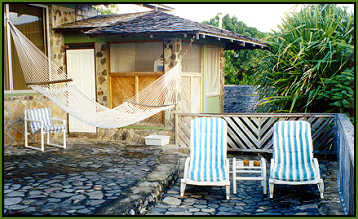 hillside patio - you can see the

"shower room with a view" behind the hammock.


Choosing which cottage you want for your vacation is a matter of where you'd prefer to be - near the beach and pool, along the shoreline near Sunset Point, or on a hillside with elevated views. Couples might prefer one with a king bed while families would choose a cottage with two beds or connecting duplexes. All provide the delightful experience of being in a tropical wonderland.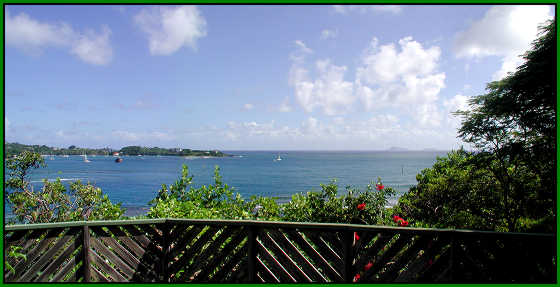 Who would enjoy Young Island? Lovers of all ages searching for an exotic getaway; families desiring a seaside island experience; guests who love eco-tourism full of jungle walks, nature treks, snorkeling and day sails; scuba divers will discover rare underwater critters seldom seen anywhere else.

The resort uniquely provides a private island vacation destination only a few minutes boat ride from all that beautiful St. Vincent has to offer - on land, along the shores, and underwater too - an endless array of tropical delights.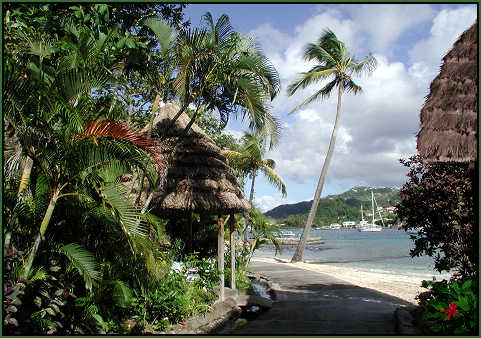 Getting There: Most guests fly to Barbados and then take a 40 minute commuter airline to St. Vincent.

We always use Ulf Carlson of Olson Travel, a Caribbean specialist, for all our airline, resort, and transfer reservations - visit his website for more information. My Grenadines Travel Tips can be found at this page.