ScubaMom was the nickname given to me in 1990 by a bunch of world-wide cyber-divers (with computers and modems - in those days, mostly Apple GSs and 386s connecting at the crawling speed of 2400 baud!). We all gathered at the now defunct GEnie (General Electric's early version of public message boards) Scuba Forum. Our whole family of 5 were all learning to dive and I was looking for information; our son hooked me up with the "early internet" and that's how I fell in with this group of cyber-divers.

Most of the guys were half my age and decided that the forum needed a "mom". I was graced with being the only female staff member along with Divemaster, River Rat, White Shark, and The Count (who spent every halloween dressed as an underwater dracula at a special dive event in a Detroit pool)! :-)

This fun loving gang moved to Delphi and renamed themselves WOWIE SCUBA. You can read more about it by clicking the cool "dude fish" below.


My "real life" vocation was once growing rare indoor house plants and palm trees. As a published garden writer and an assistant editor of the journal Palms, I've been involved in the media business for many, many years. When we started traveling to the Caribbean, ScubaMom became my "pen name". My early 1990s scuba and resort travel reports were uploaded to GEnie, Compuserve, and AOL libraries.

Our son moved back to South Texas after college in 1996 and suggested that I start my own website, named (what else but..) www.scubamom.com as a place to put all my articles. The website has now grown to include many sections - animated fish, sea related icons, Fin Land Fun, Scuba, Caribbean travel articles, and even some about our ski trips and other travel adventures.

Husband Kenny and I travel to the Caribbean each year. In the meantime, I hang out on Compuserve's Travel Forums and AOL's Caribbean Forum.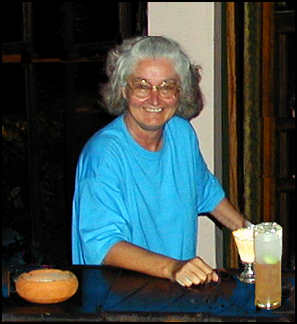 Here's a picture taken on our last Grenadines trip - as expected, it's a "bar shot", my favorite place to find out "what's happening?" in the islands. Looks like I'm a two fisted drinker when in fact, I was waiting for one of those tiny Carib beers to arrive! We took over 600 photos on that trip but it might be a few months before I have time to create new articles about our adventures. We will be returning to the BVI in spring.

Enjoy exploring www.scubamom.com and I hope you have as much fun looking around as I did creating it.


(ScubaMom)
P.S. Much love and thanks goes to my dear husband who travels along and never tires of taking yet another picture for me. (He has been teaching me photography... I think this is so he can go windsurf and leave the "work" to me! :-)
No matter where we go or travel, animals and critters seem to find Kenny (thankfully, no shark has found him/us yet!). Here's a shot of a cute Caribbean lizard that joined us for lunch one day.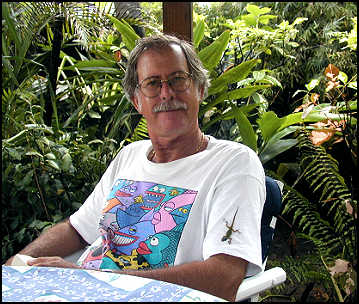 Kenny is wearing one of Norris Hall's amusing fish shirts. I found another one of his fun designs (my favorite) and decided to make them available to others. Click here to see or order the two shirts.

The Purple Angelfish below was the first animation
that I ever created and has become my "mascot"!