Corpus Christi is known as "Sparkling City by the Sea", no doubt named for the incredible views across vast CC Bay from the downtown area lining the bayfront.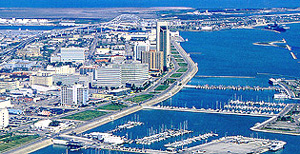 Shoreline Boulevard and a wide seawall walkway links the Holiday Inn with the Bayfront Plaza area and provides a gorgeous 2 mile walk along Mcgee Beach and the two "T-heads" and one "L-head" which harbors yachts, fishing boats, and visitor tour boats.

Downtown Corpus Christi is undergoing revitalizing and provides visitors with an array of stores, restaurants, and nightlife. The center of this activity is the Water Street Market, a collection of places to dine, shop, and/or relax with a cool drink and evening entertainment.

Visitors can also drive over the Harbor Bridge to see the Texas State Aquarium, the USS Lexington Museum, and the long sandy Corpus Christi Beach.


~~~~~~~~~~~~~~~~~~~~~~~~~
Corpus Christi Area Scenic Drives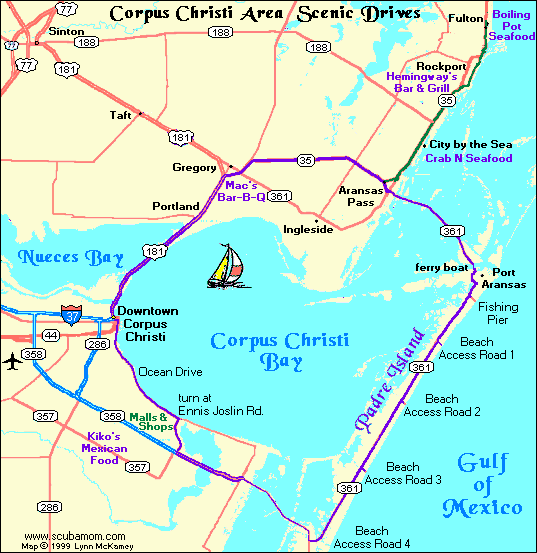 The "Beach Loop" is a very scenic drive and can be done in about an hour with no stops (if the ferry isn't too busy), however, plan to spend a a few hours to stop and browse the shops, walk the beach, swim in the surf, and enjoy the views.

From Downtown Corpus Christi, cruise down Ocean Drive which has gorgeous views of the bay. Turn at Ennis Joslin Road to reach South Padre Island Drive (S.P.I.D.) also known as Route 358, and turn east. You will soon reach a causeway which meanders up and down over bridges and takes you to Padre Island National Seashore. Turn left on Route 361, a paved road that runs through the middle of the island. You will see several Beach Access Roads along the way. Eventually you will reach Port Aransas which has lots of shops, restaurants, and bars. Some good places to eat are the Venetian Hot Plate at 232 Beach Street, Shell's Pasta & Seafood at 522 E. Avenue G,, Marcel's Restaurant at 905 Hwy. 361.

You will then drive onto a ferry - a fun ride and if you get out of your car, you might see some porpoise following the ferry. Route 361 goes to Aransas Pass, known as the "shrimp capital of the world", then to Gregory, Portland, and back to Corpus Christi.

If you have time, a neat side trip is along Route 35 to the sleepy little town of Rockport and the area "artist community" which is located in "downtown" along Business Route 35. You can find all kinds of stores featuring local art, paintings, seashells, and beachwear. If it is time for lunch or dinner, go to Hemingway's Bar & Grill which serves some of the best cuisine in the region. We love to start with its signature Hemingway's Fried Avocado which is Stuffed with Blue Crab, Crawfish & Gulf Shrimp. The Crab Cakes are out of this world too.

If you continue to Fulton, you will pass the Fulton Mansion, a Texas landmark which has periodic tours through this historic home. For fun, stop at the Boiling Pot Seafood which has an outdoor seating area to sip a cold one, or order one of their outrageous pots of boiled crabs, shrimp, corn, and potatoes. They will ceremoniously dump all this in the middle of your table, put giant bibs on everyone, and hand out wooden mallets for cracking all the shellfish. Open from lunch to late evening, seven days a week and they feature blues bands on the weekends.

An excellent dinner spot is the Crab-N Seafood restaurant which has some of the best seafood, Cajun and texas style in South Texas. Open for dinner only from 5 pm, 7 nights a week and it is located in City by the Sea between Rockport and Aransas Pass.

Perfectly cooked Barbecue over mesquite and all the trimmings can be found at Mac's Barbecue in Rockport, Aransas Pass, and Gregory. Mac and his family have been serving South Texas for generations.

Drive back over Corpus Christi's Harbor Bridge to return to the Downtown area.

If you want to shop, visit the Southside part of the city which is full of malls, stores, and shopping centers, such as Gulfway located at Padre Island Drive (358) and Airline Road.

Kiko's Mexican Food Restaurant at 5514 Everhart in Corpus Christi serves great Tex-Mex food!