When my father moved down here in 1946, he called South Texas "the last frontier", which in many ways, it was... and in many ways, still is!

We are still virtually undiscovered by tourism (good, let's keep this beautiful seaside area a secret a little longer), still have cowboys working on ranches, and you can still drive on much of Padre Island Seashore, just like I did years ago as a teenager.

This is a very laid back region, casual and relaxing. Be prepared to be surrounded by Mother Nature in a sub-tropical way. We have palms, tropical plants, gorgeous seashores, cute little artist towns like Rockport, fishing villages such as Aransas Pass, and gateways to the beach such as Port Aransas with lots of little funky island shops, oceanside restaurants, and miles of pounding surf, beaches to walk, and shells to find.

We also have gorgeous sunsets most of the time. Here's one taken over Oso Bay in Corpus Christi - our abundance of big poofy clouds can turn dusk into a blaze of colors.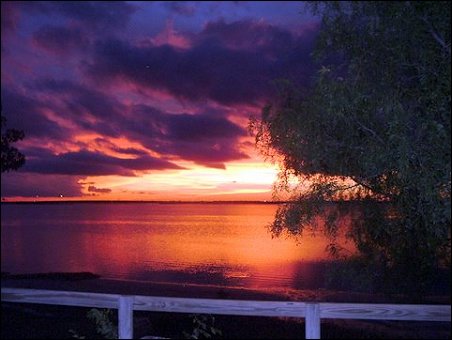 Corpus Christi receives slightly more than 30" of rainfall each year, so you very seldom need a raincoat or umbrella. Most of the rain comes in spring and early fall. We have lots of sunshine and big puffy clouds passing over most of the time.
Oh, and wind. I don't want to steal Chicago's thunder by proclaiming itself as the "windy city", when in fact, Corpus Christi is probably far more windy 365 days of the year than Chicago ever thought about being! Proof? Sure, I have proof - as far back as W.W.II, the Navy put their training base here for aircraft carrier pilots. The story goes that if they could learn to land in Corpus's fickle winds, then they could land anywhere! I can agree with that since I earned my private pilot's license at age 16 and learned right here in Corpus Christi. Coping with the gusty winds were the biggest part of my flying lessons. Corpus has one of the W.W.II aircraft carriers, the U.S.S. Lexington, as a floating museum for those who are interested in history or might have even landed and taken off on it back when.
All this means is to be prepared for our stiff breezes. It keeps us cool in the summer, so we residents are quite happy. In the winter, well, things are subject to change from one hour to the next!
Late fall, winter, and early spring weather is at a transition stage in Corpus Christi. Our usual southeast winds which keep us cool in the summer and warm in the winter are subject to change to absolutely "got to be experienced" Texas "Blue Northers" which are known to drop balmy subtropical temperatures from the 80s to the 40s in only a few hours - with a wind chill factor of something like 32 degrees! So be prepared. The temperatures may be in the 80s during the day and high 60s during the evenings... or be in the 40s during the day and 30s at night with a 35 m.p.h. cold wind blowing from the north. Such is Texas weather!
The good news is that I can remember having Christmas dinner outside in 80 degree temperatures. I can also remember a few Holidays when everything was coated in ice!
Our "perfect months" are October and early November ... also Mid-March and April. Days are warm, but not hot ... nights are cool, but not cold.
Our summers are HOT! By this I mean 90s during the day and mid to high 70s at night... we never really "cool" off in those months. Hurricane (stormy) season is generally mid-August to late September.
Never fear... every place has both air conditioning and heating down here. So when inside you will be quite comfortable. Outside, be prepared for almost anything. Water temperature varies from 84 in the summer to 54 in the winter... and of course, everything between depending on the season. A South Texan thinks anything under 78 degrees is freezing, but to those from up north or the west coast, may seem like bathtub water! <grin> So, from late October to early March, don't forget to pack your swimsuit, short sleeve shirts, and a jacket - just in case.