BANGOR TO BAR HARBOR, MAINE

~~~~~~~~~~~~~~~~~~

Bar Harbor Inn


Our commuter flight landed in Bangor at 5:00 PM and were on the road to Bar Harbor in our National Rental car by 5:30 before sunset. The drive was quite lovely on a crisp little road going through gently rolling hills.

Several waterside inns and hotels are nestled into secluded, wooded areas before you reach Bar Harbor – the luxurious Inn at Canoe Point, the Bar Harbor Regency Hotel, Atlantic Oaks, and the Bay View.

We had reservations at the Bar Harbor Inn, located in town. We entered Bar Harbor, turned on Cottage Road, and were suddenly thrust into "tourist trap personified" - a narrow street lined with shops of all kinds and flavors leading the way to Main Street also full of stores, restaurants, and bars. We turned left on Main and after a few blocks were delighted to find our hotel in a quiet area right on the water, yet conveniently within walking distance of all the shops.

The Bar Harbor Inn features an excellent restaurant and many different accommodations in a wide range of rates – most rooms have an ocean view and a small patio or balcony -- some have a whirlpool tub. The lovely restaurant overlooked a pretty bay and we enjoyed our dinner which started with pint bottles of Cadillac Mountain Stout beer (excellent!), clam chowder, stuffed artichoke hearts, and lobster. Our dinner bill for two was $100. The hotel has a pier which had an elegant schooner docked. Bar Harbor weather was delightfully cool and not humid, although skies were overcast.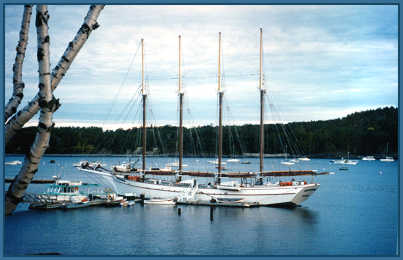 The next day, we checked out of the hotel and at 8:30 AM entered Acadia National Park to tour the well known 28 mile loop road - a 2 hour jaunt if you don't make too many stops along the way . We first passed Frenchman's Bay overlook with very scenic views. Foliage was just beginning to turn with a few yellows, golds, oranges, and a few red highlights.

I never found a good park map on the Internet or at the park entrance or visitors center which, by the way, is 54 steps up from a parking lot and obviously a place to coax visitors into buying a few more souvenirs. You'd think for a $10 entry fee, they'd give you a detailed map of the park! We finally stopped at the cute little Thunder Hole gift shop to find a decent park map. The bay was calm, so Thunder Hole didn't thunder, but the vista was nice.

The loop road is lined with evergreen trees with lots of native deciduous trees that added sprinkles of color during our drive. We passed a horse carriage center and stables, then sidetracked up the curvy Cadillac Mountain road with lots of pretty views across the bays, nearby peninsulas, and mainland. The road has some sheer drop offs, but at the top, a huge flat area, visitors are treated to an incredible 360 degree view. We finished our loop tour at 10:00, an hour and half trip, about the minimum time. With all the hiking trails, I can see how one could easily spend several days exploring the park.


BAR HARBOR TO BOOTHBAY HARBOR


We then headed toward Belfast, 36 miles from Ellsworth along a two lane road with shoulders. Traffic was light and moved along at the 55 mph speed limit. Today is September 29th and the foliage is at about 20% of peak but with enough leaf change to make our drive colorful. L.L.Bean has a discount outlet in Ellsworth, so if you have time, be sure to stop.

We reached Bucksport at 11:00 – found a Dunkin Donut for a cup of coffee, then crossed a bridge and were on our way to Belfast. We passed over another bridge, this one quite ancient and quaint, then drove along Penobscot Bay - really pretty. The sun came out and the high was forecasted to be a pleasant 70 degrees. The area near Searsport is full of antique shops and lots of Bed & Breakfast inns.

Before we reached Belfast, I spied The Maine Chowder House Restaurant and gift shop sitting at the side of the road with a fabulous view of Penobscot Bay. I'd read somewhere that it was a great place to eat, and while it was only a little after 11, we decided to stop for an appetizer and eat our way slowly down the coastline. The menu was extensive for both lunch and dinner - chowder was excellent and fried clams outstanding. If you can, plan to stop and enjoy both the food and the view.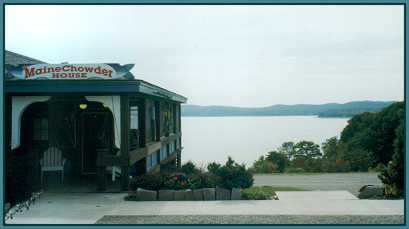 We were back on the road at 12:00 noon heading for Lincolnville. We passed a fabulous hideaway called The Inn at Sunrise Point – if we'd had time to stay somewhere for a few days, it might have been this luxury Bed & Breakfast, however, we were told that reservations are often made 1 year in advance. We passed the Lobster Pound Restaurant which was right by the water and had a nice view. Might be another good place to stop and eat on our next trip. Lincolnville is spread along the shoreline in a very pretty area.

It seems like EVERY PLACE has lobsters… you can even fill up your car at the local gas station and buy a couple of live lobsters while you are at it. And... McDonalds even offers McLobsters along with their McBurgers! I hope the day doesn't come that the lobsters are like the famous Gulf Coast Redfish – suddenly almost an "endangered species" from being over fished and over consumed by mankind.

We breezed through Camden, another "touristy town" with tons of shops and busloads of leaf peepers. Friends of ours have a lovely 4 bedroom rental home near the harbor - a great place to stay for a family gathering.

At Rockland, we found the Waterworks Pub and Restaurant, right next door to the Captain Lindsey House Inn and had a local brew and "lobster roll" on a Maine style hot dog bun (a folded over and toasted slice of bread) filled with chunks of lobster, mayonnaise and lettuce. The Inn is period style with lots of antiques and is centrally located. A ½ block away on Main Street, I wandered into Caravans, a ladies boutique, filled with interesting clothing from around the world. For fun, and because tropical style earrings are hard to find, I asked the owner, Judith Oster, if she had any earrings with palm trees on them. As a matter of fact she DID! Plus she featured an astounding array of silver jewelry with lizards, frogs, turtles and all kinds of other creatures and critters. How fun! I loaded up on silver pins and earrings for our family and friends.

Leaving Rockland, the road (Route 1 and 3) traveled inland and along the countryside full of small pastures, woods, and tiny towns.

As we neared the Boothbay region, the drive was quite pretty - lots of trees turning color and we traveled over quite a few bridges traversing ponds and inlets. We turned south on Route 27 to Boothbay Harbor.

NOTE: we found very few signs letting us know where the lighthouses were located and missed seeing some of them. Perhaps we should have found a very detailed map of Maine since most of the commercial maps (AA for instance) do not mark some of the smaller roads and routes.


BOOTHBAY HARBOR, MAINE

~~~~~~~~~~~~~~~~~~~~~~~

Spruce Point Inn


Boothbay Harbor is cute as a button, the "downtown area" has a small shopping area with everything from T-shirts to pottery, art, and ice cream shops. A wood walkway across a narrow part of the harbor links the west (shopping) side with the east side with lots of hotels/motels and lobster restaurants along the water.

We stayed at the Spruce Point Inn, located in a quiet section of town past the marina. A narrow, twisting road leads to the Inn which is sprawled along and overlooks a wonderfully picturesque rocky shoreline. Our suite, with a picture perfect ocean view through French doors, was in the Sea Breeze cottage across from the water side pool, heated tub, and dock. The elegant room featured a king bed, whirlpool tub large enough for two, and a spacious sitting area with a fireplace.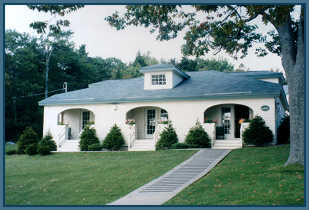 Other units are scattered around the huge grounds which include tennis courts, a playground, another pool area, and fitness room. This is more of a self-contained resort than an inn and would be a wonderful place to spend a few quiet days by the seaside. It has a large array of accommodations from romantic suites to charming cottages with kitchens, and 3 bedroom condos for large families or small groups traveling together. A young family from Connecticut was spending the week, and a busload of leaf peepers spent the night. We were on the M.A.P. plan which included dinner and a buffet breakfast. Dinner was excellent and we ordered lobster - I had it steamed, Kenny had it stuffed with crab and scallops.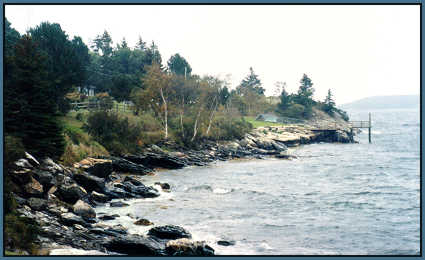 The next morning, a cold front blew in and the bay was full of thundering waves, high winds, and wonderfully cloudy skies! Before we left the inn, we enjoyed a huge breakfast buffet.


BOOTHBAY to YORK


We left Boothbay Harbor at 9:30 and stopped at the Musical Wonder House in Wiscasset - if you love old music boxes of every sort and size, don't miss it.

Just before we reached Bath, traffic slowed to a crawl… it seemed that this town was building a new bridge to replace the old rusty two-lane one and it took us almost 20 minutes to go a few miles, however, once through Bath, Route 1 turned into a beautiful split 4-lane highway lined with colorful foliage and wooded areas - speed limit still 55.

We fought our way through Brunswick traffic, left the freeway, and got back on scenic 2-lane Route 1 which curved and rolled through gentle hills and pretty forests.


SIDE COMMENT: I know that everyone and everything says to have hotel reservations long before you start your foliage trip to Maine, but there's so many little B&Bs, motels, cottages, and cabins along the way that I doubt you would have a hard time finding a place to stay.


Next stop would be Freeport, home of L.L. Bean. Our daughters had done a "day trip" from Boston to spend 4 hours shopping there and said it was NOT to be missed. Since I've ordered from their catalogs for years, I could hardly wait to wander the aisles. The town has many other stores and discount outlets; you could easily spend a day or two shopping! We spent about an hour wandering around L.L.Bean's huge three story store, bought a couple of shirts, and headed south again.


PORTLAND AND CAPE ELIZABETH


We more or less whizzed through Portland since we were running short of time, but would like to return and spend a few days. It is a gorgeous little city, surrounded with water and has lots of shops and things to do. We headed south to see the well known "Portland Head Light" which is the oldest lighthouse in Maine and was commissioned by George Washington. It is well worth the stop!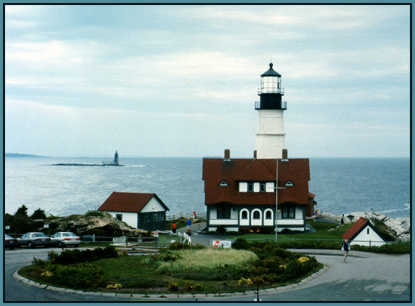 We also planned to eat a lobster lunch near Portland -- I spend quite a bit of time visiting CompuServe's Travel Forum and Lucky Hollander, a native of Portland, told me not to miss eating at the Lobster Shack located at the end of a road near Two Lights State Park. Good thing she gave us detailed directions to find it, or we never would have. Here's her directions:


HOW TO REACH The LOBSTER SHACK

directions by Lucky Hollander

(don't forget to take pictures of the two lighthouses)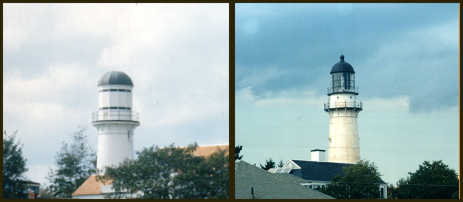 "I am assuming you will be in the Old Port, in downtown Portland. You want to be heading to South Portland over the new bridge, so if these directions don't work, ask anyone how to do that.

1. Commercial Street is the major cross street right downtown that borders the harbor. As you are looking at the harbor, or at DiMillo's (the floating restaurant), go up Commercial to your RIGHT (east and west is really screwed up here, but you will technically be going west). The numbers will be going up.

2. As you go along, there will be fewer and fewer shops, and more working waterfront stuff. Just past the shops, there will be a huge new gas station sticking out very noticeably on your right. Go right up the street that borders it (one way) up the hill, and then left at the top. That is York Street, and will take you right on to the bridge. Follow the middle lane over the bridge, and then as all the traffic either bears right or left, follow the lanes bearing left on to Broadway.

3. The signs will direct you to Rt. 77 and Cape Elizabeth. Follow the signs, take your next right on to Rt. 77, and follow that road about 4-5 miles (just a guess) through Cape Elizabeth. It is the major thoroughfare in that area, so there isn't much choice. Keep on Rt. 77 until the road gets to be 4 lanes, past a strip mall and the Cape Elizabeth High School and Fire Station, until you see a lone convenience store on your right, and the Good Table Restaurant (another good place to eat if it is raining and you decide against the Lobster Shack. It is not fancy and very family friendly. ).

4. Just across the street, there will be a sign to Two Lights State Park. Go left there, and follow that country road all the way to the end. Just before you get to the end, the State Park entrance will be on your right. Go past it. The road dead ends at the Lobster Shack on your right.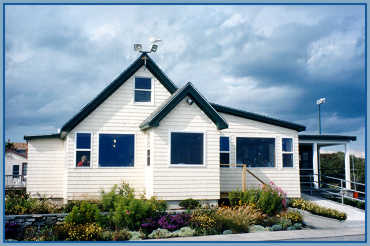 5. I think they close after Columbus Day weekend, but my memory is that you are going sooner than that. It reopens after Easter. It is RIGHT on the rocky coast -- you can't buy a better view.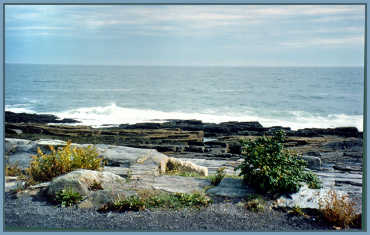 THE SCENIC Alternative ROUTE from Portland:

You might want to take the prettier route, which takes 15 min. longer. After the Portland bridge, instead of going right on Rt. 77, go through a set of lights and at the NEXT set of lights bear right on Cottage Road. The signs will direct you to the "Portland Head Light". It is in a spectacular park, and you will go right past it, so drive through and see the view. You can be awed without even stopping, but it is a really nice stroll if you have a few minutes.

Anyway, follow that road as it winds out of South Portland to the rich suburb of Cape Elizabeth (you'll know when you cross over) and enjoy the mansions on the coast. You will reach Fort Williams Park and Portland Head Light. Then stay on that road to the stop sign and go left on to Rt. 77, and resume the above directions. You'll only have a couple of miles left at that point, and you will have by-passed a lot of town. You will almost be at Cape Elizabeth High School at that point and can resume your trip to the Lobster Shack."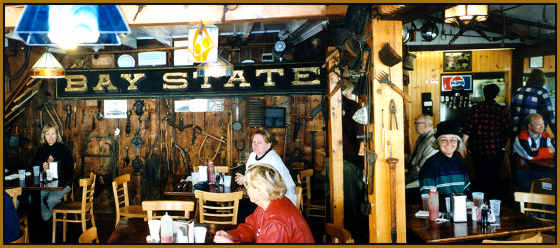 After Kenny and I ate a delightful lobster lunch by the side of the ocean (unfortunately it was a little windy and cool to eat outside at the picnic tables), we headed west on 77 past Crescent Beach State Park, turned on 207 to intersect Route 1 again. It's a really pretty drive and I highly recommend it to enjoy the scenery and dine at the Lobster Shack. We were totally amused with their license plates "wall hanging" as shown below:


PORTLAND TO YORK


Route 1 took us through town after town and lots of traffic - Saco was bumper to bumper. Maybe we should have gotten on Interstate 95 for a sprint to York Beach. We thought about taking Rt. 9 along the beaches, but couldn't get in the left turn lane for all the traffic.

At Ogunquit, our not-so-great road map showed a small road that paralleled the ocean, but we had no way of knowing where to turn off Route 1 and find it. Kenny finally made a left turn in the middle of no where and luckily found Shore Drive.

I later discovered a detailed area map published by Resort Maps and they gave me permission to share them with you. Just click on the images below to see large maps, save them to your hard-drive, and print them in "landscape format" with legal sized paper. Be sure to pick up a "real" map when you visit The Yorks and/or Ogunquit!



Here's directions if you are traveling toward Boston: In Ogunquit, at the "Fancy that News Café", turn left at the sign that says To Beach, but bear to the right which is Shore Road. It twists and turns through quiet residential sections and allows glimpses of the ocean. You will pass over a small bridge at the Cape Neddick Campground and when you pass the Fire Department on the left, turn left down Church Street. If you want to see the famous "Nubble" Lighthouse, turn left down Nubble Road before you reach Long Beach Avenue. Long Sands Beach is a huge white sand stretch of shoreline and well worth a stop to stroll along the vast shoreline.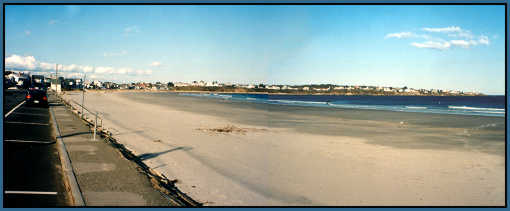 We followed the beachside road to Lilac Lane, crossed a bridge and turned on Harris Island Road to reach our destination for the night.


YORK HARBOR, MAINE

~~~~~~~~~~~~~~~

Dockside Quarters


We stayed at the Dockside Guest Quarters on York Harbor - very quiet and cozy with some of the friendliest innkeepers you will ever meet. We'd love to return and spend a few days enjoying the spectacular water views, lighthouses twinkling at night in the distance, and the delightful inn. We stayed in Crows Nest #3 - a cute cottage with a huge porch overlooking the shoreline and Atlantic. It had a king bed and a twin in a small separate alcove. The two story cottage next door almost looked like a "treehouse" with its stilted porches overlooking the rocky shoreline, inlet, and bay.



That evening, we had dinner at their waterside restaurant. The next morning, for an additional $3 each, we had a continental breakfast of fresh fruits, juices, all kinds of breads and English muffins served in the inn's dining room and living room. The weather was perfect - comfortably cool with clear skies, so we enjoyed eating on the wide covered porch which overlooked the dock, water, and boats of all kinds.

P.S. If you like miniature golf, you'll love Maine… we've never seen so many courses … some plain, some very elaborate with bridges, waterfalls, and terraces. Also, firewood is called "campwood" up here.

---

Bar Harbor Inn:
Newport Drive, Bar Harbor, Maine 04609
For Reservations: 1-800-248-3351 All other: 207-288-3351 Guest fax: 207-288-8454

The Captains Cottage vacation home
Camden, Maine

Spruce Point Inn:
Box 237, Boothbay Harbor, Maine 04538
Reservations: 1-800-553-0289 1-207-633-4152

Dockside Guest Quarters:
P.O.Box 205, York, Maine 03909
Reservations: 1-888-860-7428 or 207-363-2868 or Fax: 207-363-1977

Bed and Breakfast Planner: Maine
Links to Inns, B&Bs, and Cottages

Excellent Resort Maps of areas along the lower Maine coastline, Vermont regions, and other New England states.

Map of our driving route along the Maine Coastline.


---
Travel onward to Vermont and Boston
Return to Fall Foliage 1998 Trip Index