YORK (Beach) MAINE to PERU (Green Mountains) VERMONT

We left York at 9:30 am, headed south on I 95, then west on Route 4 to Concord, New Hampshire. The road was a pleasant two lane with shoulders. At 10 am, we were in Northwood.

We left Concord at 10:40 and headed northwest to Lebanon on Highway 89 (60 miles). It is a scenic divided highway and leaves were just starting to turn. Lots of pines and evergreen trees in this area - the deciduous trees added a dash of color here and there. There's some really nice spots along this route that have vistas over the nearby valleys and hills. As expected, the foliage turned more colorful as we drove north.

We reached Lebanon at 11:30 and stayed on Highway 89 until the turn at Route 4 - Exit 1 to Woodstock which we reached by noon and thought about eating at Bentley's but the town was a mob scene of tourists by the car and busloads. I doubt we could have found a place to park if we'd tried, so we drove onward to the next village. Route 4 is very scenic, often running alongside the river with steep hills on either side.

At Bridgewater, we turned south on Rt. 100A and it proved to be a delightful little road which linked up with Route 100 to Ludlow, Weston, and Londonderry - all very scenic as the road twists, turns, and meanders its way south.

We reached Weston at 1 PM and stopped for lunch and shopping at the famous Vermont Country Store, well known for their simple black and white mail order catalog full of old-time goodies you won't find anywhere else. We signed in for lunch at the Bryant House Restaurant next door and they said it would be a one hour wait, but if we'd like to shop at the store, they would page us when our table was ready. It was closer to TWO hours before we actually sat down and ordered. I suggest that you arrive between 11:30 and noon for a minimum wait, or ask if any space at the bar is available. We had a French Dip and a Monte Cristo Sandwich, both excellent, but the chicken pot pie sure looked good too! They also have an extensive dessert list.



PERU, VERMONT

~~~~~~~~~~~~~~~~~~~~~

Johnny SeeSaw's Lodge and Inn


We headed down Route 100 to Londonderry and turned west on Rt. 11 to reach Johnny SeeSaw's Lodge and Roadhouse Inn where we planned to spend the weekend. What a delightful find!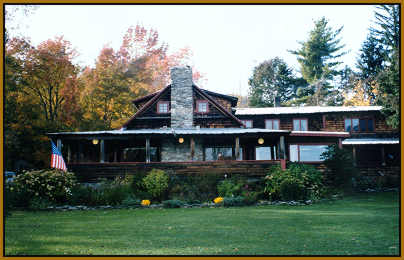 Located on the north side of Route 11, 2 miles east of where Rt. 30 meets Rt. 11, and 1 mile west of Peru, Vermont, the main lodge is set off the road a short distance and features an excellent restaurant specializing in the "Best Yankee Cuisine in New England".

Guests have a choice of rooms and suites in the main lodge, or 2 bedroom cottages nestled into the woods. Per person rates include a huge, full breakfast each morning from 8 am to 9:30 am. Owners Gary and Nancy Okun stayed at the Lodge during a 5 day vacation in 1980. When they left, they'd made an offer on the Lodge and suddenly Gary went from being a New Jersey lawyer to being a Vermont innkeeper! It is open 10 months of the year (a "three" season resort") and is closed during April and May. Gary is standing next to the open fireplace in the picture below.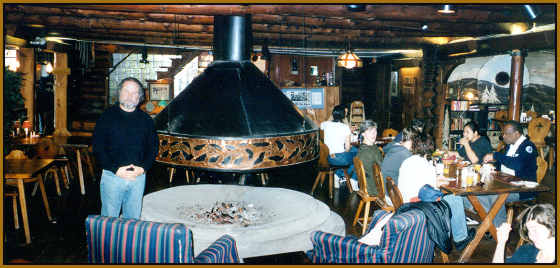 Located near several ski areas, including Stratton Mountain, it provides a perfect winter getaway, family summer destination, and colorful retreat during fall foliage season. The restaurant and bar are downstairs in the lodge and feature two huge fireplaces, one built into the wall of the bar area, the other a huge circular one in the dining area.

Our cabin had two huge bedrooms, each with a king and one twin bed with LOTS of pillows of every kind and flavor, two full bathrooms with tub/showers, a cozy living room featuring a woodburning fireplace, and small refrigerator – plenty of room for the four of us and Chico, the 5 pound doggie.

Our girls brought their mountain bikes along for the weekend and headed for Stratton to ride the ski lift to the top and bike their way down the mountain and along forest paths. They obviously found a big black bear too!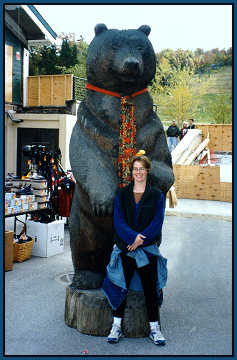 On Sunday October 3, after a huge breakfast of blueberry pancakes, bacon, sausage, and eggs, we left Johnny SeeSaw's at 9:30 and headed south on scenic Route 30. My daughter was in a rush to return to Boston, so we took Interstate 91 to scenic Route 2 in Massachusetts and into Boston - about a three hour drive from Peru, VT to Boston.

Another great drive would be to take Route 7 south to Williamstown, MA, then Route 2 across the top of Massachusetts - we did that last year and it was a gorgeous choice!

HINT: Never enter Boston from the south or west side if you can enter it via Route 2 - a much more scenic and less traffic-jammed route!

NOTE: for a new update and review of Johnny SeeSaw's - take this link.


BOSTON


We usually stay at The Elliot Hotel in the Back Bay area (see my 1997 review for more information), but rates there were extremely high for this trip, so we shopped around for the best "deal" we could find in Cambridge - a horrible $199 a night at the Harvard Square Hotel managed by Doubletree. This is a basic, no frills hotel, but you can't beat the location if you want to be near the campus, shops, and restaurants. We were first taken to a room with both a queen and twin bed, no doubt a good choice for parents and one "student" kiddo, but it was a very crowded room. The hotel pleasantly switched us to a different one with only one queen that had a little more space without the additional bed.

Our daughter is a graduate student at Harvard, so we had a chance to eat lunch and dinner with her. Grendel's is always a good choice – lots of healthful food, sandwiches, salads, and desserts to die for. The Dolphin Seafood restaurant, located near the Harvard Book Store, is a MUST! It offers excellent seafood and is the only place close to campus that serves lobster for lunch and dinner at fairly reasonable prices. Here's a photo of me, my hubby, and daughter Kara outside the restaurant.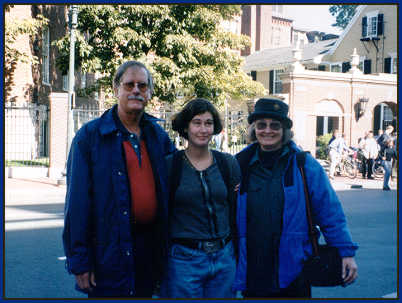 We treated our daughters and their friends to dinner at the outstanding Elephant Walk, now located in a new Cambridge location at 2067 Massachusetts Ave. (We took a short cab ride from our hotel there, then walked across the street to hop a bus back to Harvard Square). The food is an interesting selection of Cambodian and French cuisine and should NOT be missed. Make reservations far in advance since this is a very popular dinner destination.

As always, Boston was a delightful city to visit and we sadly climbed on the airplane to return to hot and humid South Texas!

For maps and travel books, visit The Globe Corner Bookstore at 28 Church Street in Cambridge. If you plan to do a fall foliage tour in the New England states, give them a call at 800-358-6013 and let them suggest some wonderful detailed maps of the states and some tour books. I was delighted to find the Delorme Topographic & Roads tourbook of Maine and wished I'd had it during our drive. They also have Delorme for many other states and it will make finding all those wonderful little quiet and scenic backroads so much easier to discover and enjoy!

Until our next fall trip and report ... enjoy your trips through the New England states whatever season you go!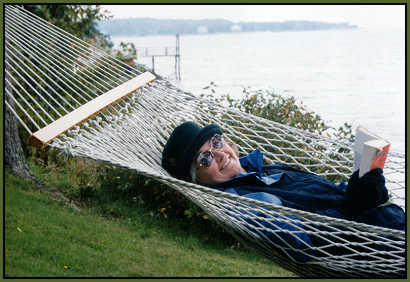 ~~ Lynn McKamey (ScubaMom)


---
Johnny Seesaw's Lodge and Inn:
Routes 11 & 30, Bromley Mtn, VT (near Peru, VT) Reservations: 1-800-424-2729 or 1-802-824-5533
Elephant Walk restaurant:
2067 Massachusetts Ave. Cambridge, MA 02140 1-617-492-6900.
Also at 900 Beacon Street, Boston, MA 02215 1-617-1500
Dolphin Seafood:
1105 Massachusetts Ave, Cambridge, MA 1-617-354-9332
Grendels Restaurant & Bar:
89 Winthrop Steet, Cambridge, MA 1-617-491-1050

The Globe Corner Bookstore:
28 Church Street, Cambridge, MA 1-617-723-1676 Fax: (617) 227-2771
Excellent Resort Maps of areas along the lower Maine coastline, Vermont regions, and other New England states.

Map of our driving route through New Hampshire, Vermont, & Massachussets.


---