Back in 1998, our two daughters joined us for a summer weekend stay at Johnny SeeSaw's Lodge on Rt. 11 one mile west of Peru, Vermont. At the time, Koko wanted to bring Chico her Yorkshire Terrier, plus we were looking for a spacious cabin large enough for the four of us. Johny SeeSaw's was perfect for our family get-together and welcomed Chico as much as they did us.

We stopped by in 2005 to see if the Inn was still there - sure enough - Gary was still owner and the lodge and surroundings were just as delightful as our first visit.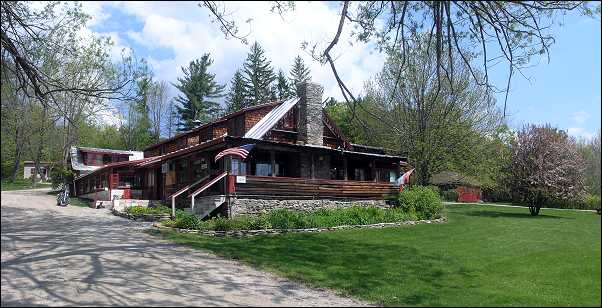 Located on the north side of Route 11, 2 miles east of where Rt. 30 meets Rt. 11, and 1 mile west of Peru, Vermont, the main lodge is set off the road a short distance and features an excellent restaurant specializing in the "Best Yankee Cuisine in New England".

Owners Gary and Nancy Okun stayed at the Lodge during a 5 day vacation in 1980. When they left, they'd made an offer on the Lodge and suddenly Gary went from being a New Jersey lawyer to becoming a Vermont innkeeper! It is open 10 months of the year (a "three" season resort") and is closed during April and May. Gary is standing next to the open fireplace in the picture below.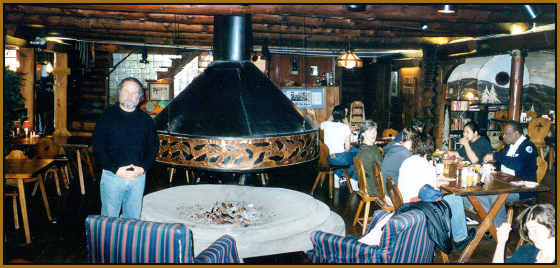 Located near several ski areas, including Bromley and Stratton Mountain, it provides a perfect winter getaway, family summer destination, and colorful retreat during fall foliage season. The restaurant and bar are downstairs in the lodge and feature two huge fireplaces, one built into the wall of the bar area, the other a huge circular one in the dining area.

Guests have a choice of 18 rooms and suites in the main lodge, or four 2 bedroom cottages nestled into the woods behind the swimming pool. A cute bridge links the lodge with the recreation area.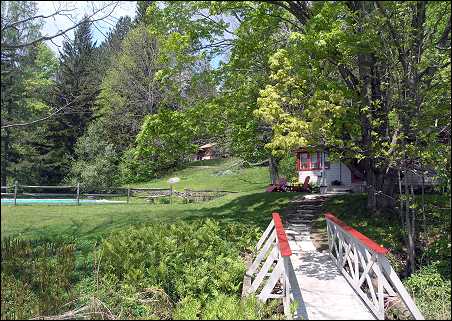 When we visited with the daughters, our cabin had two huge bedrooms, each with both a king and one twin bed with LOTS of pillows of every kind and flavor, two full bathrooms with tub/showers, a cozy living room featuring a woodburning fireplace, and small refrigerator – plenty of room for the four of us and Chico, the 5 pound doggie.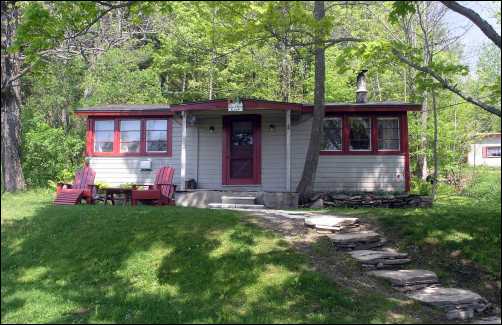 The furnishings provide homespun comfort, definitely giving a wonderful "home away from home" atmospher. We visited all the cottages and found each uniquely decorated with lots of paneling, carpeted floors, and thoughtful items such as cozy throw blankets in the living rooms. All the cottages, rooms, and suites are air-conditioned and some have fireplaces.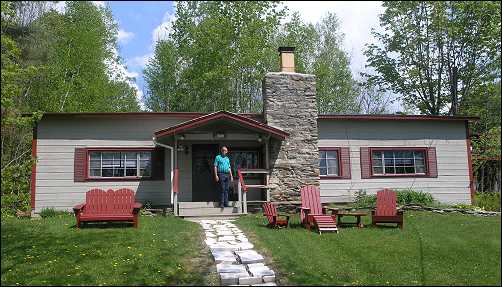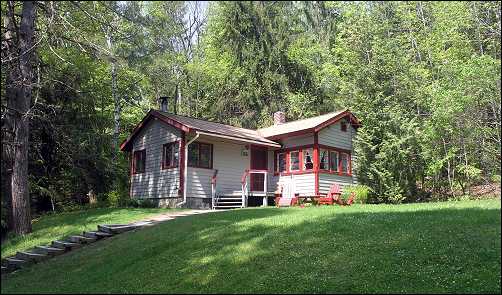 Guests will find an extentive breakfast menu including blueberry pancakes, bacon, sausage, eggs, and many other early morning goodies. Rates include this huge, full breakfast each morning from 8 am to 9:30 am.

The lodge does not serve lunch, but then most guests are off skiing during winter, or exploring the gorgeous mountain area in spring, summer, and fall. Manchester is only a few miles away and has lots of lunch spots. Dinner brings a wonderful array of the promised "Yankee Cuisine" including fresh baked bread, garden salad to go with the long list of appetizers and entrees. Be sure to save room for dessert!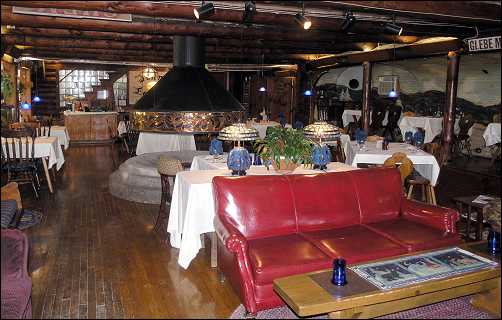 If you are looking for a spotlessly clean, fun, and enjoyable place to stay in the beautiful Green Mountains of Vermont, then Johnny SeeSaw's may be a perfect destination. The relaxed atmosphere, lovely accommodations, and hospitality of owner Gary is hard to match by any other inn of this type we've visited in the North East. I particularly liked the sign in the main lodge and it shows the lightheartedness of the inn.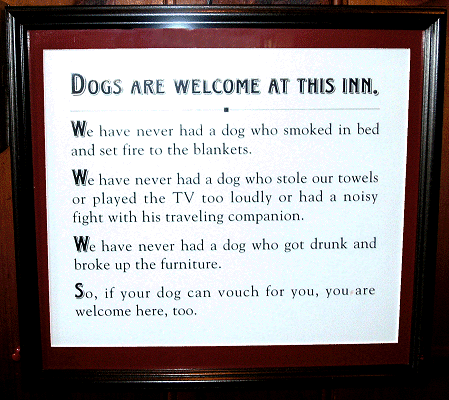 We'll definitely be returning for another family gathering to enjoy the lodge and this part of the Vermont mountains.

~~ Lynn McKamey (ScubaMom)


---
Johnny Seesaw's Lodge and Inn website:
Routes 11 & 30, Bromley Mtn, VT (near Peru, VT) Reservations: 1-800-424-2729 or 1-802-824-5533