Friends Lake Inn - a perfect country inn

Tucked away along a tiny lane in a gorgeous wooded area of upstate New York near Chestertown is the Friends Lake Inn, a magnificent getaway destination with spacious rooms, swimming pool, a pond, miles of walking trails, and access to the nearby lake. It has everything expected in a top quality inn and anything a guest might need for a perfect stay...

We returned to Friends Lake Inn the following year, click here to read our full and updated review.


<><><>


The next morning, we drove east on Route 8 past Brant Lake (see the picture at the top of this page) and the northern part of Lake George - a lovely scenic road - and crossed into Vermont over the bridge at Chimney Point. Then linked up with Route 7 on our way to Burlington.


Burlington, Vermont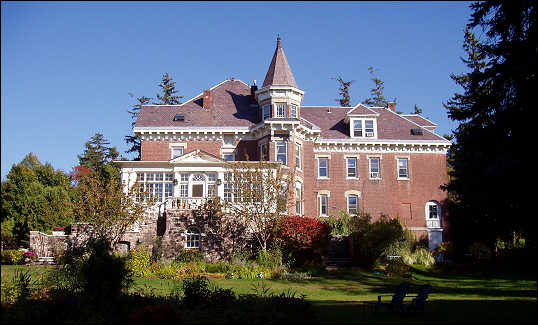 We stayed at the Willard Inn in Burlington - a big beautiful historical mansion centrally located on Willard Street and close to the center of town where shops and restaurants are located. A grand entry leads to a living room to the left, dining room to the right, and up cherry wood stairs to the upper levels where rooms are located.

Willard Inn

Formal

Dining Room
One of the

Willard Inn

Bedrooms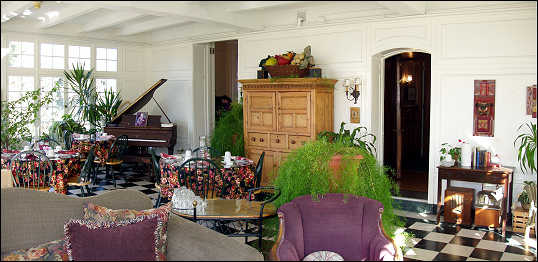 Across the back of the mansion is a garden room where breakfast is served and guests can lounge and enjoy the sunlight streaming in during afternoons. Steps lead down to lovely gardens and a big back yard. Our second floor bedroom overlooked the garden, distant lake, and upstate New York mountains.

We enjoyed several great restaurants during our visit with Kara and Nick. The first night, we had dinner at Pauline's, located south of Burlington on Shelburne Road and highly recommend it for good steaks, fresh fish, and other delightful entrees.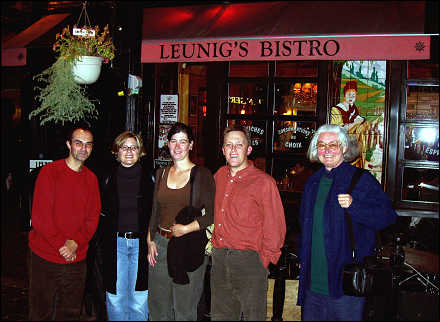 Nick, Melissa, Kara, Tim, and Lynn


The second evening we dined downtown with friends Melissa and Tim at Leunig's Bistro, also excellent. It also has live music Jazz in the bar some evenings. Make reservations several days ahead, this restaurant fills up in a hurry!

Burlington is a pretty town with several colleges. We found it a great place to jump off on day trips for leaf peeping. One day Nick suggested that we drive down Route 116, a quiet two lane road with picture perfect countryside views.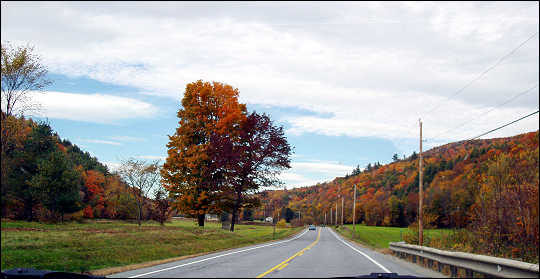 We had lunch in Middlebury and then returned to Burlington via Route 17, also very scenic. Several guests had done the "Stowe's" loop earlier in the week when foliage was at full peak in that area.

Wednesday was forecast to be a rainy day, so instead of taking Route 100 down to Weston, we decided to stay on Interstate 89 and cut over to 100 as we neared Weston. Unlike many dull interstates in the US, 89 is one of the most scenic highways we've driven - hills, valleys, and mountains full of colorful foliage surrounded us and provided some spectacular views.


Weston, Vermont


Weston is known as home of the Vermont Country Store which has everything imaginable to buy. I've ordered from its famous catalog for years and could hardly wait to visit the big store again and wander around. The Bryant House, right next door, is a popular place for lunch, serving New England style food in a cozy atmosphere. Best to be there by high noon or you might have quite a wait for a table! Not to worry though - get on their waiting list and simply go to the Vermont Country Store and shop - your name will be called when a table is available.

Since we'd been to the store before and Kenny, the non-shopper was completely bored, this time I decided an overnight stay at the Weston Inn might be fun - he could stay at the Inn and relax in the lovely gardens, bar, or living room while I shopped until I dropped.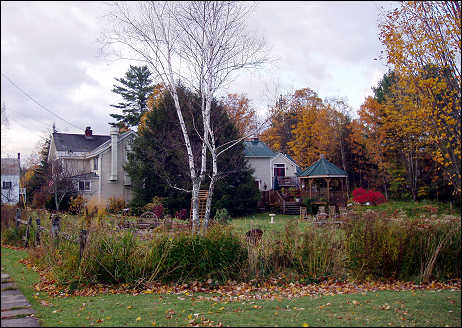 The inn is owned and run by Bob and Linda - both retired from the medical field - and you won't find a more interesting couple as innkeepers. Bob is big into growing orchids in his hot house as well as taking gorgeous pictures of the North East while Linda is busy making sure the guests have everything they need and are quite comfortable.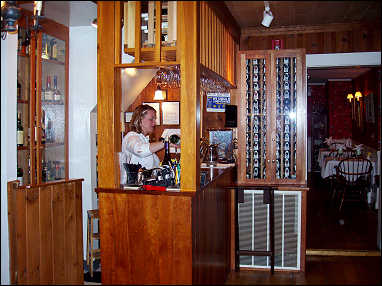 We enjoyed a few drinks at the bar in front of a roaring fireplace before having a delicious dinner. Several interesting selections were on the menu - I chose paella while Kenny had a seafood entree.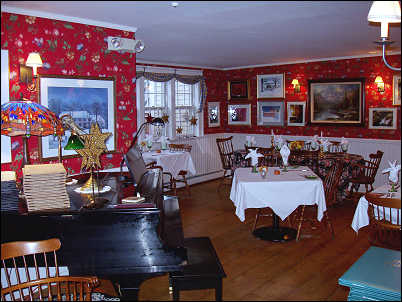 Our room was one of two in the "coach house" and featured a king bed, sitting area around a cast iron fireplace, Jacuzzi, steam shower, and private porch complete with two rocking chairs overlooking the town. A perfect getaway room with all the Vermont charm we needed. If you are looking for a fun place to stop, shop, stay, and relax in lower Vermont, consider the Weston Inn. Be sure to view Bob's photos on all the walls, and tell them hi for us.

Bob told us how to take a shortcut over to the main highway on a tiny country road (thanks Bob - very scenic!) and we headed south to Massachusetts. The fall foliage was at perfect peak - explosions of all colors from greens to yellows, to oranges and reds. What a great drive!