Everything one might need or want was available - bedside lamps, two night lights in the bathroom, extra pillows, CD player, telephone with data line, bath robes, excellent bed with a firm and comfortable mattress, two bottles of water, and of course, chocolates on evening turn-down service.

The lowest level of the barn held a large "conference area" which is a misnomer since it resembles a handsome lounge area complete with tables, comfortable chairs and sofas, TV, games to play, and guest computer area.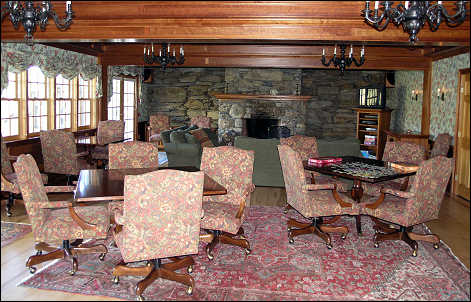 The room above opens onto a handsome patio with perfect views. Kenny and I loved sitting outside and savoring the autumn weather. An apple tree was not far away and we watched a family of cute tiny chipmunks running up the tree, knocking apples down, and then rolling them along the grass. Kenny managed to sneak up on one with our camera and snapped a picture.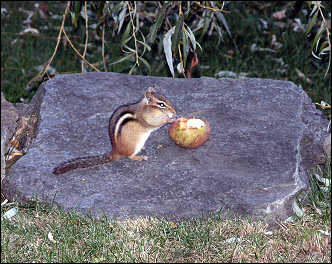 Breakfast and dinner is served in the main house and has superb cuisine. Dinner is at two seatings starting at 6:00 and 8:30 pm. The lovely dining room holds candlelit tables along large picture windows and three tables near the fireplace.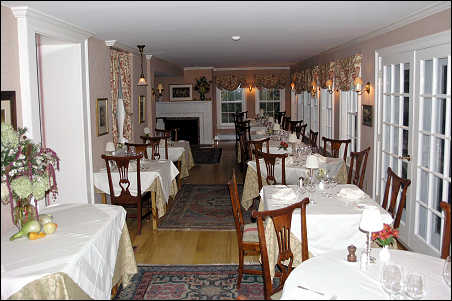 Dinner was excellent and had succulent selections of soup, salads, appetizers, entries, and dessert. A price fix menu offered four courses, or one could order a la carte. I started with a special of the day - Pan Seared Maine Crab Cakes with Julienne Potato Salad and Lemon Aioli followed by another special featuring a Grilled Double Cut Pork Chop with Chanterelle-Oyster Mushroom Cream Sauce. Kenny started with a fresh salad followed by Pecan-Encrusted Salmon with Forbidden Rice.

Windham Hill's Breakfast deserves 5 stars! A pastry of the day is served with a first course of fresh fruit artistically displayed on the serving plate.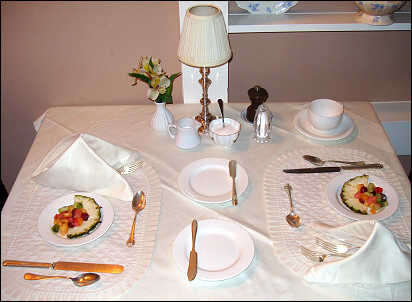 Guests can choose from a quiche, scrambled eggs, oat pancakes, and other delights. A side table holds croissants, cereals, jams and jellies. The first day, the pastry du jour were two hot from the oven cinnamon rolls which I think the inn should make their daily trademark. They were better than the famous Cinnabons!

We worked off all this bountiful food by exploring the inn's 160 acre estate that is full of gorgeous walking and hiking trails through pastures, forests, ravines, and hillsides. The inn has a map of four different routes of varying distance and terrain.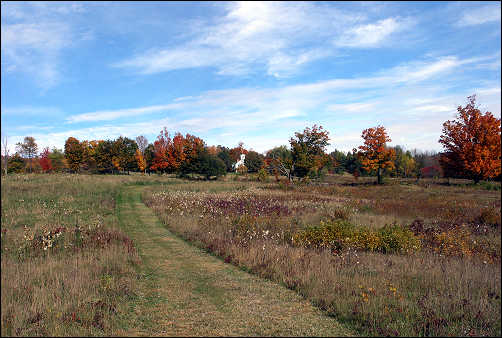 Owners Joe and Marina are very visible innkeepers and were often seen at breakfast as well as dinner. They continuously give personal attention to detail at their gorgeous country retreat.

If you love nature, endless hiking trails through gorgeous surroundings, upscale accommodations, great service, and succulent cuisine, then escape from the world at the Windham Hill Inn.