Our plan was to drive from the Columbia Gorge west to the coast and stay in Cannon Beach for two days before heading south to Depoe Bay. This gave us plenty of time to explore the area and see the sights.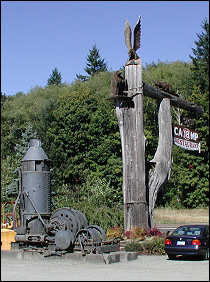 Sunday morning we headed for the coast with a stopover in Portland to meet Jon and Nancy and have lunch. Highway 26 is a pretty drive and took about a hour and half to reach the coast from Portland.

We stopped at Camp 18 to take some pictures, browse the gift shop, and look at the menu which was endless and full of just about anything anyone would want to order. The restaurant is a log beamed lodge and worth a quick look even if you are in between meals! Camp 18 is also a "museum" of logging lore with all kinds of historical equipment and artifacts scattered around the grounds. Fun stop!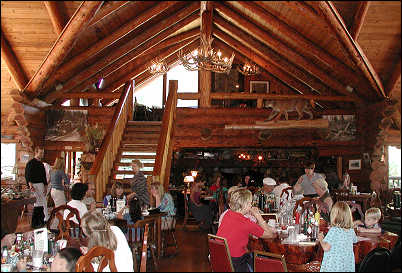 Cannon Beach and The Stephanie Inn
Cannon Beach is a beautiful beachside destination - gorgeous setting where hills meet the ocean with mountains in the distance to the east and the wide sandy beach to the west. The town has an interesting selection of stores and galleries along "main street" (not too touristy thankfully) with Ecola State park on the northern side and the often photographed "Haystack Rock" just off the long white sand beach.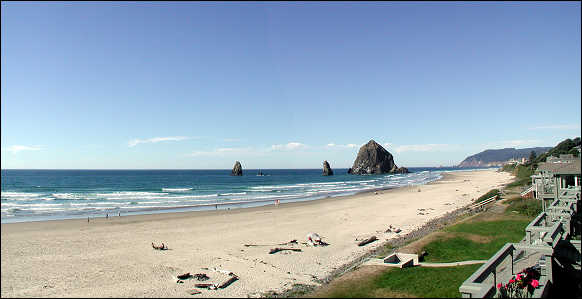 The "rock" of course is the landmark and centerpoint of this little town that stretches north to south for almost 10 miles. It has three areas - downtown where many of the shops can be found, midtown that has some restaurants and stores, and Tolovana where many of the hotels and accommodations are located.

The Stephanie Inn is about 1/4 mile south of the rock and is perched right at the edge of the beach.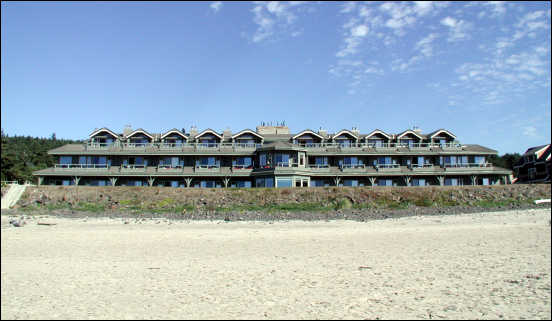 It uniquely has three stories of rooms and suites facing the ocean, each with a private balcony overlooking the beach. I expected to see a common area or verandah facing the beach, but all space, other than the oceanside chart room, is devoted to having "rooms with a view". A few rooms face the mountains to the east.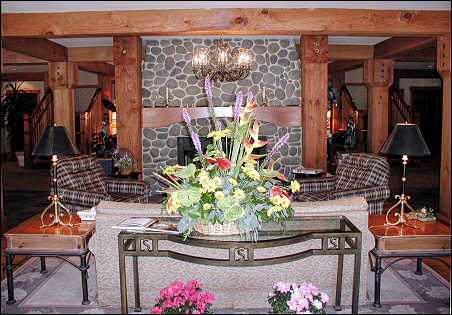 The Inn is a perfect example of understated elegance - perfectly decorated with an excellent staff. In addition to five star accommodations, it also has a five star dining room with some of the best cuisine we've enjoyed "west of New York City"! The chef prepares a four course dinner each night - two seatings, one at 6 pm and the other at 8 pm - with a choice of two entries, one meat and one fish. After the appetizer, the chef comes out and announces the rest of the courses - we loved "meeting the chef" and also hearing details about the rest of our fine dining.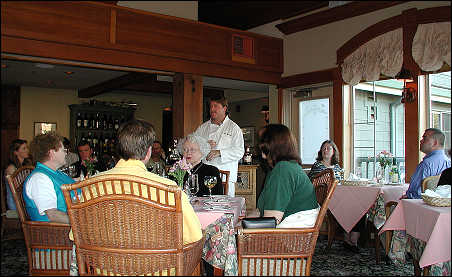 One night we had Cimini Mushroom Risotto with leeks and sweet gorgonzola cheese, followed by the second course of Spinach salad with pine nuts, garlic croutons, and pepper bacon dressing. Kenny had the Potato crusted halibut with roasted carrots, zucchini noodles and lemon sauce while I feasted on Marinated pork tenderloins with rosemary white beans, basmatti rice and tomato. We finished up with a wonderful French silk tort berry compote. It was definitely a savory culinary experience.

The first night we stayed in a 3rd floor suite which had a large living-dining area with fireplace, separate bedroom, huge bathroom with shower and Jacuzzi for two.

The living room faced an enormous deck open to the skies above and a 180 degree panoramic view of the beach, ocean, and Haystack Rock.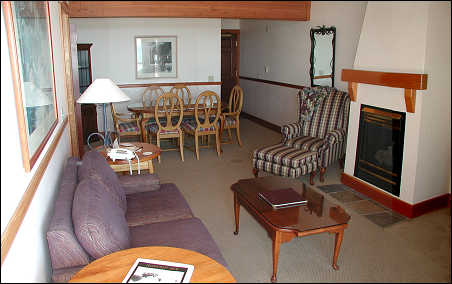 The second night, we stayed in a 2nd floor room - very spacious with a large king bed facing a fireplace with sitting area next to large glass doors leading to a small balcony with ocean views. In some cases, I liked this room better than the two room suite since we could see the beach and ocean from anywhere in the room. (whereas in the suite, we needed to be on the large deck to see the beach and ocean). Rooms on the 1st floor have a small patio facing the beach. We were treated to glorious sunsets each night as you can see.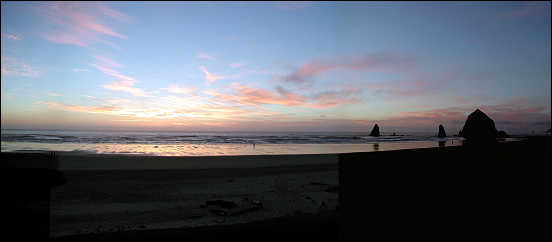 Monday we drove up the coast to Astoria - known for museums detailing Louis and Clark's expeditions. We stopped for lunch at Seaside which has a huge collection of "tourist shops" lining its main street. Dooger's Seafood and Grill had tasty food (they also have one in Cannon Beach) and is a favorite with visitors and locals.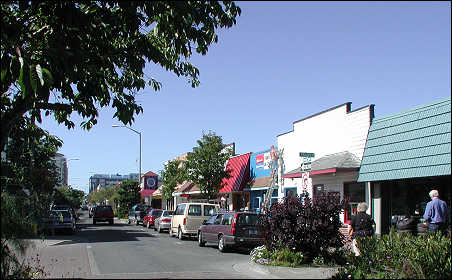 We stopped at Ecola State Park just north of Cannon Beach which has several scenic overlooks and over 10 miles of hiking trails. It was one of the prettiest coast parks we visited during our trip. The views were outstanding and included an offshore lighthouse perched on a distant rock.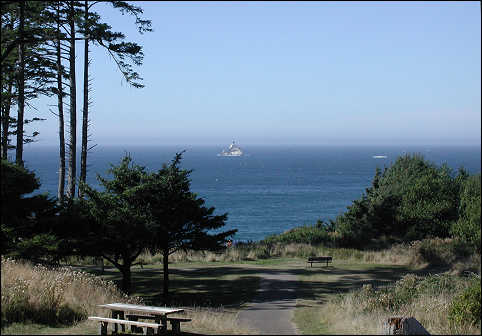 Only a small part of Ecola Park can be reached by car, the rest must be explored by hiking numerous trails. We drove first to Ecola Point where the photo above was taken and then drove through a very narrow windy road to Indian Point. It would be a great place to have a picnic and spend the day.

We returned to Stephanie Inn and enjoyed another great four course dinner that evening followed by yet another spectacular sunset.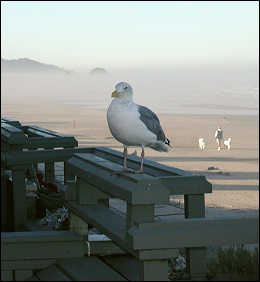 We woke up to see dense fog floating over the beach and coastline with the rock peaking through in the distance. After the sun came up, we walked down to the rock and explored the tidal pools left by the low tide and saw anemones, tiny fish, and barnacles clinging to the sides of craggy rocks. The beach was full of people doing morning walks with their dogs and children. A friendly sea gull showed up when we returned to our room.
We headed down the coast hoping the fog would lift, but it was not to be. Fog is interesting on the Oregon Coast - different from Texas fog in that it is in banks or walls so to speak. It also pours in through the valleys and trees in the form of "smoke", reminding us somewhat of the Great Smoky Mountain drives.
At Tillamook, we took Netarts Highway West and drove a small coastal "loop road" to Cape Lookout State Park and Pacific City. We stopped for lunch at the Pelican Brewery and discovered Doryman's Dark Ale on tap! Yum! Also bought a big freshly filled bottle of the ale to enjoy that evening.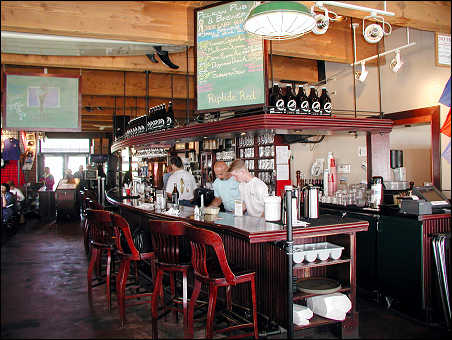 We stopped in Lincoln City at the Outlet Mall - a huge collection of shops - and then drove around Salishan Resort at Gleneden Beach to see what it was all about. The resort meanders through a dense forest with clusters of accommodations scattered along a series of driveways and trails. It is surrounded in rolling hills and trees - no where near the ocean so I was glad we weren't staying there (golfers would probably love it though).


Depoe Bay and the Channel House


We arrived at the charming little town of Depot Bay - a line of cute shops and restaurants are along the main street and look out over the bay lined with craggy rocks and crashing waves. A short bridge crosses the narrow channel which connects the bay with "the smallest harbor in the world" holding a Coast Guard cutter, touring boats, and fishing trawlers. The Channel House where we were staying for two nights was right beside the inlet and bridge.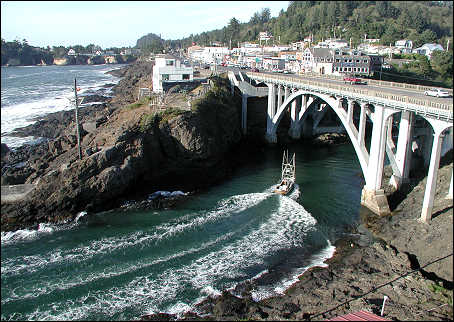 Known as one of the most "romantic places to stay" on the Oregon Coast, the Channel House features wonderful views of crashing waves and a hot tub for two on every room deck. It is perched at the edge of the bay and holds only 12 accommodations.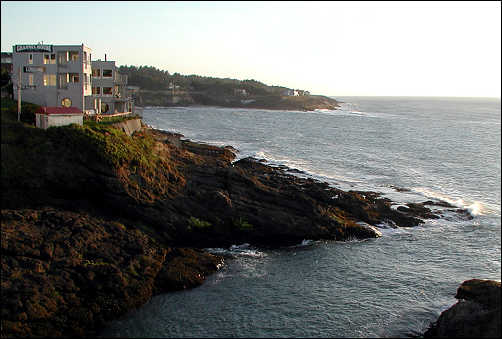 The architecture is whimsical - staircases to the rooms and suites turn every which way - a maze of hallways leading to many levels. Our room was #1 on a corner overlooking the tiny channel and we had perfect views of boats going out to sea and returning through what looked to me as a tricky series of waves and currents to enter the very narrow slip of water to the harbor.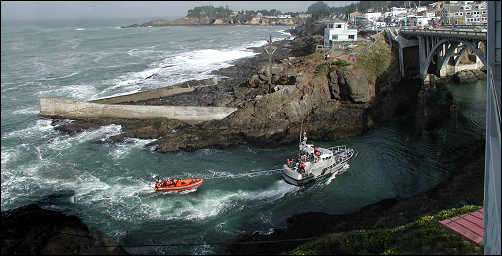 Our room had a living area with a fireplace, bathroom with shower, separate bedroom with huge picture windows looking out to sea, over the channel, and back toward town - it was like being in a crow's nest high above water's edge with views, views, views in every direction.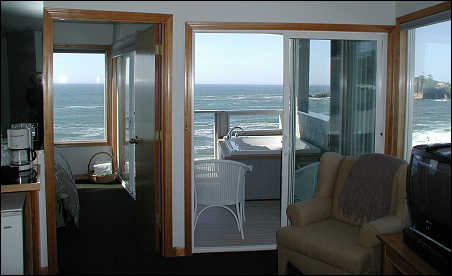 We filled the hot tub after returning from dinner and instead of a sunset, had a bank of fog surrounding us. A Coast Guard Cutter showed up and practiced entries through the swift currents and crashing waves into the harbor - fun to watch the maneuvers. A fog horn sounded every 3 or 4 minutes during the night. The inn has "complimentary" ear plugs for those who can't sleep to this "sound of the sea", but it didn't bother us at all - perhaps because we are used to our herd of cows mooing all night at home. The skies cleared the next morning and the fog horn went silent.



I had a chance to see some of the other rooms. One suite had a large living room with separate bedroom connected by a huge private deck (with hot tub of course) across the front facing the sea. Some accommodations had a single, spacious room with a semiprivate deck and hot tub facing a grassy area with deck chairs. Each room I saw had its own charm and romantic atmosphere.

We ate dinner at Tidal Raves that night - a very laid back waterside restaurant with excellent food.

The next morning, we were amazed to discover that the breakfast buffet was a huge selection of fruits, cereals, and pastries of every sort and kind - strawberry crisp, cherry filled Danish, apple crumb cake, waffles, croissants, and toast with all the trimmings.

This was truly one of the most fabulous "Continental" breakfasts we've ever had and all baked right there in their ovens!

We filled our plates and sat at a table with perfect view of the ocean and waves crashing on the rocks below.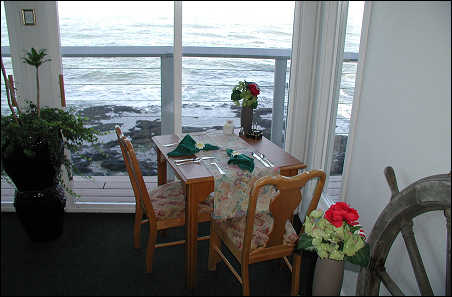 That day, we drove south toward Newport and enjoyed some nice overlooks and beaches along the way. We stopped at Yaquina Head lighthouse and viewed the nearby tidal pools.

Newport is a fairly large town with a long bridge connecting two parts of the city.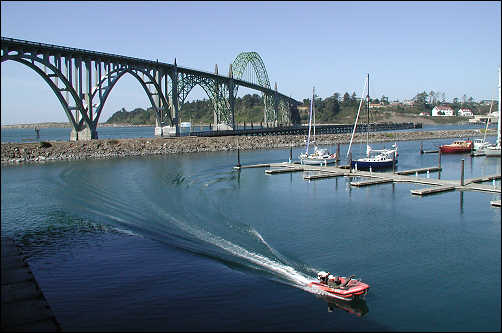 The Oregon Coast Aquarium is on the south side of the bridge and is one of the most interesting we've seen. It has several natural habitat areas connected by walkways, one of the favorite being the "shark tunnel" where visitors walk through a glass tube while being surrounded by several kinds of sharks and skates (relative of the rays). We enjoyed the numerous displays of jelly fish, tropical fish and coral reefs.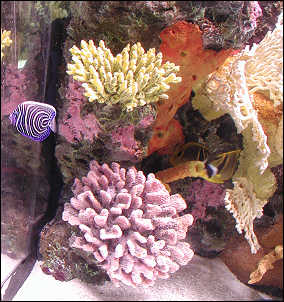 The Rogue's Brewery and Pub is only a few blocks away from the Aquarium and was a fun place to stop and have lunch. Visitors can tour the brewery and have a choice of dining in an upstairs restaurant or their cute pub.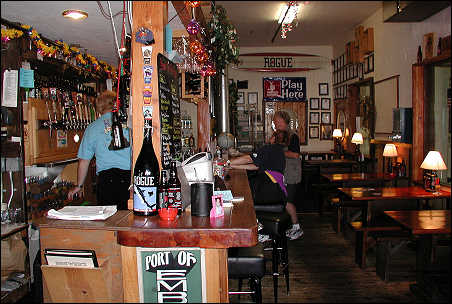 Our last evening on the coast was spent having dinner at the Sea Hag in Depoe Bay owned by Gracie Storm, a famous local who often entertains diners by playing tunes on bar bottles. I couldn't resist buying one of her cookbooks and her motto "Seafood so fresh the ocean hasn't missed it yet" is right on target. Great food for lunch or dinner - be sure to stop by on your next adventure down the coast.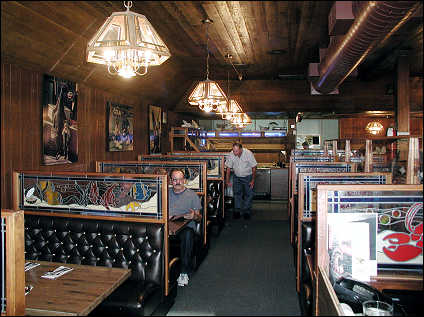 We had an early dinner so we could go back to our room and fill our outdoor hot tub in time to settle into the warm water and enjoy the sunset. We were rewarded with a glorious one.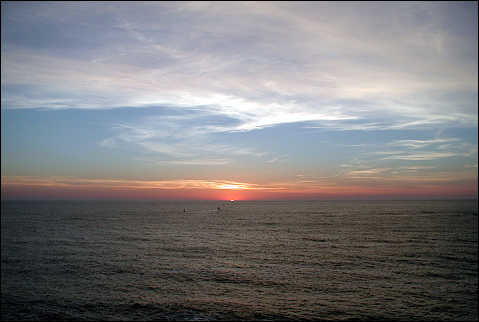 Portland and the RiverPlace Hotel
We returned to Portland on Highway 18 - a pretty drive through pine tree covered hills changing into "wine country". If we'd had time, we'd taken Highway 6 from Tillamook since it is supposed to be a very scenic road that follows rivers back to Portland.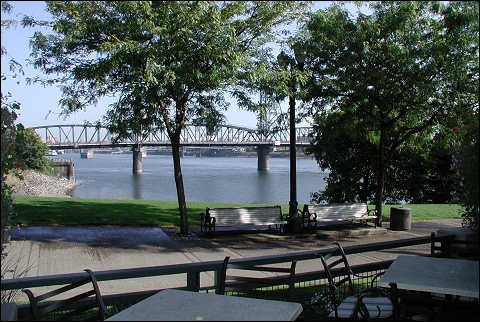 We checked into the last of our "waterside" accommodations at the RiverPlace Hotel set in a quiet area of Portland adjacent to a long riverside park and only a few blocks from Ira Keller Fountain. It overlooked a small harbor and a row of fun shops and restaurants. We stayed in a one bedroom apartment - very spacious accommodations with a bedroom, large living room, balcony, full kitchen, bath and also a washer and dryer. We loved sitting on the balcony and watching the river and boats go by.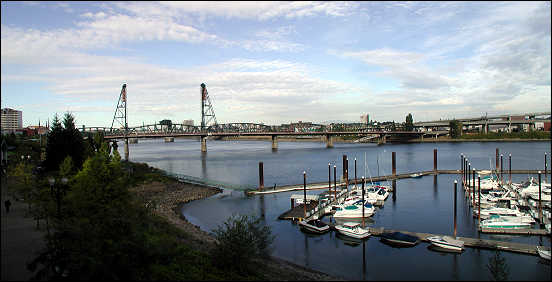 That night, Jon and Nancy joined us for dinner outdoors (the weather was perfect) at the Harborside Restaurant and we feasted on yet another meal of fresh salmon and crab chased down by more local brews. A great way to end our Oregon trip!