Hubby Kenny and I have been trying to "go west to Oregon" for almost 30 years! One of his best friends from high school lives in Portland and we've always wanted to explore "The Gorge" and "The Coast" - both famous as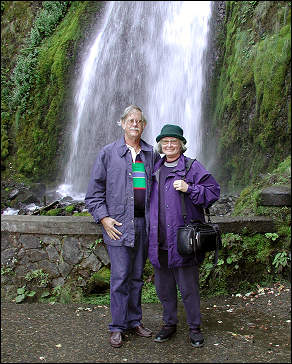 gorgeous vacation destinations. Alas, we are farmers and our harvest is seldom over before late October when the weather on the upper West Coast often turns blustery and overcast with rainy days. This year our harvest was over in early September and we set our compass to NW and headed in that direction!

You see, there's a "secret month" for visiting Oregon - September! The kids are back in school, the summer crowds are mostly gone, and best of all, the weather can be nearly perfect with pleasant daytime temperatures in the high 70s and low 80s with night time lows in the 50s and 60s PLUS most days can be mostly sunny! We found this to be true and only had ONE foggy cloudy day and night (on the coast as might be expected) during our 9 day adventure and a couple cool mornings when we needed our jackets until it warmed up.


Planning the Trip and Routes

In planning this trip, we wanted to stay "waterside" each night with panoramic views of either the rivers or ocean, so I chose well known "romantic hideaways" with that in mind. All were completely different from one another and yet perfect choices in their individual ways. We also only drove 2 to 3 hours each day which gave us plenty of time to see historical attractions, waterfalls, beaches, and many state parks. Our schedule was this:
1 night in Portland
1 night in Hood River at Columbia Gorge Hotel
2 nights at the Dolce Skamania Lodge on north side of Gorge
2 nights in Cannon Beach at the Stephanie Inn
2 nights in Depoe Bay at the Channel House
1 night in Portland at the RiverPlace Hotel
After many years of traveling, I've found it best to stay "somewhere" for a couple nights when possible - this gives us a day to get out and visit all the local "must sees", wash clothes as we go along (since we pack light), and some time to just sit and relax in one area. Here's a map of our route - click on it to see a larger version.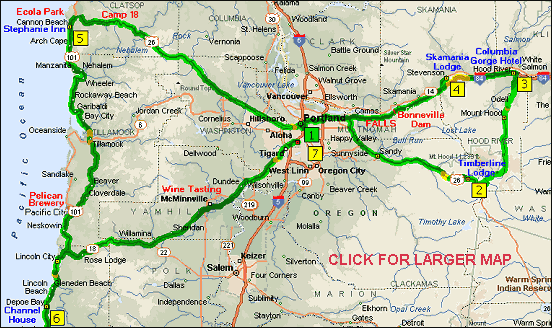 Before I get into the details of our Gorge and Coast adventures, let me add this: the eastern part of Oregon can be best summed up with "Pine covered peaks bisected by many rivers and lakes". I've never seen so many pine trees in my life! All the Christmas trees in South Texas come from Oregon and now I know why! They are everywhere... on the mountain sides, along the rivers, and in thick forests. And yes, even along much of the coast. It is truly magical. We also had spectacular sunrises and sunsets each morning and evening (except for the foggy night) and a full moon as a bonus!

The Mount Hood (Columbia River Gorge) scenic loop is an interesting drive along scenic highways through hills, mountains, wooded forests, valleys, and the river. I've included a map below to show you all the highlights.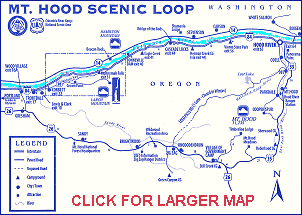 The coastline provides gorgous views of beaches, parks, and wildlife including birds, marine life, boats, and dunes. Be sure to stop at a gas station and purchase a detailed coastal map so you will know where small scenic side roads and attractions are located or you might miss something spectacular.

Our "Waterside" Accommodations:


Timberline Lodge: very historic and comfortable rustic mountain accommodations on Mount Hood with incredible southern views on a clear day.

Columbia Gorge Hotel: historic and casual elegance with superb service in a romantic setting overlooking the Columbia River. Famous 5 course breakfasts.

Skamania Lodge Resort in Stephenson, WA: tasteful decor and modern conveniences in a gorgeous wooded setting overlooking the Columbia River. Perfect views of the Columbia River and Oregon side of the Gorge.

Stephanie Inn in Cannon Beach: elegant and very romantic inn with 5 star cuisine and perfect location just steps from the beach and with views of Haystack Rock from all oceanside rooms.

Channel House in Depoe Bay: One of the most unusual and delightful places we've ever stayed! Not to be missed! Fun, whimsical, romantic accommodations with huge Jacuzzis on each room's balcony or patio and one of the best "continental" breakfasts we've ever had.

RiverPlace Hotel in Portland: modern, chic waterside accommodations at the edge of a gorgeous park. Views are expansive and a collection of shops and restaurants are nearby.

My thanks to Kim Christianson at the Stephanie Inn for suggesting all the hotels along our route. She is a fountain of "waterside" information!