Staying near the center of Santa Fe has its advantages since you can easily walk to many of the shops, restaurants, and museums near the Plaza. Parking is quite limited downtown, so searching for a place to put your car is also avoided.

Santa Fe offers all kinds of accommodations from deluxe resort hotels to small Bed and Breakfast inns at rates from reasonable to outrageous. We generally choose smaller hotels or inns within a 10 minute walk from the Plaza.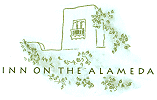 Inn on the Alameda is in a perfect location between Canyon Road and the Plaza. We stayed here years ago when it first opened, and returned in May 2004. The Inn has expanded from a small establishment to a much larger one by adding new rooms along East Alameda, yet retains the same wonderful personalized atmosphere.

The Inn has a lovely reception area which flows into a library sitting area and common room filled with tables and a bar. A breakfast bar is nearby which serves a buffet of fruits, pastries, pastries, and egg dishes each morning. Coffee is generally ready by 6:30 am.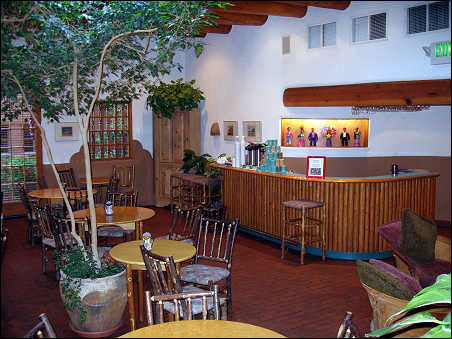 Guests loved gathering in these rooms during the day and especially during "wine and cheese" receptions from 4:00 to 5:00 pm.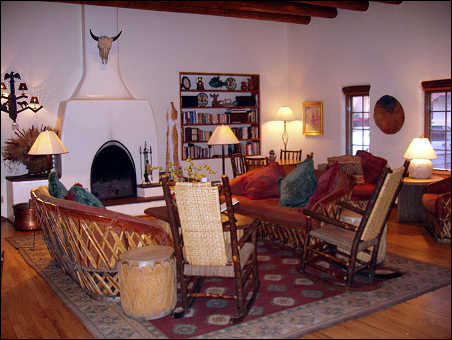 Eight buildings hold the reception area, accommodations, conference rooms, spa, fitness room, and guest laundry (a wonderful addition for long staying guests or families). Several foliage-filled courtyards are here and there, and even the parking lots are nicely landscaped. The architecture is adobe, of course, with tile walkways. For a map of the property, click the image below.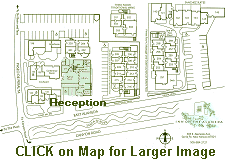 Rooms and suites have traditional Santa Fe decor including kiva fireplaces plus all the modern amenties. Some have balconies or private patios, others open into a lovely courtyard.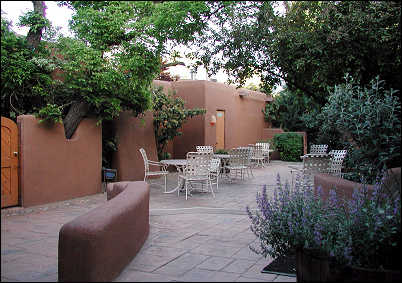 We reserved one of the Sanchez Suites and had a separate living room, bedroom, and small private patio in the back in addition to a covered sitting area outside our front door.



We loved our stay at Inn of the Alameda. It has most everything anyone would need for a delightful vacation - spa, meeting rooms if needed, lovely common areas. Kenny and I both highly recommend it to others headed for Santa Fe. Inn of the Alameda, 303 E. Alameda, Santa Fe, NM 87501, 1-888-984-2121, 505-984-2121, FAX 505-986-8325.


OTHER ACCOMMODATIONS:

The Eldorado Hotel and nearby "sister" condos, casitas, & inn is now our newest and favorite downtown choice and the array of accommodations will suite everyone from honeymoon couples to large families looking for lots of space. The elegant pueblo style hotel is fairly new and has the only 4 star rating in Santa Fe. It offers all the amenities expected of a fine hotel - pool, valet parking, concierge, room service, massage therapy room, sauna, and exercise atrium to name a few. It has a wide variety of rooms and suites in all price ranges. Located on West San Francisco, only 3 blocks from the Plaza, it is an easy walk to all the downtown areas except for Canyon Road. The Eldorado Hotel, 309 West San Francisco St., Santa Fe, New Mexico 87501 - 800-955-4455 and 505-988-4455 or FAX 505-995-4555.

The Eldorado Hotel also manages and accepts reservations for two other nearby properties which share the hotel amenities - Zona Rosa Condominiums and the Casa Pueblo Inn.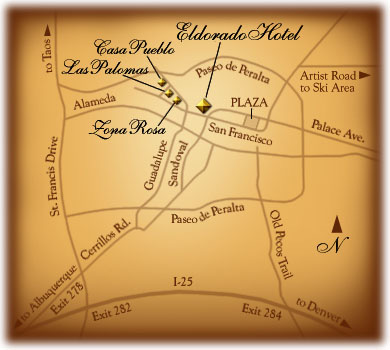 Click the map for a more detailed image

The Eldorado also manages the Casa Pueblo Inn which is several blocks from Las Palomas. It features a large reception/lounge area with tables for breakfast. Twelve one bedroom suites and studios each have a fireplace, kitchette or snack bars with refrigerators. Breakfast is included in the room rates. Casa Pueblo Inn, 138 Park., Santa Fe, New Mexico 87501 - 800-955-4455 and 505-988-4455 or FAX 505-995-4555.


Zona Rosa, located one block west of the hotel, has 1, 2, and 3 bedroom condominium units - all very spacious with big kitchens, living rooms, kiva fireplaces, and full bathrooms. Guests have access to a washer dryer room and plenty of parking space. We discovered that the 3 bedroom, 3 bath Unit A has a doorway to the 1 bedroom, 1 bath Unit E and when combined could easily make a 4 bedroom, 4 bath unit. We stayed in Unit B which had three large bedrooms and two bathrooms. Click HERE for floor plans of these units. Zona Rosa Condominiums, 429 West San Francisco St., Santa Fe, New Mexico 87501 - 800-955-4455 and 505-988-4455 or FAX 505-995-4555.



Our daughter and her friend stayed one block further than the Zona Rosa from the plaza at Las Palomas, a collection of lovely casitas clustered around courtyard walkways and a garden area (called a compound). They were in #7 that had a double bed, kiva fireplace, bathroom with shower, and darling tiny kitchen with a table for two. It was one of the smaller casitas and each has a unique floor plan, some with a separate living room. Guests can order continental breakfasts which will be delivered at the time of their choice and will find chocolates on their pillows each night. We sometimes stay at Las Palomas and usually reserve a one bedroom suite. Las Palomas Casitas, 119 Park., Santa Fe, New Mexico 87501 - 800-955-4455 and 505-988-4455 or FAX 505-995-4555.



Garrett's Desert Inn. It's not in the desert, it's in the middle of Santa Fe at a prime location... and it's not an inn, it's a motel. I stayed there with a friend during a shopping trip and was delighted with the basic, but nice accommodations at only $99 a night! Those with motor homes or pulling trailers will be delighted with its huge parking lot - a rarity in the center of Santa Fe. It is at the corner of Alameda and Old Santa Fe Trail, meaning a short walk to the Plaza and Canyon Road, plus it's only a block from the famed Pink Adobe. Call them at (800) 888-2145 or (505) 982-1851 or FAX (505) 989-1647. Sometimes they are slow to answer their phone, but just keep trying!



Santa Fe Accommodations manages six properties in the city within walking distance of the Plaza, one being the Fort Marcy Suites with 1, 2, and 3 bedroom units with kitchens and fireplaces. The Territorial Inn is a bed & breakfast only one block from the Plaza; Seret's 1001 Nights has one bedroom units; Rio Vista Suites are near Canyon Road and the Santa Fe Motel and Inn offer rooms and casitas at very reasonable rates.

My sister-in-law, Martha DeCou, and her husband like to stay at Bishop's Lodge which is located a 3 miles north of the Plaza. She finds the resort very warm and inviting with excellent service, great food, and a friendly attentive staff. It is in a secluded valley and offers the best of both worlds "city close, but country quiet".

Guests can enjoy the outdoor heated pool, sauna, horseback riding and trail rides, skeet, tennis, nature walks, and hiking. It has lots of different accommodations from historic rooms with a small sitting area to deluxe bedrooms featuring a large living room with a fireplace, refrigerator, and convertible sofa bed, plus a patio, deck or lawn area. A summertime children's program is popular with families. Bishop's Lodge Road, (505) 983-6377, 1-800-860-9257 or FAX (505) 989-8739.