Our son announced his engagement and alas, I looked in my closet and had no "wedding clothes" of any sort or kind! This situation can set off near panic in a future "mother in law to be"! <grin>

Plus, we live in South Texas, home of handmade tortillas and cowboy boots, spangled rodeo queen outfits, and teeny weeny bikinis for wearing on nearby Padre Island National Seashore. Obviously, this area is not known for haute fashion!

Fortunately, my best friend Chris Ann called and wondered if I'd meet her in Santa Fe. Her husband (a 50 year old with a Harley Road Hog - pronounced as "Hawg" in Texan) was joining a group (of other Hawgs) to ride through the Rockies and wanted her to meet him in New Mexico at the end of his trip (with car and trailer so they could pull the Harley the rest of the way home to the Hill Country of Texas). What luck! We women would arrive a few days ahead of the Hawgs and shop 'til we dropped! Was this "female heaven" or what?

I flew to Albuquerque and grabbed the 70 minute Sandia Shuttle Express service to Santa Fe. The old ShuttleJack is no more, but Sandia has about the same time schedule. I also found that Santa Fe Shuttle (Herrera bus) service is good too, however, they only stop at major hotels in town, whereas Sandia will drop off almost anywhere in Santa Fe if you make a reservation in advance.

We stayed at Garrett's Desert Inn at the corner of Alameda and Old Santa Fe Trail - one of the few motels near the plaza and a bargain at $99 a night for a spacious room with two beds. It's only a block from the Pink Adobe restaurant and within easy walking distance of Canyon Road. The Desert Inn has a huge parking lot (big enough for cars, travel vans, and Harley Hog trailers!), and a fresh pot of coffee perking in the lobby for guests at sunrise. (800) 888-2145 or (505) 982-1851 or FAX (505) 989-1647

Bistro 315, a excellent restaurant, is right next door and has become one of the best dining spots in Santa Fe. The Pink Adobe is just a block away.


Plaza Area Shopping Spree!
First, let's talk about maps. While several good ones are available (for free at most stores) in Santa Fe, especially "The Original Santa Fe & Canyon Road Walking Map", I still have problems remembering where all my favorite stores are (in the maze of endless Santa Fe shops), so I created a couple of maps to share with you.

You can print copies and if your printer has a "landscape" option, click on that feature for a larger print-out. The downtown map is below and an area map is further down the page.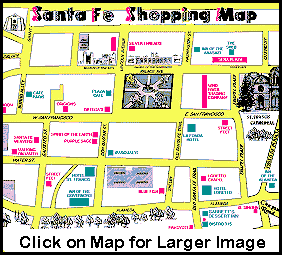 I checked into the Dessert Inn at 1:00 and within 15 minutes was already heading for a late lunch spot and my first round of shops. Pasqual's noon crowd had dwindled and I popped in for a half order of enchiladas and a glass of their flavorful ice tea. If you haven't had breakfast, lunch, or dinner at this tiny, popular eatery, add it to your list. Breakfast is outstanding and singles can always find a seat (and interesting local conversation) at the big community table.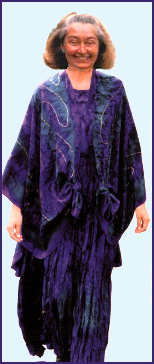 My first shop stop was a half block up Don Gasper at the Purple Sage Boutique and I found the perfect ensemble to wear as "Mom of the Groom" - a three piece painted and washable silk set of broomstick skirt, top, and a flowing cape which also could be tied to become a jacket. I choose the purple and jade color, but they also have cobalt blue/jade and red/green tones in this line. I added a matching pair of slacks and long sleeve top to complete a 5 piece travel ensemble for under $500. Visit their website.
This became one the best buys I made ... quality silks, versatile enough to mix and match for a trip or special event. Besides having a wonderful selection of stylish women's' clothing, the Purple Sage specializes in outstanding art glass of all colors and shapes.
Spirit of the Earth was right next door and also had lots of fashionable ladies wear. I found a long straight skirt with tunic top in a lovely shade of aqua.
As usual, my third stop in this area was Origins on West San Francisco which is has some of the most interesting and varied boutique clothing in Santa Fe. I found a couple things for my future daughter-in-law and also a long flowing evening dress for me. Prices range from moderate to expensive.
I suddenly realized that new dressy shoes were needed too, so I added that to my list of "must finds" the next day.
By this time, I'd had a long day of airline travel, shuttle ride, and adjusting to the 7000' altitude from my home at sea level, so I wandered over to The Travel Bug and coffee shop for a cup of java (brewed every way possible) and browse their large collection of travel books. It is near the Inn of the Alameda.